'5 figures' a month, quality time with family: What's the deal with multi-level marketing?
Herbal mushroom products that supposedly fight off cancer, trousers that are said to improve scoliosis — why does the MLM industry continue to draw distributors, and can you believe sellers' claims? The programme Talking Point investigates.
SINGAPORE: Ever since her mother-in-law joined a multi-level marketing (MLM) company, Elaine Hing and her husband, Kelvin Lim, have received products such as coffee infused with the herbal mushroom "lingzhi", which purportedly can eliminate free radicals.
They have received a promotional booklet — about a powder, for instance, that is supposedly able to stop cancer cells from multiplying.
"She definitely believes in the claims," Hing said. "That's why she thinks that she's helping other people … by trying to promote these products."
This worries Hing, who wrote to ask the programme Talking Point to investigate the claims.
The older woman is so enthusiastic she has tried to recruit Hing and Lim as distributors. One day, she wants to hand over what she has built to them.
"I remember her telling me that whatever she builds up now, how many salespersons she recruits, it all adds up to a tier. As she (goes) up the tiers, she'll earn more," said Lim.
"And when she's (no longer) around, she'll pass everything to me, including … the down-lines that she has."
Down-lines refer to distributors she has recruited, whose sales generate income for her.
Welcome to the world of MLM and direct selling, where skincare products, herbal mushroom products that purportedly fight off cancer and trousers for improving scoliosis are just a few of the items on offer.
It has a dubious reputation among some consumers. "Every time I hear people say 'MLM', I'm always very sceptical," said one consumer in a vox pop interview, echoing the sentiments of some viewers on YouTube.
WATCH: MLMs — Business opportunity or a scam? (23:33)
Despite this, MLM is thriving in Singapore, Talking Point found out.
NOT LEGAL, BUT EXCLUSIONS ALLOWED
MLM schemes are in fact prohibited under the Multi-level Marketing and Pyramid Selling (Prohibition) Act, which was first passed in 1973 and amended in 2000 to catch all business schemes that were multi-level in nature.
But exclusions apply to legitimate businesses, such as insurance companies, master franchises and direct selling companies that fulfil certain criteria, for example rewarding participants based on the sale of a product or service and not the recruitment of additional participants.
Direct selling companies should not require members to pay high upfront fees — which may come in the form of membership fees or purchase of products and services — to join a scheme.
Not all MLM techniques are undesirable, the Ministry of Trade and Industry said on its website. Legitimate businesses using innovative sales tactics "should not be lumped together with pyramid schemes", the ministry added.
Pyramid schemes here refer to illegal MLM schemes that require participants to pay high upfront charges in return for financial rewards as more people are recruited into the schemes.
Such a scheme is financially risky as its structure would eventually fail when the company runs out of new recruits.
Contacted by Talking Point, the company whose products that Hing's mother-in-law distributes declined to comment but advised members of the public who have any queries about its products to contact its customer service.
Oncologist Wong Seng Weng, medical director of The Cancer Centre, helped to weigh up the purported health properties of "lingzhi", or Ganoderma, products.
"There's evidence to show that (Ganoderma) activates the immune system. And that's important in fighting cancer," he said
But to conclude, based on just preclinical studies (non-human testing) and very, very limited clinical experience, that it actually works in the prevention or treatment of cancer … requires a huge leap of faith."
In response to Talking Point's query about Ganoderma coffee, the Singapore Food Agency said food labels and advertisements should not contain promises that a product can prevent, alleviate or cure any disease.
The Direct Selling Association of Singapore (DSAS), meanwhile, said it does not, as a trade body, have the legal standing to tell bad apples in the industry to shut down. But it can control who it admits as corporate members.
Prospective members must submit a report on their compliance with Singapore's laws, said Jeffrey Chang, the association's second vice-chairman.
They also must "submit all their marketing material", which the association will examine for exaggerated claims about income that can be earned and about its products.
Customers of all DSAS member companies are allowed to back out of their purchases during a seven-day cooling-off period, added Chang, whose association has 26 members now.
'IF I'M LUCKY, I COULD BECOME LIKE THEM'
Amid scepticism over product claims and negative accounts of sellers' tactics, why does MLM continue to attract distributors? Because of the perks that come with success, Talking Point found. And not all MLM firms adopt the same methods, distributors say.
When Chanee Yap first encountered MLM firm Best World International, she found it "quite different" from others. She went to a demonstration of its skincare products without being asked to buy any, she said. It made her feel "more comfortable".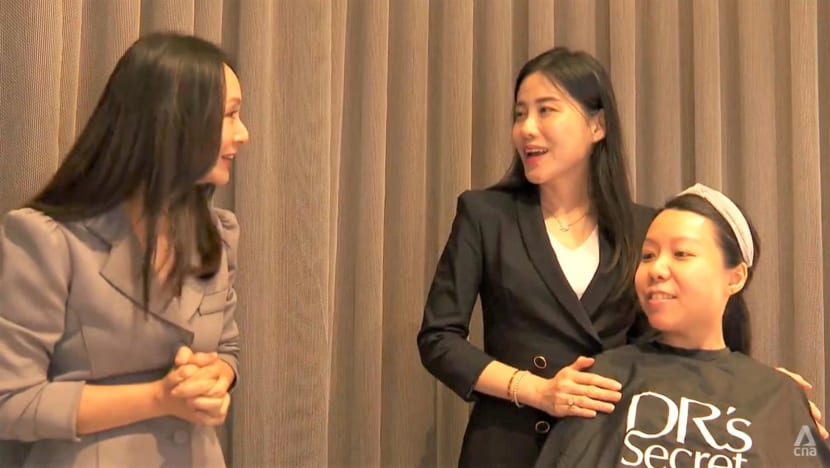 Today, as a distributor for Best World International, which is a DSAS member, Yap earns "five figures" a month — "10 times more" than when she was an accountant.
And because of her flexible working hours, the 40-year-old can spend "a lot of quality time" with her family.
"MLM is just another business model (whereby) the company distributes its product to the end customer directly," Yap said. "If I buy the product and I love it, and I try to share and sell it, I get a commission.
"When my friends also love it, they'll sell it too. So I get more income from a bigger network."
Within a year, Yap rose through the ranks to sit among the top three tiers, where fewer than 20 of the company's distributors in Singapore have arrived, she said.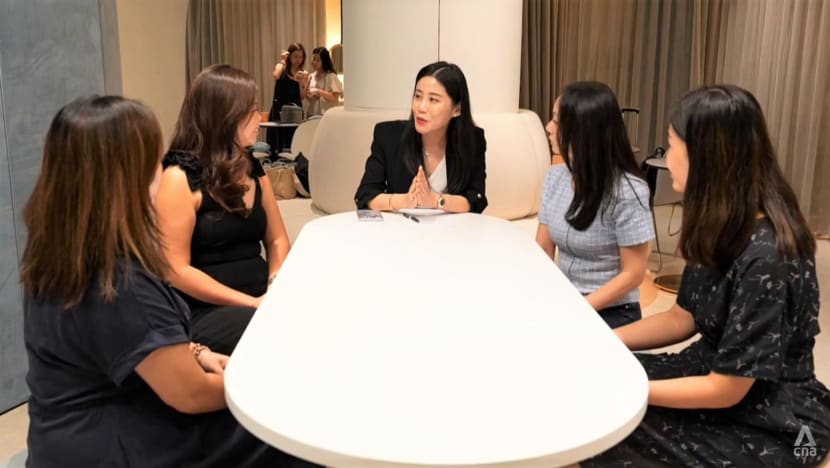 Celebrating success is one way in which MLM companies draw more distributors, said Nanyang Business School assistant professor of marketing Eunsoo Kim, who has done research on the industry.
The companies may hold "big, eye-opening events", she said. "They may not communicate … a direct figure. Like these are the actual earnings that you can expect. But through that kind of event, you may feel that 'I can obtain that type of success', and you (take) the cue."
Even a costly experience in the past may not put off those who are drawn to MLM's potential.
Kelly Kam first went into MLM — distributing essential oils — because she was inspired by "normal" people who went on to achieve "wonderful things" and were "helping people to improve their lives".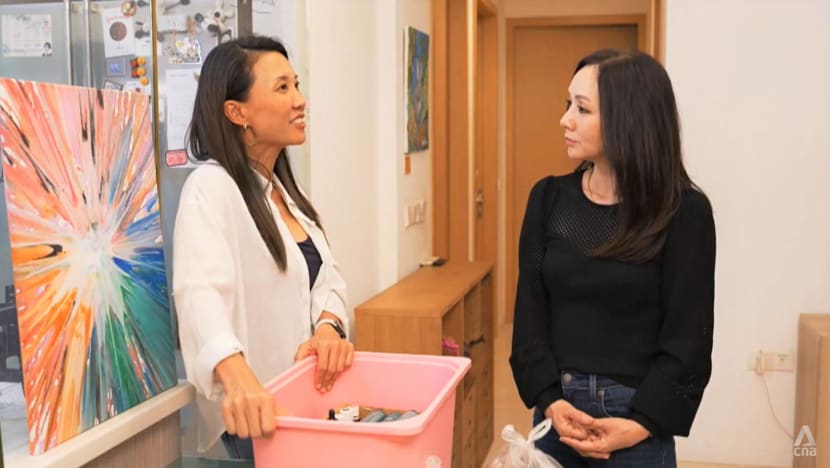 At a convention in Kuala Lumpur, she saw sales leaders carrying luxury handbags, which added to the shine. "If I'm lucky, I could become like them: Have time and financial freedom and spend more time with my family," she thought.
But there were strings attached. Kam had to order at least around S$200 each month to qualify for any commission as a distributor.
She was soon buying more oils than she could use. The pandemic prevented her from meeting people, and Kam found herself spending more than she was earning. "After four years, I realised that it wasn't making financial sense," she said.
She has enough essential oils to last "a lifetime" but has no regrets. "There are people who actually achieve (success)," she told programme host Diana Ser. "Different MLM platforms would suit different people."
After quitting that MLM firm, she worked full-time but found it "very taxing" for her health. Then she joined a weight management programme offered by another MLM. She said she became healthier and lost some excess weight.
Her current company does not require any minimum purchase. Its product range includes beauty and household items, and Kam said her income has grown steadily since almost three years ago.
She has even opened a spa to "share products with people who are interested in beauty". She added: "Maybe I might get a few down-lines from my business. Who knows?"
Watch this episode of Talking Point here. The programme airs on Channel 5 every Thursday at 9.30pm.