Driverless bus service begins in Ngee Ann Polytechnic, and it's free
An autonomous minibus now ferries passengers around campus and from King Albert Park MRT station, as part of a partnership between the polytechnic and homegrown company MooVita.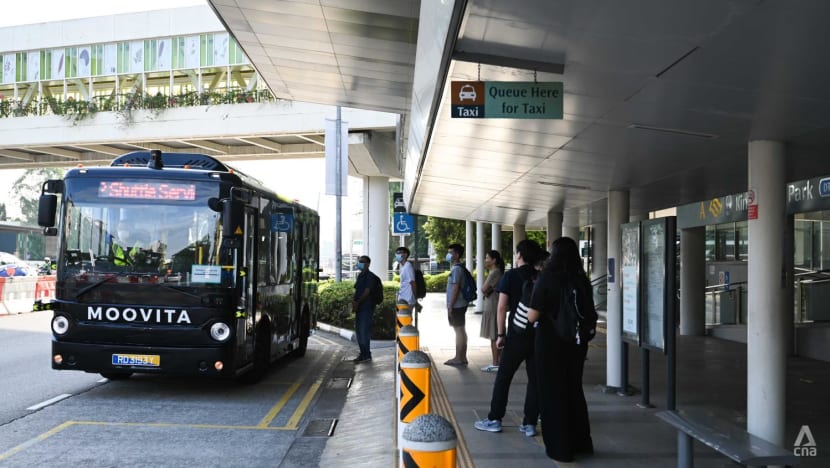 SINGAPORE: It is one of the latest driverless vehicles allowed on public roads.
Called the MooBus, it has recently been deployed by homegrown company MooVita in its first commercial operation.
And this bus service is free for a year for students and staff of Ngee Ann Polytechnic, where MooVita has used the campus roads as a test bed over the past few years, culminating in this autonomous shuttle.
The 13-seater, measuring seven metres long, ferries passengers from King Albert Park MRT station to 10 stops on campus from 7:30 to about 9:30 a.m. on weekdays (excluding public holidays), while a lunchtime service goes round only on campus.
The electric vehicle is self-driving, capped at 20 kilometres per hour, for much of the 3-km route within campus. A safety operator, however, is required on board by the Land Transport Authority (LTA).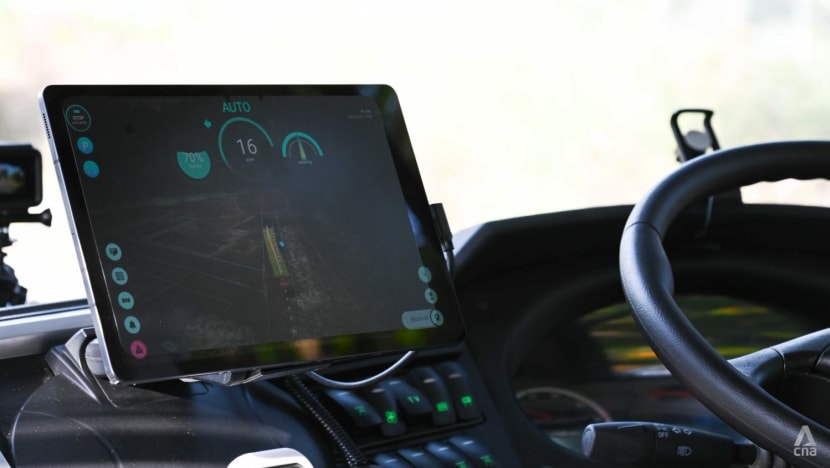 And there are points along the route where the operator will take the wheel, for example when there are ad hoc roadworks, illegal parking or erratic road users, cited MooVita chief operating officer Dilip Limbu.
Navigating the campus's terrain is also not easy for the MooBus. "The road is very curvy, (sloping up and) downhill, so it's better to (be) safer," he said. "The vehicle itself is big, and (the) road is pretty narrow.
"These roads are good for sedan cars, but (for any vehicle) longer (than that), turning is a bit challenging."
MooVita — a software provider of autonomous driving technology that was spun off from the Agency for Science, Technology and Research in 2016 — relishes the challenge, however.
"The roads represent almost (all kinds of) Singapore road conditions except the highway. And the reason we're here is because … we want (a) challenge," Limbu said.
It helps that MooVita has been headquartered in Ngee Ann Polytechnic since 2017 and has partnered with the school since 2018. The importance of the MooBus, however, is now set to extend beyond the campus.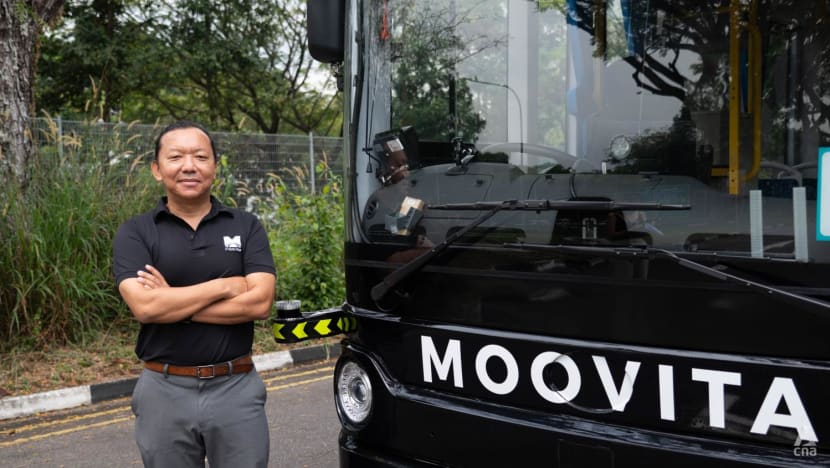 16 SENSORS, 360-DEGREE VIEW
Long before it started deploying the MooBus this month, MooVita drove the autonomous vehicle around the campus with sensors collecting data to create a high-definition map for its navigation route.
Such maps "provide detailed and valuable information on the surrounding objects — traffic lanes, pedestrian crossings, kerb locations and heights, speed limits, et cetera", said Neo Boon Kee, deputy director of the polytechnic's School of Engineering.
These maps also "act as a verification system that confirms what sensors are seeing".
To achieve a 360-degree view of its surroundings, the MooBus depends on 16 sensors. Its radars, for example, can sense objects at distances of 80 metres and beyond, cited Limbu.
WATCH: We try this new driverless bus service in Singapore (7:37)
When the vehicle gets nearer an object, its cameras and its light detection and ranging sensors come into play to classify the object and the distance.
Last month, the MooBus passed the LTA's Milestone 1 test, a milestone that allows an autonomous vehicle to go on public roads in selected areas with a safety operator on board.
In the case of this minibus, the operator must drive it manually on Clementi Road and Bukit Timah Road, as per the LTA's geographical restrictions on where the vehicle can operate autonomously, which is only within campus.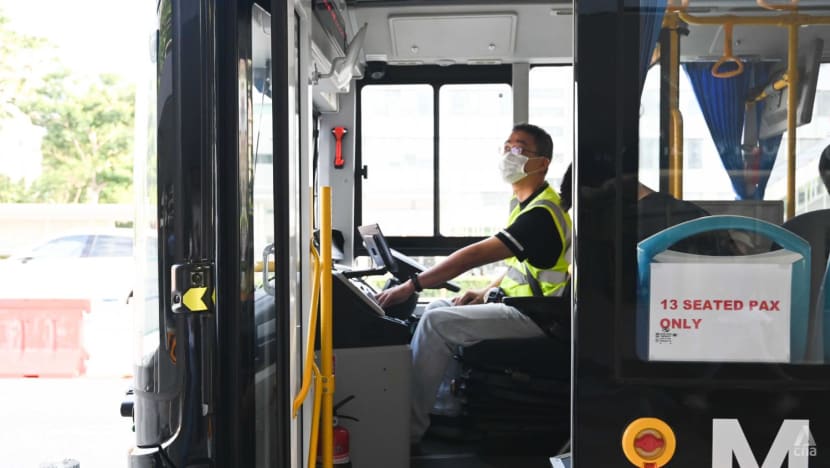 Two safety operators, both full-time MooVita staff, take turns operating the MooBus.
Besides having a bus driver's vocational licence, they had to undergo additional training — for example to understand how autonomous technology and the vehicle works and to perform pre- and post-operations checks — before they were allowed to operate the vehicle.
As for passengers, they must remain seated and belted up. Tertiary student Marcus Leung, who is pleased about the free shuttle service from King Albert Park MRT station to the polytechnic, did not have an issue with wearing a seatbelt.
He also appreciated the presence of a safety operator.
"It's good … in case there's any scenario whereby the vehicle encounters some difficulties or accidents … in the sense that he can stop the bus easily," said Leung, who uses the service instead of paying S$1 for a public bus.
The shuttle timetable was recently released online, and the school plans to also develop an application for checking arrival times and the number of seats available, which users can download in the next six to nine months.
MOOVITA'S FUTURE PLANS
The MooBus is an important showcase for MooVita, the winner of the sustainability award in last year's OCBC Emerging Enterprise Award event.
"We can demonstrate how (autonomous vehicles) can be used in real-life applications such as public transport. It's also important to increase public acceptance of (autonomous vehicle) technology," Limbu said.
Owing to the pandemic, overseas deployment projects have been delayed, but this has not "greatly" affected MooVita, which has 50 out of 70-plus staff based in Singapore, he added.
"There was no talent loss, and business continued with minimal downtime. We focused on simulations and cloud tools to reduce reliance on on-site testing."
MooVita hopes that, in time, it can have "fleets" of buses serve particular communities as a "last-mile people mover" solution. Discussions with potential customers are ongoing, said Limbu.
The company also hopes to be profitable in the near future, when its software products have been successfully deployed and it has scaled up operations.
Yet, the mass deployment of fully driverless vehicles on public roads must wait several more years.
"It requires building an ecosystem. This includes (having) … public and private stakeholders address the challenges of insurance and liabilities, legislation, cybersecurity, infrastructure, trust and socio-economic matters," Limbu said.