Once too poor for $1-lunch, hero now rallies a town to bring hope to families
T-shirt salesman Kelvin Wan used his modest income to help families in Kuching - until his own family couldn't afford it anymore. Then this CNA Insider InspirAsian found a way to do more.
KUCHING, Sarawak: Their forest cabin has neither tap water nor electricity.
In the dry season, the family must walk 40 minutes up and down hills to the main road just to buy water. Their 14-year-old son makes the same trek daily, rain or shine, to take the bus to school.
Father Tomi Anak Puroi and mother Senai Anak Jerayit, both 59, are small-time farmers, selling whatever fruits and vegetables they can grow. This Dayak family is one of 191 households that Mr Kelvin Wan is now helping.
Mr Wan, 45, is a T-shirt salesman. But this day, like most days in fact, he is wearing his hat as the energetic founder of non-governmental organisation Hope Place, cheerfully lugging a mattress and a solar lamp through the forest to the family.
"You were the first person that came to mind (when the lamp was donated) because it can help your son to study at night," he tells Mr Tomi at the cabin after the gruelling trek.
After previously bringing the family food and water rations, this third visit is one he particularly enjoys - knowing how it will help their son Ralph. "We need to make sure their children study well, because education is one of the keys to helping the families (escape poverty)," he says of his mission to aid the needy.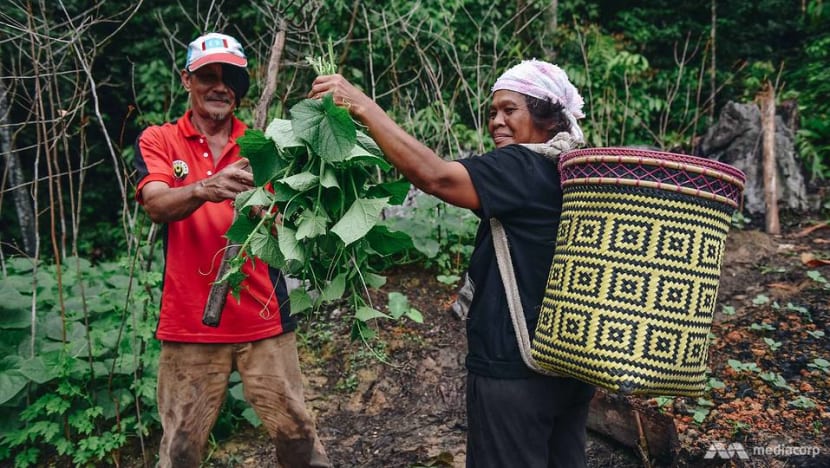 The same welcoming looks can be seen whenever Mr Wan visits other beneficiaries: Single parents of schoolgoing children, parents of children with disabilities, the poor, the abandoned elderly and more.
The local media has hailed him as Kuching town's hero. One of his regular donors, Madam Helen Jee, calls him "an angel sent from above".
Mr Wan simply knows what it is like to go hungry – an experience that set him on his journey of bringing hope to others.
KNOWING HUNGER 
In his first job, after failing his Form 5 at the end of secondary school, Mr Wan was part of a team that put up telecommunication posts in remote areas. He earned RM300 (S$100) a month.
With his three younger siblings still studying, he was left with RM50 each month after giving the rest of his pay to his parents.
"It meant that (each) day, I only had RM2 (for lunch). So I was going through a tough time," he recounted.
If I ate (chicken rice) on Monday, I'd suffer on Friday and Saturday. So from Monday to Thursday, I'd eat garlic bread and plain water.
He did this for three years, and those gnawing hunger pangs strengthened his resolve to help people in need when he could. "I didn't want people to have that kind of feeling," he said.
As a child, he had seen his father, a construction foreman, doing repairs for friends and neighbours for free. That also had a lasting impact on him.
"(Since) young, I had a heart to help people. If I have bread (and) a friend who's hungry, I don't mind splitting it in half."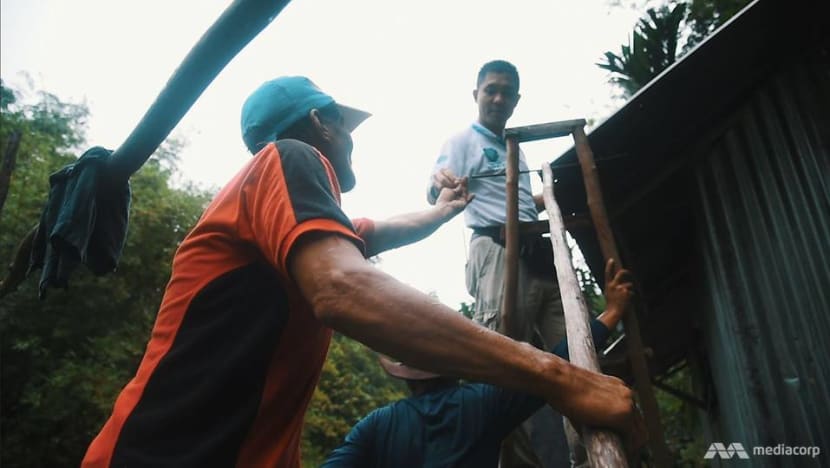 So when he found a better job in 2007, he recounted: "I visited many NGOs (and) said, 'If you need help or whatever, I'll volunteer."
They took him up on his offer, and he became an active volunteer - until an incident happened that made him want to do more.
HOW IT ALL BEGAN
In 2011, he was helping flood victims at an evacuation centre for a few days when a 70-year-old man approached him and asked for food to bring home as the waters receded.
Mr Wan decided to not only give him some, but also send the man home. What he saw when he arrived shocked him.
The man's house on swampy land had no water, electricity or gas stove, so his family used wood and charcoal to cook.
His wife was also elderly, and their two adult daughters, who had mental illnesses, were naked, as they sometimes were at home.
"I must help this family," Mr Wan thought to himself. So he began to buy food for them using his own income, which was RM1,200 then.
The man's neighbours soon noticed the weekly visits, and upon learning that Mr Wan was assisting the family, they pleaded for his help too. In one month, he went from supporting one needy household to five of them.
As word spread, that number grew to 15 cases in three months. All along, however, his wife thought he was helping only one family. And the financial burden was about to cause tensions at home.
A REAL STRUGGLE
Mr Wan was using most of his salary to help the families, and his wife Lee Yong Fong began to wonder what he was "doing in the dark".
"Fortunately, I'm a teacher and have a stable income… but we were still struggling," shared the 45-year-old. "Our combined salaries in most circumstances weren't sufficient, especially for family expenses."
They often fought for this reason, and it did not stop after he told her the truth. "His earnings weren't enough to support the family, and I had to chip in. I was grudging in the beginning," she said in  Mandarin.
As it got tough on them and their two children, however, Mr Wan realised he could no longer be a one-man band. That was when he turned to his friends, his church group and his customers to share in the financial aid.
The response was enthusiastic. And as the food donations started to come in, he made sure to show the donors that the needy were benefiting.
(For) each family I delivered to, I took a photo and sent back to (the donors). So it was very transparent. 
"And when my friends saw that, they also shared with their friends. So the word just started to spread," he explained.
While this renewed his sense of purpose, it caused another problem at home. Every evening after work, he would be busy collecting and distributing the donations.
"Practically all evenings, he wasn't at home. What was more ridiculous was when we had planned family activities during weekends – they didn't work out. And we were disappointed very often," said Mdm Lee.
My daughter, who was very young then (four years old), would cry for her daddy or look for him … They were very close, so it was a struggle for her.

As more people began to donate, the number of people Mr Wan was helping increased. By the end of 2012, he was tending to 45 families. And his house had become a storage place for their necessities.
Packets of rice, bottles of water, instant noodles, cooking oil, diapers and more were stacked high in the living room, the garage and "almost every corner in our house", said Mdm Lee. And complaints filled the house too.
"We couldn't watch the television at all," she added. "It was a struggle, a real struggle."
What Mr Wan had thought would be a temporary measure was anything but. His petrol bill had also shot up to RM800 a month. The time came for Hope Place to be born.
A FAMILY PULLS THROUGH
It was his pastor who encouraged him to set up an NGO. By then, Mr Wan was raising more than RM10,000 a month in donations but not keeping proper records. He needed to be accountable, his pastor advised.
In February 2013, Hope Place was officially registered, with a licence from the Registry of Societies Malaysia to provide aid services in areas within 70 km of Kuching.
When he started helping the poor, Mr Wan never thought he would start an NGO. But since being pushed into action, he has not looked back, except with appreciation for his family's support.
As he put it, outside success "may end up feeling very empty" if a person cannot take care of his family. And after pulling through the difficult moments, the family has been behind him all the way.

Even before Hope Place was set up, Mdm Lee had taken time off whenever she could to help him deliver the foodstuff, as "accompanying him was much better than him doing it alone". The children have pitched in too.
Their son Joshua, 16, calls the work Hope Place is doing "very fruitful". But that is not all he admires about his father. Said Joshua: 
Sometimes at night, he comes back home, he still does the housework, like mop the floor, wash the plates (and) clean the toilet. My mother – she'd just need to do her schoolwork.

He is the children's "superhero", said Mdm Lee, who also shared that her husband's helpful nature was one of things that moved her to marry him. 
"And every time, he helps others genuinely," she added.
WATCH: Kelvin's story (8:06)
HE RARELY SAYS 'NO'
Mr Wan's willingness to help, however, has not made things easy for his NGO.
Though he had a committee to vet the cases to support, it was only last year that he employed full-time staff, after conceding that he could not manage everything while still holding his paid job.
Starting with three full-time and three part-time staff, the NGO became more organised. But they have also had to adjust to their boss' impromptu style and the unexpected work it creates.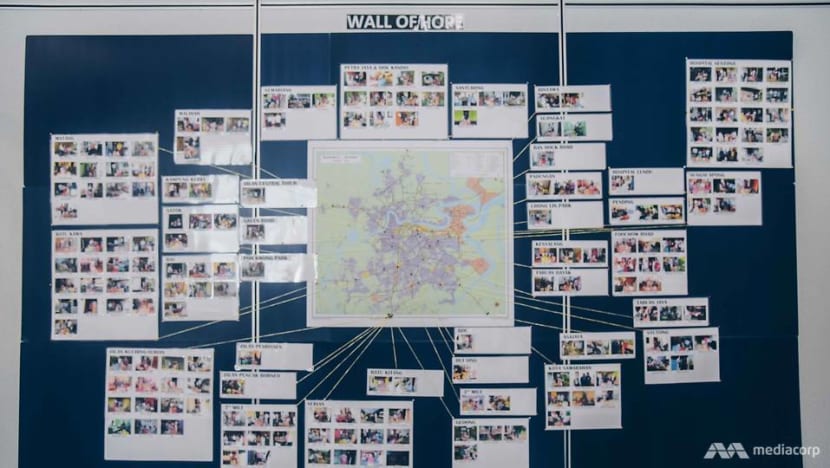 "He rarely says no to people … even though, sometimes, the circumstances are beyond our responsibility and capability," said Hope Place operations manager Heidi Law, 39.
But Kelvin always wants to do his best... He says, 'Yes, can!' Everything is positive, and he actually pushes us to do more.
For example, when he agreed to help Sarawak General Hospital with its facility for family members of patients from out of town by providing them lunch and dinner daily, his staff had to scramble to make it happen by the following month.
Then when Hilton hotel wanted to provide this group with free breakfast, he jumped at the offer, leaving it again to his staff to arrange – and cope with – the logistics and manpower.
In a way, the work has been stressful, said Ms Law, as her boss wants things to be done fast. "But it's also fun … because he's a very active person," she added.
"When he comes in, everybody is so lively. Because he's very loud, everybody talks very loudly. So the whole office atmosphere is lifted."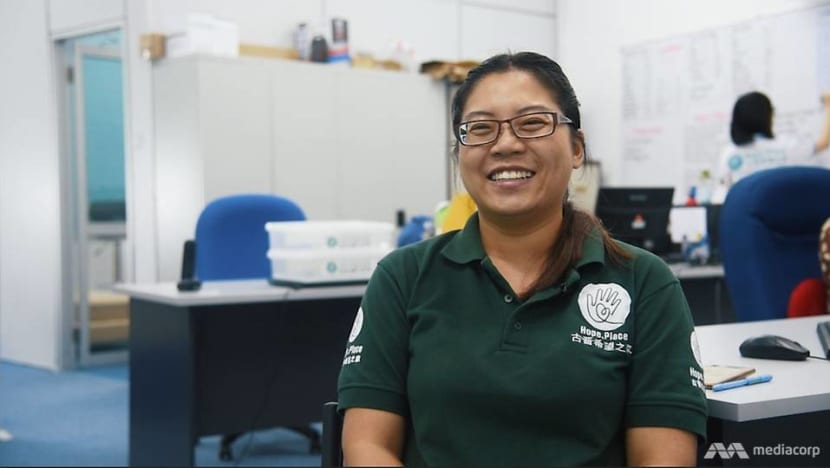 Mr Wan tries to get things done even in the middle of the night, especially when there are fires or floods.
His quick response has at times seen him arrive at longhouses – the traditional dwellings of the native people – that are still burning. "Poor people will call us; we receive the news very fast," he said by way of explanation.
Once, a woman called him at 4am, wanting to commit suicide. Her husband had left her with five children, and she was unemployed and running out of food.
Mr Wan continued: "When you receive a call like that at 4am, what else can you do? I said, 'Please don't do anything.' I rushed to my warehouse to get food supplies and went straight to her house. She's still alive today."
SAFEGUARDS IN PLACE
While learning to say no is hard for him to do, he has instituted rules covering the eligibility for continuing benefits, with a standard set of 40 interview questions for potential recipients.
These range from information about their background, relatives and income to their means of transport as well as whether they smoke or drink.
"We're not going to approve the case (if on) the money that they spend on cigarettes and wine, they can survive already," he shared.
Each approval lasts a year, and the case is reassessed annually to establish whether the family still qualify.

There have been instances when Hope Place has discontinued aid, like when staff discovered that a single mother they were helping had a "very rich" boyfriend who was taking her out every night to restaurants.
"No point helping her because they never cook at home," said Mr Wan.
Hope Place delivers only food and necessary items, such as oats, biscuits, sugar, salt, coffee and milk powder as well as school shoes, uniforms, bags and stationery – but not money.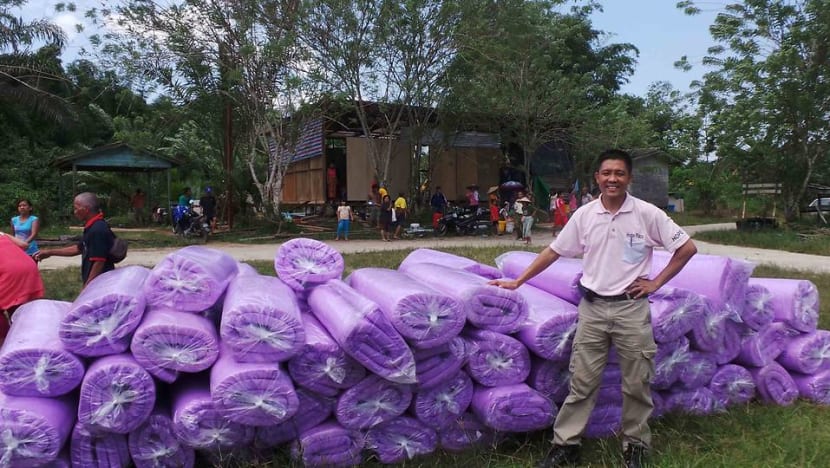 If a family is getting enough financial assistance from the government, the NGO's committee would not approve the case either.
There are a number of federal and state schemes in place, and official Malaysian statistics show that the incidence of poverty in Sarawak has fallen from 10.9 per cent in 1999 to 0.9 per cent in 2014.
ROBIN HOOD TO HIS FRIENDS
The main problem Mr Wan sees on the ground, however, is that government processes take time, whereas Hope Place can act more nimbly.
Mr Tomi, for example, applied last year to be included in the e-Kasih registry for the poor but has not received any follow-up news.
Padawan Municipal Council chairman Lo Khere Chiang credits Mr Wan with making the lives of the community "better and happier" and garnering support and contributions from people.
Or as Mr Morgan Woan, a member of Mr Wan's church who volunteers for Hope Place, puts it, "Kelvin just makes (people) move."
Among those whom Mr Wan has impressed is Mdm Jee, 42, who read the profiles of his NGO's beneficiaries in the newspapers.
Touched by Hope Place's actions, she rallied her friends to donate regularly, and they tried to rope in others too. Starting with about 60 persons, the 10 Ringgit Project – RM10 every month or RM120 a year – has a pool of 80-odd donors now.
Such examples explain why one of Mr Wan's nicknames among his friends is Robin Hood, but the modern version who solicits from the well-off to help the poor.
He admits, however, that even his contacts do not pick up his calls sometimes. "They know that I'd have asked for something. But it won't discourage me because I'm not asking for myself. I'm asking for someone, so they're free to reject me," he said.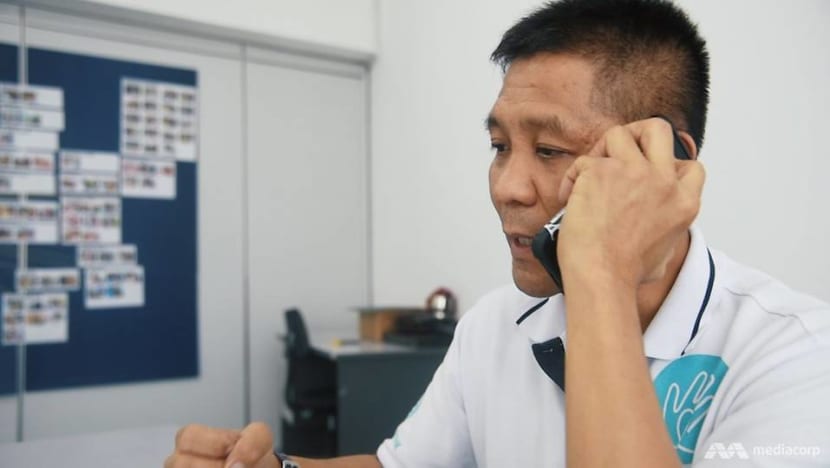 IN FOR THE LONG HAUL
Still, Hope Place is in a better place now. The NGO has finally been given rent-free premises for up to six years as part of property developer Ibraco's corporate social responsibility programme. Monthly donations amount to about RM25,000.
The numbers of both its beneficiaries and volunteers have grown. And so has Mr Wan's reputation. He has already given seminars to more than 12,000 youths in schools and colleges.
When asked how long he foresees continuing on the same path, he said emphatically: "Never end, until (the) day I cannot walk."
One elderly couple living in a run-down house came to his mind. Abandoned by their children, they had to weave and sell floor mats to survive, despite their health problems.
When Mr Wan delivered food to them for the first time, the woman held his hand tightly and kissed it.
"A tear came out, very warm, and it dropped on my hand … I almost cried also because I knew that this auntie was sincere," he recalled with emotion.
"I told (her), 'With your thank you, I can work another 20 or 30 years."
His message to people is a simple one: "I'm a salesman, and I'm earning RM2,000 a month. If I can help 191 families in hand, I believe that many of us can help many more."
Mr Kelvin Wan was nominated by reader Poh Sze Lyn as her #InspirAsian. If you know an unsung hero whose story deserves to be told, tell us at this link, or leave CNA Insider a message on Facebook.