3 reasons to watch CNA's reality-style series on a special needs crew working as chefs
Our Blind Kitchen is CNA Insider's three-part digital series documenting the ups and downs of an F&B start-up in which half the founding team is made up of the visually-impaired.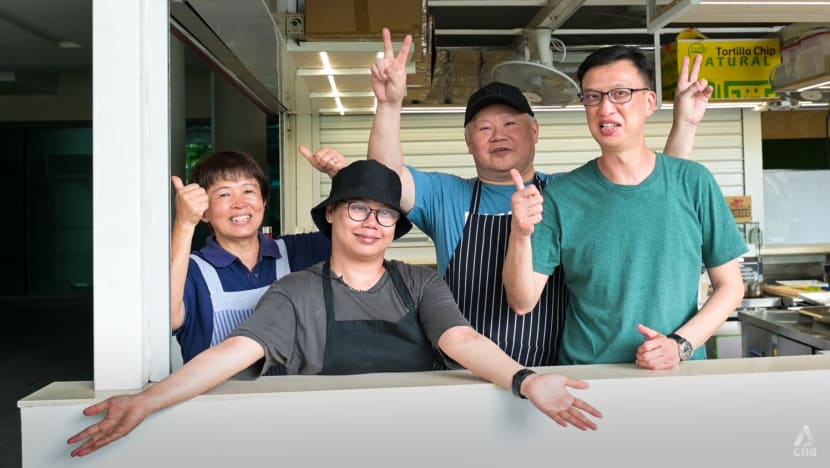 SINGAPORE: Born with congenital cataracts, Ernawati Fauzana Zakaria was diagnosed with glaucoma at the age of 10. She is unable to see objects in focus.
But — trained by her mother to use knives and cook from a young age — her dream was to become a chef one day. It came true after she met a man with a vision: social enterprise founder Aaron Yeoh.
"She thought that no employer would want to hire a visually impaired chef," he said. "So why don't we set up a food kiosk and we test this hypothesis?"
It was a project three years in the making. Despite having no food and beverage (F&B) experience, he decided to go ahead with two visually impaired chefs.
There were eight weeks to go until the opening of Cafe Kunyah, a kiosk selling sandwiches and rice bowls at the Singapore Management University, when CNA Insider began documenting the team's journey as they progressed towards their goal.
The ups and downs, not to mention a healthy dose of drama, are chronicled in Our Blind Kitchen, a reality-style three-part series. Here are three reasons why it is not to be missed.
1.  SEE HOW THE CHEFS LEARN TO ADAPT
Besides Erna, as she likes to be addressed, the other visually impaired team member is Alex Seow, a former commercial chef who lost 70 per cent of his vision at age 50 arising from a medical condition.
And right from the start, Yeoh consulted an occupational therapist about how to tailor the kitchen space to the chefs' needs.
WATCH: Our Blind Kitchen, Episode 1 (15.54)
But how do they measure and prepare ingredients, make sure the food is cooked and handle equipment like deep fryers? Can they do it under pressure, especially when there is a kiosk to run and hungry customers to be served?
2. IT'S A SHOW ABOUT PEOPLE, NOT DISABILITIES
The space and menu may be redesigned, but the series is not about disabilities — it is about the teething troubles that any F&B start-up has, whether with team dynamics or last-minute challenges.
CNA producer Jinee Chen was struck by the team members' authenticity. "I thought I'd have to tiptoe around their disabilities, but it wasn't like that," she said. "They'd crack jokes about themselves not being able to see."
What you see is what you get, and in the end it is a question of whether you see the team not as disabled or sighted but as relatable, average people like us.
3. THERE IS AN UNEXPECTED TWIST
As a chef, Seow prefers to trust his intuition, built up over the years before his sight loss. Erna, on the other hand, prefers precision and standard operating procedures.
WATCH: Our Blind Kitchen, Episode 2 (15.00)
How do they work together within the cramped confines of the kitchen? Mistakes were made, and tempers flared, especially at crunch time, for example before a food tasting session for invited guests.
And just three days before the opening day, a new team member was introduced as the story of Cafe Kunyah took a new twist.
Can the team resolve their differences and make things work before the cafe opens? Find out in Our Blind Kitchen.
Watch the three-part series, Our Blind Kitchen, on CNA Insider's YouTube channel. The series is also available through CNA's video on demand.