Regular self-swabs for COVID-19: What's the experience really like?
There were initial nerves and logistical challenges but also some advantages, say media folks involved in a one-month trial. Talking Point's Steven Chia finds out more about DIY testing just as it is about to take off in Singapore.
SINGAPORE: He never imagined swabbing himself on a fortnightly basis to be tested for COVID-19. But television host Steven Chia recently found himself having to do just that.
He was among 120 Mediacorp employees involved in a one-month rostered routine testing trial for the media industry.
He was even appointed a swab supervisor and underwent a four-hour training session, learning things like proper hand hygiene, what to look out for when observing swabbing and how to log results.
"I also learnt we can do this virtually, which means I can supervise my colleagues live as they're swabbing themselves, all doing it online," he said in the latest Talking Point episode, on the effectiveness of self-swab tests.
"That's convenient, since each of us are on different shoots each and every day."
WATCH: How to use a self-swabbing antigen rapid test kit correctly (3:26)
All residential households will receive COVID-19 self-test kits as the Government steps up testing efforts.
And as rostered routine testing extends to more workers in higher-risk settings — such as dine-in food and beverage establishments — Chia and three colleagues share their self-swabbing experience.
The Talking Point team had to swab themselves thrice during the month-long exercise ending Aug 24. Production manager Fatimah Rahmat was the swab supervisor of 10 staff including freelance producers, full-time producers, a presenter and a soundman.
"I had to make sure, prior to doing the tests, that the staff had had no nosebleeds in the past 24 hours, no facial injury in the past eight weeks and hadn't been through a nasal surgery in the past four weeks," she said.
Since the team was working remotely, it was tricky getting the kits to everyone before the swab sessions, she added. She also had to reschedule tests when her colleagues could not make the pre-arranged sessions.
She recalled worrying about giving the wrong instructions the first time round. But by the third swab, everyone in her team could do it confidently.
Producer Charmaine Tan, who was "very nervous" during the first self-swab, was "unsure about how deep to insert the swab and was also afraid of not doing it right".
"But once you start inserting the swab into your nostrils, you'd be able to feel the resistance and know that you're on the right track," she said. "My subsequent swabs felt more intuitive … like a normal routine."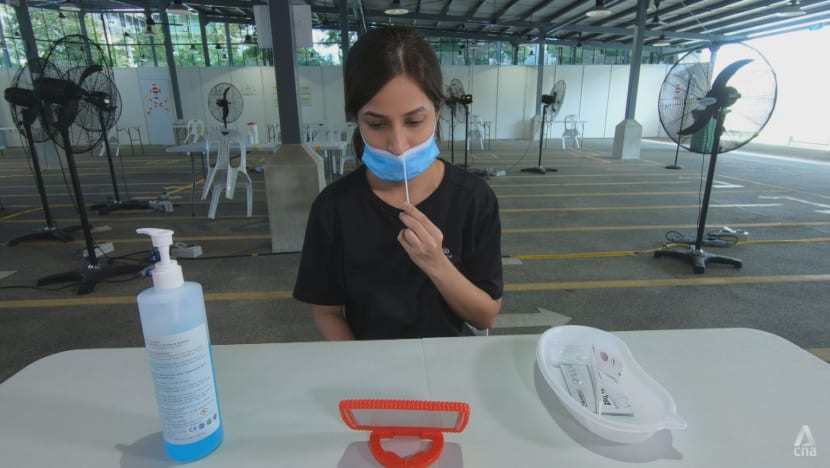 RAPID TESTING
Antigen rapid tests used in self-swabs produce results in 15 to 20 minutes, more quickly than a polymerase chain reaction (PCR) test, which is considered the gold standard for COVID-19 detection. But the accuracy rate is lower.
They are used in situations "where we really want to do lots of testing and get most of the (infected) people", said infectious diseases expert Dale Fisher of the National University Hospital. "That's where rapid testing is particularly advantageous.
"You get your answer in minutes, literally, and it's not so critical to find every last case; we just want to find most of the cases and keep a lid on (them) until our vaccination rates go up."
Antigen rapid tests have about an 82 per cent ability to identify infected people as positive cases and a 99 per cent ability to identify uninfected people as negative cases.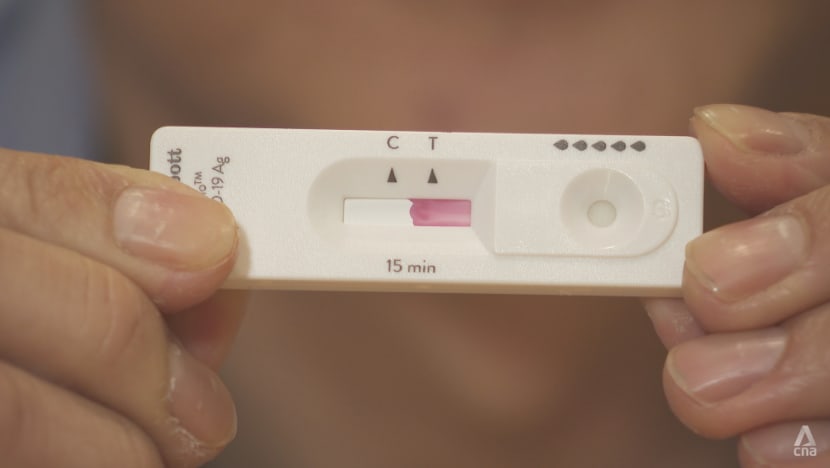 The tests are best used during the most infectious phase of the coronavirus, around days five to seven in a typical 14-day incubation period.
If the result is positive or you get invalid results more than once, you should see a doctor to do a PCR test or confirm what is going on, said infectious diseases physician Ling Li Min of Rophi Clinic.
PCR tests identify positive cases correctly at a rate of about 93 per cent and negative cases correctly at a rate of over 95 per cent. The processing time takes upwards of 2.5 hours.
Regular COVID-19 testing is part of the Fast and Easy Testing regime aimed at minimising the transmission of the virus, including the risk of large clusters breaking out.
WATCH: The full episode — COVID-19 self-swabbing test kits: Do they work? (22:03)
The testing is done either at Quick Test Centres set up across the island or through employer-supervised self-swabs, which can be a logistical challenge for bigger teams.
For example, Mediacorp's Chinese drama unit had more than 80 people taking part in the recent trial, compared with 19 people from Talking Point.
The unit's executive producer, Soh Bee Lian, had to hire a nurse to supervise the swabbing, and the tests had an impact on filming schedules.
Besides setting up a testing station, manpower was needed to man the station. Staff, including actors, had to arrive earlier to take the tests. Juggling the different call times of extras and other crew members was a challenge, said Soh.
"For example, we may require two extras to be on set in the morning (and) another three to arrive at 7pm," she cited. "Someone has to guide (them) on how (the swabbing) is done and to supervise the whole process."
PEACE OF MIND
But regular testing has its advantages. Staff can rest assured that they are working in a safe environment, noted Soh.
Actors need not be masked up while filming, "but it isn't always possible to remain one metre apart while filming", she said. "So this testing will put us at ease, allowing actors to be physically closer in certain scenes."
Peace of mind was also the main advantage cited by Chia and Tan.
"At first, I thought it might be inconvenient to have to do it every two weeks. But once we got started, it's very fast and easy," said Tan.
"The whole procedure takes about 20 minutes, but actually the process of swabbing and then collecting the specimen for testing takes five minutes at most. (In) the remaining 15 minutes, you're off to do your own thing while waiting for the result."
Chia said the self-swabs gave him the peace of mind of knowing he was not unwittingly spreading the virus to people around him. "At least it's a first line of defence and can pick up hidden cases in the community."
Besides self-swabs, people in Singapore may encounter breathalyser and saliva tests going forward. Here are quick facts about the three types of tests:
SELF-SWABS
As at Aug 12, the Health Sciences Authority (HSA) has authorised the use of six antigen rapid self-test kits.
Cost: Most of the kits retail at S$10 to S$13. The price per kit may be lower in a multi-kit pack.
How quickly results will be known: 15 to 30 minutes.
Where it is used: Quick Test Centres and at home.
BREATHALYSERS
The HSA has granted provisional authorisation for two COVID-19 breathalysers: BreFence Go COVID-19 Breath Test System and TracieX Breathalyser.
Cost: BreFence's developer, local start-up Breathonix, says each test costs US$5 (S$7) to US$20, depending on the volume of deployment; each TracieX test costs US$20, though mass production could reduce the price, says Nanyang Technological University Associate Professor Ling Xing Yi, who co-founded Silver Factory Technology, which developed TracieX.
How quickly results will be known: Within two minutes.
Where they are on trial: Changi Airport, land checkpoints, National Centre for Infectious Diseases.
SALIVA TESTS
The Resolute 2.0 polymerase chain reaction (PCR) test kit allows people to draw saliva from deep within their throat and spit into a specimen bottle for testing.
Developed by the Agency for Science, Technology and Research's Diagnostics Development Hub and DSO National Laboratories, the kit is distributed by medical device company Advanced MedTech Holdings.
Cost: Competitive with standard PCR tests, which range from $125 to $200.
How quickly results will be known: About an hour.
Where it is used: Locations include hospitals, laboratories, Singapore Armed Forces camps, Changi Airport and other checkpoints.