Would you be a rental date, debt collector or OnlyFans creator? These Singaporeans show us how
Who are the people doing jobs that are often stigmatised? And how do their parents feel? The web-only series OTRD X Unfiltered: Just Don't Tell Mum lifts the veil on some unusual jobs — and busts some misconceptions along the way.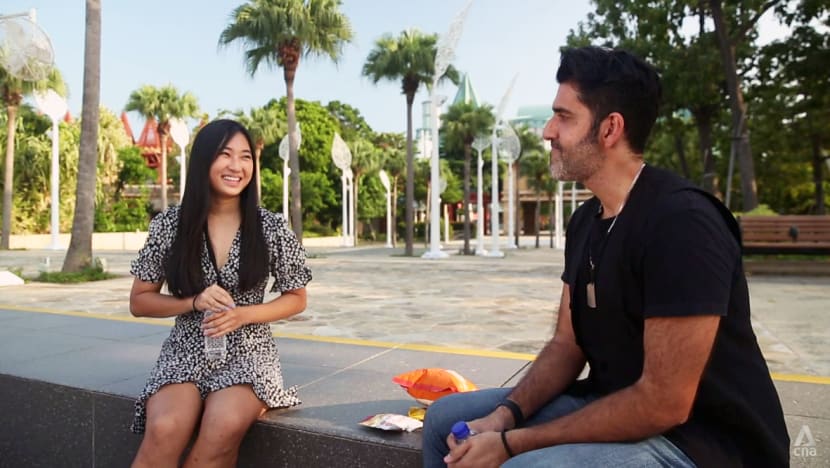 SINGAPORE: When a rental date agency first reached out to Wayne via social media asking him to join them as a rental boyfriend, his response was, "Why not?"
"I can earn some side income, and meeting people is essentially the job," says Wayne, who wishes to be known only by his first name. He would be well paid, he reckoned: S$150 for two hours of companionship.
The rental dating phenomenon, which offers companions for hire, sprang up in Japan about a decade ago. But in Singapore, it is relatively new. About three companies have set up shop here in the last four years. Prices start at about S$100 for a two-hour date.
But is a rental date simply a sugar baby by another name? And how did Wayne and his counterparts deal with the reactions from their friends and family?
These were among the questions surrounding the industry that the programme On The Red Dot explored in its web-only series OTRD X Unfiltered: Just Don't Tell Mum.
The five episodes examine some rather stigmatised jobs, with host Rishi Budhrani trying his hand at the various roles — selling adult toys, being a debt collector as well as a new age healer and even attempting to create his own pole dancing video on subscription-based platform OnlyFans.
Along the way, he busts several misconceptions and discovers new meaning in the jobs.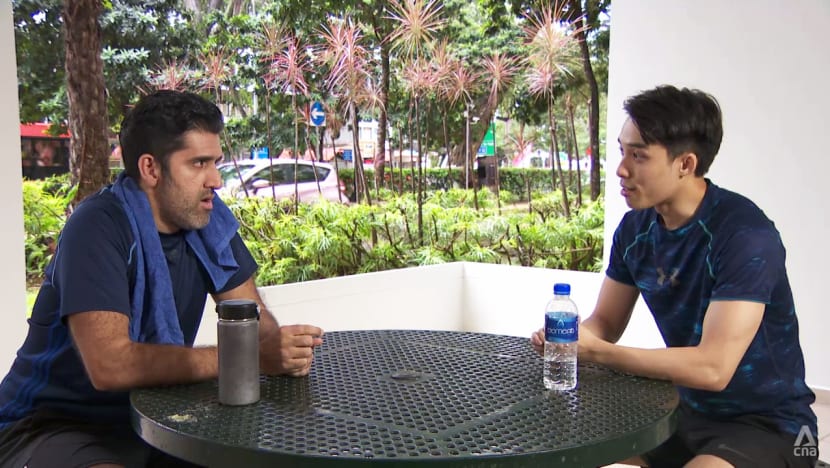 NOT SUGAR BABIES
One such misconception that rental girlfriend Karen got about the job is that the clients are "weird or creepy people".
Admittedly, she remembers one date who took her for a stroll but did not tell her his name or say a word along the way. "It was really awkward," says the 21-year-old, who also prefers not to identify herself further.
Most of the time, however, she met "very normal" clients, like university students or regular working people.
She did not make a point of telling her friends about her job, which she had done for eight months. While she describes her parents as "pretty chill people", she also does not think they were aware of it.
"If they find out, I'll just have to sit down and have a long chat with them," she says with a laugh.
Wayne also describes his parents as "very open-minded", but says his friends judged him initially. "After some time, they realised I was still me, so slowly they accepted it," he adds.
He is candid about the stigma to being a rental boyfriend, acknowledging that men are usually the ones who take the lead when it comes to dates. "Guys plan the date, bring the girls out and normally pay for the first date,' he notes. "However, if it's a rental situation, then the girl is already paying."
But he is also clear about where the line is drawn: A rental date offers companionship, not physical intimacy.
It's a rental service. It's not a you-do-what-I-want-you-to-do service."
There are also distinct differences between rental dates and sugar babies, according to Katherine (not her real name), who refers to herself as a sugar baby and also has experience in being a rental date.
The 21-year-old does not see being a sugar baby as a job as it involves an actual relationship. "Your (sugar) daddy is your partner," she says. "Not your client."
WATCH: Dating for cash: What's that like? (23:10)
Besides, she adds, as a rental date, 30 per cent of her fee goes to the agency.
She has been a sugar baby for two years and receives the use of a car and a S$10,000 monthly allowance from her current sugar daddy, a sports car dealer. He also offered her a condominium, which she did not accept.
Intimacy is involved, she acknowledges. "But like (having) a girlfriend, no one wants to force you to have intimacy on the first date," she says. "We need to be very comfortable with each other.
FINDING DEEPER MEANING
The taboo on talking about sex publicly was a topic explored in another episode on sexual wellness.
Janice Lee, 42, former human resource professional turned sexual wellness advocate, not only advocates the importance of sexual health, but is also a brand ambassador for sex toys.
And she says it is tough to talk about such things, let alone sell them.
"There are a lot of taboos about sex toys and sexuality in general," she says. "For (customers) to come to you, to look at the toys, they'd be super paiseh (embarrassed) about it."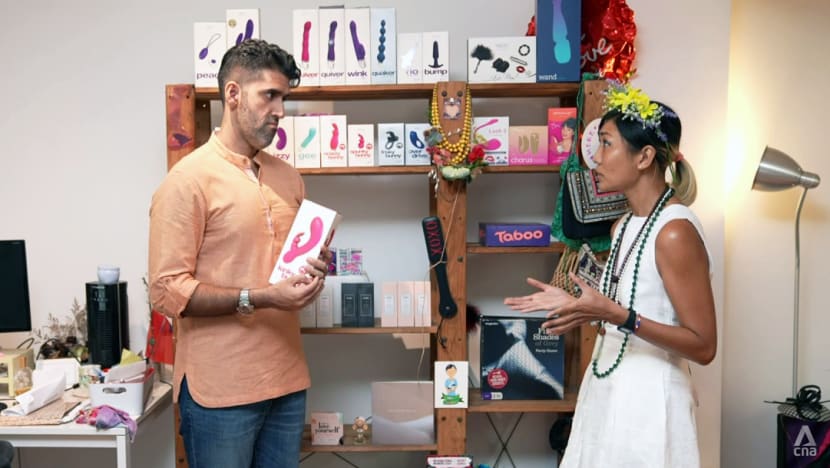 Women, she notes, need a "little bit more help". She herself remembers her mother telling her she would not need to know anything about sex because when she gets married, her husband "will know what to do".
"When they grow older, they don't know what pleasure is about, and it's very unfair to put (it) on their partners to figure out what their pleasure is," she says.
This is why the "most important thing" to understand when it comes to selling sex toys, she says, is the customers' needs and "what form of play they'd like".
Creating a safe space is also important, according to Don Leong, the operations manager of horny.sg, which sells sex toys. "We try to keep the place as normal as possible to respect customers' privacy, so they have a comfortable place to shop in," he says.
Some customers, especially older ones, may be "a bit shy". His approach is to find out more about them and get them comfortable enough to talk about their issues before he recommends suitable products.
"That's why I do find a deeper meaning in this industry," he says.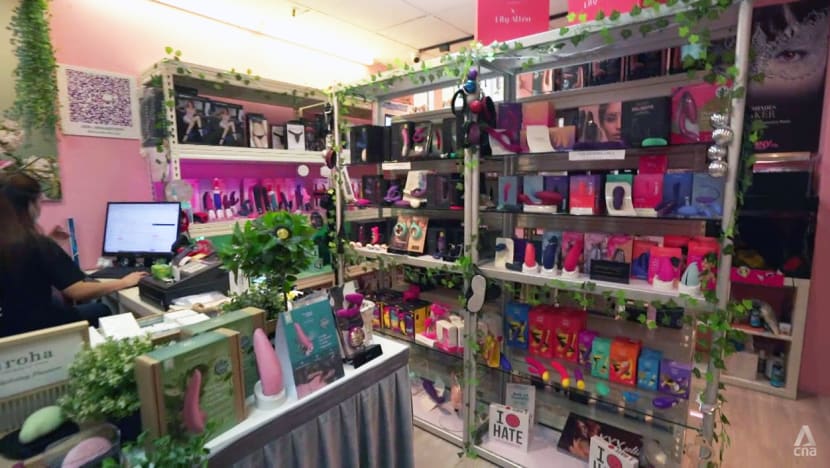 Indeed, being connected to one's sexuality can have an impact on one's life and even save marriages, cites clinical sexologist Martha Tara Lee. She works with people with sexual difficulties, such as women with vaginismus, a condition that makes penetration difficult or impossible.
Some may be unable to consummate their marriage, which she says could lead to divorce or infidelity. Some of her clients have also never masturbated or had an orgasm in their lives.
"I teach them sexual skills so that they become much more connected with their bodies," she says. "When you have more skills, then you have more confidence."
Such skills include pelvic floor squeezes, how to breathe to regulate their energy and being comfortable in different positions.
She recalls how people were "very, very reluctant" to see her when she first started her practice 12 years ago. But people now come to her earlier.
"It's very positive because you don't have to have a lot of pent-up resentment and frustration, which can lead to communication breakdown and shutdown," she adds.
'NOTHING TO HIDE'
For pole dancer Andrea Ee, 23, being comfortable with her sexuality is how she makes a living: She posts risqué content on OnlyFans and charges subscribers on the platform S$16.99 a month to view her photos and videos.
While she "definitely doesn't do porn", she does post nudes, which she says tend to be more "artistic nudes". In doing so, she has become more comfortable with her body and in her own skin.
"I was posting a lot of pole and dance videos on my Instagram," she says. "But I couldn't do anything about all this male attention that I didn't want.
"Eventually, I decided to create an OnlyFans account."
On how she first began posting revealing photos online, she says she had been photographed without consent by a previous partner. "I didn't want whatever he had to have any value," she says. "I just took back control and posted it myself."
She acknowledges that she gets weird looks when she tells people she posts content on OnlyFans, as the platform mostly had "full-service sex workers, strippers and escorts" when it first started.
But the stigma has started to decline. "I just feel like I have absolutely nothing to hide," she says.
I don't think anything I'm doing is wrong, and I don't feel ashamed or guilty about taking cute pictures of myself."
How does she deal with her parents, however?
"I'd try to show them my videos, but they'd be like, 'Want to watch TV,'" she jokes.
"My dad is just very supportive of me because he loves me a lot. My mum, on the other hand, is kind of a typical boomer, so I just have to keep a little bit of distance there to avoid conflict."
As for mukbang creator and competitive eater Zermatt Neo, who makes YouTube videos of himself binge eating food like pizza and hot dogs, his parents thought he was only "going through a phase".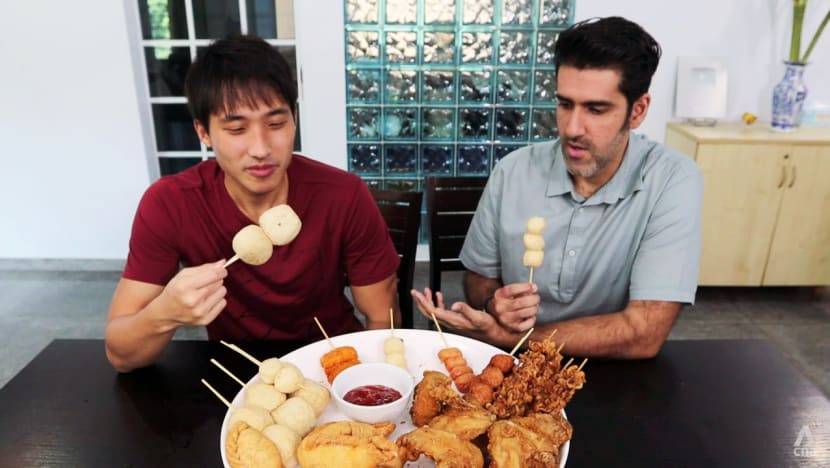 But as demand for his videos grew and his parents realised he could have a stable income, they became more supportive. The mukbang trend, which refers to people filming themselves eating large quantities of food, started in South Korea about a decade ago and has since gone global.
The most popular videos can rack up millions of views on YouTube, with creators earning six-figure sums each month.
For someone who binge eats regularly, Neo keeps a surprisingly healthy lifestyle. Every week, the 33-year-old makes two videos but goes to the gym five or six times. And the sinful food is only for the camera; the rest of the time, he eats vegetables, tofu and eggs.
'TOUGH GUYS', BUT NOT LOAN SHARKS
The men from Singapore Debt Collection Service (SDCS) are another group who can say their occupation is widely misunderstood. They would like to make this clear: They are not loan sharks.
"We don't use violence, we don't use vulgarities," says chief executive Keagan Tan. "We act as middlemen to solve this matter."
Since 2002, the company's debt recovery specialists have been tracking down unresponsive debtors and negotiating payment plans.
Beyond simply going to a debtor's home and demanding payment, the men demonstrate how the job takes skill and preparation.
When a client first approaches the company, the men do research and look at various documents available, like email correspondence, contracts and payment terms stated on invoices. This is to make sure that there are legal documents showing that the debtor legitimately owes the client money. 
They then make a phone call to the debtor and serve a letter of demand indicating who they are acting for and the amount owed. After seven days, a recovery specialist would visit.
They are trained to remain calm during house visits, even if debtors are emotional or family members such as young children are present.
"(We) show the documents to them and explain to them patiently," says Tan. "If they call the cops, then you have to wait for the police to come and explain to the police as well."
Some of his team members say it can be difficult to explain their job to friends and family.
"To them, it's a risky job," says Prince, a 43-year-old senior debt negotiation officer who prefers to be known only by his first name. "That's why they keep a distance from me."
Newcomers, meanwhile, may initially feel guilty about confronting debtors. But the role of a debt collector is not what most people may think, says SDCS operations manager Kelvin Ho, 35.
"You have to stand up for the victim … If you study the case, you'd understand what type of debtor it is and what the case is about," he says. "So you give a fair solution that the client and debtor can agree on."
There is one thing a debt collector must remember, according to Tan. "You're helping your client get back their hard-earned money," he says. "It's a tough job for tough guys like us."
WATCH: What does it take to be a debt collector? (23:37)