More youths seeking help with mental health - but finding it isn't always easy
Breaking the silence, youths share candidly with CNA Insider about their struggles with depression, self-harm and trauma – and about persevering on the sometimes-bumpy road to finding help and healing.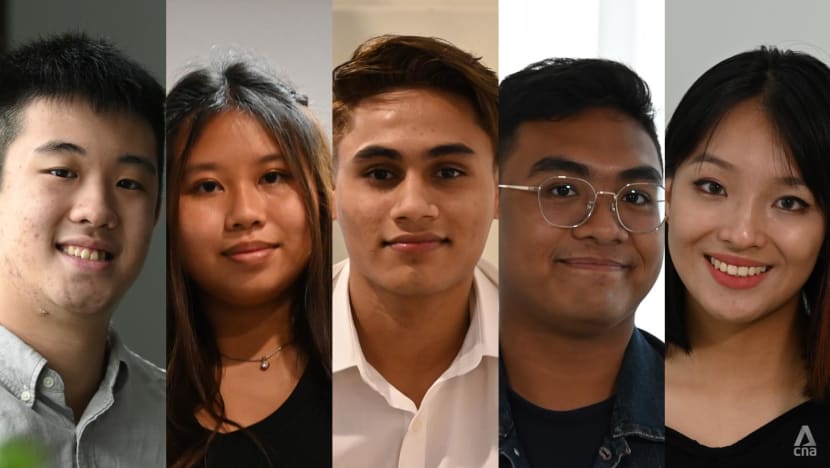 SINGAPORE: After making it through secondary school without any close friends, introverted teenager Poh Zhi Nan vowed to "be a new person" at junior college.
He said 'hi' to everyone, went out with different people. But like any teen searching for identity, he wondered: "Who am I? Why am I trying so hard to be that outgoing person that I'm not?"
Before he could find a new rhythm, however, the COVID-19 pandemic hit in 2020, and schools switched to home-based learning. Without face-to-face interactions and support, Poh grew more anxious, ever so stressed, and began imagining worst-case scenarios.
He tried speaking to his parents about getting professional help – but they thought he was possessed. They put him through an exorcism ritual that left him traumatised.
"To their generation, there's no such thing as mental health issues," said Poh, now 19.
Things didn't improve when in-person classes resumed. He got panic attacks, and was taken to hospital and diagnosed with post-traumatic stress disorder (PTSD).
That's when he decided to prioritise his mental well-being – and made the "unglamorous" call to take a break from school.
He also knocked on several doors, approaching a few public hospitals and private healthcare providers, before he found a treatment setting and team he felt comfortable with.
Poh has not been alone in his struggle with mental health demons – or in his quest to get help and be better understood.
MORE YOUTHS DIAGNOSED WITH DEPRESSION
One study published last year (2021) revealed, the number of those aged 10 to 24 diagnosed with depression at one healthcare group grew four-fold between 2013 and 2018 – a more rapid increase than for any other age group.
Writing in the ASEAN Journal of Psychiatry, the study's authors referred to other research that has shown how "compared to adult-onset depression, adolescent-onset depression has been found to be associated with greater psychosocial impairment, physical health problems, psychiatric comorbidity, and suicidality".
"Early interventions are critical," they added.
During the pandemic, in the second half of 2020, 52 per cent of young respondents in National Youth Council polls said mental well-being was a challenge.
The same year, the suicide rate among those aged 10 to 19 rose, similar to other age groups as Singapore recorded its highest number of deaths by suicide since 2012.
Last year, youth mental health become the topic of a national conversation when a 16-year-old River Valley High School student, who had previously attempted suicide, allegedly killed a schoolmate.
In the wake of the incident, President Halimah Yacob noted that schools need greater resources and support to help students with mental health issues.
In recent years, more resources have indeed been added – at the school, community and national levels. So why do some youths still find it a challenge to get the help they need?
CNA Insider spoke in-depth to more than 15 youths about why and how they struggled, sometimes for years, with conditions such as depression, anxiety, self-harm and eating disorders. The upside: Most, if not all, had found a way out of their darkest days, and want their stories to serve as encouragement to others.
The worry? Many reported roadblocks on the way to finding help, be it at home, in school or from healthcare institutions.
Take Roy (not his real name), 22, who struggled to even find the motivation to seek help, didn't have a close family and didn't find his sessions with a community counsellor useful. It was when he landed at the Institute of Mental Health (IMH) in 2020 following a suicide attempt, that he decided he "could not let things get any worse".
If it comes to a point where all your options have been exhausted, where you don't seem to find a way out… I really encourage you to speak out.
How can parents, schools and society help strengthen the safety nets for young Singaporeans who are struggling mentally?
PARENTS: WHEN HURT OR HELP STARTS AT HOME
Home is a place where many children feel safest and most loved. But for some, it is a source of distress.
"When I was young, I liked to tiptoe when I walked," recounted Mohammed Narish Mohamed Noh, 22. "My dad kept on warning me to stop… 'The next time I see you tiptoe, I'm going to tie your legs and put you in a cage'."
And so he did. Narish's father put him in a "big parrot cage" in the kitchen. He was in primary school at the time. "I didn't know what to feel," he said.
For other infractions such as returning home a few minutes late, he would be beaten or made to stand for a whole night. By the time he was 15, Narish had joined a gang, and later turned to substance abuse for "happiness".
It was when he was sent to a boys' home that a psychology-trained aftercare officer helped Narish to understand how his childhood experiences were linked to his symptoms of depression and post-traumatic stress.
Other youths talked about the impact of parental expectations on their mental health – a recurring theme.
University student Zoe (not her real name), 21, remembers being caned by her mother when she missed a note during music practice when she was around four to six years old.
I told her, 'mum, very painful, don't hit me anymore'. And she'd be like, 'no, I'll beat you until you're a good kid'.
But even when family isn't the root of the original problem, it can become one when the young person confesses that they need psychological help – like in Poh's case, when his parents turned to exorcism instead of therapy.
Denial is often parents' immediate reaction. When children open up about mental health issues, said clinical psychologist Cherie Chan, parents may think it is a phase or that their children are weak or being "woke".
They may not comprehend why their children would be feeling this way when they seem to have "everything in life".
In reality, the parents most likely had similar troubled feelings in the past, said Chan, who is in private practice at Thrive Family. "It's just that at the time, survival was more important… whereas now, it's not so much about surviving or living, it's about thriving."
WATCH: Why Children And Teenagers Struggle With Mental Health | Confronting Youth Mental Health Part 1/2 (24:04)
DIFFICULT CONVERSATIONS, BUT NECESSARY
Take Karen Lee, 24, who began self-harming in junior college when she felt "numb" and "hopeless" from the pressure of her parents' high expectations and her "school environment". "My self-worth was contingent on how well I did in school," she said.
She did not tell her parents how she felt — they were conservative, and mental health was "misunderstood" — until she realised, on her 17th birthday, that she was "so miserable" that she needed help.
But treatment would cost money. So she finally shared her feelings with her father during a car ride to school. His response was encouraging. She recalled him saying, "I'm sorry that you've been through all this… I'm willing to support you."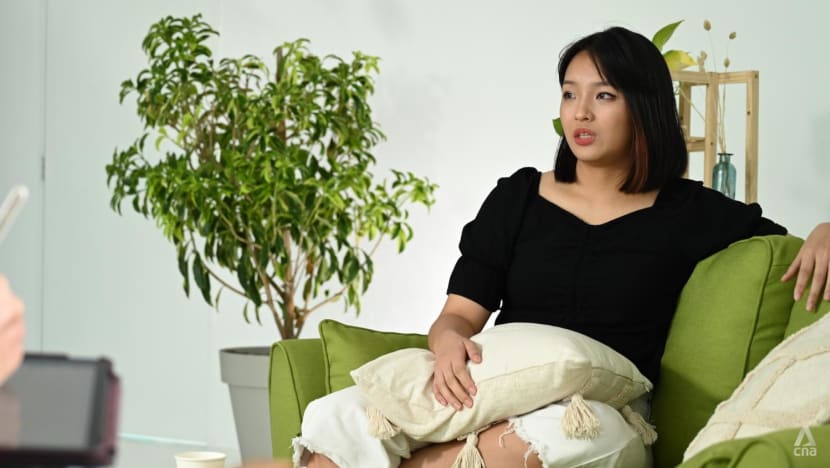 At first, they did not tell her mother, who was the stricter parent. Lee was referred to the Child Guidance Clinic at the IMH, where she was diagnosed with premenstrual dysphoric disorder, a severe form of premenstrual syndrome.
As part of treatment, the psychologist wanted Lee's mother to attend a session. That's when Mrs Lee, as she asked to be known, learnt of her daughter's condition and got "really upset", according to her daughter.
Mrs Lee's reaction was to put her daughter's feelings down to her perfectionist tendencies "as a Virgo" rather than clinical depression. "I just thought at the time, how could it be possible?" she recounted in Mandarin.
At university, Lee majored in psychology and gained a "deeper understanding" of how her family had affected her mental health. But this also gave rise to anger. She realised she needed to talk to her parents.
She first apologised to her mum. "It took us maybe 30 minutes to calm down and stop insulting each other and getting angry," she said. The conversation turned out to be "monumental".
What she learnt was that her mother had grown up with the tough expectations of being the eldest child herself. "That's why I was also so strict with Karen," said Mrs Lee.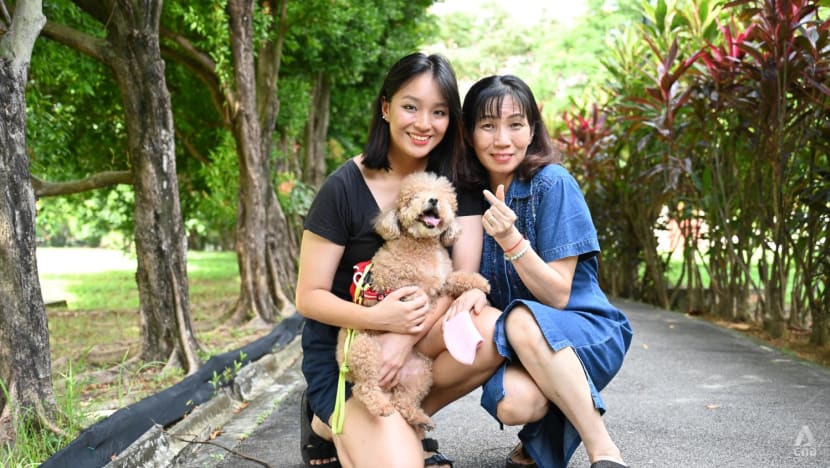 Lee also asked her father why, when she used to cry, he did not comfort her. He told Lee that "his coping mechanism was to suck it up".
The conversations helped her to be reconciled with her parents, and she encourages others to "be brave to (have) difficult conversations".
"Because honestly… nothing that bad will come out of a conversation if you have the right intentions of clarifying your doubts, your misconceptions and feelings," said Lee, who has since graduated and wants to be a clinical psychologist. She has also volunteered for the IMH as well as a community initiative called SG Mental Health Matters.
As for parents, Mrs Lee said: "It works both ways. Both parties have to compromise and forgive each other's past and wrongdoings."
WHAT PARENTS CAN DO
Check in and really listen. It is good for parents to check in with their children even for five minutes a day. Ask "how are you", said Singapore Children's Society assistant director of student service Leela Narayana.
Do not belittle or invalidate. Sometimes parents may not know what to do or say, noted university student Zoe (not her real name), who has battled suicidal tendencies and is recovering from complex PTSD. "Being present and not belittling (youths') feelings is good enough," she said.


Youths know adults have more issues to deal with — bills, children, jobs — said undergraduate Hanna Lee, 19, a survivor of an eating disorder. But "all of us have been youths at one point", she noted. "It's important that adults validate how youths are feeling and not downplay their emotions."

Be kind, even when it is difficult. Most parents are compassionate when children are younger and more helpless, said clinical psychologist Joel Yang. "How do you continue… in that nurturing way, even when they become seemingly more defiant or obstinate when they're older?"
Learn how to help better. The non-profit Caregivers Alliance runs fully-funded training for those looking after persons with mental health issues.
SCHOOLS: WHERE IT'S BLOOM OR GLOOM
Much of the talk about ramping up mental health support has been focused on schools, where youths are grappling with not just academic pressure but also the woes of friendship and wanting to belong.
For Uma (not her real name), the first two years at secondary school were intensely lonely. She had yet to make friends and felt like an outcast.
The loneliness does something to you, and then you can't help but think that you shouldn't exist.
"Suicidal thoughts were plaguing me," said the 17-year-old junior college student who requested anonymity.
Germaine Goh, 18, remembers how she got on Instagram in Primary Four and kept tabs on who had the most followers and number of likes.
"There were people going around asking their friends to like their photos or to follow them so they'd seem more popular," she said. "That was something I also resorted to."
Back then, if a photo she posted did not garner more than 100 likes, she would delete it. "I tied my self-esteem to the amount of likes I was getting."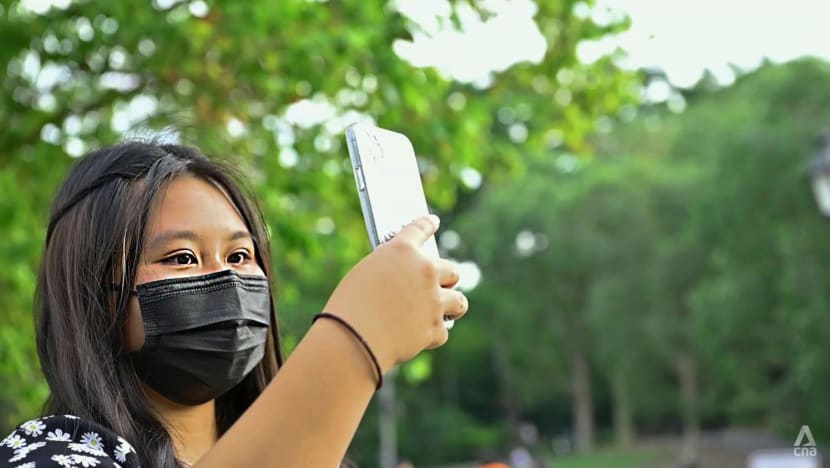 Cyberbullying also reared its ugly head, with people commenting on her physical appearance. Nasty messages from people who were supposedly her friends made her question whether she could trust anybody. The desire to fit in, and the stress to do well in school, caused her mental health to spiral downwards.
She was 11 the first time she self-harmed.
It made her feel slightly better as it was "the only thing" she could feel.
Mostly what was going through my head was that I wasn't good enough. And I deserved to feel this pain.
For students with issues bigger than they can handle, schools have developed resources to help.
All schools have at least one or two full-time counsellors, while each polytechnic and Institute of Technical Education college has five to seven counsellors, the Ministry of Education (MOE) said in September last year. The autonomous universities are "similarly equipped".
And what students share with school counsellors is confidential unless a student's safety is at stake, according to the schools CNA Insider contacted.
But the experience of seeking help at school differs greatly, youths told CNA Insider. Some benefited from their school counsellors and teachers; others did not feel adequately listened to, and even felt betrayed.
Uma, for instance, felt that her school counsellor was becoming increasingly impatient towards the end of Secondary One. She claimed the counsellor also betrayed her confidence to her parents and teachers.
This magnified her stress as her parents "got very defensive and angry", and teachers "no longer had a good impression" of her. She stopped seeing the counsellor in Secondary Two.
Goh, on the other hand, "really trusted" her junior college counsellor and teachers. They were the ones who urged her to tell her IMH doctors about having been sexually harassed so she could get help; it's how she got diagnosed with PTSD.
Her teachers were also a pillar of support when she began hearing voices in 2020. She confided in them after the "voices" got so bad that she did not attend school for a week.
They referred her to the school counsellor, who she said made some calls to get her professional help. Owing to the waiting time involved, Goh opted to go to the emergency department of a hospital and was referred to the IMH.
While others have had similarly positive encounters, what can turn the experience of seeking help at school into a nightmare? Some pointed to educators and counsellors who belittled their woes.
Muhammad Syazwan Rahmat, 23, recalled how his discipline master and form teacher ascribed his problems in Secondary Three to laziness and truancy.
In fact, he was feeling "empty" after being separated into a different class from his friends. His school subjects were also "getting tougher", and he was grappling with confusion over his sexuality.
His parents were called to school over his poor attendance. The discipline master, he said, told him: "If you've really got issues, give me a doctor's letter." A session with the school counsellor "didn't really help much" as his issues were still seen mainly as a truancy problem – he was given tips on staying motivated.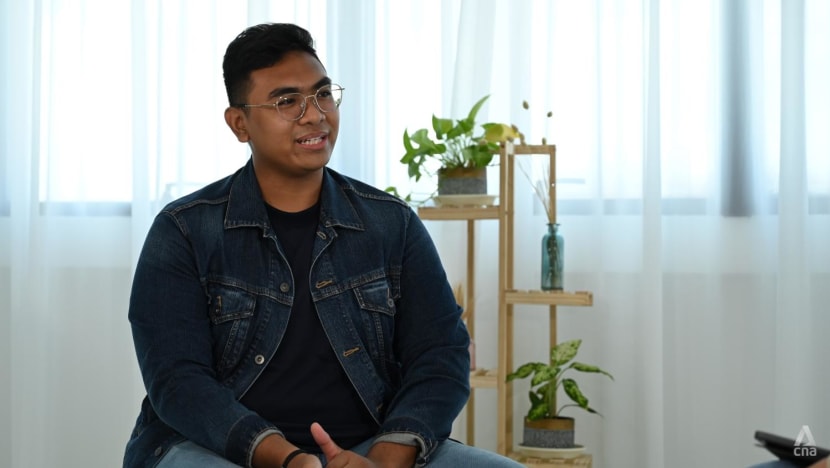 In Ryan Ong's case, a teacher mocked him in front of the class for an essay he wrote about a suicide attempt. The class laughed at him.
Already feeling overwhelmed by his schoolmates' bullying — with remarks like "why aren't you dead yet" — he sank deeper into depression, recalled the 23-year-old.
GIVEN CHANCES TO SHINE
But ultimately, the people who are the source of distress – school peers and teachers – are also the ones who can make the most positive difference, the youths told CNA Insider.
Things began looking up for Uma, for example, in Secondary Three when her teachers created a positive environment and discouraged unhealthy competition by reminding the class that friendships were more important than grades, she said.
Her classmates ensured everyone was included in birthday and other celebrations. Although Uma did not immediately stop self-harming, it was no longer over "friendships and stuff".
In fact, she made a best friend over a shared love of comics. "I talked to her about how I was lonely. She introduced me to her two friends who are also my best friends now," said Uma.
Those three are part of the reason I was able to get through that time.
In recognition of how friends are often the first line of support, since last October, all schools and institutes of higher learning have had peer support structures in place, where participants look out for fellow students and encourage peers in distress to seek help from trusted adults.
The MOE also aims to deploy more than 1,000 teacher-counsellors in the next few years, up from the 700-plus in schools as at last year. These are teachers who have received additional training so they can help students who are dealing with more challenging social-emotional problems, like grief and loss.
For Goh, who was on medical leave from school for most of 2020, her teachers were and remain a fount of support.
When she returned, PTSD had affected her memory, and her teachers would sit down and help her understand various concepts taught in class. They were understanding when she needed to leave midway through a class to calm herself down. Her form teacher told her to take self-care days.
The school also gave her opportunities to shine and lead: She is the captain of her co-curricular activity as well as a school ambassador who helps to promote the institution during events such as open house.
"It makes me feel very good because they have that trust in me that I'm able to still uphold these responsibilities while I'm trying to fight my own battles," she said.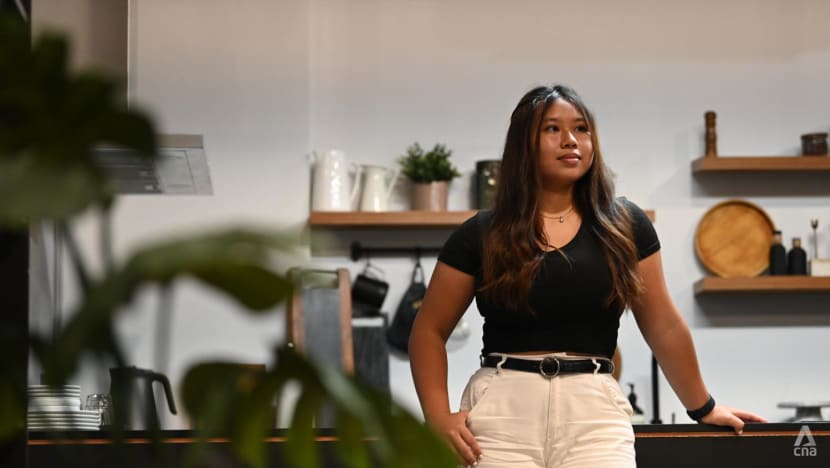 Goh no longer looks to social media for that self-esteem lift. "Now I don't really care about what people think about me and I just have fun. The likes and amount of followers don't define who I am."
PROFESSIONAL CARE: HOW ACCESSIBLE?
Working closely with school counsellors are the IMH's teams of psychologists, social workers, occupational therapists and doctors.
When activated, the IMH's Response, Early intervention and Assessment in Community Mental Health (Reach) teams will head out to schools to do assessments, said IMH medical board chairman and psychiatrist Swapna Verma.
Problems that are "not that complex or that severe" can be handled with therapy within the school system, while cases requiring tertiary care are escalated to IMH, she added.
But for those who take the initiative to seek professional help on their own, getting it can take long waiting times and a lot of money, said youths, parents and experts. It can take months to get an appointment with a public-sector psychiatrist or psychologist, while the private sector is priced out of the reach of some.
When Sean Cheng, 19, decided to seek help at the end of 2020 for the "intrusive negative thoughts" he had been having for about two years, he tried to "do everything" by himself.
He contacted the IMH.
The earliest appointment they could give me was two months later. But I felt I needed help now.
When he eventually turned to his parents with his problem, his mother – after the initial shock of finding out – paid for a private psychologist, at S$300 to S$400 a session, for which Cheng was very grateful.
He was diagnosed with dysthymia, a form of depression also known as persistent depressive disorder, and attended monthly sessions for about half a year.
Zoe, whose mother imposed harsh punishments, was diagnosed with complex PTSD in 2019 and pays roughly S$230 a month as a subsidised patient at the IMH. This is the cost of seeing a psychologist weekly and for medication.
It is "quite a lot" for an undergraduate, remarked Zoe, who worked three jobs on campus to pay the bills. Even so she deems it a "luxury" that she could take on three jobs – because not everyone with a mental condition can do so.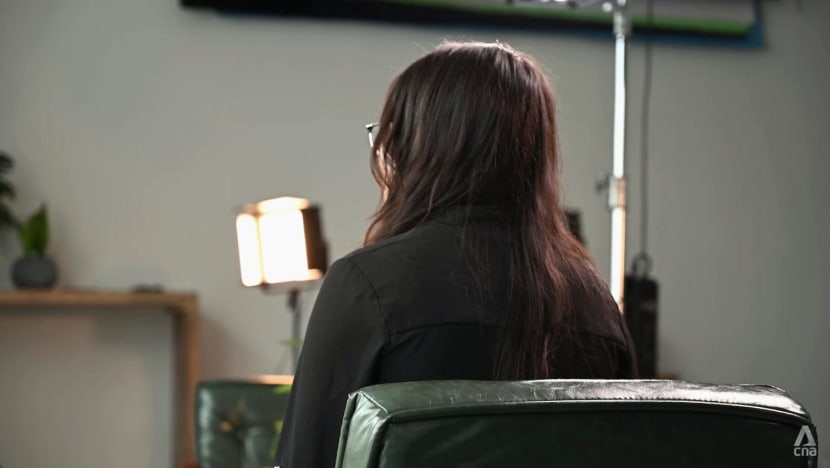 For 46-year-old Jasmine (not her real name), getting help for her 15-year-old daughter has wiped out the family's savings.
Her daughter has major depression and has grappled with suicidal thoughts since Primary Five. A weeks-long stay in the IMH did not improve the situation, so Jasmine searched for alternatives and found a doctor at Mount Elizabeth Hospital.
A stay there of over three weeks cost about S$26,000 after Medisave withdrawals, said Jasmine. Plus there were monthly medication costs of about S$1,000 and subsequent inpatient stays.
She and her husband, who also have a younger daughter, remain stoic. But they have used up their savings, cashed out endowment plans and maxed out their Medisave withdrawals and insurance claims for general hospitalisation.
With a monthly household income of about S$5,000, they live from "pay cheque to pay cheque".
I always laugh and say I'm going to sell my kidney… to pay the medical bills.
She is appealing for more to be done about the cost of treating mental conditions.
HELPING WITH COSTS AND ACCESS
Experts note that AIA is the only insurance company here with a critical illness plan that offers mental health coverage. The AIA Beyond Critical Care covers five mental illnesses: Major depressive disorder, schizophrenia, bipolar disorder, obsessive-compulsive disorder and Tourette's syndrome (until age 21).
Employers that offer insurance coverage for mental health are also "really important", said former Nominated Member of Parliament Anthea Ong.
Clinical psychologist Chan believes that having insurance schemes that cover psychological services would improve accessibility. For that to happen, formal regulation of the profession may be needed as clinical psychologists are currently not registered under Singapore's Allied Health Professions Act, though they may voluntarily register with professional associations.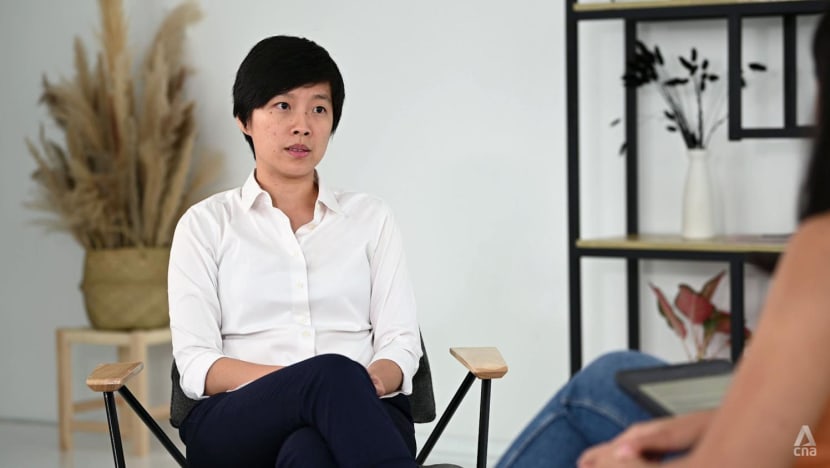 On affordability, the Ministry of Health (MOH) is working with insurance companies and other stakeholders to "further optimise the coverage process", Senior Minister of State (Health) Janil Puthucheary told Parliament last August.
The Covid-19 Mental Wellness Taskforce and an inter-agency task force on mental health are also looking at the infrastructure needed.
MOH said the IMH monitors appointment waiting times and has measures to optimise appointment slots. Non-urgent cases are referred to primary and community-based care providers, which include over 220 general practitioners and 14 polyclinics providing mental health and/or dementia services as of 2020.
But why are fees in the private sector so high? Chan said the fees help to cover the non-billable training hours put in by private practitioners.
"There's a lot of learning, training… doctorate programmes, master's programmes that we need before we become a psychologist," she said. A lot of professional development costs also come out of their own pocket.
WATCH: Are Young People Getting The Help They Need? | Confronting Youth Mental Health Part 2/2 (31:15
Some providers have tried to lower the barriers to seeking help.
Last year, some members of the Singapore Psychological Society, where Chan is president, responded to the increased mental health needs brought on by the pandemic by offering reduced fees or pro bono services. This initiative will run until June.
Community service organisations that charge subsidised or affordable fees for seeing a counsellor or psychologist include Shan You Counselling Centre and Clarity Singapore, a Catholic mental health charity, Ong noted.
According to their websites, Shan You charges S$80 for an individual counselling session of 50 to 60 minutes, while at Clarity Singapore, it is S$40 per session.
Ong suggested people be allowed to use Medisave to seek help from such organisations.
HELP IN THE COMMUNITY
If she had a magic wand, Ong would also expand the IMH's Community Health Assessment Team (Chat) to cater to more young people. This service in Orchard Road enables those aged 16 to 30 to seek a mental health check outside of a hospital or clinic.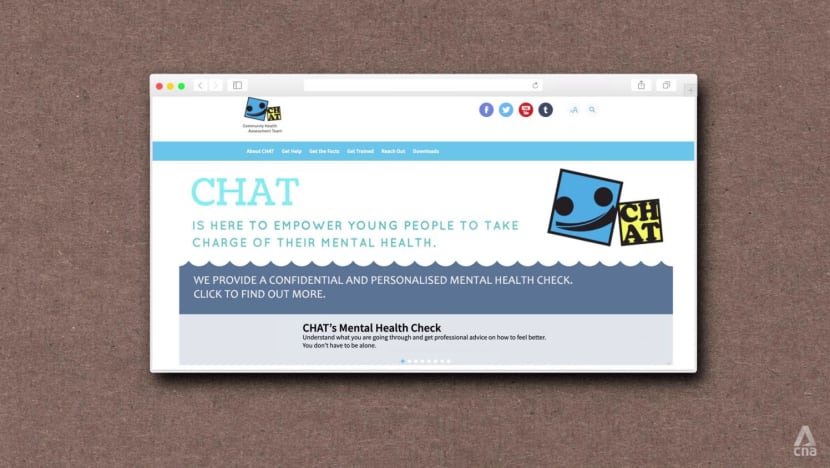 Chat was set up in 2009 in response to youths worrying about being labelled "mentally ill" if they went to the IMH, said Swapna, who is also Chat's programme director.
From fewer than 100 youths seen by Chat that year, the figure rose to about 2,000 in 2020. About 60 to 70 per cent of them do not need treatment in the IMH or public hospitals, and are referred to community or school counsellors.
Those who need to see a psychiatrist at a hospital are given a note that will get them subsidised care, said Swapna.
Hesitation to seek help at IMH can spring from word-of-mouth accounts of experiences there. While a few youths spoke positively of their IMH treatment, one described his inpatient experience to CNA Insider as "horrific", such as witnessing other patients in restraints.
Swapna said the hospital takes feedback seriously and will see how it can mitigate matters. The IMH is training staff in trauma-informed care — recognising that patients may have experienced trauma previously and working to avoid re-traumatising them.
Acknowledging that restraints are traumatic for both patients and onlookers, she stressed that they are a last resort — when verbal de-escalation and medications do not work and for the safety of the patient and others.
The hospital is also trying to provide a quieter and more private space for patients, she said. When it refurbished its wards, it sought feedback from some former inpatients. Its child and adolescent ward now has some individual rooms where parents can sleep over if it helps the child.
Meanwhile, for youths (aged 13 to 19) who seek help at the IMH emergency room but are not admitted, four social service agencies – Club HEAL, Singapore Association for Mental Health, Singapore Children's Society and TOUCH Community Services – will be trained to provide them with mental health support.
They will similarly serve those discharged from the psychiatric ward or receiving follow-ups in specialist clinics.
FIGHTING THE STIGMA ON SOCIAL MEDIA
To destigmatise mental illness, some youths are doing their part on social media. For example, Zoe, who had a good experience at the IMH, has taken to TikTok to spread the word.
She talks about things like the cost of treatment and whether it is possible to change doctors — "yes you can, I did it before", she says — to let others know "what's going on in there".
For Goh, her posts about going to IMH marked a turnaround from those days when she refused to accept the diagnosis of her depression and anxiety and had an unhealthy relationship with social media.
"Growing up, I always had this (idea) that the IMH was very scary," she said.
When I first went there, I was very surprised… I wanted to put it out there to destigmatise that place.
Destigmatising the act of calling a helpline is also key at Tinkle Friend, a service provided by the Singapore Children's Society.
"We don't portray ourselves (as a helpline to call only when) in distress," said the society's head of student service Ann Hui Peng. "It was a very deliberate attempt to tell a child that you can talk to Tinkle Friend about anything under the sun, even your happy moments."
While it means many calls from children who just want to chat, she said it is an opportunity for skilled listeners to pick up any sign of distress.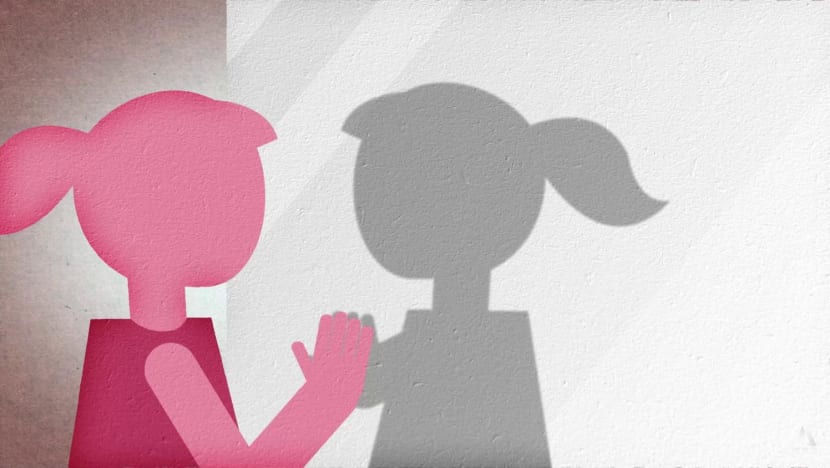 As for the link between heavy social media use and poor self-esteem, social media platforms have taken steps to mitigate harm.
Instagram's owner, Meta, said last year it has a dedicated reporting option for eating disorder content. Among other measures, it has a feature called Restrict, which allows users to protect themselves from bullying.
For its part, TikTok has been driving mental health awareness in collaboration with local non-profit organisations and youths themselves, said Teresa Tan, its Southeast Asia head of public policy.
For example, the non-profits provided training in mental health knowledge that youths could translate into creative content. TikTok also launched the in-app Singapore Wellness Hub, which serves as a repository of resources.
FINDING HEALING
Several youths said their own struggles have spurred them on to help others.
Narish, for instance, he has dealt with the issues triggered by his childhood trauma. Today, he is a mental health advocate with Strengthening Youths in a Network of Care, the mental healthcare arm of the non-profit Impart. Narish also coaches youths in boxing and describes himself as "still healing".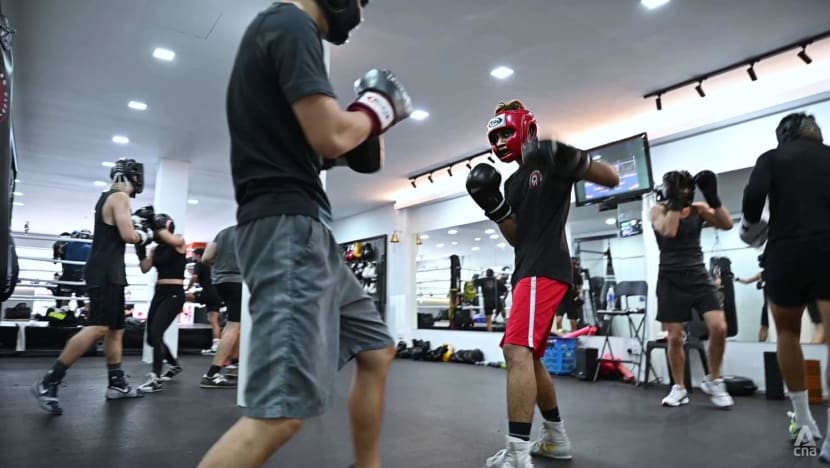 Cheng is active in three initiatives. Besides an organisation called Mental Health Collective, which aims to consolidate information related to mental health in Singapore, he is part of a group called Mummy Yummy. He coordinates its youth team's tuition programme for lower-income families.
As an officer of voluntary organisation St John Singapore, he is trying to connect its youth members to mental wellness groups for more exposure to this field. "I'm just very grateful for what I have right now," he said.
For Zoe, life today is a far cry from the suicidal thoughts brought on by harsh punishment in childhood, sexual assault and the absence of anyone who had her back.
Therapy has helped. "It doesn't actually make the pain go away, but it gives you a bigger capacity to deal with it," she said. "I never knew of a possibility (that) I wouldn't be so tormented by suicidal (feelings), low self-esteem, thoughts of being worthless."
This article by CNA Insider was done in partnership with Temasek Foundation and the Institute of Mental Health. Coming up: Part 2 on how parents dealt with their children's mental health struggles and Part 3 on how schools are normalising mental health.
Where to get help:
Samaritans of Singapore Hotline: 1 767 
Institute of Mental Health Helpline: 6389 2222
CHAT: www.chat.mentalhealth.sg/. 
Singapore Association of Mental Health Helpline: 1800 283 7019
SAMH SAY-IT:  9179 4087 / 9179 4085 or samhsayit [at] samhealth.org.sg
Club HEAL: 6899 3463
TOUCHLINE: 1800-377-2252 or @doyoumindsg
Mindline: www.mindline.sg
Other mental health mobile apps: CARA Unmask, Safe Space, Intellect, MindFi, Myloh 
You can also find a list of international helplines here. If someone you know is at immediate risk, call 24-hour emergency medical services.