Beyond cosplay: Hanfugirl explores ancient Chinese history through fashion
Who says history is boring? Singaporean Gong Pan Pan, who also goes by the moniker "Hanfugirl", is celebrating her cultural heritage by dressing up in style.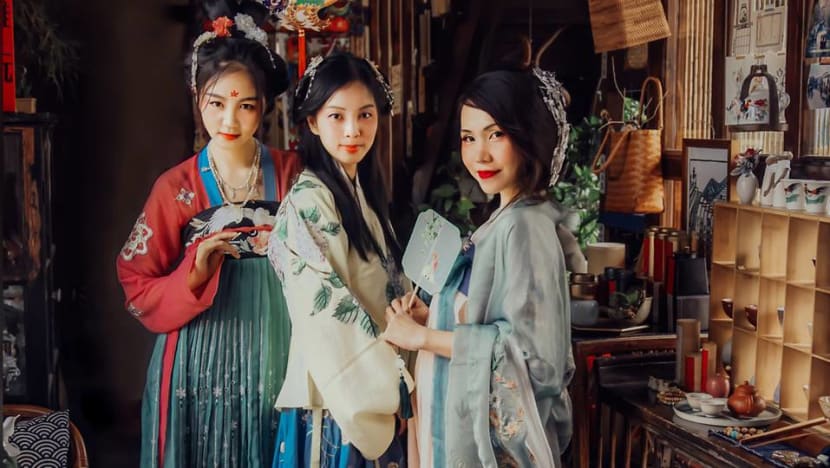 SINGAPORE: In May 2015, Gong Pan Pan and her husband flew to Beijing for their wedding photoshoot. For one of the sessions, they went to a studio to dress up in costumes from different periods in Chinese history – and she was promptly hooked.
"It was the first time I had taken a proper photoshoot and I thought it was so nice. So I researched a bit more and found out there was this whole new world of hanfu in China, where people would argue about whether they were authentic enough. And I realised it wasn't just about looking pretty," she said.
LOVE AFFAIR WITH HANFU
For the 31-year-old Singaporean, that brief cosplay moment was the start of an ongoing love affair with hanfu, the traditional clothing of the Han Chinese, and the history woven into these.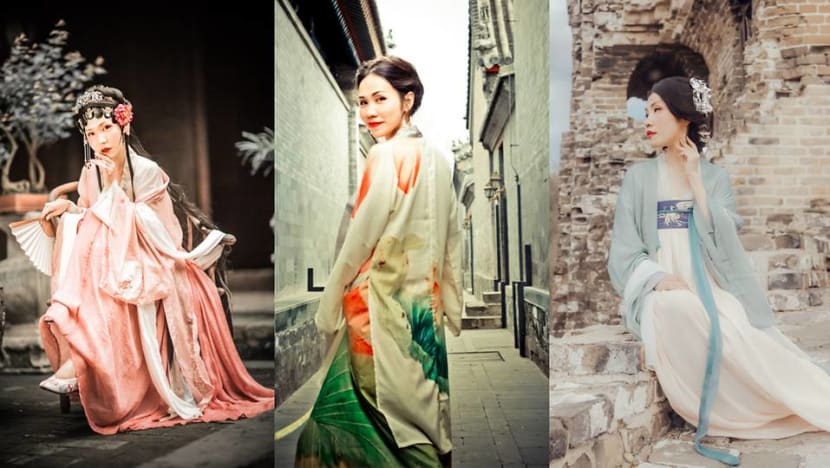 Keen to find out more about these fancy clothes from the past, she began buying books on the history of Chinese fashion.
She started shopping, too. Today, she has around 50 sets of clothing, all bought from online shopping site Taobao. Her collection ranges from styles that date back to the Han Dynasty to as recent as China in the 1920s and 1930s.
Under the moniker Hanfugirl, she has been creating photographs of her and her friends dressed up in these clothes, which she posts on Facebook and Instagram.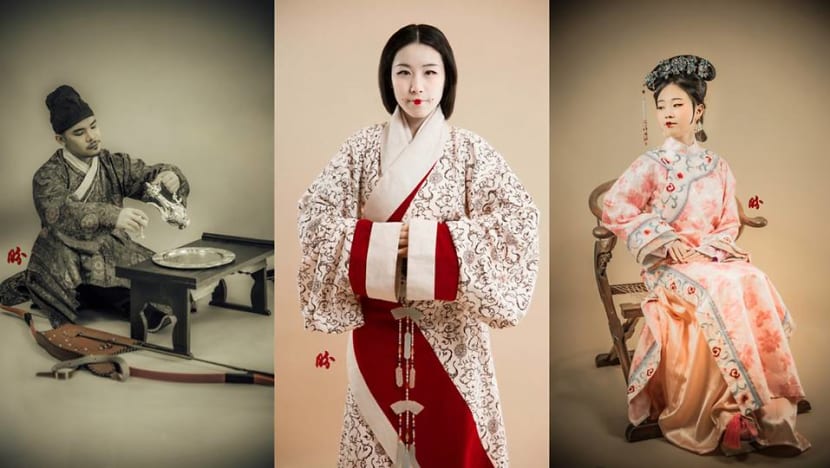 And she is now taking her personal hobby to the next level. Gong, who is a public servant working in a museum, is presenting a fashion show on Saturday afternoon (Sep 30) at the Esplanade Concourse, under the arts centre's Moonfest event.
Titled Before Cheongsam: 2,000 Years of Chinese Fashion, it features 20 pieces from her collection, which will be worn by friends. A small adjacent exhibition, which runs until Oct 4, will also feature five other pieces and photographic works.
For the artist and Han culture enthusiast, fashion has been a great way of breaking through the often confusing jumble of names, dates and trivia.
"I never studied Chinese history before and my background was more of fine arts and English literature, so it really helped to open up this world to me," said Gong, who was born in China but moved to Singapore at the age of seven.
She added: "That's why I try to make my pictures pretty. When people see the photos, hopefully they'll go: 'Oh, they look pretty; I want to know more about this.' That's how I started to learn about Chinese history – because I saw a pretty dress."
A ONE-WOMAN SHOW
Barring the occasional outdoor shoots at Chinese Garden or trips to China, most of her images are created at home.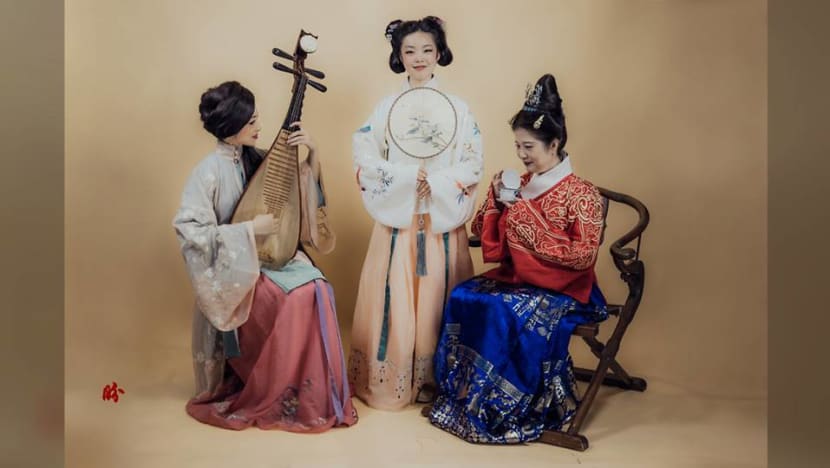 The shoots are done in one corner of her condo, and make-up and dressing up are done in one room. Her dresses – for which she has spent "at least S$10,000" – are stored in another room.
Most of the time, it's a one-woman job. "I do the make-up, the hairstyling and the post-production. I would get my friends to take the photos or I would set up my camera and get a friend to snap it for me. Then I would edit the photos," she said, adding that the process could take one to two hours.
Initially the photos were all mostly of her, but she later invited friends and work colleagues to dress up as a form of bonding session.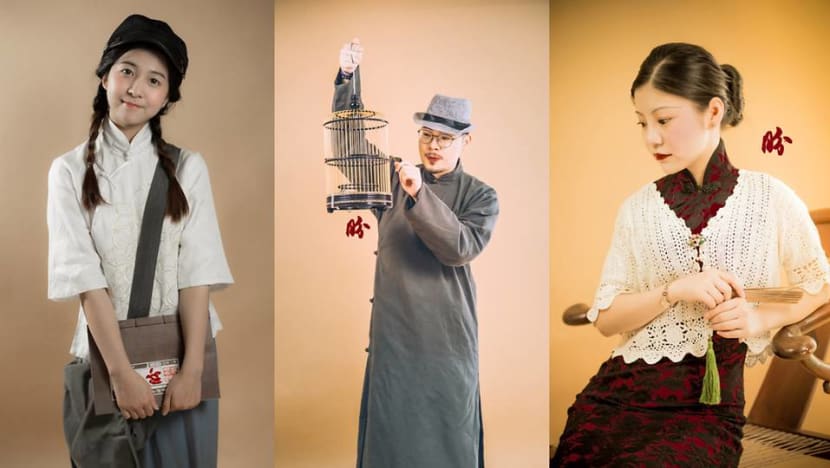 As for her moniker, Hanfugirl, it was a friendly retort at her husband, a doctor, who would tease that that what she was doing was nothing compared to Gossip Girl, the TV show.
"So I got fed up and said I was going to call myself Hanfugirl just to spite him," she said, with a laugh.
Her fashion exploits are not limited to just photoshoots for social media – she sometimes dresses up for formal occasions such as weddings and even goes to work in hanfu, minus the elaborate makeup and hairstyle, of course.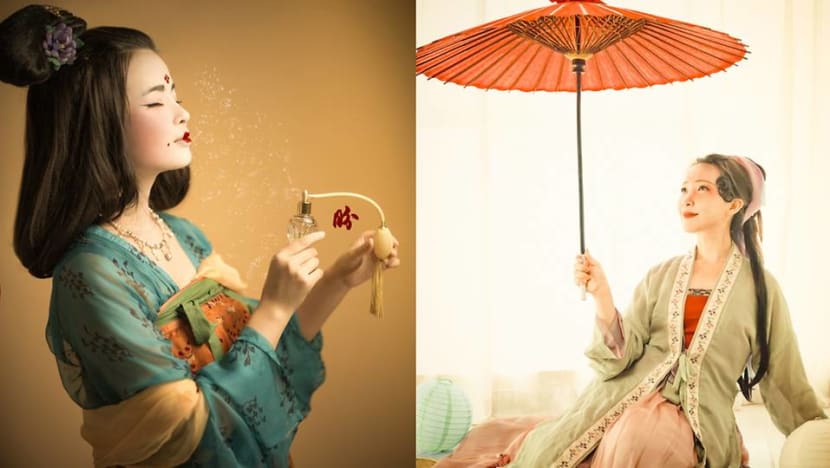 Gong added that she and her friends, who also wear hanfu, have occasionally been mistaken for being either Korean or Japanese. She reckons it's likely because people are only familiar with the cheongsam – or qipao – and earlier traditional Chinese attire are unknown to most.
HANFU IN STAR WARS?
But Gong pointed out that the more familiar Chinese dress is only the tip of the iceberg when it comes to a fashion heritage that stretches back millennia and draws from many different influences.
"While hanfu generally means that it's anything that belongs to the Han Chinese, it's not so clear-cut. The term Chinese is not insular and not a monolith. China has always been connected with its neighbours," she said.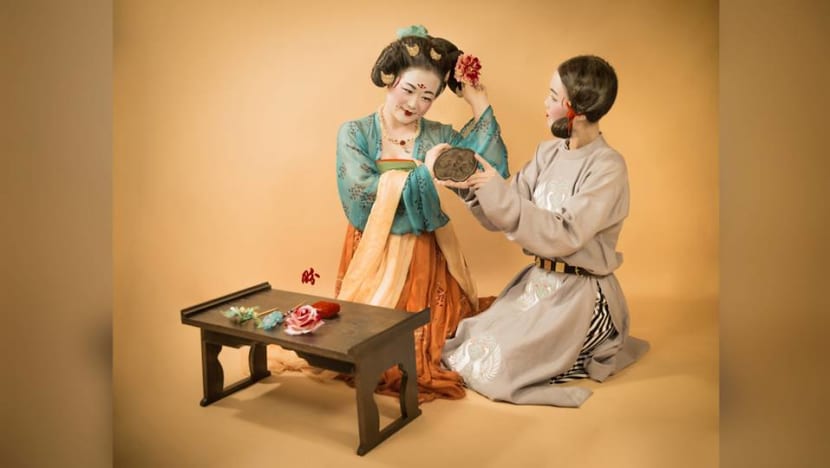 She pointed out how foldable fans, trousers and even belt buckles – which appeared throughout various Chinese dynasties – were all influences from Japan, nomadic tribes and Persia, respectively.
And just as other cultures have made their mark on hanfu fashion in the past, the latter has also been making its mark on contemporary culture without us knowing it.
"Actually, Queen Amidala from Star Wars seems very much influenced by the Chinese kind of makeup – the two red dots (on her cheekbone) can be from the Han dynasty. And then you've got those kinds of makeup on the fashion runways of high-end brands," she said.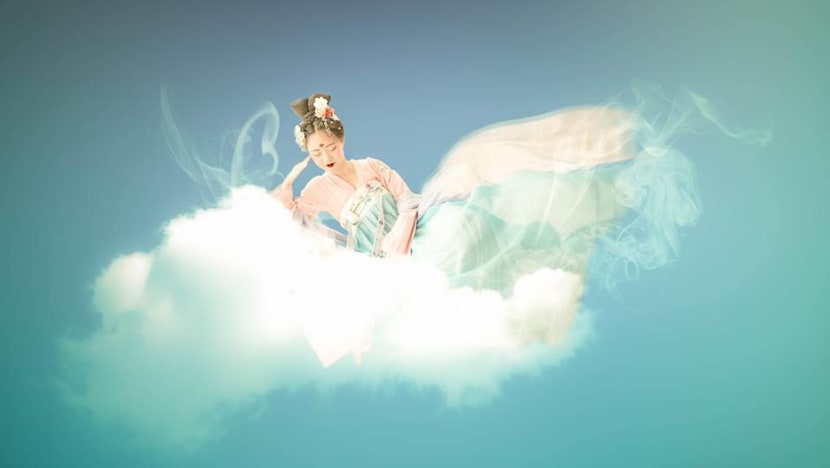 High fashion and space opera movie characters, though, are quite different from everyday wear – but Gong believes it's a matter of time.
She cited a growing hanfu movement in China, with cities holding their own hanfu festivals and even a prominent pop music figure – Jay Chou's lyricist Vincent Fang – being an active champion of the fashion.
In Singapore, though, she admits it's still very niche. "Even Singaporean Chinese wouldn't really know or aren't that interested in traditional Chinese culture these days. But hopefully, through aesthetics, more people will realise it's really interesting to learn about it."