The banana money trail: Prices rising in Singapore, but farmers not gaining
The cost of bananas from the Philippines has shot up, but farmers are struggling with losses, so where is the money from consumers going to, ultimately? The series For Food's Sake! investigates.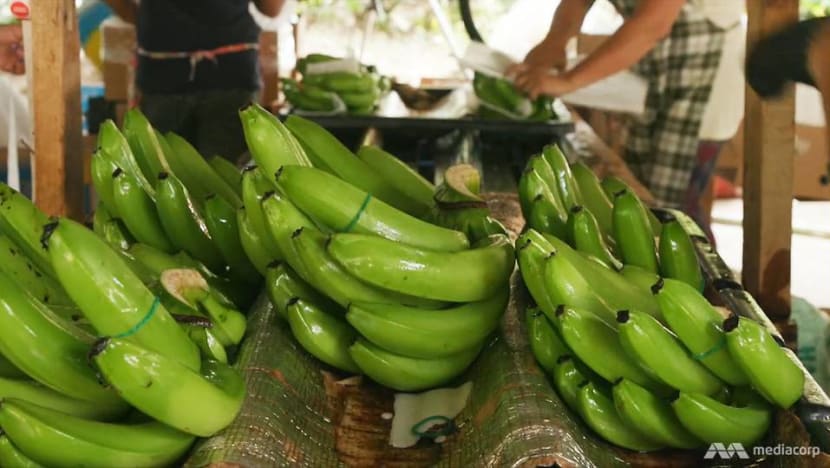 DAVAO, Philippines: Of all the types of bananas his family's fruit business sells, the Philippine Cavendish variety is the most popular, owing to its appearance.
"They look almost perfect. There are fewer blemishes and fewer scratches, compared to the Malaysian ones," said retailer Ben Phua. "Malaysian bananas have black spots."
Those spots are actually sugar spots and thus equate to sweeter bananas, but "not many consumers are willing to accept the look of the bananas".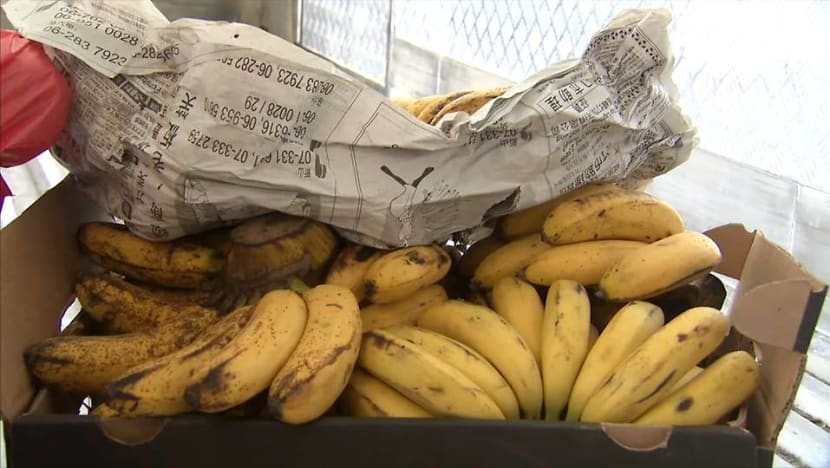 The price he pays for the Cavendish variety, however, has gone up by 25 per cent in the past three years. That works out at around 50 cents more per kilogramme, which is passed on to customers.
The reason for the hike is a fungal disease – one that all banana growers fear – which struck the Philippines hard in 2015 and has since wiped out plantations.
The country went from supplying 49.5 per cent of Singapore's bananas that year to 37 per cent last year, or 21,900 tonnes – although that is not the only issue, as the series For Food's Sake! discovers.
Shockingly, many farmers do not get a single cent from the price rise. Instead, they must bear the twin burdens of the epidemic and of continuing to produce bananas for consumers. They are given no other choice. (Watch the episode here.)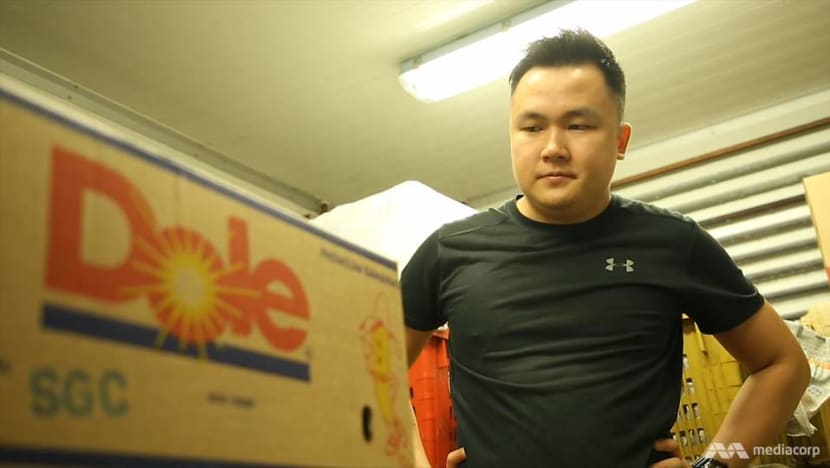 PANAMA DISEASE
In 2014, the Philippines was the world's second-largest exporter of bananas – after Ecuador – with the Davao region in the southern island of Mindanao as its banana production hub.
But by 2016, the country dropped to sixth because of what is known as the Panama disease, which blocks the banana plant's water system, causing its stem to rot and leaves to wilt.
To date, the disease – which is spread through the soil and water run-off – has destroyed more than 15,000 hectares of bananas in the region.
There is no cure; the only way to arrest the spread of the fungus is to burn the infected plants to the ground.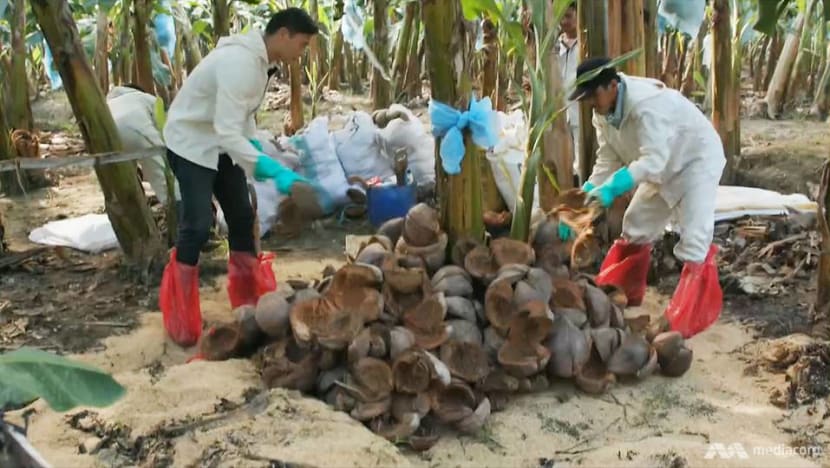 Farmers are also advised to replace their bananas with more a resistant variety. But more resistant means more expensive and a lower yield, and is no guarantee against infection either.
"In the older varieties, the infection rate is at 50 to 100 per cent. The infection rate for the resistant variety is lower, at 20 to 40 per cent," said plant pathologist Rogelio Gutierrez from the country's Department of Agriculture.
There is little else the farmers can do. "Once an area has been infected … even after three decades, if you replant bananas in the area, the fungus will always resurface," he explained.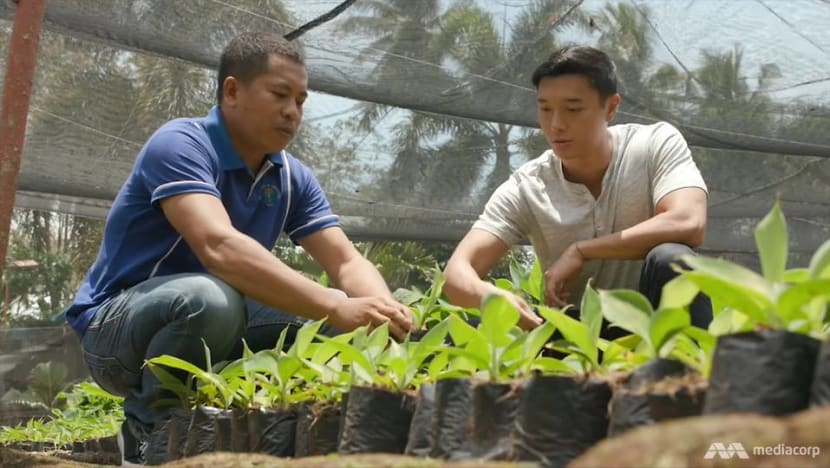 The impact on farmers like Mauro Jonas has been severe. "For every hectare I've replanted, I'm forking out about 350,000 pesos (S$9,150) in expenses. So our debts ballooned. And we're still not earning any income," said the 42-year-old.
"Until now, I'm struggling to pay my workers' salaries on time. Sometimes I even have to pay them quarterly. That's how tough it's been."
WHY FARMERS AREN'T COMPENSATED
It is thanks to a land distribution programme in the 1990s that small-scale farmers own almost half of the banana farms in the Philippines now. But many of them lack the capital to produce quality bananas for export.
To finance their operations, they enter into contracts with multinational companies, which help to pay for the pesticides and fertilisers needed, among other things.
But there is a caveat: In the contract, the farmer must agree to sell his bananas exclusively to the company and at a fixed price for up to 15 years – epidemic or otherwise.
"This is why farmers are struggling," said 33-year-old Elizar Diayon, a farmer tending two hectares of land in the Compostela Valley province.
He gets paid 180 pesos per box of bananas, which is "too low" and "not even enough" to feed his family. And yet, "many farm owners don't have any choice" but to accept the prices set by the companies.
"The cost of the chemicals and other farming inputs are also deducted from what the company pays for our bananas," he added.
He, for one, is trying to find a better-paying job. But there are around 45,000 farmers locked into such contracts. And their work is not easy, as bananas are "so hard to care for", said Mr Diayon.
"You need to place a cellophane sheet (in between the layers) to prevent the bananas from bruising," he cited.
He added: "We also cover the bananas with newspaper to prevent sunburn. Lastly we have to cover the whole bunch with plastic. This prevents ants and bats from gaining access to the bananas."
Harvesting is also done manually. The bunches of bananas are heavy, so padded carriers are used to prevent the fruits from bruising.
All these steps are taken in order to pass the checks of supermarkets overseas. But in Singapore, the bananas may retail at up to 11 times what the Philippine farmer earns.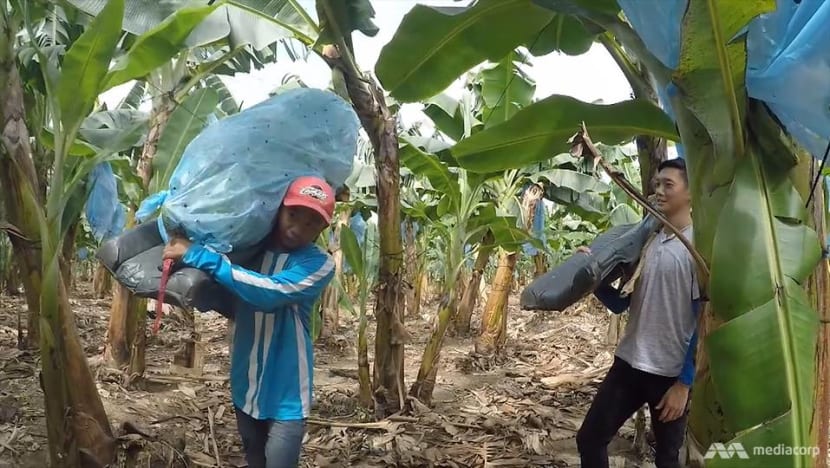 PACKERS SHORT-CHANGED TOO
While the farmers take great care of their fruits, do the multinationals do the same for them? According to Mr Diayon, the companies pay for crop dusting, but are not issuing enough protective gear.
"We can't wear the gear any more because it's torn. They should issue new ones twice a year, but they only issue once a year," he said.
"I can feel that I'm getting weaker (from the pesticide). Sometimes I can go to work only a few times a week. Sometimes I'd vomit. I'm also having difficulties swallowing because my throat has become dry."
Lawyer Irvin Sagarino, from the non-profit advocacy group Initiatives for Dialogue and Empowerment through Alternative Legal Services (Ideals) Inc., Philippines, has observed how the companies are putting farmers at a loss.
"The quality of life and the financial situation of many banana farmers haven't really improved. In contrast, banana companies seem to be getting bigger and bigger," he said.
"The problem lies in getting accurate data (on the selling price of bananas). Without hard data, it isn't easy to prove that only the big companies are profiting. (They) will never share this information."
It is not only the farmers but also the banana packers who have been taken for granted. The latter are the ones who sort, wash and pack the fruits at packing plants owned by export companies.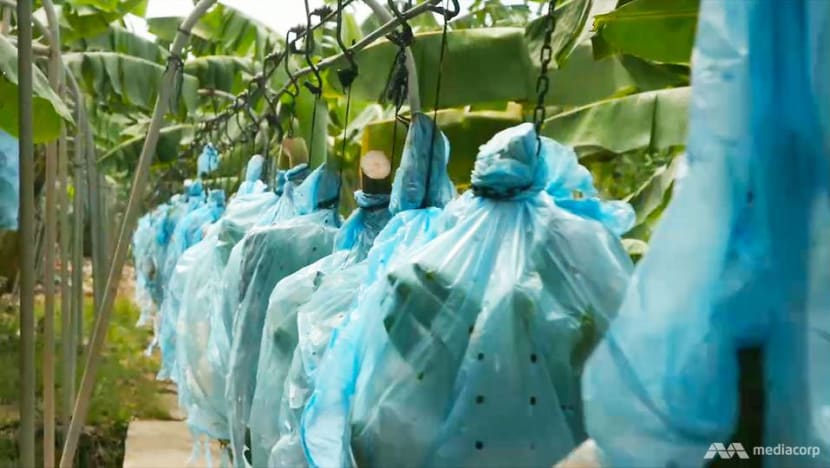 This process is hard to mechanise because bananas are easily damaged. So without the legions of packers, the production chain would come to a halt.
For years, they have been fighting to be hired as regular staff, and not freelancers from agencies under contract with the banana companies. If those business contracts are terminated, they would lose their jobs.
Last year, a decade after a case was filed, the Supreme Court ruled that there was "substantial evidence" of an employer-employee relationship between one major exporter and its workers.
The court issued an order allowing a trade union to represent the workers in demanding the regularisation of their working arrangements and the granting of benefits.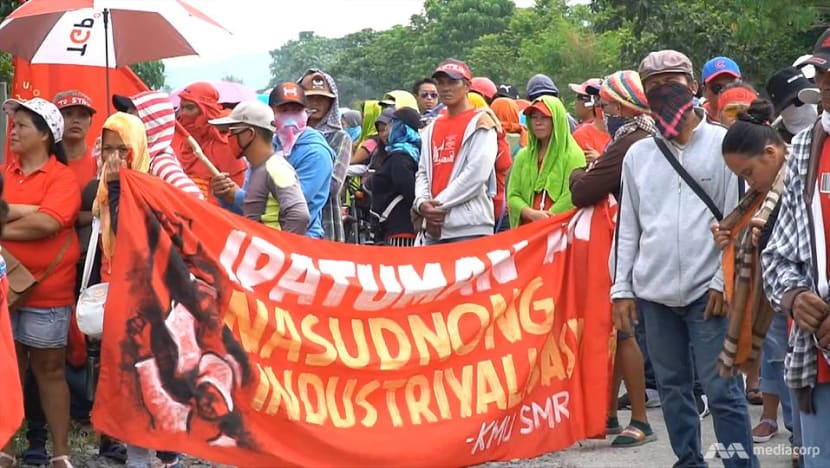 These workers have also not benefited from the price hike. For years, they have been paid around 100 pesos a day at most – equivalent to what Singaporeans pay for a bunch of bananas.
BLAME GAME
If so little of what consumers pay goes to the farmers and packers, then where has the money gone?
Philippine Banana Growers and Exporters Association executive director Stephen Antig claims that the exporters are also tied to a fixed price through contracts with international traders, including from Singapore.
"Big corporate farms sign contracts with importers on a yearly basis, and prices are set annually … That has always been a sore point," he said.
"There was (once) we proposed that there should be a sharing of the profit, but they never agreed to open their books. And for that reason, we didn't bother to insist, otherwise it might affect our relationship."
It is a "known fact", he added, that wholesalers are "raking it in".
Their usual explanation is: 'We have to take care of the warehouse. We have to take care of the distribution to the retailers. And it entails a lot of cost.'
The importers, in their turn, blame the exporters. Although the For Food's Sake! team asked both sides for months, neither were willing to show any concrete numbers. What is certain is that the farmers are at the losing end.
In a 120-page study published this year, non-governmental organisation Oxfam found that banana farmers in the Philippines, especially in Mindanao, were "food insecure". This means that they or a family member "had gone without enough food in the previous month".
Of the 147 farmers and packers interviewed, 37 per cent were moderately food insecure and 38 per cent were severely food insecure.
There is not much consumers in Singapore can do about that for now, until Fairtrade bananas become an option here. Fairtrade guarantees farmers a minimum price per box, which could possibly give Filipino farmers nearly double the current amount.
"But that doesn't mean this trip (to the Philippines) has been for nothing," said programme host Lennard Yeong. "We've taken a big first step in realising the imbalance of power and profit in the banana supply chain."
Watch this episode of For Food's Sake! here. Read about what politics and drugs have to do with the hike in rice prices.