India's parched earth: Too late to solve the worst water crisis in its history?
Population growth, rapid development, widespread pollution and bureaucratic mismanagement are putting tremendous pressure on the country's depleting water resources. The programme Insight looks at whether Day Zero is inevitable.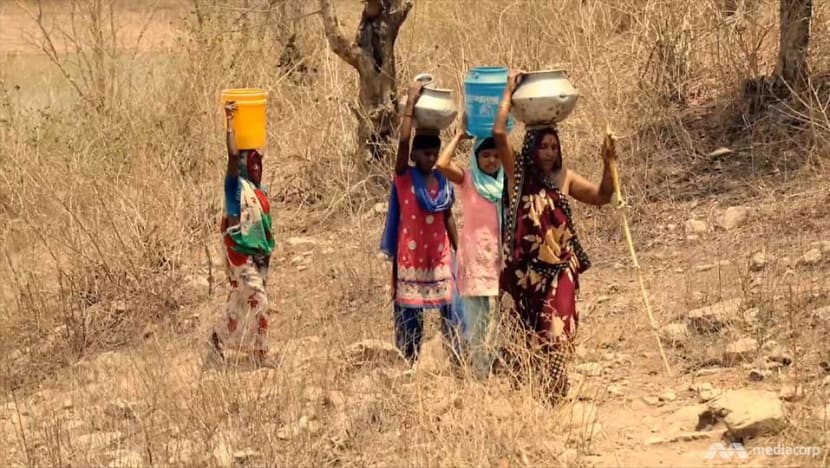 INDIA: It was once known as the city of a thousand lakes. But it is now the city of burning lakes.
Bengaluru, or Bangalore – India's Silicon Valley, home to some of the world's biggest software companies – is where lakes can catch fire because of untreated sewage and industrial effluents.
Nearly 90 per cent of its lakes are dangerously polluted. And the biggest lake has become the city's "largest septic tank", a court-appointed committee concluded in June.
This high-tech city, which has grown to more than 12 million inhabitants from three million in the 1980s, faces a Day Zero crisis – when its taps are shut off – in the not too distant future. It may even become uninhabitable.
"Bangalore is now exploding because people think it's got a nice climate, there are a lot of opportunities and so on," said Mr Ravi Narayanan, the chair of the Asia-Pacific Water Forum and the chairman of the Water Integrity Network.
"But people have to realise that everything depends on the resource base, and water is the most important resource base. If you destroy that, that's the end of your city."
Bengaluru is not alone in this predicament. India, a land of rivers and the world's largest user of groundwater, is now staring at a crisis.
An increasing population and rapid development are fast depleting the water resources it was blessed with: Rivers are dying, cities are overwhelmed by sewage, surface water has become toxic and underground aquifers are running close to non-usable levels.
As many as 21 cities, including the capital Delhi, may run out of groundwater in the coming years, according to a study by government think-tank National Institution for Transforming India (Niti Aayog).
With the demand for clean water rising, can India avert such a disaster?
Lee Kuan Yew School of Public Policy visiting professor Asit Biswas told Insight: "I can guarantee you with a 99.99 per cent probability, at least five to six important cities in India will face Zero Water Day because of continued mismanagement.
"Second, one or two cities will have nearly a pandemic because of poor water quality." (Watch the episode here.)
BANGALORE'S 'FROZEN' WATER SUPPLY
In Bengaluru, while its population doubled between 2001 and 2011, its water bodies declined by 85 per cent between 2000 and 2014, "partly by real estate, partly by over-exploitation", said environmentalist and physicist Vikram Soni.
And what remains has become an environmental hazard owing to the hundreds of millions of litres of sewage dumped into the lake catchment areas every day.
The air around the city's biggest lake, the Bellandur Lake, is so toxic that it is almost impossible to keep the stench out of the high-rise apartment blocks dotting the landscape.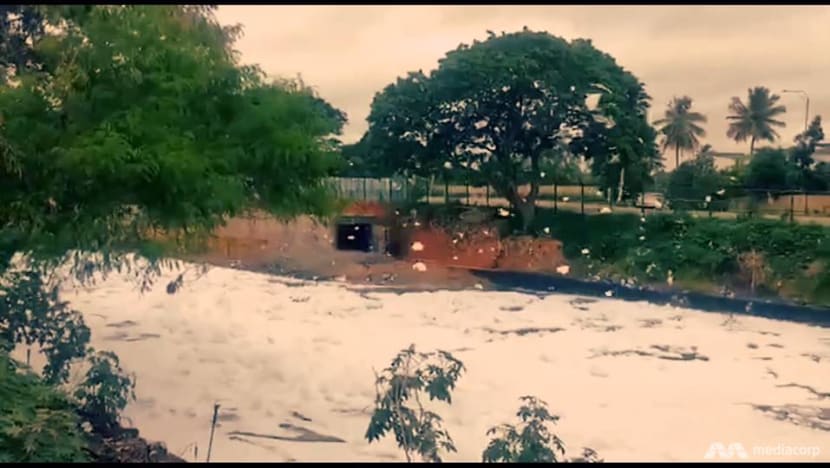 With its water bodies gone, the city is increasingly dependent on the Kaveri (or Cauvery) river, about 100 kilometres away. But with the river's supply less than the demand, groundwater is being extracted exponentially by private water tanker operators.
The situation has software engineer and environmental activist Nagesh Aras worried. "Earlier, Bangalore had water at 400 feet (deep); it has reached 1,000 feet in the last five years," said the 56-year-old.
"Now we'll probably reach layers where we'll have arsenic and other contamination in the groundwater. So we can't go endlessly deeper and deeper. At some point, the aquifers will run dry."
The Kaveri itself is being put under "extreme stress" by one of the world's fastest growing cities, Professor Soni noted. "I don't think there's much chance of increasing … that supply of water. So Bangalore's supply of water is frozen.
"They've lost a very large proportion of the lakes around Bangalore because nobody woke up in time. In spite of the great IT industry, which gives Bangalore this great IT population and this huge revenue, they never participated in thinking about the future."
CAPITAL RISKS
Delhi faces the same pollution problem. The Yamuna river, a major tributary of the Ganges flowing to India's capital from the Himalayas, is a filthy ghost of its former self, while sand mining contractors are having a field day.
As the city keeps growing, so too will its water crisis. Within the next 15 years, it will be the largest urban agglomeration in the world, overtaking Tokyo-Yokohama, pointed out Prof Biswas.
"We can't even provide good water services now for Delhi's current customers (about 20 million). How are we going to handle 35 million?" he said.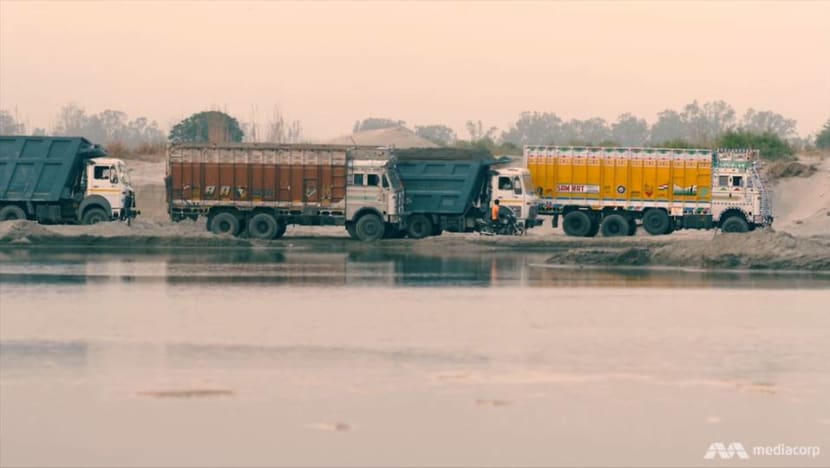 For now, the city has made arrangements to get water from as far as 300 km away, "on account of being the capital", noted Prof Soni.
But the emeritus professor at Jawaharlal Nehru University added: "As the water crisis in the hinterland gets worse and worse, Delhi might have a lot of problems in sourcing water for 20 million people.
"If it goes to 35 million people, then pretty much we'd all be dead."
According to former Delhi Water Resource Minister Kapil Mishra, the problem is also one of distribution and management. "Even today, we aren't able to provide (piped drinking water) to every citizen of Delhi," he said.
"If we also don't get rain for a couple of years, we'd end up exactly where Cape Town is sitting today because the groundwater situation is really bad: 90 per cent of groundwater is either polluted, or we've lost it."
The poor who have been drawn from villages to the capital because of job opportunities manage a precarious existence through government-supplied water tankers.
For example, the 1,200 families in the squalid Jai Hind settlement must live on a few buckets filled every 10 days.
"For the bigger families, it gets difficult to manage," said domestic helper Fatima Bibi, a 28-year-old resident of the colony. "Now we also have air-coolers, for we can't live in this heat otherwise. So we have to buy more water."
The slum dwellers have been promised an end to their water woes many times. But nothing has happened.
Residents of Harijan Basti had to connect their own pipes to the main supply to get water inside their colony. Before that, there was only a leaking pipe by the main road, where they filled their containers with contaminated water.
The scramble for water can be tragic. "There was this 12-year-old boy who was carrying water back. The moment he crossed the road, a car came and hit him … He died," recalled 62-year-old resident Ramrati.
"There was this eight-year-old girl … At around 4am, she went to fetch water since there weren't too many people at the water outlet. Someone came in a car and kidnapped her. Until today, we don't know her whereabouts."
DRINKING POISONOUS WATER
Across India, 600 million people face acute water shortage, with around 200,000 of them dying every year because they lack access to clean water – the "worst water crisis" in the nation's history – Niti Aayog reported in June.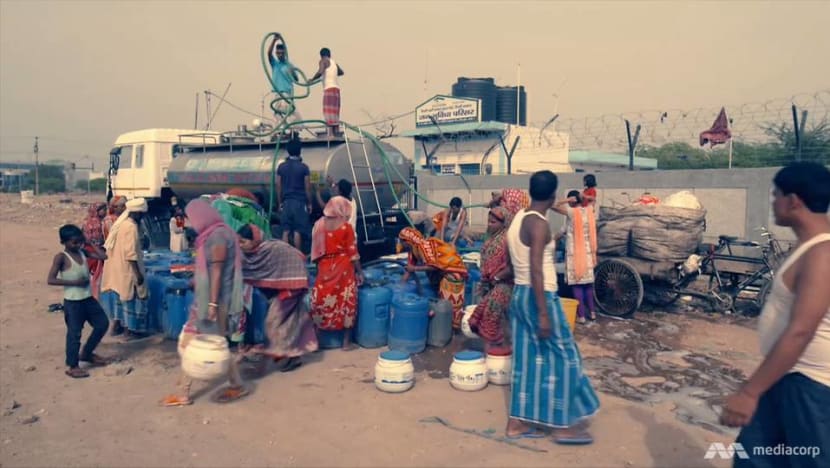 The years of misuse and neglect is seen not only in the cities but also in small towns and the rural regions.
In the village of Raspahari in Uttar Pradesh's Sonbadhra district, many of its 3,000 people have fallen prey to water poisoning, like 55-year-old Rumpatiya, who lost her husband and two children to fluorosis, a bone disease caused by contaminated water.
She herself faces health issues. "I'm unable to breathe properly. It's very difficult for me," she said.
"We drink water from the tap. We don't have any other option. We can't travel to other villages to get water, so we drink the same water, whether we live or die … We aren't able to walk properly as well."
The neighbouring Bodhra Dhar village, with a population of about 500, does not have piped water or even a tube well. Its villagers must trudge to the catchment area of a nearby dam, where the water is also dirty.
Water contamination in Sonbhadra has been a problem in the last decade or so, said the district's chief medical officer Satya Prakash.
The government has been "trying its best" to deal with it by, for example, installing hand pumps. But during summer months, the hand pumps dry up, so the villagers "go back to their other sources".
"We try to supply water with tankers, but we aren't so sure about the purity of water from tankers. So the contamination (problem) is still increasing," Dr Prakash added.
Whether it is arsenic fluoride or nitrate from fertilisers, pesticide residues or industrial pollution, the health impact is "extremely serious", said Dr Himanshu Kulkarni, the executive director and founder trustee of the Advanced Centre for Water Resource Development and Management.
"Our own assessment is that at least 30 percent of the population in India, at least, is affected in one way or the other by contaminants."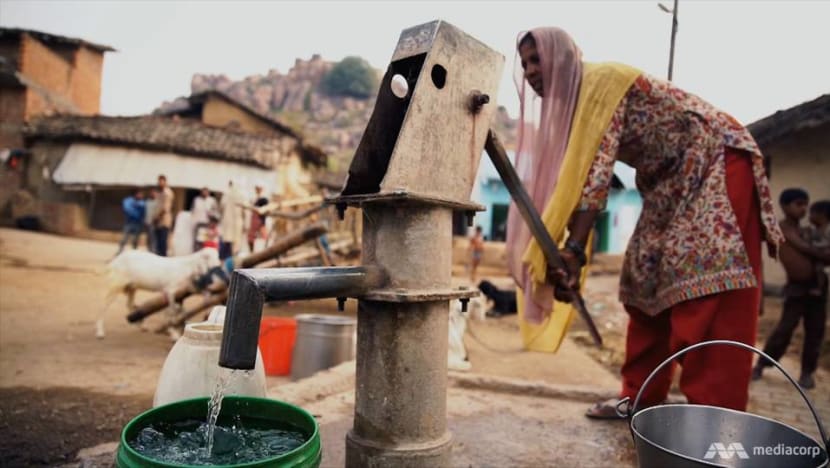 WIDE-RANGING IMPACT
The impact of India's vanishing waters is also felt in other ways. In the Valai village in Maharashta's Satara district, 65-year-old Sumal Shyamrao Kalel has not only seen villagers leave because of the crisis, she also faces a lonely existence.
Her two sons left to work in Mumbai as labourers, and since her husband is ill, she now toils in the fields and is saddled with the daily chore of preserving any amount of clean water she can get.
"In the evenings, we go quite far to fetch water. There's no water in this village, as the soil is rocky," said the woman with back pains and aching joints.
"The well is dry now, and the government hasn't made any alternative arrangements. We keep telling them to make some provision by digging wells and to make water available. However, no well has been dug, and there's no water."
In the village Thadale, 40 km away, the situation is so grim that about 40 per cent of the villagers leave to work in the cities during the dry season, said village head Sharad Borate. The 52-year-old added:
"The children are pressurised to fetch water and hence are unable to attend school."
In southern, central and western India, hundreds of thousands of acres have been transformed into virtual deserts except during the four monsoon months.
Even the state of Punjab, the bread basket of India and home of the country's green revolution in the 1960s, is drying up.
It has been reported that more than 300,000 of India's farmers have committed suicide in the past two decades. Crop failure is one of the reasons, which could be traced to the insufficient availability of water in the farming regions.
It has wiped out crop yields and disrupted the lives and livelihoods of farming communities. "Many farmers have lost their lives. They've died from shock. Some have committed suicide," said Tamil Nadu farmer Gnanaprakasam.
The 59-year-old is managing to survive, since he depends on underground water pumped out using tube wells to keep his five acres of cropland green. But he is worried that he will not be able to sustain himself, as the water table is falling.
Although nature does contribute to India's water woes, some believe that the problem is aggravated by the destruction of the natural environment.
"As the population was increasing, they were cutting down more trees. Now the status is that forests are in ruins. Groundwater dried up, and thus people are facing problems," said water conservation activist Chaman Singh.
FINDING SOLUTIONS
So what can be done to avoid a Day Zero crisis in a country whose water demand by 2030 is projected to be twice the available supply, which would slash India's gross domestic product by six per cent?
Prof Soni, one of the founders of the PI Sci (Science in Public Interest) Foundation, thinks the floodplains of India's numerous rivers could provide a solution that has not been tried anywhere in the world.
That is because he found that the sands of the floodplains run 100 metres deep, on average, with more than one-third of the volume consisting of water.
"The amount of water sitting in the sand is 20 times the virgin flow of these rivers in one year," he said.
The Delhi government, with his help, has implemented a pilot project on the Yamuna's floodplains, which is supplying clean water to more than a million people.
The red line is that the withdrawal rate cannot exceed the rate of natural recharge of the floodplains. But Prof Soni is confident that the supply will last.
"One way to keep the floodplain is that 1 or 2 km on both sides of the river should be converted into forests, orchards or a little bit of organic vegetables. Then the water would be stored there," he suggested.
Over in Bengaluru, activist residents have formed the Federation of Lakes to save the city's 190 lakes that could still be cleaned up and preserved. But it is a long road ahead, and such community-led campaigns are scratching the surface.
Preventing further encroachment on water bodies and restoring them are measures to take, agreed WaterAid India chief executive V K Madhavan. Check dams, which control soil erosion and can facilitate groundwater recharge, are another.
But large-scale solutions would need management and planning at the state and national levels, or else India would become a parched wasteland in many areas. "We need an integrated solution to the problem," he said.
"Because we have to conserve water, we have to ensure that there's rainwater harvesting … We have to try and make sure that we recycle and reuse groundwater.
"We've to try and make sure that we reduce the amount of pollution that goes into our rivers … All of this is going to require action by citizens in cities and rural areas, the government as well as the private sector."
India has no choice but to improve its water management, which has been "on an unsustainable path for at least 50 years", said Prof Biswas.
"As the population increases, people become more literate. They'll want a better standard of living," he added. "And the crisis will be a trigger point which will probably change the government's policies and practices."
The poor in cities, towns and villages who continue to survive on poisonous and scarce water are hoping against hope that change will indeed come.
"We have both hope and hopelessness. We hope at times that some leaders will come and help us … as they've promised," said Ms Fatima. "But when that would happen, there's no guarantee."
Watch the episode here. The programme Insight is telecast on Thursdays at 8pm.