United, they feed Malaysia's hungry: The kitchen where race and creed don't matter
From struggling single parents to wealthy datuks, this group of CNA Insider InspirAsians – who come from across the country – all have something to offer when the call for help goes out.
SHAH ALAM, Malaysia: Stumbling out of his car with bags of groceries in his hands, Mr William Cheah fumbled with the lock of his warehouse before giving up in frustration and calling his wife for the password.
Inside, boxes of stray items like hotel toiletries, second-hand books and packs of bee hoon were stacked on shelves in no particular order. Some groups of beneficiaries were due to arrive soon, but the place was still a mess.
"Our organisation, in a sense, is without organisation," Mr Cheah, 46, said of his social enterprise Kembara Kitchen, a small catering business in Shah Alam that he runs with his wife Chan Yi Lyn, 35, to raise money for charity work.
Then a group of volunteers showed up. Armed with broomsticks and organising trays, they tidied the place and stocked the shelves, transforming the dusty warehouse into a decent minimart of sorts in no time.
This is one of Kembara Kitchen's projects, where beneficiaries can come and take what they need for free.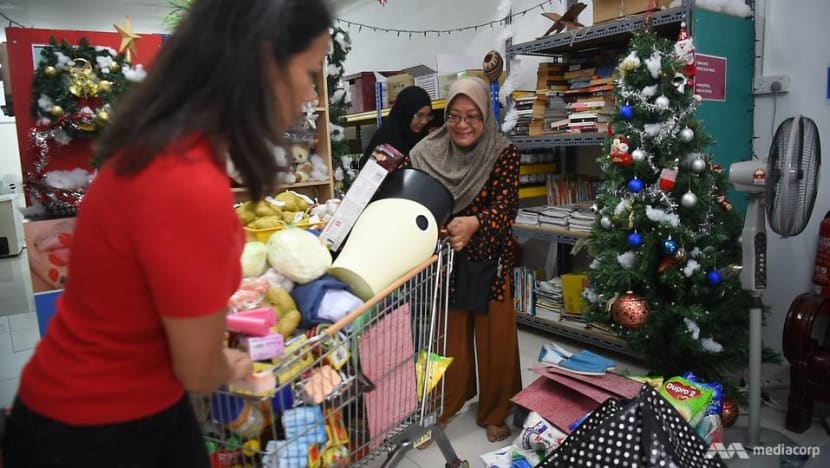 Together, its volunteers have also saved an eco-lodge in Ulu Tupai, Perak, from being shut down; set up mobile kitchens around Malaysia during major floods; and, most recently, built a turtle hatchery in Cherating, Pahang.
All this, said husband and wife, was made possible by their pool of volunteers' enthusiasm and initiative, which make up for what the social enterprise may lack in coordination.
"If you're the type who needs structure and regulation, you can't work with us. We're just here to get things done. So how we achieve it is to do what we can with what we have," said Mr Cheah.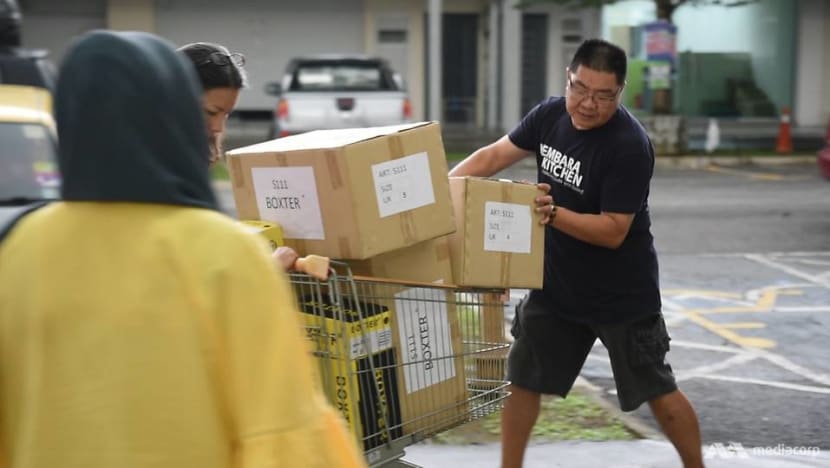 MOBILISING PEOPLE FROM MANY STATES
For a set-up with no particular structure, it does fairly well in mobilising its network when the call for help arises – the couple have more than 11,000 Facebook followers from around the peninsula.
In a recent flood relief effort, their appeal for help on social media saw an immediate response, with volunteers also coming from the west coast to join the team heading to Kuantan on the east coast.
"I'm very astounded that people just turn up," said Mr Cheah. "We've had experiences where we barely even shout out (for volunteers) on social media - but wow, by the time we arrive (at the scene), the local villagers are there waiting."
For the Kuantan mission in early January, they set up a field kitchen within 24 hours of getting the call for help, cooking meals of sardine pasta for more than 1,000 people.
"In the last few years, we've seen a wave of people say, 'Look, what can I do to help my own community?' I think this is the result of what people see on social media," he said.
People just want to help. It's a question of whether they have (ease of) access to help.
And Kembara Kitchen has been that platform for lending a hand, with its call-outs seeming to resonate with all sorts of people across Malaysia.
Its flood relief efforts in the rainy season, for example, have been gaining media attention for the make-up of its volunteers from diverse races and backgrounds – from struggling single parents to wealthy datuks – at a time when racialism is a growing issue in the nation.
"In these kinds of situations, I think you get to see the best of humanity," said Mr Cheah, who finds that the "beautiful part" is the type of volunteers the couple get.
Added Ms Chan: "We don't stop anyone from volunteering with us. So if you want to come and help, there are no boundaries."
VOLUNTEERS UNITE
In their catering kitchen in Shah Alam, a mixture of Bahasa Melayu and Malaysian English filled the air when CNA Insider visited. People of different races and ages worked side by side to churn out 1,000 packets of rice with ayam masak merah (spicy tomato chicken) and stir-fried cabbage in soya sauce.
They later took their own cars for a one-hour drive to Kuala Lumpur city centre to distribute the food to the homeless.
So what is it that resonates with them when there is a need to be filled? For new volunteer Peter Chen, 51, it is the opportunity to be part of a racially diverse and secular charity group.
I've worked with many NGOs; most times you'd have a majority race (in the NGO) who looks out for their own race. But we're living in Malaysia – it's a multiracial country.
"It's very sad that people want to see things along racial lines. Malaysia has achieved 60 years of independence, yet things have regressed," he lamented. "When I was growing up, I'd go to my Malay and Indian friends' houses; we didn't talk about race."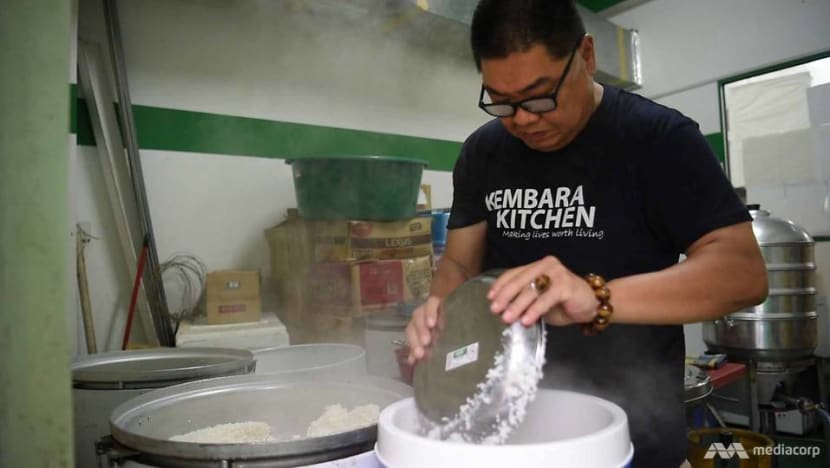 Said Mr Cheah: "Of course you'll have charity groups who champion certain rights, whether it's race, religion or even gender, and that's perfectly fine. But our founding concept is food – is there a particular human being from any religion who doesn't eat?"
Even so, that philosophy has managed to spark controversy online.
Recently, we had somebody make an issue of non-Muslims cooking for Muslims. But in return, we had more Muslims … saying, 'What makes you think that just because he's Chinese, he can't be cooking for you?'
"When something bad happens, the support we get from different races is way more overwhelming," said Mr Cheah.
Then there are volunteers who were once recipients of Kembara Kitchen's support, like Mdm Hasnah Abdurahman, 58, a single mother of four.
One year, just before Hari Raya, when she had lost her job and was short of cash, Mr Cheah sent her – and her children – food that he said was part of food tasting for his chefs' new recipes.
"He didn't want me to feel as if it was a handout. He wanted to make me feel as if I was the one doing him a favour. That's dignity for you," she said.
"I really believe in what they do, so I keep coming back to volunteer my time."
WATCH: What makes them tick (7:46)
LIVING OFF THEIR SAVINGS
What the Cheahs are now doing started in 2013, and the spark, of all things, was a dog the husband had adopted from an animal shelter.
"During Christmas, (the shelter) needed some supplies for the animals, so I thought I should do something in return. I made a shout-out on Facebook for people to gather food supplies," he said
The food donations kept coming until the couple, who have no children, ran out of space at home.
The "unplanned" initiative then took on a life of its own as Mr Cheah and his friends went from feeding animals to organising food distribution programmes for people, as he continued his appeals.
He recalled their first disaster relief mission in 2014, when the worst floods in a decade hit Kelantan: "We weren't prepared at all. We had to borrow pots. It took us six hours to cook rice."
By then, Mr Cheah, who was running a security business, and his wife, a sales executive at the time, were also getting bored of their corporate jobs. "We could afford our food, we had a roof over our heads, so why not do something to help other people?" said Ms Chan.
Mr Cheah added: "We realised we could do a better job with our charity work, but we needed a proper kitchen." And that was why they started Kembara Kitchen, together with a third co-founder who is in the insurance business.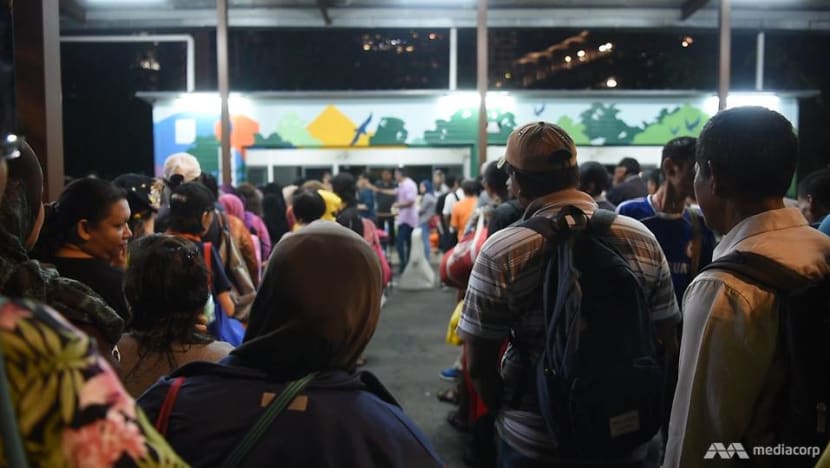 But not all has been ideal in this social enterprise. Earnings from the catering business are not enough to fund all their charity work, so they also rely on donations from members of the public.
Most of the time we break even. We've been living on our savings for two years. 
"But you know, we didn't do this for the money," said Mr Cheah, adding that they each take home only RM500 (S$168) a month.
"Of course we're finding ways to build our business so it can be sufficient for us."
As an extra buffer, he still does consultation work in his security line.
A FAMILY IS FORMED
For now, the sense of community they have formed keeps them going strong. "A volunteer who comes very often told me he does it because he feels lonely – a single parent in his 50s," said Mr Cheah.
"A lot of them say they want to look for somewhere they can fit in and make their lives more meaningful, and they find that here."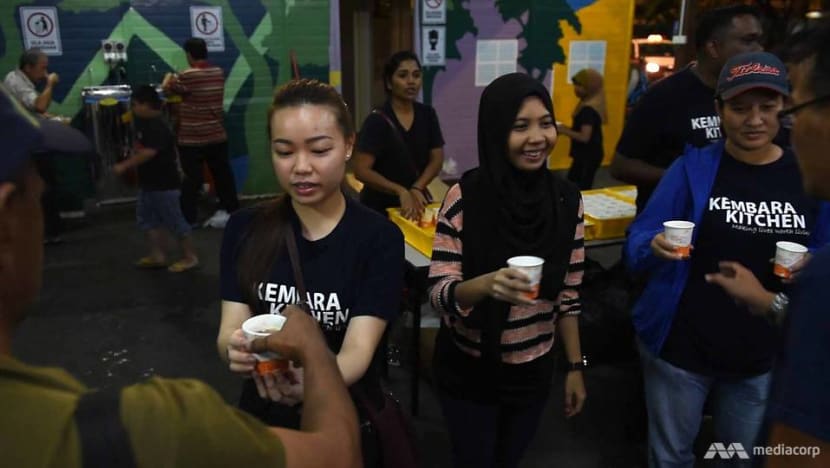 The work they do also has its knock-on effects. 
One of their beneficiaries, a halfway home for people with HIV run by Mr Mahari Maso and his wife Jamaliah, had been struggling for support – in part due to the social stigma of the disease – when they were referred to Kembara Kitchen.
"We felt so welcomed … We didn't expect it at all," Mr Mahari said of their first visit more than six months ago. "And that really blessed our hearts."
They have been coming back for groceries and "moral support" ever since, and Mr Mahari sees the "true spirit" of Malaysians in the Kembara volunteers.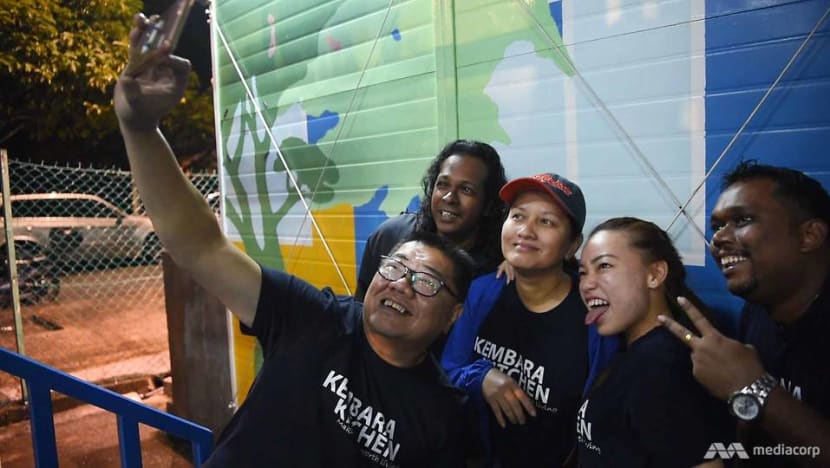 More than just the projects it has done, it has been the spirit of unity that has defined the social enterprise.
"Bonds are definitely built. It was our wedding anniversary last night, and who were we hanging out with? The volunteers," said Mr Cheah.
To Mdm Hasnah, the team are her "extended family". She said: "I'm so lucky I found like-minded people, and I have friends like the volunteers here."
In the end, it has not mattered to her or the Cheahs that they may not be as organised as a registered non-governmental organisation because, as Ms Chan put it, "everybody who comes (here) has the same goal".
More stories of other InspirAsians at CNA Insider - like the parking attendant who runs a school for impoverished kids; the matron who shelters women with HIV; the Kuching hero who rallies help for the town's needy; and the tech hero who's helping farmers escape exploitation.