Flying taxis? Bell Helicopter sees such a service taking off in Singapore
The American company plans to launch urban air taxis in Asia by 2025, and thinks there would be market demand in the Republic, as the programme Money Mind finds out.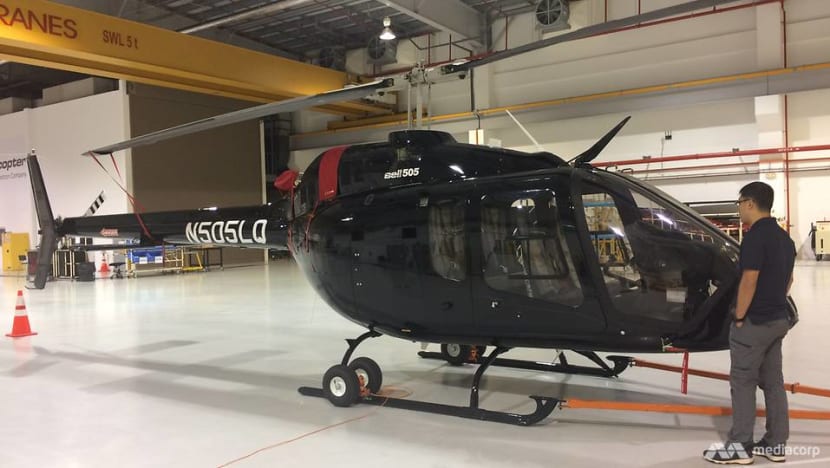 SINGAPORE: Imagine hopping in a helicopter for a short flight within Singapore, arriving at your destination in a fraction of the time it would take by road.
That is the vision that manufacturer Bell Helicopter has for its electric flying taxis, a concept it unveiled earlier this year at CES, formerly called the Consumer Electronics Show, in Las Vegas.
With its latest and most lightweight chopper, the highly manoeuvrable Bell 505, said to have been well-received in Asia since the aircraft's entry into the region this year, the company sees the potential for urban air taxis, especially in Southeast Asia.
"Obviously, traffic here (in Singapore) isn't as bad as in Jakarta or Bangkok, or Delhi for that matter, but I think there's still a demand," said Bell Helicopter Asia general manager Chris Schaefer.
"The market in Singapore would respond favourably to an air taxi service."
A company called Whitesky Aviation has been doing just that in Indonesia since last December, with its Helicity flights in and out of Jakarta and around the capital, using Bell's helicopters.
Describing it as "interesting business model", Mr Schaefer told the programme Money Mind, in an episode on future business innovations, that Bell plans to launch its own urban air taxi by 2025.
The goal is for such helicopters to have an electric propulsion system, instead of conventional turbines. The company is now taking "incremental steps towards that", starting with a hybrid gas-electric engine.
Bell also wants its air taxis to be pilotless. "That'll be an evolution as well. So for now, we're looking at autonomous technologies that aid conventional pilots, and we'll work towards that full autonomy of flight," said Mr Schaefer.
HELICOPTERS AT MRT STATIONS?
The way the on-demand air taxis work in Indonesia – using an app "a lot like Grab" – is an example of how "user-friendly" such a service can be, he highlighted.
"You'd enter the details of your account, and they'd send you an email on where you can be picked up and when," he explained.
But could a system like that work in Singapore? Mr Schaefer admitted that the "biggest constraint is the regulatory environment" – how Singapore's air space is managed. Nonetheless, Bell is undeterred.
"We want to work with the regulators as the technology develops, as it becomes more proven. And we've done some testing in some other areas," he said.
"We look forward to working with the Singapore government on solutions that would make sense for this market."
Some examples of possible route locations would include the airports, hotels and hospitals – "pretty conventional routes that would be easily established". But he reckoned that MRT stations, too, could be "core" locations as such a service expands.
"We'd be able to pick you up not necessarily right at your door, but maybe at a station close by," he said, promising that it would not be only for the rich, given the way the technology is developing.
"If we get the economies of scale up, it needs to be at a price point where most public users will see it as accessible," he shared.
"It's still early days, but we're looking at price points similar to what you'd see for a Grab limo service or a Grab elite service – those premium services on the ride-sharing apps that you'd be familiar with today."
Nonetheless, he noted that Singapore has many high net worth individuals who could "use the convenience of quick transportation around the island". "So I think there's a market for some corporate and private travel as well," he added.
PLANS FOR THE REGION
For now, the Republic remains a technical hub for the American company's maintenance, repair and overhaul work in the region, and "the central place" for its sales and marketing teams.
"Singapore's a fantastic place to get in and out of, so we can get a lot of penetration into the greater Asia area," said Mr Schaefer, adding that Bell's regional footprint is "quite extensive already", with numerous customer service facilities.
As it continues to evaluate where those facilities are required, one place in particular where it is hoping to make deeper inroads is China – "definitely an emerging market that everybody's watching carefully".
"It's set to develop very quickly," he said. "Over the last couple of years, we've seen that bear out with a substantial number of orders coming from the Chinese market.
"As they develop their market, they're going to go through those growing pains. A lot of emerging markets do. So the aftermarket support – the maiden side of their business – is going to require some additional due care."
That is where Bell's six-year-old facility in the Seletar Aerospace Park and its "mass capabilities" will help to support the Chinese market as it grows, he added.
In June, the first three Bell 505 helicopters were delivered to China, part of the "exceptional uptake" of the aircraft in the region so far. Mr Schaefer is not surprised, as Asia is "generally an early adopter of new technologies".
In a few years, he will be hoping for the same response to the company's electric flying taxis.
New episodes of Money Mind air every Saturday at 10.30pm.