Commentary: I got an allotment garden and a community came with it
There's nothing that fosters community better than learning how to grow some greens in a little space alongside others, says Rachel Teo.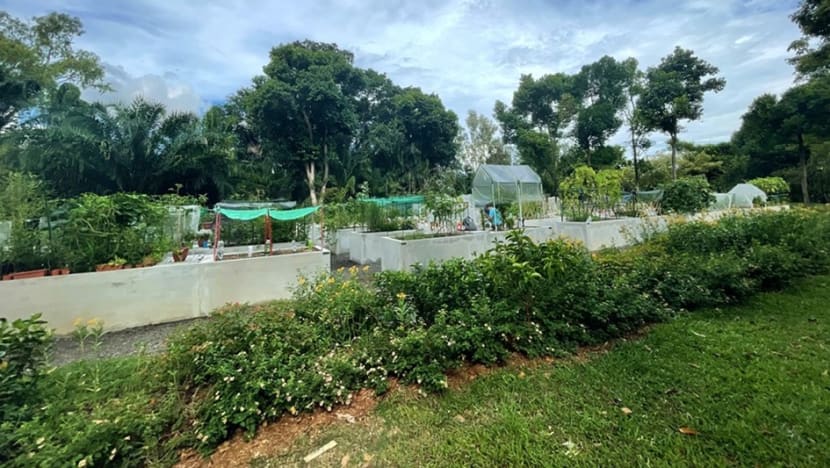 SINGAPORE: When my partner and I heard that NParks was building a new allotment garden in the neighbourhood, we jumped at the opportunity to throw our names into the hat to lease a plot.
It may sound strange to be excited by a 2.5m by 1m concrete box filled with soil, but as plant lovers strapped for space and sunlight in our apartments, this was too good to miss.
The Allotment Gardening Scheme started in 2016 at HortPark. It was so successful, there are now over 1,700 allotment gardens in public parks across the island. The lease is for three years and it costs S$57 a year. The scheme is so popular, the slots are always fully subscribed.
So when we got a phone call from NParks with news of a successful ballot, we were elated. We immediately started reading up on tropical plants, companion planting, and permaculture – the design and maintenance of agriculture as a synergistic, whole system.
Several months later, the new allotment garden was built and we were allowed to commence planting. We took leave and headed down to the plot in the morning, armed with bags of soil amendments and a newly purchased spade.
FELLOW GREEN FINGERS
We were greeted unceremoniously by rows of uniform concrete raised beds. As we worked two bags of compost into the clayey orange soil, however, we realised that it needed some time to settle, so our plans to start planting that same weekend were probably unrealistic. 
Still, there was a buzz of excitement around us – like moving into a new house and bumping into neighbours.
A group of women had already erected a frame with garden netting and commenced planting numerous vegetables. They advised us in great detail how to build one and how to grow edibles from food scraps.
There seemed to be a common ethos embedded in all our conversations: "We're just trying it out, see what happens!"
We observed their varied styles: Some began by building support structures, others planted one or two seedlings, still others transplanted multiple potted plants they had bought.
Envious of their progress, we questioned our decision to wait for our soil to settle. But a gardener a few plots down from ours told us her friend who worked at a plant nursery advised her that the soil in the plots were too clayey and needed to be conditioned before planting.
Feeling encouraged by this, we stayed the course.
A GARDEN COMES TO LIFE
In a matter of months, the garden came to life. It was amazing – almost magical – how an empty concrete container transformed into a green landscape full of life.
Within our plot, herbs, Brazilian spinach, ginger, eggplant, sweet potatoes, peanuts and buckwheat thrived, blossoming above and below ground.
Millipedes, butterflies and bees also became a regular fixture in the garden – signs of a flourishing ecosystem. In contrast to isolated gardens in corners of high-rise apartments, all the plots benefitted from the presence of the pollinating insects.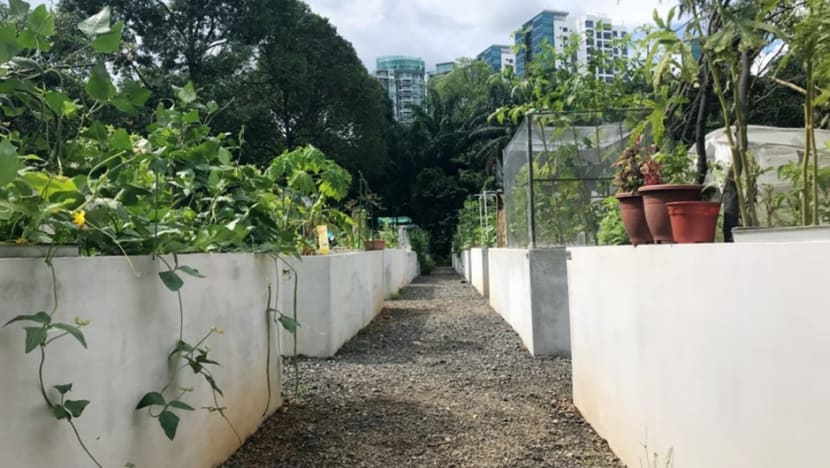 Although it deviated from the plan we'd devised at the beginning, by listening to what our plants were telling us and making adjustments along the way, we were rewarded with a bountiful garden.
Observing that one side of the plot got more sunshine than the other, we shifted plants that thrive under full sunlight there, and protected others struggling with the punishing heat by moving them elsewhere.
The garden even began to dictate our meals. An abundance of basil meant multiple batches of pesto; peanuts were fried up into a sambal goreng tempeh.
Nature was teaching us important lessons: To relinquish our desire for control over every detail and outcome, and to be open to receiving feedback from your environment – inclusive of the plants and the people around you.
But when the helpful critters started appearing in our plot, so too came the ants. Then, a ton of ants appeared. Now we had a problem.
The gardener in our neighbouring plot had earlier discovered an ant nest in his soil, nestled within his few herbs. Ultimately, he had to remove his plants and get NParks to remove the nest.
We feared this might be the case with our plot too, but the difference is we had a full garden of thriving plants at risk.
Thankfully, a friendly fellow gardener mentioned that she too had dealt with ants in her plot, and someone had told her to try a concoction of garlic and water as a natural insecticide. We gave it a go and indeed, this gentler, natural solution worked.
AN ECOSYSTEM AND A COMMUNITY
When we started, I hadn't given any thought to the fellow gardeners. But now, I appreciate so much more that the allotment garden is an ecosystem and a community.
Our garden has become a conversation starter with an array of people. Beyond fellow gardeners, we also get many parkgoers coming by and inquiring about the plants we've planted.
We experimented with planting peanuts to improve the soil's health, and they grew rapidly and plentifully. So many passers-by asked us what they were and were surprised to find out that's how the peanut plant looked.
Conversely, an NParks landscape gardener recognised the plants as they were a staple crop in his village in India. He gave us advice on when to harvest them.
I believe the giving nature of plants inspires gardeners to be likewise generous. When our friends heard we were starting an allotment garden, they offered us cuttings from their own garden. Other allotment gardeners offered us their seedlings. And now, we pay it forward by giving cuttings of our own to other friends and gardeners.
There are of course downsides to how accessible the allotment gardens are. While it has not happened to us, we've heard that some gardeners have had some of their produce stolen – a couple of tomatoes, a handful of herbs.
But these instances are few and far in between. I've experienced more generosity than greed or theft.
More importantly, gardening has been humbling. It reminds me that I only know so much. There were no egos here.
No one could claim to have all the knowledge or solutions because ultimately, nature is temperamental and plants take on a life of their own.
The garden has provided me with nourishment beyond the fresh produce it has borne, extending to the new relationships I've forged with other living things – plants, critters, and humans alike.
I try not to think of when the lease of my plot might be coming to an end – not only because I will miss the plants we've painstakingly cultivated but because of the warm and wonderful "green" community that came along with it.
Rachel Teo is a research assistant at NUS.