Commentary: Singaporeans are proving you can grow your vegetables and eat them too
From growing herbs in the kitchen to getting their hands dirty at community farms, Singaporeans are seeing the value in growing and buying local, says Suzanna Tang.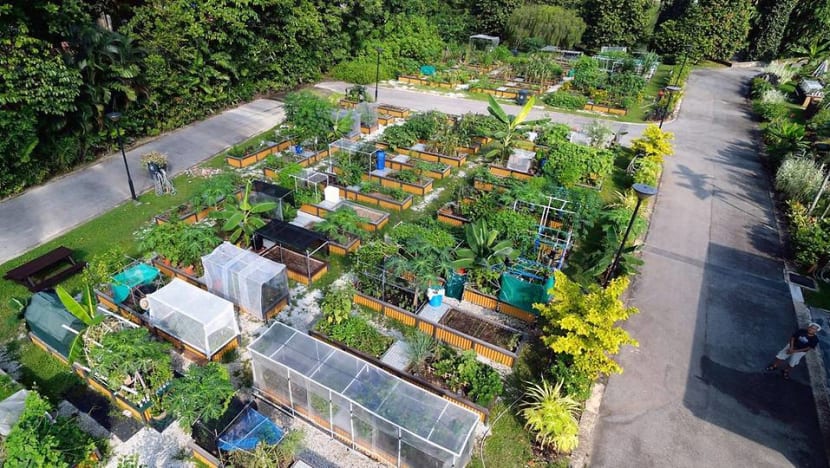 SINGAPORE: Each morning, when I step out of my back gate with my two-year-old before sending him to school, I am excited to point out a new bud bursting or another edible item ready for harvest.
He would point out a blue pea flower or even a bright red chilli not there the day before.
Once in a while, we spot an orange flower and cross our fingers for a pumpkin, but the Singapore weather means such flowers usually wither within a few days.
There is great pity when that happens but therein lies lesson number one: Gardening is about the circle of life, of things dying as much as it is about the most suitable and carefully tended plants flourishing.
Fruits of our labour have a literal meaning to gardeners. My son has yet to take a liking to our green great hog plums, more affectionately known to us as kedondongs, but we point out the dishes prepared with it to him at the dining table.
And it is a labour of love. My edible garden was once an infertile, small grass patch when we first moved in.
But thanks to my father who developed an interest in his retirement years and decided to try growing species that could be used in the kitchen, a luscious plot of flowering plants lies before us today.
Gardening is also about community and sharing in our collective labouring.
It helps that I live in an estate of avid gardeners who readily share tips and their harvests of cherry tomatoes and jackfruits. Moringa, banana and mango trees grow freely in the neighbourhood – reminiscent of the kampung days of Singapore, my father said.
BLOOMING INTEREST IN GARDENING
With more time spent at home, Singaporeans have been getting their hands dirty and discovering a whole new world of horticulture.
Local commercial farms, like Edible Garden City, have seen a surge in volunteer applications, along with an increase in the number of calls asking for home gardening advice.
The Urban Farmers (Singapore) Facebook group saw a surge in membership since the onset of the pandemic. Members of the 48,000-strong group post about harvest successes, pro tips and the latest horticulture trends. Some users even swap plant cuttings and seeds.
Meanwhile, NParks has been distributing free seed packets to households through their Gardening with Edibles initiative. Many of my friends and family took full advantage and now have a small edible garden in their homes too.
Stuck together due to pandemic restrictions, my friends Valerie Lo, 29, and Francis Woo, 31, decided to start a home garden together. Tending to their starfruit, asparagus and melon plants at the end of a long day proved to be a great way to destress.
Now veteran gardeners, they plan to secure a plot of land to experiment with other vegetables and fruits.
COVID-19 has caused us to pause, reflect and invest in tomorrow. "Gardening is all in the future, and the less future people have, the more they tend to think about it," famed public intellectual Germaine Greer once said.
The gardening movement is only set to grow. NParks aims to increase the number of community gardens and allotment gardens by up to three times, to 3,000 of each by 2030.
The Community in Bloom initiative, a nationwide gardening movement, has seen over 40,000 gardening enthusiasts volunteer to care for farms or lease gardening plots in over 1,600 community gardens.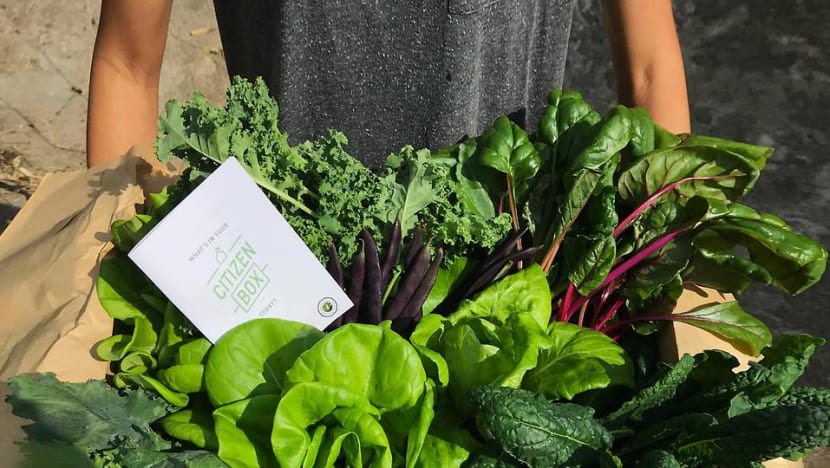 TOWARDS LOCAL PRODUCE
Do our inclinations to grow plants at our doorsteps translate into a desire for more locally grown foods?
There is a practical side to pushing for local gardening on a commercial level. Rising interest in gardening and urban farming fits into the broader picture of Singapore's food security aspirations.
Singapore relies heavily on imported food. We import more than 90 per cent of our nutritional needs from about 170 countries – but hope to produce 30 per cent of our nutritional needs by 2030 under the "30 by 30" goal.
The pandemic has been a wake-up call to look inwards in terms of food security. We might remember waking up to empty shelves and snaking queues at our supermarkets in March 2020, when fears over the availability of food triggered panic buying.
But can local produce take off?
Farmers face high operating and capital costs. Land and manpower are expensive. Our farms also spend on marketing and outreach to grow their customer bases.
According to a survey by Urban Origins, an overwhelming majority of Singaporeans are aware that local produce is fresher, more sustainable and that buying them contributes to the local economy. But buyers baulk at the price tag – local produce can cost up to 20 per cent more than imported produce.
However, cost is set to be less of an issue. Farmers and food scientists are optimistic that prices of locally grown food will decrease as economies of scale are met.
This looks set to happen in Singapore. Lim Chu Kang, where many traditional vegetable farms are situated, will be redeveloped to take Singapore's agri-tech capabilities to the next level.
With upgraded water, electricity and transport infrastructure to support high-tech farming, Lim Chu Kang could more than triple its current food production.
Since COVID-19 revealed how vulnerable the status quo of importing food is, Edible Garden City founder Bjorn Low said smaller scale, decentralised urban farms on rooftops of malls and even carparks are the way forward. And Singaporeans are on board.
"We are optimistic about '30 by 30', with the government strongly pushing urban farming by injecting funding and spreading awareness among locals. We have also personally noticed more Singaporeans supporting local agriculture, and choosing to buy local produce over imported varieties," he said.
MAKING FARM TO TABLE A REALITY
There's room for improvement. Local agriculture companies could do more to meet the demands of Singaporean consumers.
Many focus on growing more commercially viable, high-value crops such as kale instead of vegetables more commonly found in our hawker culture and local cuisines, such as cabbage, kailan and kangkong.
That needed mindset shift among consumers does not have to be a grand, sweeping change – it can start with the humble act of growing basil and thyme by the kitchen window, or visiting the farmers' market, such as the one held in Kranji Countryside every three months.
Getting involved in community farms is a good start for us, especially young ones, to appreciate the time and effort that go into growing something from farm to table.
Today, my mother-in-law who stays with us and helps out with cooking is the main caretaker of the plants in our house.
She finds joy in plucking the chilis and planting new kinds of seeds. She proudly tells my son that the lady's fingers he eats are grown from our garden every time she prepares them.
Just as it takes a village to raise a child, it takes a community to sow the seeds of appreciation among our young of how food reaches our plate. So start now, start at home and soak in the tenderness of cultivating your own food. It can be a tonic in these trying times.
Suzanna Tang is Co-Founder of Urban Origins, a ground-up initiative connecting communities with local urban food. Urban Origins was a participant in the 2020 Youth Action Challenge Season 2, organised by the National Youth Council Singapore, where it won the outstanding award for its pitch on Urban Solutions and Sustainability.