Commentary: Australians voted for change and it looks a lot like climate action
After weak emissions targets and devastating bushfires and floods during Scott Morrison's term, the electoral wins by Anthony Albanese's Labor, the Greens and the Teals show Australians are tired of climate inaction, says former ambassador Dr Anne-Marie Schleich.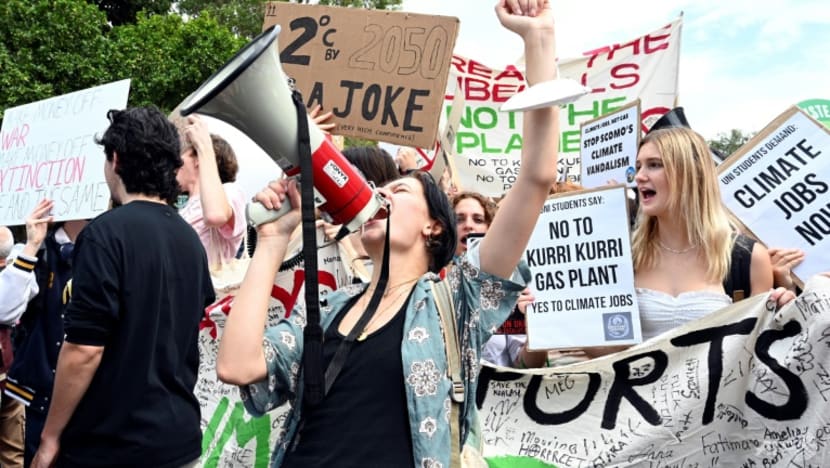 SINGAPORE: In his victory speech on election night (May 21), new Australian Prime Minister Anthony Albanese signalled an important change: "Together we can end the climate wars, we can be a renewable energy superpower."
Albanese and the Australian Labor Party had already secured 75 seats at the time of writing, just one short of a parliamentary majority. 
What was not predicted by pollsters was just how badly his predecessor Scott Morrison's Liberal Party would lose. Traditionally safe seats in Melbourne, Sydney and Perth went either to Labor or to new independent grassroots candidates, the so-called Teals, who surprised everyone by sweeping 10 seats in the "big Teal Steal". Even the Greens had a historic win of three lower house seats and are holding out for more in the Senate with confirmation still pending.
Both Greens and Teals mainly ran on environmental platforms. The politics of climate change have been divisive during the last nine years of Liberal governments - but it seems this is the change Australians have voted for.
AUSTRALIA, A CLIMATE LAGGARD UNDER SCOTT MORRISON
The opposition parties profited from a widespread voter dislike of Morrison's "bulldozer" personality, but importantly, perceptions that he mishandled two recent disasters caused by climate change. 
He went on holiday in the middle of devastating bushfires in 2019, now considered one of the worst fire seasons. Earlier this year, as floods claimed lives and homes in eastern Australia, Morrison was criticised for being too slow to declare a national emergency and send more resources.
Some parliamentarians in Morrison's Liberal-National coalition are also climate sceptics, openly questioning the link between climate change and Australia's disasters. 
The effects of climate change weigh heavy on Australians. Australia is the biggest greenhouse gas emitter of coal power per capita worldwide. Two-thirds of its electricity coming from coal and it is also the second-largest coal exporter. 
Morrison had previously come under attack for his extremely weak climate targets, with an emissions reduction target of 26 per cent to 28 per cent below 2005 levels by 2030. He had resisted matching commitments to a net zero target by 2050 until almost right before the United Nations COP26 climate summit in November 2021. The Morrison government even lobbied (unsuccessfully) to remove references to the 1.5 degrees Celsius benchmark target of limiting global warming.
Labor pledged slightly more ambitious emission targets of 43 per cent by 2030 and net zero by 2050, but carefully avoided alienating potential conservative voters with a stronger climate action package.
In particular, the moderate, policy-focused and charismatic Teals seemed to have appealed to dissatisfied Liberal voters who wanted a change, especially for more decisive climate action, but did not want to switch more drastically to Labor or the Greens. Teal candidates, all of them female professionals, received strong backing from their local communities and some from the fundraising platform Climate 200.
A RENEWABLE ENERGY SUPERPOWER?
Albanese's pledge to become a renewable energy superpower highlights Australia's promising green energy market, notably in its abundant solar and wind resources. At the Quad meeting in Japan on May 24, he promised that his government "will take ambitious action on climate change" and cooperate with the three Quad partners on clean energy research. 
During the campaign, he pledged public investment of A$24 billion (US$17 billion) in green projects hoping it would attract double in private investment. 
Some green megaprojects are already underway. Under a "world-first" new Green Economy Agreement in 2021, Australia and Singapore are working on a solar power project that aims to export green energy to Singapore through an undersea cable from Darwin. The aim is to supply up to 15 per cent of Singapore's electricity needs.
In 2021, Germany and Australia also entered a partnership to develop a pilot hydrogen project. Australia will also be home to the Asian Renewable Energy Hub, a large power station in the desert that will accommodate wind turbines and solar panels, said to provide more energy than Australia's entire coal industry. Most of the energy produced is expected to be used to produce green hydrogen energy. 
How far can alternatives to coal, like solar, wind and biothermal, go, and what about carbon capture and storage? CNA's The Climate Conversations takes a closer look:
In fact, Australia's investment in renewables and research into hydrogen energy increased under Morrison, with A$1.4 billion pledged for hydrogen research and pilot projects. But it seems Australians were not convinced by his vocal support of the continued reliance on coal and his efforts to stir controversy about an old red herring - carbon tax.
ALIGNING CLIMATE ACTION WITH PACIFIC ISLAND COUNTRIES
The new government also looks to be resetting relations with its Pacific family. Albanese said at the Quad meeting: "We will act in recognition that climate change is the main economic and security challenge for Pacific island countries."
Pacific island nations, faced with an existential crisis of rising sea levels, have severely criticised the Morrison government for its lack of climate action and adherence to coal-powered plants. They had long been driving global progress to combat climate change within the UN – without Australia. 
Australia's influence among the Pacific community had weakened because of its climate-reluctant position in international negotiations and within the regional Pacific Islands Forum.
China, for one, has increased its presence in the region, notably through economic – and more recently, security – partnership with the Solomon Islands and possibly other nations in their sights.
With a strong Teal and Greens opposition, the new Labor government can expect increased pressure for more decisive climate action – more so if Labor does not achieve a majority and may have to notch up their ambitions to secure a coalition.
The upcoming COP27 summit in Egypt in November will be a litmus test for the Albanese government's climate resolve and a chance for Australia to finally shake off its climate laggard label.
Dr Anne-Marie Schleich is an Adjunct Senior Fellow at the S. Rajaratnam School of International Studies (RSIS), Nanyang Technological University, Singapore. She is a retired German diplomat who was Consul General in Australia and most recently German Ambassador to New Zealand and seven Pacific Island countries.