Commentary: As Singapore makes space for development, where will the animals live?
Singapore has done well in making multi-decade plans for where people will live. As more areas are cleared for urban development, a critical question is whether animals can have places to live and even survive, says Richard Hartung.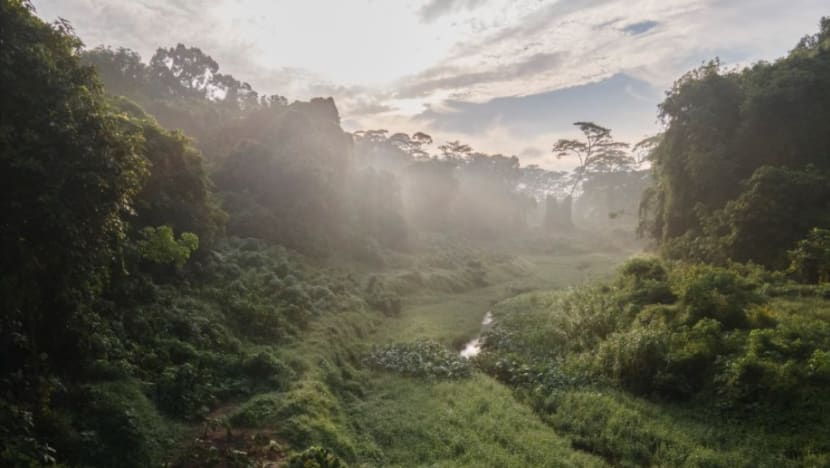 SINGAPORE: Singapore's development planning for its people is renowned for its long-term focus. The Urban Redevelopment Authority's (URA) Master Plan guides Singapore's land use for 10 to 15 years, and reviews every five years translate long-term strategies into detailed plans to meet the needs of current and future generations. URA also says it seeks to balance conservation and development.
As Singapore makes way for more housing and MRT lines, however, concerns have arisen over efforts to protect wildlife and to find a balance between urban development and nature conservation.
An Institute of Policy Studies study in 2021 showed that more than three in five Singaporean respondents believe that protecting the environment should be prioritised over economic growth.
PLANNING FOR WILDLIFE IS CRITICAL
The crucial issue for wildlife in Singapore is that forests and reserves are where animals large and small, from insects and fish to birds and monkeys, live and find their food. Their homes continue to disappear, regardless of plans for conservation.
It is a problem that isn't unique to Singapore. Globally, wildlife populations have declined by 69 per cent since 1970 due to deforestation, human exploitation, pollution, and climate change, according to a World Wildlife Fund (WWF) report.
The United Nations has also estimated that around 1 million animal and plant species are threatened with extinction due to human activity.
Looking back to the time the British first came here in the early 1800s, Singaporean and Australian researchers noted that more than 95 per cent of the original vegetation has been cleared.
Today, Singapore has four nature reserves, making up about 5 per cent of its land area.
According to online monitoring platform Global Forest Watch, Singapore lost 37ha, or 4.3 per cent, of humid primary forest from 2002 to 2021, making up 1.4 per cent of its total tree cover loss in the time period.
Although more than half of Singapore's land area is under green cover, meta-research by researchers from the National University of Singapore (NUS) and other institutions in 2013 showed that much of this green cover is managed vegetation and open scrub or woodlands. The near-complete loss of the original forest cover has brought the loss of many species, which also contributes to the global decline in biodiversity. Fragmentation of the spaces and reserves reduces the habitat available.
As former NUS faculty member Richard Corlett put it in a 2022 paper, factors affecting wildlife including the continued losses of native species from protected areas and the failure of century-old secondary forests to converge on adjacent primary forest point to the need for a much more interventionist approach.
What's needed is to identify species needing conservation, assess their needs, write an action plan written for each species and take appropriate actions.         
A BALANCING ACT
The National Parks Board's (NParks) Nature Conservation Masterplan provides a framework for biodiversity conservation efforts in Singapore.
A fundamental principle is that biodiversity in Singapore should be "conserved for future generations" and factored into the national planning process.
Regardless of the stated intentions, the pressure for development is strong.
In 2021, for example, despite public calls for Clementi Forest to be conserved, National Development Minister Desmond Lee reiterated that it was still marked for redevelopment, although there was no immediate need to develop the site for housing.
In October 2022, nine years after nature groups and environmentalists argued against the construction of the Cross Island Line, some changes were made to reduce the ecological impact on wildlife and the amount of forested land consumed for the second phase of the MRT line's construction.
Even with the changes, however, the environmental impact study showed that the project would still have a major impact on some sites, with irreversible habitat loss.
More recently, in December, the Public Utilities Board (PUB) said that it plans to study the feasibility of two sites in Mandai within forested areas for water storage. Although NParks previously said a nature corridor would be established in the vicinity, there are concerns over the loss of forests to support wildlife.
Singapore also plans to start clearing about 31ha of forested areas - the equivalent of about 43 football fields - near East Coast Park this year, to make way for housing and a connecting road in the upcoming Bayshore precinct.
MAKING A CHOICE
These plans highlight the issue of the ongoing balancing act between urban development and nature conservation.
While Parliament did pass a Wild Animals and Birds Act in 2020 that is designed to strengthen the protection of wildlife in Singapore, the Act does not seem to protect the homes of the animals that are essential for their survival. It does help by allowing higher penalties for feeding and releasing animals in the wild. NParks can also issue directions on wildlife-related measures to developers, who can be fined or imprisoned for non-compliance.
Globally, wildlife numbers continue to decline and forests continue to disappear.
And this loss is happening despite greater awareness of the need for conservation, global actions at COP15 or other forums to protect biodiversity and far greater interest by ordinary citizens in protecting nature.
Rather than continuing the current path of ambiguity and ongoing wildlife loss while talking about conservation, there is a critical need for clearer policy choices and statements.
At the COP27 climate talks in November 2022, Singapore joined a group of more than two dozen other countries that said they would hold each other accountable for a pledge to end deforestation by 2030.
Here at home, what we can do to ensure our wildlife continue to have a home as Singapore makes space for development? Is it possible for policymakers to take forested areas out of plans for development, which would give wildlife a better chance to survive?  
Changing long-established plans for development and emphasising actual conservation may require changes in mindsets. However, protection of wildlife and biodiversity has become so important that making a choice is critical. The lives of animals and the future of biodiversity literally hang in the balance.
Richard Hartung is a freelance writer and consultant who has resided in Singapore since 1992.
You may also be interested in: