Commentary: When children are cruel to animals, there's usually an underlying trigger
Of all the aberrant behaviours, cruelty towards animals by children is particularly chilling. Psychiatrist Lim Boon Leng weighs in on what might trigger young children to commit such acts.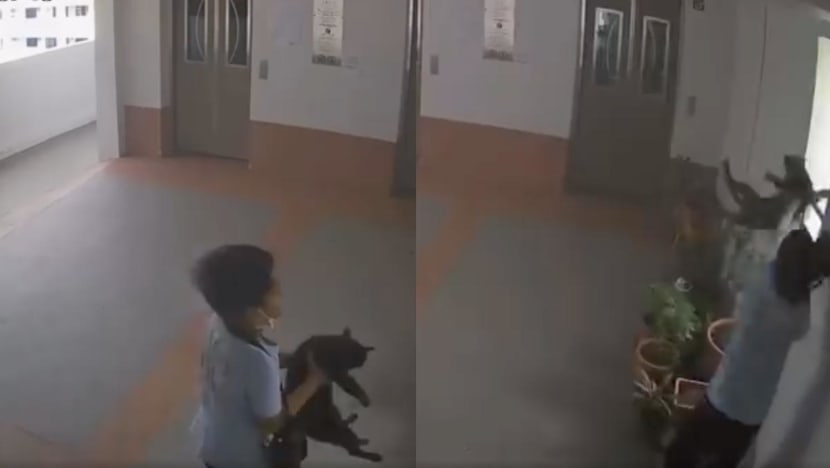 SINGAPORE: When a video of a child throwing a cat off an HDB block came to light, the emotional backlash from social media was tremendous.
An online petition calling for justice for the cat garnered more than 65,000 signatures at the time of writing.
As a pet owner myself, the video was extremely distressing to watch, and the act of cruelty was totally incomprehensible to me.
However, setting my own emotions aside and putting on my hat as a psychiatrist, the immediate question is: Why?
Why would a young child commit such a cruel act?
ACTS OF CRUELTY
The study of psychiatry consists of observing and categorising pathological or abnormal human behaviours.
Of all the aberrant behaviours we deal with, the act of cruelty towards an animal by a child can be particularly chilling in nature.
While common acts of cruelty such as pulling off the legs or cutting the wings of an insect and rough handling of small animals often go ignored, unusual, hideous acts of mutilating or killing larger animals often make people sick to the stomach.
On one hand, we have the tendency to anthropomorphise bigger vertebrae animals, like cats and dogs, and therefore empathise more with their sufferings in the same way we would a fellow human being.
On the other hand, what may truly petrify us is that these cruel acts by seemingly naive children suggest a primal evil that our own fragile conscience may be repressing.
The study of psychiatry can only be complete with the understanding of the motivations behind a behaviour.
Some studies have shown that up to 44 per cent of children may have abused animals at one point or another in their childhood. It is pertinent to note that the definition of animal abuse can be vague and differs from study to study. If we were to take only the abuse of vertebrates into account, the prevalence of animal abuse may be much lower.
Much of this abuse likely represents curiosity or exploration in the young, with the children examining and mishandling small insects or animals and injuring or killing them in the process.
TRIGGERS OF CRUELTY TOWARDS ANIMALS
Abuse of animals have been shown to be more likely in younger boys. Younger children have a higher tendency to externalise their negative emotions and may act out on pets. As they grow older, they learn to regulate their emotions, know right from wrong, and stop performing such acts.
While the developmental motives behind animal abuse by children and youths may not be well researched, interviews have given us some answers.
Other than curiosity or exploration, motivations for animal cruelty can include peer pressure, mood enhancement to relieve boredom or depression, sexual gratification or being forced to by a more powerful individual. Motivations may also include killing an animal to prevent its torture by another individual, animal phobia and pre-emptively attacking a feared animal. 
In some cases, the abuser may have been abused before and want to exert control by hurting a more vulnerable victim. The act may also be a post-traumatic enactment on an animal, or modelling after an adult abuser, deliberate self-injury by using an animal, rehearsal and practicing violence before attacking others, and emotionally abusing others through their pets.
In more serious transgressions, domestic violence and child abuse appear to be the main triggers of cruelty towards animals.
THE ABUSED HAVE A HIGHER TENDENCY TO ABUSE
Abuse of animals perpetrated by older children who are more than 10 years old is associated with child abuse, with these children being two to three times more likely to have been directly abused themselves.
These youths have also often witnessed family violence including that of violence towards their pets by family members. One study has shown that about 32 per cent of children exposed to domestic violence go on to engage in animal abuse.
Studies have also suggested that there is a higher prevalence of animal cruelty in children who have developmental delays, Attention Deficit Hyperactivity Disorder and Conduct Disorder. This can be due to the inherent difficulties in impulse control associated with these conditions or children with these conditions being more likely to be subjected to abuse.
Animal cruelty and abuse are also associated with future violent offending. Studies suggest animal abuse is present in up to two to three violent adult offenders. Another research done in Kansas and Connecticut showed that 25 per cent inmates with aggression had committed multiple acts of animal abuse during their childhood.
However, all is not lost. Parenting training, focusing on positive parenting and limit setting, aimed at helping children develop empathy, have shown to be an effective intervention, having lasting changes in improving anti-social behaviours such as animal abuse.
It is evident that animal cruelty is only the tip of the iceberg. Observing a behaviour entailing an act of animal cruelty is meaningless without understanding the possible precipitants of the behaviour, the motivations behind the act and without taking into consideration the child's potential for treatment and rehabilitation.
Likewise, justice cannot be fully sought if we were to embark on online vigilantism, taking matters into our own hands by attempting to identify the perpetrator, focusing just on the one act of animal cruelty without due consideration to the complexity of the case.
Instead, we should allow our justice system time to investigate and find the answers to the whys of the case without duress.  
Dr Lim Boon Leng is a psychiatrist at the Gleneagles Medical Centre.