Commentary: Singapore women shouldn't put off breast cancer screening
Breast cancer is the most common cancer among Singapore women, but they may be reluctant to go for screening, says Sengkang General Hospital senior consultant Benita Tan.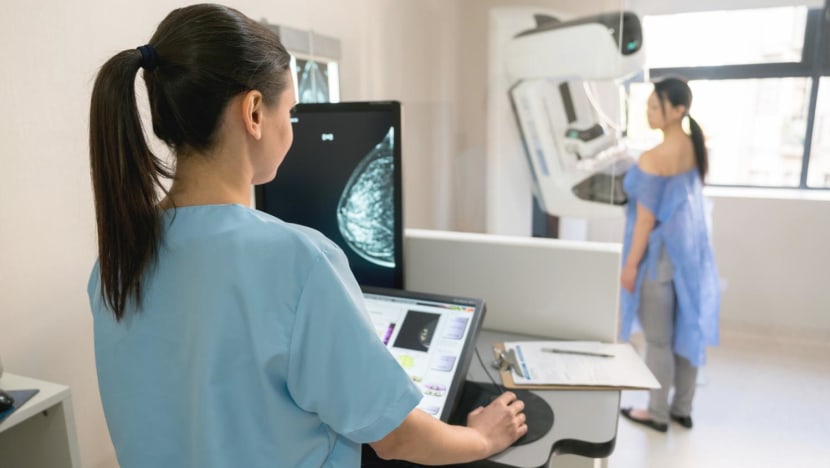 SINGAPORE: Colorectal cancer is the most common cancer affecting men and the second most common among women in Singapore. So it might surprise some to learn that more women are diagnosed with breast cancer than all the men and women with colorectal cancer combined.
Breast cancer incidence in Singapore has more than tripled over the past 50 years, to 74 cases per 100,000 women – one of the highest in Asia. About 2,500 women are diagnosed with breast cancer annually and it is the most common cause of cancer deaths in women.
With breast cancer so common, many have friends and relatives with breast cancer, women are keenly aware that they face a real risk. But does knowing this motivate more women to go for screening mammograms?
This doesn't seem to be the case. In 2021, only about one-third of women between 50 and 69 years old reported that they had gone for a mammography within the last two years, according to the National Population Health Survey 2021.
WHY WOMEN ARE RELUCTANT TO GO FOR MAMMOGRAMS
Is it a question of reducing the financial barrier to screening?
The Ministry of Health (MOH) announced last year that those who enrol under Healthier SG - the national healthcare strategy with a focus on preventive care - will benefit from free recommended health screenings (including for breast cancer).
Under the national Screen for Life, there is already an established breast cancer screening programme since 2002 (also known as BreastScreen Singapore, BSS). It is supported by public healthcare specialists and subsidised by MOH for women of the recommended age for screening (40 years and above).
With increasing healthcare costs, the full cost of mammograms has increased from about S$100 (US$75) to more than S$200 over the past 20 years, but those done under Screen for Life have been maintained at S$50 for Singapore citizens who are not from the Pioneer or Merdeka Generations. Making screening free could encourage more women to take it up at a time when the rising cost of living is on everyone's minds.
But this alone won't be sufficient. According to a research paper I co-authored, other common barriers to screening were fear of a potential diagnosis, the perception that mammograms are painful and uncomfortable, and financial concerns about additional tests or if costly cancer treatment is required.
Better healthcare financing literacy could help, especially if financial concerns affect health-seeking behaviour in turn. MediSave can be used to pay for basic Integrated Shield Plans, which helps to manage most inpatient hospital bills and surgery fees subsidised in public hospitals. Co-payments for additional riders are required since the move to phase out full riders, but most of this can also be covered by MediSave, with small out-of-pocket funding.
More recently, Integrated Shield Plans have been changed to only cover cancer drugs on a government-approved list since April. This does not limit access to breast cancer treatment as the list covers the standard of care - which includes chemotherapy and immunotherapy. Hospitals can help needy patients access additional support as well as other sources including philanthropic funding.          
MORE OPTIONS THAN A MASTECTOMY
The goal of screening regularly is to detect the cancer early before symptoms develop and more importantly, before the tumour becomes too difficult to treat.
The five-year survival rates for women diagnosed with Stage 1 and 2 breast cancer were 100 per cent and 90 per cent respectively. This dips to 73 per cent for a Stage 3 diagnosis and plummets to 27 per cent for Stage 4 - also known as the distant disease as tumours spread to other parts of the body.
Although the situation has improved over the years - more early stage diagnosis and decreasing stage 3 breast cancer - Singapore still sees 10 per cent of women presenting with Stage 4 breast cancer. This has not decreased in the last three decades, compared to South Korea - a similar Asian country in terms of medical services and education - where the Korean Breast Cancer Society reported decreasing incidence of Stage 4 breast cancer in the last two decades to about 1 per cent in 2018.
When cancer is diagnosed in an early stage with a small tumour, women have better options to save their breasts instead of having a mastectomy (whole breast removal), and also a lower risk of relapse.
Taking an example of a 70-year-old patient I treated, early diagnosis meant the cancer was small and had not spread to the lymph nodes. She could benefit from surgery to remove the cancer while conserving the breast and a one-time radiotherapy during surgery (intra-operative radiotherapy), instead of the usual three to four weeks done after recovery from surgery.
Early-stage cancers are also less likely to require chemotherapy, except for those with more aggressive behaviour like the "triple negative" and HER2-gene enriched breast cancer typically associated with early recurrences and higher mortality. But the survival rate has improved even in these cases, with research and advances in the therapeutic drugs available.
HOW TO BOOK A MAMMOGRAM
As with many health conditions, screening is not the end point of a health journey. It helps ensure early treatment for better outcomes - an important message in public education.
Mammograms under BSS are easily booked online via health platforms such as the national HealthHub App, SingHealth Health Buddy App or via screening hotlines at the healthcare clusters. They are performed at conveniently located polyclinics and sites all over the island.
The mammograms are read by two breast specialists, and any findings that require further assessment will be followed up in one of six assessment centres in the public hospitals.
Additional views of the mammograms or breast ultrasound may be performed. A proportion will be recommended breast biopsies. But nine out of 10 who undergo breast biopsy will have normal breast tissue or benign breast conditions.
Women may face more anxiety when there is additional assessment, as well as the costs of additional tests and other follow-up. Those who book the follow-up in the assessment centres will benefit from subsidised healthcare.
We need to encourage women to step forward to take charge of their own health. Making it free will relieve the cost burden of going for breast cancer screening. Together with continued efforts on public awareness and education, it will encourage more Singaporeans to take a proactive step towards their personal health. Delaying a diagnosis hurts no one more than ourselves.
Professor Benita Tan is Senior Consultant in the Department of General Surgery, and SingHealth Duke-NUS Breast Centre, and Chairman of the Division of Surgery at Sengkang General Hospital.