Commentary: When children are seriously injured, who is liable?
As a parent of an active boy, lawyer Ong Pei Ching sees potential for her son to get injured anywhere. But who is responsible if a child is hurt in a shopping mall or school?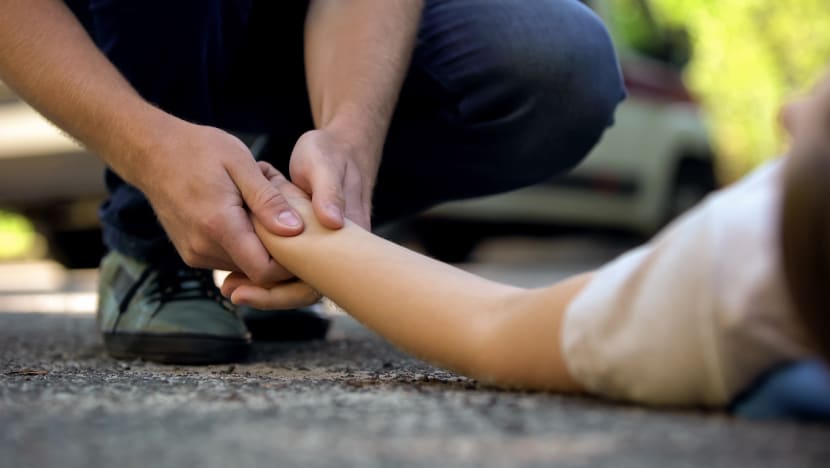 SINGAPORE: As a parent of an active boy, I see danger in every makeshift "floor is lava" arena or would-be parkour challenge (also known as shopping malls and other ordinary public places to regular folks).
This parental paranoia is not helped by heart-wrenching news in recent times. In November 2022, a five-year-old boy required eye surgery after tripping and falling onto a metal barrier at Changi Airport. A month before that, a two-year-old boy died after falling from a baby chair in a restaurant in Johor Bahru. Where does the responsibility lie if a child hurts himself in public?
Our children simply cannot be under our watchful eyes all the time. As the saying goes, it takes a village to raise a child, and that is especially true in Singapore where it's the norm for both parents to work. That means that our children are often in the care of the village – with their grandparents, with their teachers in school or with other caregivers. If something happens to our child, is the village liable?
Sometimes, a small bump or bruise is all there is, but when more serious injuries are sustained, a whole new perspective shifts into focus. It is no longer about the injury alone – suddenly, one starts to question how the accident happened, whether it could be prevented, and who should be held responsible.
COULD THE ACCIDENT HAVE BEEN PREVENTED?
Generally, it is the business owner of the premises or the child's caregiver at the time of the injury, or both, whom parents seek responsibility from.
First, on the issue of whether the premises can be held responsible, it must first be established that the harm was preventable.
In 2019, an 18-month-old girl died from a head injury after a 166.5kg free-standing mirror at Urban Revivo boutique in Jewel Changi Airport fell and crushed her. At that time, the victim's mother had gone into the changing room and left the victim in her grandmother's care. The grandmother had tried her best to carry and hold onto the toddler without success.
Two boys, including the victim's brother, squeezed through a small gap behind the mirror. This was despite the grandmother cautioning the children not to play near the mirror. As a result, the mirror fell onto the girl, who was standing in front of it.
The state coroner found that the boutique had taken reasonable safety measures – such as testing a prototype of the mirror for safety and stability. The mirror had been assessed to fall forward only if a person used intentional or excessive force to push it forward, or if it was shaken from the top. A brace bracket had also been added to the back of the mirror to support it and enhance stability. As a result, the state coroner ruled it as a tragic misadventure.
In a similar case in the United Kingdom, however, Hugo Boss was found liable after a 120kg mirror in one of its boutiques crushed a four-year-old boy. The boy suffered irreversible brain damage and was pronounced dead four days later. The English Court found that the mirror had been balanced upright like a "domino piece", with the judge saying that it "would have been obvious to the untrained eye" that the mirror posed a risk. Hence, the English Court held Hugo Boss liable for breaching the duty of care to its employees and customers that its premises would be safe.
In the above case of the two-year-old boy who fell from a baby chair in the Johor Bahru restaurant, many questions remain: Was the baby chair suitable for his age? Was it adequately maintained so that it remained safe for use?
WAS THE CAREGIVER NEGLIGENT?
Whether someone is responsible for an injured child depends on whether they owe a duty of care to the child, whether they breached such a duty, and whether the damage suffered was too remote. In other words, if the accident was not foreseeable (hence, the term "freak accident"), there may be no liability.
Take for example the recent case where the uncle of an eight-year-old girl, who was flung out of his van when a speeding car collided with it, was found to be 65 per cent liable in negligence.
The uncle had let his niece sit in his van's cargo compartment, which did not have seats or seat belts. Did the uncle owe a duty of care to the child? Did he breach such a duty? The Court found both answers to be yes. Was the damage too remote? Well, the girl would not have been flung out of the van if she had been properly seated and belted in.
As working parents, there are inevitably hours in the day when we have to leave our children in the care of others. When they are not by our sides, our children probably spend the most amount of time in school. Schools, pre-school operators, teachers and caregivers certainly owe duties of care to their students.
Parents would be relieved to know that the Ministry of Social and Family Development has guidelines for student care centres, stating that staff must be alert and equipped with the relevant skills and knowledge to prevent accidents and injuries.
We cannot bubble-wrap our children against all vicissitudes of life. Sometimes, bad things happen. But while it may be cold comfort to hurt children and their parents, responsibility may lie with caregivers or owners of premises that have not fulfilled the requisite duty of care.
Hopefully, that will encourage those taking care of other people's children to put on (slightly) parental-paranoia-tinted glasses to keep them safe.
Ong Pei Ching is Partner, Litigation & Dispute Resolution, TSMP Law Corporation.