20 to 30 children injured on average every year in Singapore due to falls from high chairs: KKH
More than a quarter of these injuries over the last five years required hospital admission, says the KK Women's and Children's Hospital. Injuries ranged from head and face lacerations to fractures of the skull and limbs.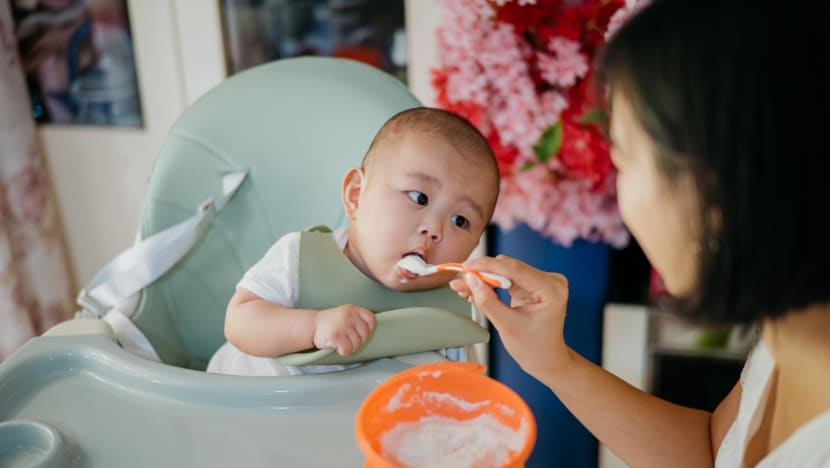 SINGAPORE: About 20 to 30 children were injured every year for the last five years after falling from high chairs, and more than a quarter of these cases required hospital admission, said the KK Women's and Children's Hospital (KKH).
Earlier this month, a toddler in Malaysia died after he fell from a high chair while at a restaurant with his parents.
The two-year-old boy was sitting in the high chair when he kicked the table, Malaysian police said. This caused the chair to fall over and he hit his head on the floor. 
KKH, the largest hospital for paediatric healthcare in Singapore, said in response to CNA's queries that it saw 140 cases related to falls from high chairs between 2017 and 2021, with an average of 20 to 30 each year.
About 27 per cent of these required hospital admission. Injuries ranged from fractures of the skull and limbs, lacerations to the head and face, head injuries and bruises to the limbs, said Dr Ronald Tan, a consultant at the hospital's Department of Emergency Medicine.  
In Singapore, suppliers of baby chairs have to ensure their products comply with international safety standards, such as EN 14988, ASTM F404 and ISO 9221. The EN 14988 is a British safety standard, while the ASTM F404 is a US standard and the ISO 9221 an international standard. 
These standards set out the safety requirements for baby high chairs, including stability and weight specifications. 
High chairs that do not comply with these standards are not allowed to be sold in Singapore, said Ms Beatrice Wong, director of the Consumer Product Safety Office, which comes under Enterprise Singapore.
"So far, the CPSO has not received any feedback of unsafe high chairs or reports of injuries resulting from the use of such products in Singapore," she said.
However in 2021, it found two models of high chairs being sold in Singapore that did not comply with the ASTM F404 safety standard and issued stop-sale orders to their retailers.
Under Singapore law, any person who fails to comply with the Consumer Product Safety Office's directions to stop the sale of unsafe products faces a fine of up to S$10,000, jail of up to two years, or both. 
One of the two high chairs, the Tatameru, did not have a restraint system and its rearward stability did not meet safety requirements. The Safety 1st Kiwi 3-in-1 Reclinable High Chair, on the other hand, had gaps and leg openings in the crotch restraint that could trap a child or cause a fall. 
The Consumer Product Safety Office said it did not receive reports of injuries caused by either chair, but advised consumers to stop using them immediately.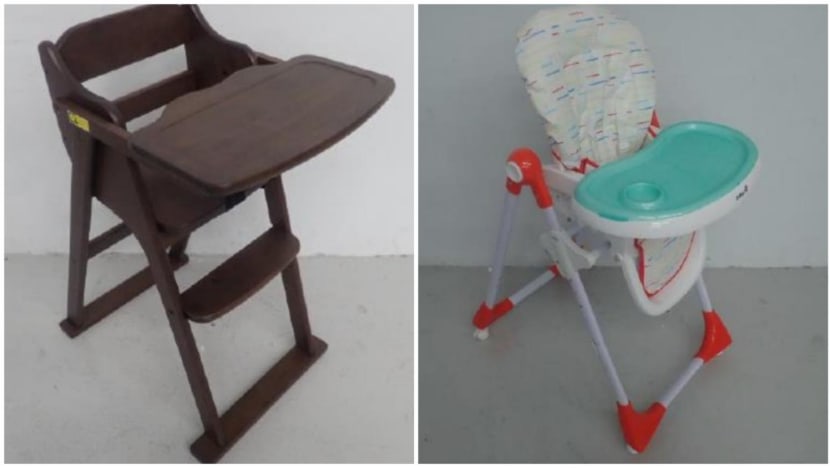 RETAILERS WEIGH IN
Retailers of children's products told CNA they look out for various features and safety standards when selecting high chairs for sale. 
PramFox, which stocks four different models of high chairs, said it takes into account European safety standards.
Founder Elise Mawson, an engineer by training, said the testing protocol for these safety standards include static load tests, which check how much weight a high chair seat can bear, and stability tests for sliding and tipping, which measures how far a child can lean out before a chair topples. The protocol also checks for mechanical hazards that can cause a child to choke, become trapped or tangled. In addition, tests are run for toxic materials such as lead used in the construction of a high chair. 
"I need to personally really like, trust and recommend the product," said Ms Mawson, a mother of three. "This will encompass the usefulness of the product, construction quality, aesthetic, brand values, safety standards and also the results of independent consumer testing."
Ms Mawson said parents should also consider the reputation of the seller and the brand.
"Ask which safety standard the product adheres to. Ask what is the maximum weight limit. If they are looking in-person, try to get a feel for the construction quality and material (such as the harness straps) and see if it feels flimsy.
"If you notice (your child is) able to rock the chair ... that's a massive red flag – talk to your retailer about possible solutions."
She added: "If you're buying online and reading reviews, try to look for genuinely helpful feedback rather than just the usual 'fast delivery, well packaged and seller gave gift, yet to try'."
Buyers may also want to check that sellers are available to answer questions on the assembly or usage of the chair, and that the seller is proactive in getting in touch with customers in the event of a product recall. 
Hatchery Cribs director Julius Chen said the retailer heeds the EN 14988 certification for children's high chairs. 
Hatchery Cribs stocks high chairs from German brand Hauck. One safety feature is integrated floor gliders so that if a child pushes away from the table, the high chair moves backwards instead of tilting. 
Mr Daniel Ho, the CEO and founder of Little Baby, said that the shop looks at the manufacturer's high chair specifications and features such as the safety harness. The store stocks 10 different kinds of high chairs. 
"A baby high chair should be designed in a stable structure with good quality materials, and the design angle of the chair's legs are very important to prevent from tipping," said Mr Ho. 
For example, one of the high chairs it stocks has legs that are angled to the ground, unlike adult chairs. This creates a wider base that is more stable and resistant to tipping. 
Restaurants should consider getting a high chair that can cater to heavier children, said Mr Ho, as they tend to see a variety of children.
"Let's say the restaurant uses (a) high chair which is up to 15kg weight capacity, but the child is heavier than 15kg. Isn't it a risk for the child to sit on the high chair?
"In a public setting, all the kids come in different sizes or weight. Unlike in a home setting, we know our kids' weight and also know how long we want to use the high chair."
Safety tips for parents using high chairs
Do not allow your child to stand in the high chair.
Do not leave a young child unsupervised in the high chair.
Do not allow older children to climb or play on the high chair as this may tip it over.
Don't place high chairs near furniture in a way that allows the child to push against them and tip the chair over. 
Check the stability of the high chair by applying some weight on the seat and backrest, or using a push and pull force on each side of the chair.
If the high chair has castors fitted, ensure that at least one pair of castors (either front or back) has brakes to keep the chair stable and in place.
Always use safety straps and adjust them to fit the child snugly. The openings must not be too large such that it is possible for a child to fall through. 
Check that moving parts cannot pinch, crush or trap a child's finger, toe, limb or head, and that there are no sharp points or edges and small parts present.
If the front torso support or tray is removable, check that it is not easily dislocated by exerting a pull force from each direction of the tray.
For high chairs that are foldable, check that there are latching or locking devices that will prevent the chair from folding during normal use. These devices should not be deactivated easily by a small amount of force.
Sources: KKH, Consumer Product Safety Office