Commentary: Experiencing quarantine as a 'high risk' family in zero-COVID Beijing
After his father-in-law went to a food market that had been visited by a close contact of a COVID-19 case, the Financial Times' Ryan McMorrow writes about his home quarantine experience in their small Beijing flat.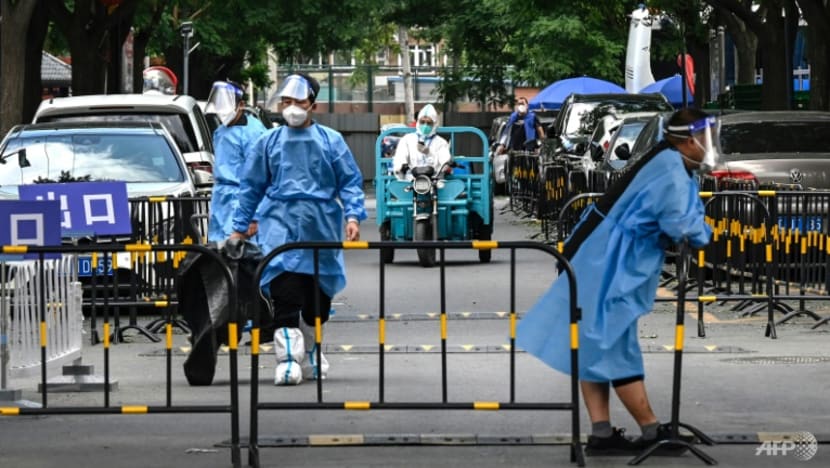 BEIJING: It was bad enough that my father-in-law, who is staying with us, got us all locked in our small Beijing apartment after visiting a food market which the government decided was "high risk".
But then my mother-in-law started loudly praising the quarantine system that has confined tens of thousands of Beijingers to their homes or isolated in hotels over the past few months, as the Chinese capital tries to contain Omicron. "If they don't quarantine all of us, our country's coronavirus policies are bullshit," she told us.
For the first time since my parents-in-law arrived five months ago to help my wife and me with our newborn, I felt unfilial.
It began on a Friday, when a man from our "shequ", the committee in charge of keeping order in our neighbourhood, arrived sweating at our door to seal us inside.
We were the 40th family he had put into isolation that week so he was well practised in dismissing our entreaties. No, we could not walk around the apartment complex, he said. No, we could not take our baby downstairs to play.
He explained that we had been classified as a "high-risk family" needing at least four days of home quarantine. He pasted a notice on our door asking our neighbours for their co-operation, hinting that they should report us to the authorities if we tried to escape. He added a white electronic sensor and said it would alert his phone if our door opened, allowing him to monitor our compliance with the rules.
We could open our door — pinging alerts to him — to bring in deliveries and put out the trash, which would be collected every afternoon and sanitised. "Make sure the deliverymen have already left before you open the door," he warned.
CORNERSTORE OF CHINA'S ZERO-COVID POLICY
Government-monitored quarantine is the cornerstone of Chinese President Xi Jinping's zero-COVID policy, which despite other countries' transition to living with coronavirus, has only become more entrenched in the world's most populous country.
Most Chinese cities go into full, don't-leave-home lockdown over a few handfuls of COVID-19 cases. The majority of Shanghai residents were confined inside for two months, millions without sufficient food.
Beijing has so far kept this Omicron wave in check at fewer than 100 cases a day with lower-key restrictions, inspiring some experts paraded by state media to deem us a zero-COVID success story.
That's not how it felt when I rushed to stock up on frozen chicken and cabbage alongside thousands of other frenzied Beijingers last month as rumours of an impending lockdown spread. We decided to buy an extra freezer to store more food.
We were among the last of our friends to face government-ordered quarantine. Some had been put in isolation for passing an area with COVID-19 cases, others for visiting a high-risk pub or living too close to someone who had contracted COVID-19.
A friend in southern Beijing has been quarantined three separate times this year. Another had two weeks at home after a COVID-19 case visited his building for 30 minutes.
REPORTING ON NEIGHBOURS BREAKING QUARANTINE
We had been classified as high risk, the shequ man told us that Friday, because my father-in-law had been at a food market that was also used by a close contact of a COVID-19 case. My father-in-law had scanned the market's QR code with his phone, making it easy for him to be tracked along with thousands of other Beijingers who had visited the market between Jun 8 and Jun 15. If the close contact remained COVID-free, we would soon be let out.
The first day of quarantine was the longest. My 11-month-old daughter can't speak but repeatedly waddled over with her shoes, her way of saying "I want to go outside". My wife, mother-in-law and I alternated between chasing her around the flat and retreating to our own corners of it. My father-in-law spent hours on the couch with his eyes closed, headphones on.
We debated making a run for a breath of fresh air, but were worried our neighbours would report us — the notice on our door gave a phone number to call.
Some cities offer 1,000 yuan (US$150) or more for reporting on neighbours breaking quarantine. The collective monitoring is officially encouraged in Beijing and the local news is full of stories of residents being detained or put under police investigation for breaking the rules.
Each day we removed the notice on our door in case we dared to make a break for it. But every morning a new one appeared and "don't tear down" was scribbled on its margins.
The days passed slowly. Workers in white protective gear came to the door to do COVID-19 throat swabs every other day.
The unnamed close contact remained COVID-free and we were released after four days as planned. We were lucky to escape the desperation felt by millions locked in their homes for weeks in cities like Shanghai or Jilin.
After our quarantine, my mother-in-law began to spend her mornings reviewing the latest COVID-19 controls in her hometown in China's north-east. For months her city had been mandating a two-week quarantine for any traveller from Beijing. But, in July, it finally dropped the requirement and she hastened to book the next ticket home.
Source: Financial Times/ch