Commentary: China is increasing its influence in Central Asia as part of global plans to offer an alternative to the West
Beyond promoting security and development collaborations, the recent China-Central Asia Summit also empowers Beijing to take over Moscow as the dominant influence in the Central Asia region and diversify its trade routes, says international security expert Stefan Wolff.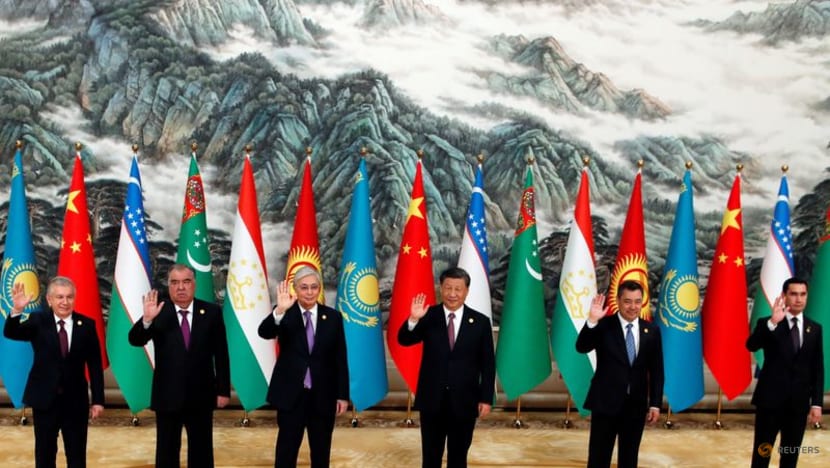 BIRMINGHAM: As G7 leaders were preparing for their recent summit in Japan, Chinese President Xi Jinping hosted his Central Asian counterparts from Kazakhstan, Kyrgyzstan, Tajikistan, Turkmenistan and Uzbekistan.
Central Asia is critical to China's attempts to build an alternative to the US-led liberal order that is unquestionably dominated by Beijing and in which Russia will, at best, be a junior partner.
In his opening address, Xi outlined his "vision of a China-central Asia community with a shared future". This will rest on four principles: Mutual assistance, common development, universal security and everlasting friendship.
While the relationship between China and Central Asia is often framed in terms of security and development, it also has a political side. This is all evident in the initiatives to create more regional cooperation launched at the summit in Xi'an.
These propose links between Chinese ministries and government agencies and their counterparts in Central Asia, increasing educational and cultural exchanges, and creating mechanisms like the Central Asia-China Business Council. All of these are likely to further consolidate China's dominant regional role.
In return, China will insulate the mostly authoritarian leaders of Central Asia from Western economic and political pressure to move towards democracy and protect their sovereignty and territorial integrity against any Russian adventurism.
SUMMIT ACHIEVEMENTS
The summit resulted in a staggering 54 agreements, 19 new cooperation mechanisms and platforms, and nine multilateral documents, including the Xi'an declaration.
Even if one were to discount most of these as having uncertain prospects of actual implementation, there can be no doubt about China's regional significance. 
According to UN statistics, for example, the volume of trade in goods between China and the five countries of the region rose from a mere US$460 million three decades ago to more than US$70 billion in 2022 - a 150-fold increase.
Historically, Russia was the main partner for central Asia, harking back to the Soviet period and the first decade after its break-up. But Moscow can no longer match the value of Chinese investments and construction contracts in central Asia, which now totals almost US$70 billion since 2005.
CHINA TAKES OVER FROM RUSSIA
A shift towards China is also reflected in the declining importance of Russia's regional integration project - the Eurasian Economic Union - in comparison to China's massive global Belt and Road Initiative. This programme of infrastructure investment was launched by Xi in Kazakhstan in 2013 and has since drawn the region closer to China not just economically but also politically.
The Belt and Road Initiative featured prominently in the Xi'an declaration, explicitly linking it to national development strategies in central Asia. Transport connections remain at its heart.
The countries at the summit recommitted to a China-Kyrgyzstan-Uzbekistan railway, to highways from China to Kyrgyzstan, Tajikistan and Uzbekistan, and to transport infrastructure for trans-Caspian trade routes using seaports in Kazakhstan and in Turkmenistan.
This focus on transport infrastructure in, and importantly across, central Asia highlights how important the region is for China's attempts to diversify its trade routes to Europe away from Russia. 
It also means that China, for now, will continue to use infrastructure development and trade to recruit more partners for its alternative international order.
The Russian "northern corridor" is now largely closed as a result of Ukraine war-related sanctions. So the route often referred to as the middle corridor has regained importance not only for China but also, crucially, for the G7 countries.
However, the middle corridor, which begins in Turkey and continues via Georgia and through central Asia, would be risky for China as a sole alternative. Its capacity is low (currently only about 5 per cent of the northern corridor) because goods have to cross multiple borders and switch several times between road, rail and sea.
AFGHANISTAN'S ROLE
Another alternative - with similar geopolitical significance - is transporting through Afghanistan to the Arabian Sea via the Pakistani port of Gwadar. In the long term, a trans-Afghan route is in the interest of both China and Central Asia.
It would contribute to (but also depend on) stability and security in Afghanistan. And it would reduce China's exposure to the risks associated with the existing route along the China-Pakistan economic corridor, especially those arising from the ongoing Taliban insurgency in Pakistan.
In light of this, China and its Central Asian partners committed to developing the transport capabilities of the Uzbek city of Termez, on the border with Afghanistan.
China also now has an official position on the Afghan issue, and Afghanistan was name-checked by Xi in his speech at the summit. So more regional engagement there is to be expected.
Despite the obvious risks associated with Afghanistan, China is likely to include a trans-Afghan trade route in its plans. This is also evident from the fact that Beijing appears reluctant to engage with Russia and Iran on their international north-south transport corridor. 
Both Russia and Iran face heavy international sanctions and recent tensions between Iran and Azerbaijan cast further doubt on the long-term viability of this route.
The enthusiasm with which the five Central Asian presidents have welcomed these initiatives indicates the extent to which they are keen to embrace China.
It remains to be seen, however, how sustainable, or popular, an approach this is in light of the considerable and widespread anti-China sentiment in the region.
Stefan Wolff is Professor of International Security, University of Birmingham. This commentary first appeared on The Conversation.
LISTEN - CNA Correspondent: Is China the new peacemaker?