Commentary: Why China keeps pulling the rug on Putin's pipeline
The importance of perceived energy security is higher than it has been in decades. That's not good news for Russia's biggest gas export project, says David Fickling for Bloomberg Opinion.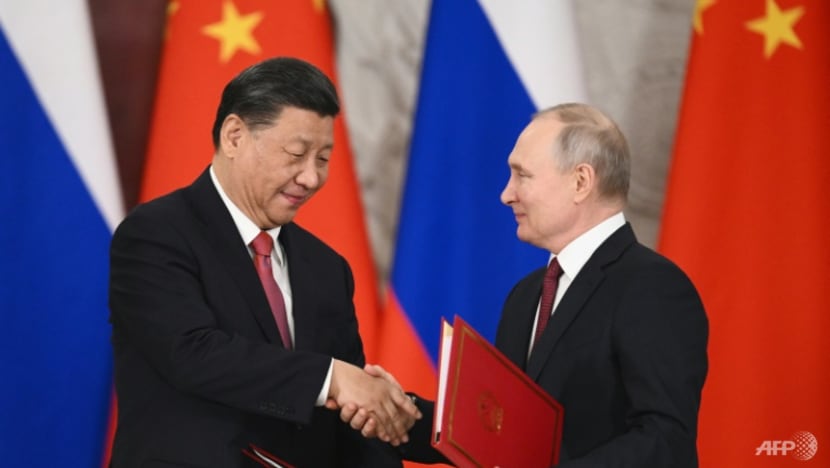 SYDNEY: It's normally grim work following meetings between authoritarian leaders boasting of their growing power and influence. But watching Vladimir Putin and Xi Jinping negotiate over Russia's biggest gas export project has a surprisingly comic edge.
Each time the Russian and Chinese presidents meet, Putin drops hints that the Power of Siberia 2 pipeline - which would send a Nordstream 2-sized 55 billion cubic meters (bcm) of gas to northern China via Mongolia - is on the verge of being approved. Each time, Beijing holds off from signing.
The end of the three-day summit in Moscow this week between the two leaders once again left the project up in the air. Putin, who had been making such comprehensive promises about an imminent announcement that some outlets went ahead and reported a done deal, ended up with nothing more than an assurance that China would keep looking at the project.
The official readout from Chinese state news agency Xinhua highlighted agreements on sports exchanges and forestry, but had nothing to say on the US$95 billion construction project that Russia is so ardently seeking as a replacement for its vanished European markets.
That silence is a little odd. China is the world's biggest importer of liquefied natural gas (LNG) and the biggest consumer of gas after the United States and Russia. With Xi's commitment to reach a peak in carbon emissions before its 2030 start-up date, the gas provided by Power of Siberia 2 could go some way to reducing the country's dependence on dirty domestic coal reserves.
THE IMPORTANCE OF PERCEIVED ENERGY SECURITY
One hard lesson of the past few years, however, has been that the importance of perceived energy security is higher than it has been in decades. That's not good news for Power of Siberia 2, which would roughly double the scale of Russia's gas pipeline exports to China and give it more than half of the country's import market - a similar level of dominance to the one it enjoyed in Europe in 2021.
There's better ways to solve this problem, and China is enthusiastically embracing them. In contrast to Beijing's reticence about the proposed Russian pipeline, in September 2022 it announced the start of construction of a 30 bcm pipe to Turkmenistan, an often unreliable supplier that's nonetheless easier to push around than Moscow.
Shipped gas is even more attractive since - as Europe found over the past year - it allows gas importers to be highly flexible in their supply relationships, in contrast to the fixed connections necessitated by a pipeline.
Since 2021, China has been signing contracts for LNG at breakneck speed. The International Energy Agency believes its existing agreements will leave China oversupplied out to 2030, with some 45 bcm of its import contracts likely to end up diverted to other markets.
Meanwhile, domestic gas output has more than doubled since Xi came to power in 2012 and state-owned oil giant PetroChina has been transforming itself into a gas producer, with methane making up more than half of its oil-equivalent barrels since 2020.
CHINA'S FUTURE OF WIDESPREAD ELECTRIFICATION
Behind all that is a shift in China's demand picture. Gas consumption grew by about 12 per cent a year in the 2010s, but will rise by just 2 per cent annually in the 2020s, according to the International Energy Agency.
The flip side of China's troubling expansion of coal generation capacity is that the sort of large-scale shift from coal to gas generation seen in the United Kingdom and US in the 2010s isn't going to happen there. Instead it will be solid fuel that works as a backup for renewables, which will increasingly become the backbone of the local grid.
Power generation from gas will barely increase through 2030, according to BP. Rising use of heat pumps - China has a 40 per cent share of global manufacturing - will take the wind out of a shift from coal to gas domestic boilers seen over the past decade, as households switch directly to electricity instead. Only in industry is consumption likely to rise rapidly, but that will be amply covered by existing contracts.
The effect of that in climate terms may be better than you might initially think. Carbon emissions from gas power plants are about half those from coal, but this advantage is sharply reduced when you factor in methane leaks and burning off of surplus gas in the field and pipelines. Russia does more flaring than any other nation, and satellite monitoring suggests its gas network is unusually leaky.
As Europe's experience has shown, it can be wrenching for an industrial sector hooked on gas to break the habit. But China hasn't really reached that point yet, and probably never will. Instead, its future will be one of widespread electrification and with renewables expansion continuing at a headlong pace, that means coal's future is limited as well.
Moscow has few alternatives to a future as China's resource colony. Beijing, to Putin's chagrin, has plenty.
You may also be interested in: