Commentary: China's new aircraft carrier will alter the balance of power in regional waters
China has launched its third aircraft carrier, also its largest and most technologically advanced. This may alter the balance of power in the South China Sea, says defence writer Mike Yeo.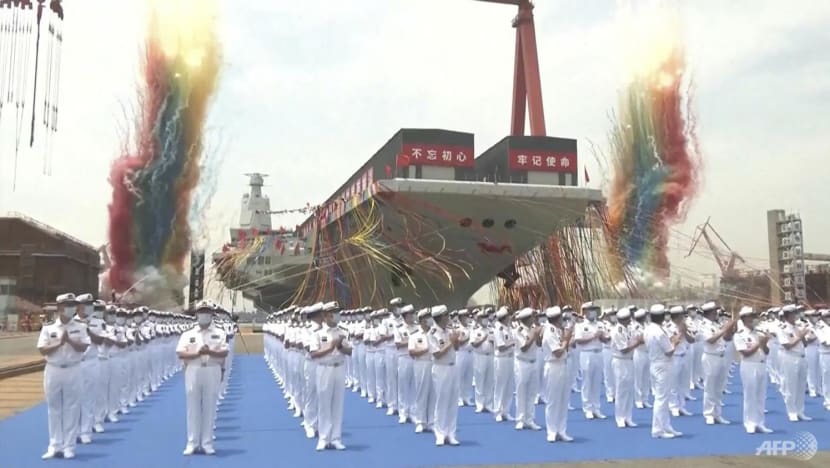 MELBOURNE: China's largest - and first to be fully designed and built domestically - aircraft carrier was launched in June amid huge fanfare. The new ship is set to be the People's Liberation Army Navy's most advanced vessel when it enters service eventually.
Named the Fujian, after the province just across from Taiwan, the new aircraft carrier is seen by some as a defiant signal of power at a time when cross-strait tensions have risen.
The Fujian will join two other Chinese carriers already in service: The Liaoning, a refurbished Soviet ship bought from Ukraine as a partially built hulk, and the Shandong, the first to be built in China based on the former.
It is uncertain when the Fujian will be commissioned, given the testing and sea trials still ahead. Its new technology and capabilities will require additional time for deck and aircrew to become operationally proficient.
So it will not be surprising if the ship will be considered operationally ready three years from now. But there is no question that the Fujian would alter the balance of power in Asia, such as in the East China Sea and South China Sea.
ALTERED BALANCE OF POWER
China has drastically modernised its navy over the last two decades and it is currently the largest navy in the world in terms of the number of ships in service.
A new, larger aircraft carrier will no doubt add to its peacetime prestige, adding credence to its status as a "blue-water" navy – capable of operating globally. It could be used as a floating base in the event of crisis abroad, such as for conducting humanitarian assistance or non-combatant evacuation, as a projection of soft power.
Against the backdrop of territorial disputes in regional waters, it could also be used to project hard power and execute coercive tactics.
But it is still behind the United States in terms of aircraft carrier numbers and capabilities. The US navy has 11 nuclear-powered aircraft carriers that give it global reach, including one based in Japan and four based on the US west coast.
The US also has unparalleled experience with carrier operation gleaned from almost 90 years of fielding such ships, including combat experience during World War II, the Korean, Vietnam and 1991 Gulf wars, and the War on Terror.
It has however struggled to bring the first ship of the new Gerald R Ford-class of carriers to combat readiness.
CHINESE NAVY'S NEW CAPABILITIES
The Fujian is the first Chinese aircraft carrier equipped with an electromagnetic catapult aircraft launch system, which bestows several advantages: It should be able to launch more aircraft at a time, with shorter time between launches, and is less limiting in the weight and type of aircraft used. 
With two main catapults and a third on the side, the Fujian can theoretically launch two aircraft simultaneously and a third soon after. A typical US Navy carrier has four catapults but are mostly steam-operated.
Electromagnetic catapult systems weigh less, take up less space and energy, require less maintenance and manpower, and recharge more quickly between launches. However, they are a relatively new technology, and China might face similar challenges to the US navy – like reliability - in fully developing this system.
China can also potentially operate heavier or less powerful aircraft off the Fujian, including the Xian KJ-600, an airborne early warning aircraft with a powerful radar that could greatly enhance its long-range airspace and maritime surveillance capabilities. It is roughly analogous to the Northrop Grumman E-2D Hawkeye operated by the US Navy and a more modern version of the E-2C operated previously by the Republic of Singapore Air Force.
Other aircraft believed to be under development include an electronic attack version of the Shenyang J-15 "Flying Shark" fighter jet, used to detect, jam, disrupt and attack enemy radars, communications and other electronic systems; and a next generation carrier fighter based on the Shenyang FC-31 stealth fighter design.
IMPLICATIONS IN TAIWAN STRAIT?
Such escalation of military capability will likely keep cross-strait tensions high.
While Washington has a policy of "strategic ambiguity" on Taiwan, that has not stopped observers from considering how the new aircraft carrier could be used in a hypothetical conflict.
Despite some commentators dismissing the utility of aircraft carriers in such a conflict, a ship like the Fujian could be a significant player used to establish air superiority over maritime chokepoints such as the Miyako Straits or Bashi Channel. This would enable Chinese submarines to "break out" from confined waters into the expanses of the Western Pacific.
China's carriers and their onboard aircraft could complement long-range bomber aircraft to threaten opposing aircraft carriers and would be a base from which shorter-range fighter jets can push combat operations further west.
China has made big strides in aircraft carriers since the Liaoning was commissioned in 2012. With the introduction of the Fujian, China's growing fleet will pose another challenge to US primacy in the region.
This will bear further watching, particularly if expectations that China will build more advanced carriers and may even develop its own nuclear-powered ships in the future come to fruition.
Mike Yeo also writes for US-based defence publication Defense News. He is based in Melbourne.