commentary Commentary
Commentary: Regulating Airbnb rentals not pressing until numbers grow
Regulating the sharing economy to accurately price in disamenities can be challenging, but not doing so only serves to kick the can down the road, say three experts from the National University of Singapore on Airbnb.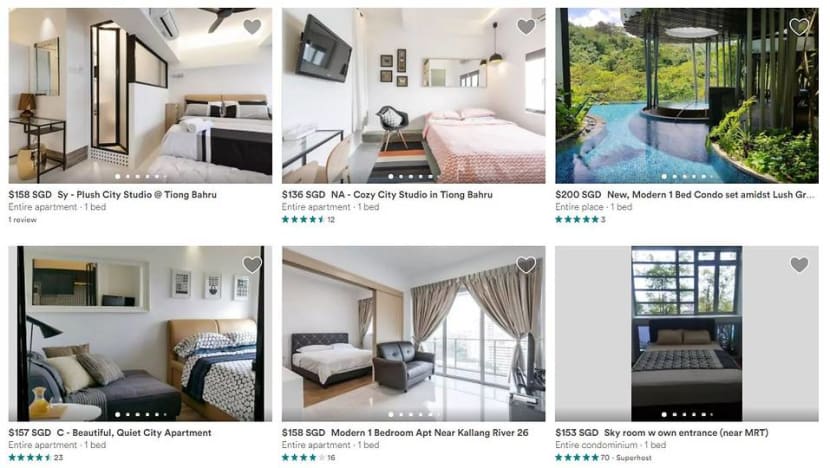 SINGAPORE: Over the past year, the Land Transport Authority has unleashed new regulations to mandate that private hire car drivers obtain vocational licenses under amendments to the Road Traffic Act.
The amendments also seek to provide authorities with powers to introduce and enforce other rules to ensure service operators provide authorities with trip and other fleet-related data to help in transport planning functions.
If 2015 and 2016 were the years when the first green shoots of the sharing economy began budding, the same can be said about Government regulations in 2017, striving to catch up with new business models.
The fundamental challenge is that past regulations regarding taxis have sought to manage private transport as a business that earns companies and drivers an income, both of whom are to be charged a fair share of business taxes.

This is distinct from personal transport, where cars were seen as a personal consumption good to be taxed at point of purchase and during its utilisation, to manage road congestion. 
But ride-sharing applications like Grab and Uber have blurred the lines, helping entrepreneurial private property and vehicle owners unlock the value of their assets by matching peer-to-peer demand and supply, and giving them the opportunity to make money as a small business owner.
Users who once lamented the difficulty in finding taxis during peak hour welcome Uber and Grab.

Some also say that they help utilise resources that are otherwise inactive – for instance when drivers pick up a hitch rider.
But businesses in these sectors, especially the people whose jobs are becoming redundant and incomes are being disrupted, are on the losing end. The average daily ridership for taxis just experienced an 8 year-low last August.

Bike rental shops at East Coast Park reported seeing their businesses drop by 20 to 40 per cent this September, since bike-sharing operators started aggressively deploying bikes there.
Impact on other segments of the market are less obvious and inconclusive meanwhile.
Others are picking up on the disamenities to the public as a whole, with the resultant increased traffic as more drivers unfamiliar with their surroundings drive passengers around slowly and on the back of slightly higher Certificate of Entitlement prices as cars are snapped up by Uber and Grab car rental operators.
A further disruption may be on the horizon for Singapore, an early adopter in Asia of various sharing schemes since 2012 whether they be cars, bikes or office space.

In the property market, the advent of Airbnb may have knock-on effects on the hospitality sector, still buoyed for now by waves of higher tourism and visitorship numbers.
Our view is that the impact is limited for now, but like in other modern metropolis such as London and New York, where a high agglomeration of smart and highly skilled talent who use and build these apps gather, Singapore should expect that it will have to reckon with this next digitally enabled disruption eventually.
THE GOOD AND BAD OF AIRBNB
Airbnb has experienced an unprecedented expansion across the globe. In a short span of 10 years since its inception, Airbnb has established its presence in more than 65,000 cities in 191 countries, offering affordable, alternative accommodation and connecting visitors to authentic local experiences.
Many use the platform to monetise their extra space or rent out their second apartments for the short term, and the incomes earned can be sizable.
In 2016, Airbnb's listings were booked for 52 million nights, more than double the 25 million achieved in 2015, while gross booking numbers worldwide have more than doubled.
In Singapore, Airbnb rentals were reported to have played host to 317,000 visitors in Singapore in the 12 months up until August 2017, with hosts renting out their properties for 39 nights each year and earning about S$5,300 a year on average.
Apart from earning extra income for property owners, many analysts argue that Airbnb potentially reduces leakage from the local economy, since accommodation fees are paid to local homeowners, as opposed to corporate hotels headquartered elsewhere.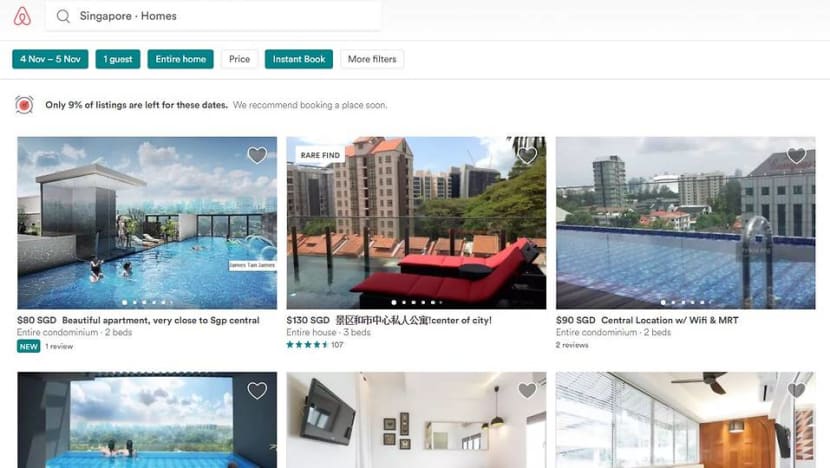 Others laud its approach to filing market inefficiencies, by matching empty homes to fuss-free visitors without incurring the high costs that hotels do to keep common amenities like indoor air-conditioning and swimming pools running, even when not in use.
Those who will be disrupted by the Airbnb model are likely mid-tier and economy hotel operators that do not have a strong business clientele – but still incur relevant costs and taxes like the commercial property tax and Formula- 1 cess.
Within those neighbourhoods that have high numbers of Airbnb rentals, studies in Amsterdam show that Airbnb rentals drove up property prices up because of the returns they commanded, and contributed to their gentrification, where partying tourists create a nuisance for local residents.
Closer to Airbnb homes, neighbours may feel uneasy seeing strangers share the same lifts and using the same common facilities. Private condominium management committees may be concerned about potential externalities, where a large number of Airbnb guests may compromise the development's sense of exclusivity, image and perceived security.
POSSIBLE ECONOMIC IMPACT
One value proposition Airbnb offers is short-term stay in areas not served by licensed hotel operators. In such cases, Airbnb homes arguably provide a different class of accommodation that do not compete with or adversely impact hotel operators.
In Singapore, most of the Airbnb listings are found in the areas outside the central areas of the Orchard Road shopping belt, Raffles Place and City Hall, where hotel rooms are highly concentrated.

In these central areas, the standard average occupancy rate for hotels in Singapore remain strong, fluctuating within a narrow band of 82 to 92 per cent and the revenue per available room rate averages at S$217.1 for the period between January 2013 and December 2015, based on STB's statistics. This is a vast difference from the lower prices that Airbnb accommodations command.
Currently, as Airbnb rentals are less common compared to other cities in Asia and around the world, it does not seem like Singapore's property markets will be affected.
A simple macro-analyisis of the rental rates and property prices of 60 listings in 38 private condominiums near the Novena MRT station, one area in Singapore with a high concentration of listings offering one to two-night stays, do not seem to indicate any noticeable impact from Airbnb.
CATCHING UP WITH AIRBNB
Government regulations to temper speculation in the rental market are trying to catch up with Airbnb.

Over the past year, the Singapore Government has relaxed regulations of short-term leases from a minimum period of six months for private property to three months in June 2017, but upheld a maximum of six guests permitted.
The irony is that while Airbnb places the onus of ensuring compliance with relevant zoning rules and regulations on the property owners, the fact is Airbnb rentals are not legally covered by existing rules and there are no provisions for short-term rentals shorter than three months.
For now, because the number of Airbnb rentals are low in Singapore and the impact on the hotel and housing sectors is limited, the issue is less pressing from a regulatory standpoint.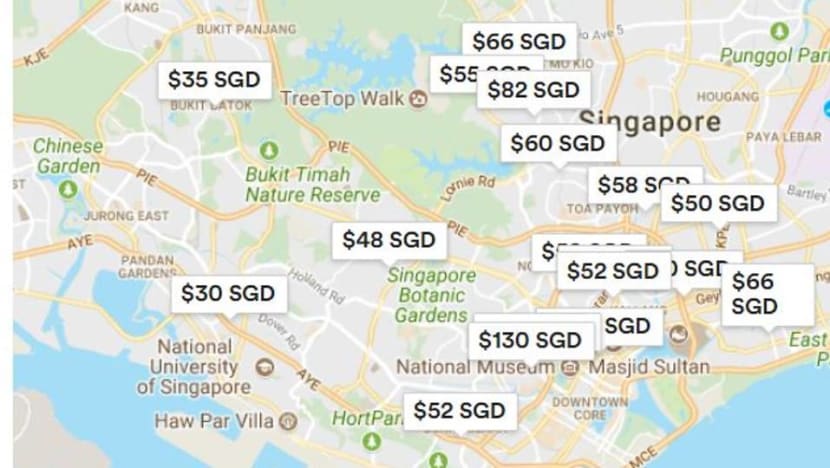 But this number can grow quickly, by which time the costs of regulating such homestays could be substantial and difficult to address.
A "don't fix it if it ain't broke" approach only serves to kick the can down the road.
Any new legislation will have a tough time balancing the property rights of owners who want to monetise their assets, licensed hotel operators who feel some demand squeeze and neighbours who bear the disamenities of a higher footfall of strangers so close to their homes.
Regulations should aim to create a level playing field where short-term homestays through Airbnb allow property owners to unlock the value of their assets and offers a value proposition to travellers that hotel operators can't – while incorporating a sense of the cost to the development or community in the pricing and occupancy taxation structure.
The heart of the issue is this – instead of shying away because the disruption that the sharing economy imposes on Singapore doesn't fit nicely into our regulatory frameworks and public policy priorities, we should aim to give consumers more choices and price the externalities and costs imposed into the market.
Taking a leaf from how authorities approach private-hire car operators, it's not a stretch to imagine the same approach may be used for Airbnb rental operators.

It'll be interesting to see how the Government redistributes the externalities to local communities if that happens.
Sumit Agarwal is the William G Droms Term Professor of Finance at McDonough School of Business, Georgetown University. Sing Tien Foo is the Director of Institute of Real Estate Studies (IRES), National University of Singapore, and Chia Liu Ee is a researcher at the same institute.