commentary Commentary
Commentary: Trump's visit to South Korea highlights an alliance that runs deeper than personality
South Korea President Moon Jae-in and US President Donald Trump, two distinct personalities, find common ground during the latter's visit to South Korea, says Korea Exposé's Steven Borowiec.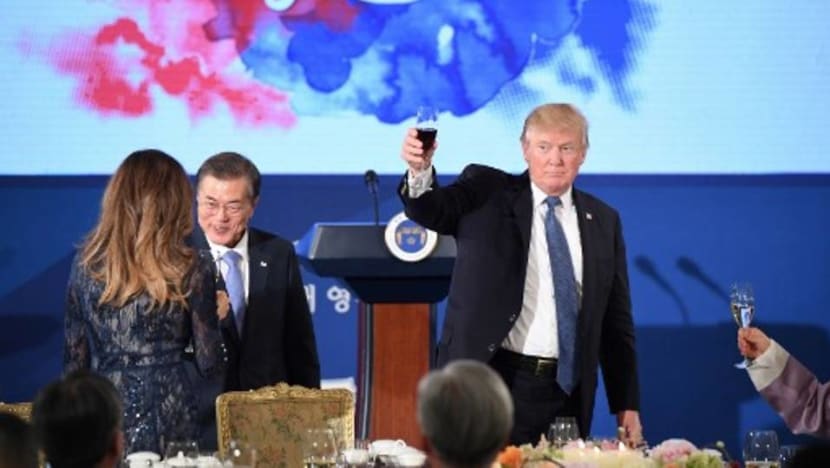 SEOUL: Donald Trump started his address at the South Korean legislature on Wednesday (Nov 8) with a stream of compliments.
He thanked his South Korean counterpart Moon Jae-in for his hospitality at a state dinner the previous evening, and launched into a series of, apparently sincere, expressions of wonderment at modern South Korea's rise from war-torn poverty in the early 1950s to the major economy and functioning democracy it is today.
Trump spoke in the tone of a courteous guest, and his laudations were presumably meant to ingratiate himself with his hosts, but they also built up to a bigger point about North Korea, the big issue hanging over Trump's first visit to East Asia as president.
"The Korean miracle extends exactly as far as the armies of free nations advanced in 1953," Trump said. At South Korea's border with the North, "the flourishing ends, and the prison state of North Korea sadly begins".
The next part of Trump's speech consisted of depictions of the poverty and repression that plague North Korea; the exploitative labour, hunger and malnutrition, arbitrary detention and state violence.
Such unvarnished denunciations of North Korea are uncommon at the highest levels of South Korean politics.

Despite North Korea's international notoriety as a pseudo prison state with a growing arsenal of nuclear weapons, South Korean politicians, particularly those on the left end of the spectrum, tend not to vocally condemn the country's human rights record.
TWO DISTINCT PERSONALITIES
President Moon is a member of that left-of-centre establishment. Having also served in the government of former President Roh Moo-hyun, he is firmly in the camp that has traditionally avoided publicly shaming the North's human rights record, on the grounds that these only antagonise Pyongyang and make it less likely to agree to negotiations.
Indeed, Moon came into office in May on pledges to take a softer line on the North, and to seek dialogue instead of strengthening South Korean military posture.
But throughout Moon's time in power, North Korea has held frequent missile tests and now appears closer than ever to its goal of building a missile capable of carrying a nuclear warhead to the United States. Pyongyang has also shown little to no interest in Moon's suggestions of holding inter-Korean talks to bring down tensions.
In such a climate, Moon has been left with little choice but to get on board with Trump's tough talk on the North.

Despite the two leaders having vastly different backgrounds - Moon is a former human rights lawyer and progressive activist, while Trump is a rough-edged businessman seemingly more inclined to the right - they appeared to find common ground during Trump's visit.
Trump's complimentary ways were also something of a departure for him, as he had earlier accused South Korea of freeloading off the US and not paying its fair share of defence costs.
His speech in the legislature was the highlight of a two-day, one-night stay (some South Korean commentators bristled that Trump stayed for two nights each in China and Japan) that included a visit to a large US military base south of Seoul.
Trump also lit incense at the National Cemetery in Seoul, where South Korea's most prominent politicians are buried, and was the first US president in more than two decades to take part in an official state dinner.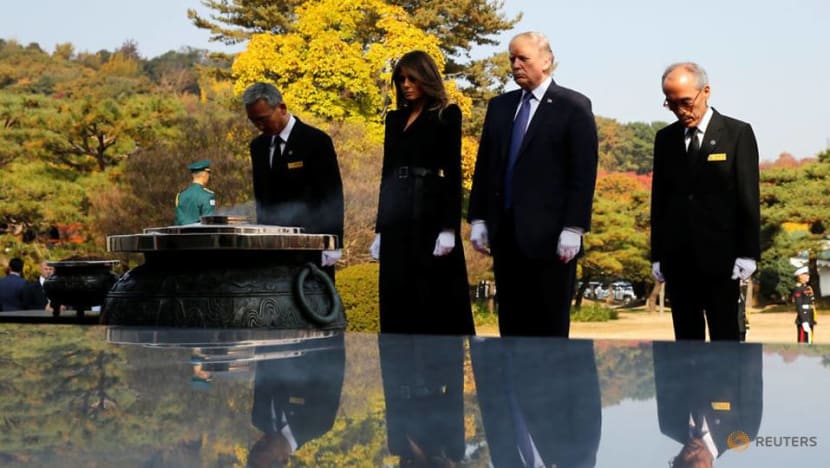 An unannounced visit to the Demilitarised Zone, the border with North Korea, was reportedly cancelled at the last minute due to fog.
 STRATEGIC RELATIONSHIP STAYS STRONG
Trump's visit illustrates the importance of South Korea's relationship with the US, which is far and away but remains South Korea's most important ally.

Economic aid from the US was a key factor in South Korea's economic boom in the 1970s and 80s, and roughly 28,000 US soldiers remain stationed in South Korea as a deterrent to possible aggression from North Korea.
The US presence runs so deep that if war were to break out, South Korean troops would probably follow orders from a US-led command.
South Korea's left wing, the political culture that Moon comes from, has described this relationship as paternalistic and argued that, for its own security and prosperity, South Korea would be better off reducing US interests in the country and coming up with domestic military and diplomatic solutions for how best to deal with North Korea.
But as president, Moon is responsible for the South Korean state's general well-being and there are extensive military, political and commercial interests that depend on the soundness of the US-South Korea alliance.
This was underscored by the business aspect of the trip, as Trump left Seoul with promises that South Korea will make large purchases of US weaponry.

North Korea may pose a lethal threat, but for weapons manufacturers, growing nervousness about the country's nuclear programme is also a business opportunity.
With so much at stake, Moon and Trump appeared willing to put aside their personality differences to get things done, which is, after all, a key obligation of any national leader. This bodes well for the strength of their alliance – signaling that it runs deeper than whoever is in office in either country.
And on the surface with no mishaps or huge public protests, smiles and handshakes all around and apparent consensus on standing firm against North Korea, Trump's visit to South Korea must be deemed a success.
Steven Borowiec is the politics editor of Korea Exposé.
Read also: A commentary on the two faces of America seen during Trump's visit to Japan.