Commentary: Companies are showering gifts on employees to make them stay
The more cynical worker may feel corporate merchandise is wasteful – or a distraction from the deeper issues of working culture – but gifts are the most tangible way companies can show appreciation to their staff, says Griffith University's Dr Sheetal Gai.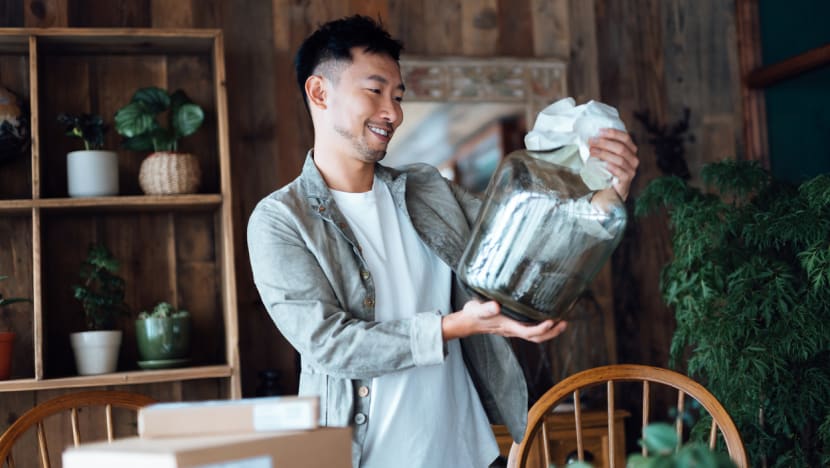 BRISBANE: The "Great Renegotiation" phase, which the global workforce has been going through over the past two years, has driven millions of people and companies to enter the virtual workspace.
Even as some organisations have encouraged the return of their employees to the office, more than half of employees in Singapore would rather have flexible work arrangements, according to a study by the Institute of Policy Studies in April.
The largest difficulty, according to a recent Spotify survey among employees, is maintaining a sense of belonging while working from home. No wonder some companies are giving out "swag", which ranges from lapel pins, T-shirts to welcome hampers of artisanal coffee and chocolate.
A 2021 study by US research firm Coresight found that corporate gifting is on the rise, with nearly half of businesses saying they intend to boost the frequency of their gift-giving following COVID-19.
A thoughtful gift can add a touch of reality to a new virtual work environment. But the more cynical might feel that all company-branded items are wasteful – how many calendars and diaries does one really need?
Another concern is that these perks are no stand-in for a healthy workplace environment where one's time and boundaries are respected.
In a clip a TikTok user recorded about how much "random" swag workers get at American tech companies, another user commented: "It's to distract you from the lack of other tangible benefits like 401(k) match and stock options that used to be standard in the 1980s – and create a kind of faux team spirit."
So is there an argument to be made for why companies should invest in corporate merchandise?
FOSTERING A SENSE OF BELONGING
Research has consistently demonstrated that when employees feel like they belong to a team or organisation – in the sense that it coincides with their beliefs and allows them to express crucial aspects of their identity – they have higher levels of engagement and mental well-being.
In a pre-pandemic survey among US employees by career coaching platform BetterUp, a higher sense of belonging was linked to a 56 per cent increase in job performance and a 50 per cent drop in turnover risk.
However, in an age of hybrid work, opportunities to experience and absorb the work culture in person have become limited. Corporate merchandise is among the most tangible ways a firm can give employees a token of its identity.
Gifts also enhance the company's image and encourage staff at work. This is especially so if companies give items from esteemed brands like North Face jackets or Yeti thermos bottles.
Besides delighting staff with enviable gifts, companies also shift from a culture of just recognising employee contributions to appreciating them. Too often, company recognition programmes, such as staff recognition walls or online communities where colleagues can post weekly shoutouts, are based solely on the activities or projects conducted by employees.
Appreciation, on the other hand, highlights the distinctive characteristics of the person who has accomplished a goal or completed a project. For example, while sending a thank you email to all staff members is a good start, it will never beat a handwritten note specifically addressed to one person.
While providing employees with apparel isn't always enough to keep them from leaving, the use of corporate merchandise in a well-executed employee engagement and recognition programme can make a difference in how staff feel valued.
GIVING EMPLOYEES MORE REASON TO STAY
It has never been more crucial for businesses to foster and sustain a sense of belonging among employees. According to a survey by EY published in July, more than half of workers in Singapore are planning to quit their jobs in the next 12 months, with about 40 per cent citing higher pay as the main motivation.
In that context, gifts may only go so far in stemming employee attrition. But it may be a different story in employee retention. Corporate merchandise contributes to a sense of emotional attachment, positively influencing satisfaction with their workplace.
Greater connection with one's company also supports better mental health while working remotely. This is especially crucial in the aftermath of the pandemic, which has been devastating for many people who may be grieving, or suffering from loneliness and sadness.
Providing employees with high-quality, desirable gifts emblazoned with their company emblem not only makes them happy, but also creates a sense of inclusion and boosts employee morale.
As the post-pandemic workplace continues to be defined, the significance of corporate merchandise – a modest but powerful tool – should not be neglected.
Dr Sheetal Gai is Senior Researcher at the Centre for Work, Organisation and Wellbeing, Griffith University.
LISTEN - Work It: Can you have depression and still thrive at work?