Burnout, not COVID-19 restrictions, most affected mental health in Singapore during the pandemic
Singapore's conflict-avoidant culture at work and the unique challenges facing zoomers and millennials worsened burnout during the pandemic, experts say. CNA looks into the issue ahead of World Mental Health Day on Oct 10.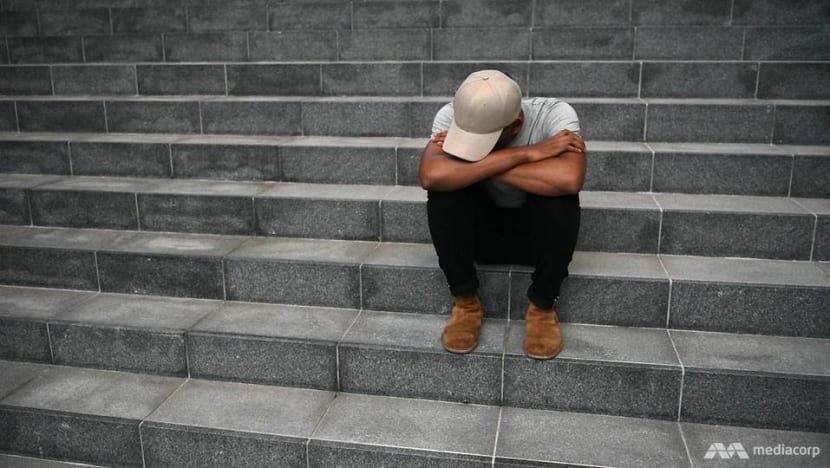 SINGAPORE: In the middle of last year, Jovena Loon found herself dreading going to sleep at night, having difficulty breathing and feeling a lump in her throat and stomach "all the time".
"I remember sometimes resting on my bed at night, thinking: 'Why am I here to suffer?'" the 31-year-old told CNA.
Ms Loon, who works in innovation for a multinational corporation in the food and beverage industry, started feeling this way after a trying stretch in her career and personal life.
She had been double hatting at work for half a year before taking on a new portfolio. Then followed health crises involving two older family members, for whom she was the main caregiver.
Ms Loon's negative feelings started surfacing at the end of that period, when the situation at work and at home stabilised and she had time to rest.
"It became apparent to me that my life was kind of not under my control. That I didn't have any sense of freedom, prioritisation of myself. I was just fulfilling the needs of everyone – my family, my work – and I felt like I wasn't anybody."
She continued feeling this way for about three to four months, before deciding to talk to her manager about taking a break from work in September last year.
Looking back, Ms Loon recognises that what she was going through at the time was burnout. Her struggle mirrors the experiences of many in Singapore during the COVID-19 pandemic.
In a survey of mental health across six Asian societies during the pandemic, commissioned by CNA, Singapore was the only place where burnout was the leading factor affecting mental health during the pandemic, chosen by 57 per cent of respondents.
This bucked the trend seen in Japan, South Korea and Hong Kong, where most people pointed to public measures to keep the pandemic under control, such as restrictions on mask-wearing and travel.
The results also contrasted with those from Malaysia and Indonesia, where respondents said the financial burden from loss of income most affected mental health.
PANDEMIC BLUES
As Singapore cycled through waves of infection and lockdown in the pandemic, Ms Loon developed a sense of uncertainty and of "not having a bright future".
The inability to travel left her feeling a lack of freedom. She was also working harder during what was a disruptive time for her industry.
She developed an unhealthy lifestyle working from home, often waking up just in time for work, continuing into overtime and ending the day too tired to do anything else.
"A few months into the process, it definitely made me feel I was more like a robot than a human," she said.
Burnout is a syndrome that results from chronic workplace stress that has not been successfully managed, according to the World Health Organization (WHO).
It classifies burnout as an occupational phenomenon – not a medical condition – characterised by exhaustion, growing mental distance from one's job and negative or cynical feelings towards it, and lower efficacy at work.
"The hallmark of burnout is feelings of negativity, which can include dread, anxiety, irritability and resentment. The individual may be less productive and even withdrawn, both at work and in personal life," said Dr Zheng Zhimin, consultant psychiatrist at Nobel Psychological Wellness Clinic.
Whereas stress tends to come on quickly and dissipate once the stressor is gone, symptoms of burnout typically persist for at least one to three months, mental health professionals told CNA.
"If stress is the sense of drowning in responsibility, then burnout is the sense of being all dried up," said Mr Chirag Agarwal, co-founder of counselling service Talk Your Heart Out.
CNA has previously reported on how work-from-home requirements during the pandemic contributed to longer work hours and blurred work-life boundaries.
"The stress of reduced personal space and options for leisure inevitably reduces life to just work or school within the confines of our home environments," said Dr Zheng, who observed that a lack of work-life balance and social isolation caused more of her patients to experience burnout during the pandemic.
COVID-19 restrictions hurt people's ability to take "micro steps" to manage stress, such as meeting friends and working out at the gym, and made "macro steps" like travelling harder too, said psychologist Muhammad Haikal Jamil of ImPossible Psychological Services.
The pandemic's economic impact also made workers more vulnerable to burnout, although this could develop along two very different trajectories.
On the one hand were high performers from industries that were in demand during the pandemic, who pushed themselves to make the most of this time by doing more.
"A lot of these high performers viewed these past two years as a chance to capitalise. It's like ... 'It's booming now, I better work harder,'" said Ms Crystal Lim-Lange, co-founder of leadership consultancy Forest Wolf.
On the other hand were people for whom business was going badly, and for whom the pandemic was a stressful and demoralising time, she said.
These developments meant that generally, more people sought mental health support during the pandemic, those working in the industry told CNA.
WHY SINGAPORE?
But outside the pandemic, is there something about how people live, work and play in Singapore that makes workers here more susceptible to burnout?
"We are the nation that sleeps the least in the entire world," said Ms Lim-Lange, adding that sleep is intricately linked to mental health and resilience.
Singapore regularly features in global rankings of the most sleep-deprived cities, and last year topped a list of "fatigued cities" compiled by a UK bedding manufacturer.
Workers in Singapore sleep less, have poorer focus and are more distracted in part because of high Internet and mobile phone usage, said Ms Lim-Lange.
They tend to be bad at maintaining digital boundaries and asserting work-life boundaries, she added. At the same time, they are prone to avoiding conflict.
"People don't know how to have difficult conversations and that is behind a lot of the burnout," said Ms Lim-Lange.
"Singaporeans are so notoriously conflict-avoidant that they would just rather quietly look around for another job and resign ... than have that painful discussion with a boss (to say): 'Hey, actually I'm struggling, I need a little bit more support from you.'"
"We see a lot of people not voicing out that they're struggling, and then that doesn't give the manager an opportunity to change anything," said Dr Greg Lim-Lange, psychologist and co-founder at Forest Wolf.
"So step number one is that the employee really has responsibility to voice out when they're overwhelmed, when something isn't working out, and hopefully that can lead to some discussion around what can be changed."
Another factor is that Singapore usually houses satellite or regional headquarters, meaning that many employees work late at night to match the business hours of global headquarters in other time zones, said Ms Lim-Lange.
ZOOMERS AND MILLENNIALS
Burnout was the top cause of deteriorating mental health chosen by survey respondents in Singapore between the ages of 18 and 39, which spans zoomers and millennials.
Those in their 40s chose burnout and the financial burden from loss of income as equally responsible for worse mental health, while people in their 50s and above pointed to COVID-19 restrictions and constrained social interactions instead.
"Zoomers" – members of Gen Z born in the late 1990s to early 2000s – as well as millennials are particularly susceptible to burnout because of the stages of life they are at professionally and personally, experts told CNA.
People in their early 20s are just entering the workforce, trying to find their identity in the workplace and usually have more people to answer to at work given their junior positions, said Mr Haikal.
Key to understanding the psyche of Gen Z workers is the "hedonic gap", the psychological theory that "happiness is your expectation minus your reality", said Ms Lim-Lange.
Compared to older generations, whose expectations were surpassed by the reality of Singapore's economic progress, zoomers have "sky-high" expectations that are not being met, she said.
Dr Zheng said that younger people have found it more challenging to remain hopeful about their future, and cite global events such as recession and inflation as factors for their negative views.
"They may find that it is not meaningful to pursue the typical dream of career success and marriage as compared to their parents, and this may result in feelings of negativity towards work itself."
She added that some of her younger patients were adopting the "tang ping" (lying flat) lifestyle to fight burnout, choosing a "low-desire life" over "societal pressures to join the rat race where overworking is regarded as a virtue".
"(This) can be quite worrying for their parents who feel that they are not trying hard enough," she said.
As for millennials in their 30s, many have reached middle management and find themselves sandwiched between bosses and subordinates, said Ms Lim-Lange.
Middle managers are still trying to prove they can move up in the company, whereas those in their 40s and older have achieved more stability in their careers, said Mr Haikal.
Millennials are also more likely to be sandwiched between the demands of elderly parents and young children at home, said family physician Dr Mark Yap, who has a special interest in mental health.
"A PLASTER ON A BULLET WOUND"
Most survey respondents thought that mental health awareness in Singapore was improving, though they remained concerned about the stigma surrounding it.
A majority in Singapore – 60 per cent – also said they wanted to see more workplace health and wellness initiatives, as compared to other public services like psychiatric, sociological or therapist services.
But mental health professionals CNA spoke to painted a mixed picture of employers' understanding of employee burnout.
Ms Lim-Lange described some companies' responses as "very superficial, like a plaster on a bullet wound" – sponsoring a yoga class or team lunch instead of resolving systemic issues, for instance.
"The biggest predictor of burnout is actually toxic behaviour at work," she said. This affects employees' sense of psychological safety, or the feeling that it is safe to ask for help, take risks and say no, and that there is fairness, inclusion and diversity in the workplace.
But some companies are reluctant to even talk about burnout in such terms. "I feel there's this reluctance to just call a spade a spade and be transparent about the challenges you're going through," she said.
Mr Agarwal said that since Talk Your Heart Out launched in 2020, about 90 per cent of the companies that have approached it for employee assistance programmes were doing so for the first time.
But there needs to be a mindset shift from "risk mitigation", such as intervening only when an employee is about to leave the company, to treating mental health support as a way to help workers thrive, he said.
He also emphasised the importance of getting a company's top leadership to visibly endorse mental health support schemes, and to communicate about why the schemes are in place.
"You can't just provide the voucher, the lunch. You must also explain that we care, it matters to us and that you should do it and we encourage you to do it," he said, adding that in his experience, this boosts take-up rates.
Another positive development he has noticed: When companies do make counselling services available, this tends to have a "downstream effect" of opening up the conversation on mental health in the workplace itself.
"A TOTALLY DIFFERENT PERSPECTIVE"
Ultimately, many of those who suffer burnout will also have to turn inwards to confront certain aspects of their personalities.
The people who are most likely to develop burnout tend to have traits like emotional detachment and perfectionism, said psychologist Mr Haikal.
Ms Lim-Lange pointed to the "PERMA" model from positive psychology – developed by Dr Martin Seligman – that identifies positive emotions, engagement or "flow" at work, relationships, meaning and accomplishment as the factors that predict whether an individual is more likely to thrive or suffer burnout.
Dr Zheng's advice is to practise self-care in an "attuned and habitual" way. "This means taking care of yourself in small ways throughout the day and being mindful of your needs," she said.
"Rather than allowing ourselves to indulge only after a long day of hard work, when we are more likely to indulge excessively, it makes more sense to engage in self-care periodically to feel more 'balanced'."
For Ms Loon, burnout sparked off a period of introspection and the realisation that she lacked a "personal compass in life".
She decided to change some habits, and started to keep a morning routine and read self-help books. Early this year, she also took a three-month sabbatical from work. She spent the time in Singapore challenging herself to explore personal interests and saying yes to trying new things.
This led to her trying forest bathing – a mindfulness practice that involves connecting with nature – for the first time. She trained to become a forest therapy guide during her break, and now leads others in forest bathing on the weekends.
"It fills me up and then I can start, I can do my work," she said. "Even though work can never always be fully aligned with your personal purpose, but at least I feel like I'm in a good balance of what I can do outside of work that fills me."
At the end of the three months, she felt excited to go back to work at the same company, where she remains.
"I realised that while I was going through all that turbulence and having the external factors sucking me into a space that was very negative, I didn't – at that time – have the tools to get myself out," she said.
"I now am clearer about who I am as a person, have found my own personal meaning in life. When I came back to the same place, I had a totally different perspective of it."
Watch CNA Leadership Summit live on Oct 10, 2022 from 1.30pm SGT via cna.asia/leadership-summit.