'Open the lock please': COVID-19 exacerbates practice of shackling the mentally ill in Indonesia
Ahead of World Mental Health Day on Oct 10, CNA looks at how thousands of people in Indonesia have been shackled as they suffer from mental illness. The government vowed to eliminate this practice by 2019, but progress has been limited.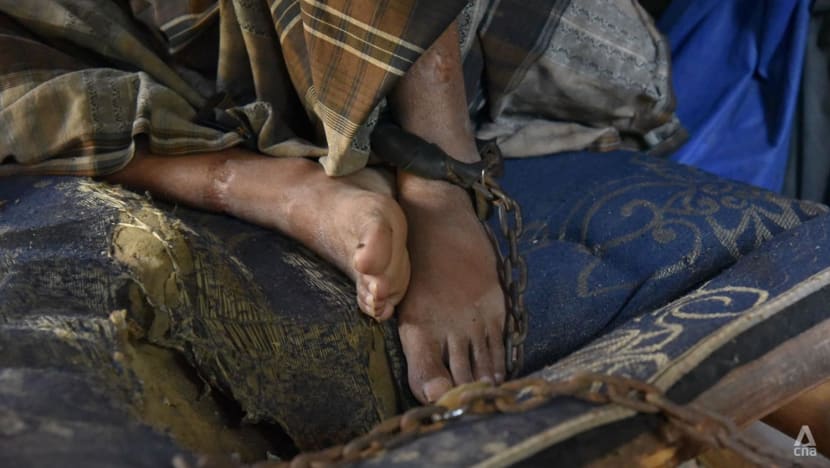 KARAGASEM, Bali: Standing regally on the eastern side of Bali in Karangasem regency lies Mount Agung, the highest mountain on Indonesia's Island of the Gods.
With a summit of more than 3,000m above sea level, it is hard not to admire the majestic volcano when one is in Karangasem. 
Yasa lives on the slope of the mountain but he is unable to see its beauty. 
This is because the 37-year-old lives chained in a dilapidated hut made of coconut leaves. His view of the mountain is blocked.
"I am thirsty!," he exclaimed when CNA entered his hut accompanied by his mother Seken at the end of August.
His left ankle chained, Yasa spends his days lying on a rickety bamboo bed covered with a thin shabby mattress.
He has been chained by his family as he suffers from a mental health illness and they perceive him to be dangerous.
"He often hit me and also his father," Seken told CNA, justifying the shackling.
"We tried to avoid that when he was still free. I tried to avoid it by hiding at my daughter-in-law's house," the 65-year-old recounted.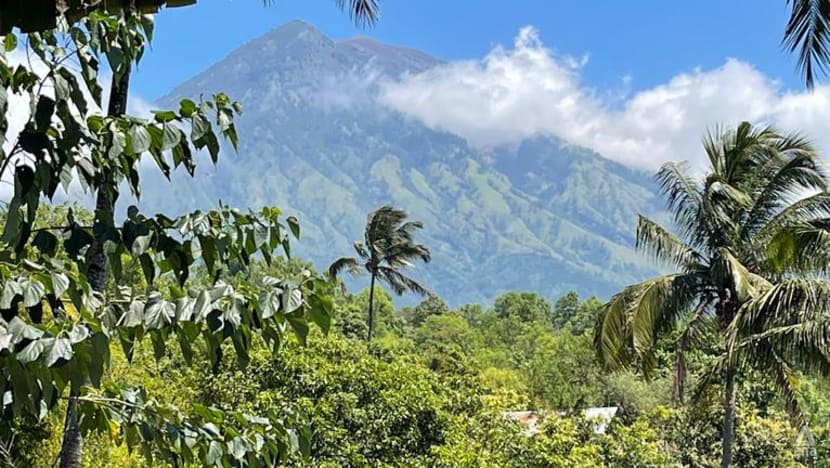 The ministry of health has acknowledged that thousands of people in Indonesia live in shackles as they suffer from mental illnesses. 
The government rolled out several programmes to abolish shackling, aiming for the country to be free from the practice by 2019.
But limited access to health services, stigma, lack of social awareness as well as poverty have hindered progress, said the health ministry. 
With the COVID-19 pandemic, access to healthcare services has been curtailed and there were fears that the virus might be spread by people with mental illness. There have therefore been more cases of shackling.
The health ministry recorded about 6,500 shackling cases in 2020, up from about 5,000 in 2019.
HARD TO ERADICATE SHACKLING PRACTICES
In Indonesia, "pasung" (shackling) refers to restricting the movement of people with mental disorders, according to a 2017 health minister regulation on managing the phenomenon.
The most common forms are chaining people or confining them to very small spaces.
Azhar Jaya, the secretary of the directorate general of health services with the Ministry of Health says it is hard to eradicate shackling since it is not handled in a comprehensive way and across sectors. COVID-19 has made matters worse.
"Shackling has increased amid the pandemic because of limited public access to mental health services. The priority was given to handle the pandemic and converting mental health facilities and services to handle the pandemic," he said. 
In the community, it is also often not clear to the families of those with mental health problems when it comes to the root causes and how they can cope with it. 
Yasa, who only went to primary school, in Karangasem has been chained off and on for about 20 years.
He used to spend his teenage years working at an art gallery but one day he was mentally shaken. 
"I used to work. I want to work," he told CNA.
But when asked what had happened to him exactly, he said in a sombre voice: "I don't know. My mind is not there."
Yasa's mother Seken, who has 10 children, is unsure how everything started. But she recalled that her youngest son was initially confused and restless.
He was treated at Bali's only psychiatric hospital a few times. But every time he was discharged, he would wander around Karangasem and sometimes not return. 
This is also one of the reasons why the family believes that shackling is the solution because it keeps him at home.
"I feel sorry for him, but what to do?" Seken said in Balinese.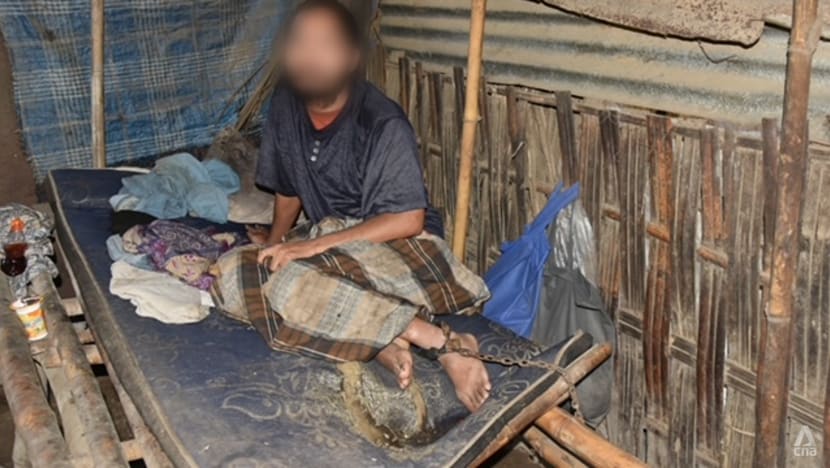 Yasa is now under the supervision of psychiatrist Luh Ketut Suryani, who runs the Suryani Institute for Mental Health in Bali's capital Denpasar. It is about a two-hour drive away from Karangasem. 
Her volunteers visit Yasa on a regular basis and provide him with medicines as well as groceries, given that the family is poor with no proper income.
Besides taking care of Yasa, Seken also has to take care of her ailing husband.
Suryani said that the practice of shackling is hard to eradicate because many people in Indonesia believe that "the illness is a curse and cannot be cured".
Some have also tried to cure their loved ones on their own to no avail, leading to despair.
COVID-19 MAKES THINGS WORSE
Made, 42, also suffers from a mental health illness. 
He lives in Abiansemal district, Badung regency, just about 15 minutes drive from the hustle and bustle of Bali's famous cultural centre Ubud. 
Locked up in a small room of about 10 sq m, he told CNA from behind bars that he feels lonely.
"I can't see my friends. I can't see light," said Made.
"Open the lock please," he said while pointing to the padlock on the cell door.
Made has been locked in the room intermittently for about nine years.
He was free before COVID-19 and would often spend his days roaming the streets.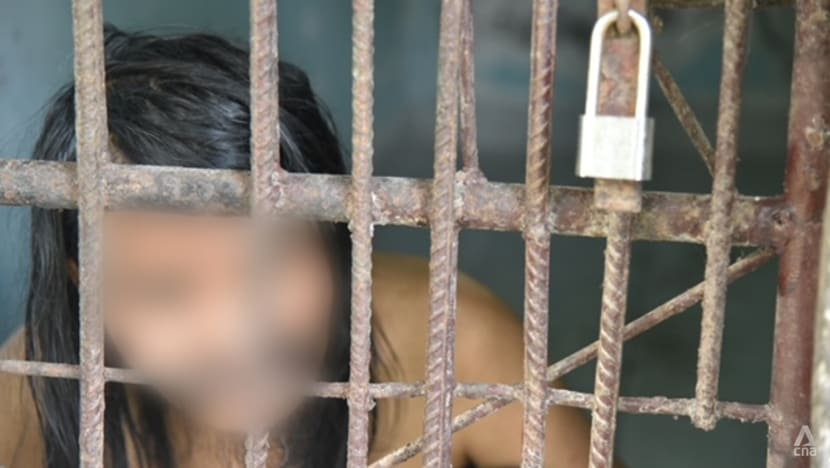 But when the pandemic struck, people in his neighbourhood feared that he could potentially spread the coronavirus. 
His sickly father - who is in his 80s - locked him up again as he lives alone and is unable to keep an eye on his son.  
Made is currently under the supervision of psychiatrist I Gusti Rai Putra Wiguna.
"It is very difficult to eliminate shackling during the pandemic because the families are mentally stressed.
"There is also the stigma that people with mental health illness are hard to manage according to COVID-19 health protocols," Wiguna said.  
According to a Mediacorp survey, 36 per cent of people in Indonesia (out of a sample size of 1,000) said that their mental health has deteriorated as a result of the pandemic.
Among those who mentioned that their mental health has deteriorated listed public restrictions including mask-wearing, no travel and constrained social interactions as the top causes.
Particularly in tourist-dependant Bali, the province which was hardest hit economically by the pandemic, many people were struggling mentally and had to be taken care of, said Wiguna.
He said that in Bali the suicide rate increased by almost 100 per cent.
Citing data from a local suicide help group where he works, Wiguna pointed out that there were 68 suicide cases in 2020, 124 cases in 2021 and 58 in the first four months of 2022. 
Hence, eliminating shackling was not the main priority as there were other urgent matters to handle. 
There was also a shortage of personal protective equipment during the early days of the pandemic, so health personnel could not do home visits, he said. 
The head of Bali's health agency I Nyoman Gede Anom has a similar perspective. 
Many people in Bali lost their jobs, which was also a source of depression, he noted. 
He added that many people who contracted COVID-19 also became depressed. 
"At the early stage of COVID-19, people were very afraid of it. Because there were no vaccines, we had no immunity.
"So if someone contracted it, there was great stress. There were cases when patients (who had COVID-19) were screaming, (or) wanted to run away from the hospital ... because they were so depressed," he recounted. 
He added that there is a lack of mental health professionals in Bali. 
According to the Mediacorp survey, only 43 per cent of those who were polled in Indonesia think their access to public mental health services is adequate. 
RELIANCE ON PRIVATE INSTITUTIONS
With only about 50 psychiatric hospitals in the country and about 1,000 psychiatrists to handle a population of 270 million, many in Indonesia rely on privately run institutions to take care of their loved ones.
According to the Mediacorp survey, about 48 per cent of the respondents from Indonesia would like to see more public mental health services such as workplace health and wellness initiatives and psychiatric or sociological services.
In Bekasi on the outskirts of Jakarta are several known private institutes for people with mental illness. These include Al Fajar Berseri. 
Founder Marsan Susanto, 51, said that he realised his calling was to take care of people with mental health disorders when he one day saw a mentally ill person eating rice from a garbage dump full of flies.  
A former coachman without any psychiatric education background, Susanto set up the institution in 2005 and relies on donors for funding.
The institution is now home to about 500 people with mental health problems. 
Those who are deemed harmless are free to move around in the 8,000 sqm facility, but some who are diagnosed as severely disturbed are housed in a building with bars.
Susanto said that two of the patients were chained because they have been aggressive since their admission.  
When CNA visited in early September, a man was seen with his right wrist chained to a bar. He used his left hand to throw orange peel at Susanto as the latter stood in front of him.
"Authorities brought him here a few days ago after they found him on the streets. 
"We don't know his name nor anything about him as he barely speaks. But he has been aggressive since he arrived," Susanto explained.
When they start to calm down, they will be freed from their shackles, he said. 
Susanto said that local authorities would often bring in people wandering the streets to his institution. 
At the start of the pandemic though, he did not dare to take in new people as he was afraid they may have COVID-19.
While Al Fajar Berseri is privately run, he does get some support from local authorities.
The head of Bekasi's social agency visits the institution once in two months, and officials from the local health centre visit quite regularly to monitor the condition of the patients, Susanto said. 
As the COVID-19 caseload has now declined, the Indonesian government hopes it can pick up where it left off in terms of ending shackling cases. 
"We will increase mental health services and access to it, and work on cross-sectoral programmes," said Jaya of the health ministry. 
For now, Yasa in Karangasem continues to be confined while his mother Seken prays for him regularly. 
"I pray so that Yasa is healed and given salvation," she said.  
The full names of those with mental illnesses and their family members have been withheld in order to protect their identity.
Watch CNA Leadership Summit live on 10 October 2022 from 1.30pm SGT via cna.asia/leadership-summit. 
You may also be interested in: