Walk the talk: Creating better workplaces for mental health requires leaders to be vulnerable, CEOs say
Despite existing well-being policies, leaders must model what it means to be open about mental health to help their employees feel safe. CNA speaks to leaders about why it is crucial that they practise what they preach.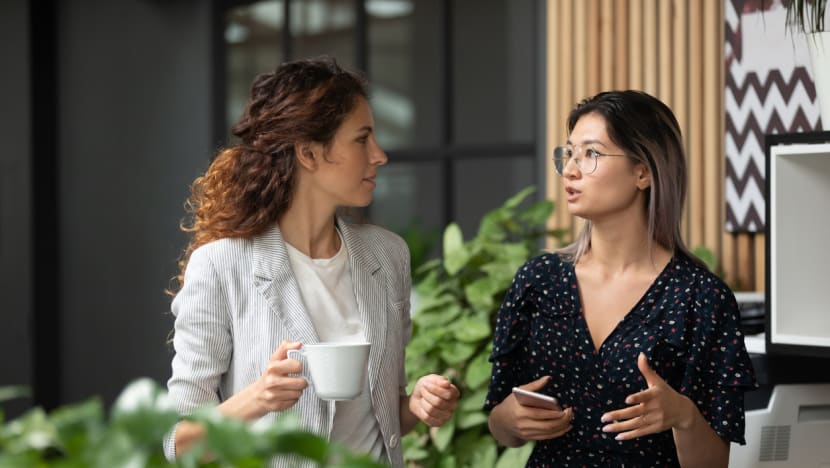 SINGAPORE: When Ms Peta Latimer, CEO of Mercer Singapore, had just lost her grandmother to COVID-19 and her dog was diagnosed with cancer, she got "super teary" on a call with 500 people while speaking at her company's Asia townhall session. 
After the session, she received messages from people all over Asia and photos of dogs that others had also recently lost. It was a realisation that "it doesn't matter what position you're in because everyone is going through something challenging", she told CNA. 
When Mr Koh Khai Yang, Asia-Pacific chairman for Wood Mackenzie, was juggling the unfolding COVID-19 situation in various countries at the start of the pandemic, he found himself getting overwhelmed, frustrated and more short-tempered.
In one instance, he had to decide whether colleagues in China should return to the office after Chinese New Year 2020, and on another occasion, help colleagues in India obtain oxygen equipment as the pandemic worsened. 
With his "human battery" low, he needed a break and after discussion with his line manager, took six weeks off. 
When Mr Stéphane de Montlivault, president for Asia Pacific at Otis Elevator, was in the middle of "one of the busiest times in the year", he decided to return to France to visit his 84-year-old mother, not knowing when he'd be able to see her again. He continued to run virtual meetings with his team in Singapore.
If a colleague similarly wanted to take time off to be with their family during the busiest time, he said they "should have no hesitation", but he needed to demonstrate it was all right by walking the talk.
When Mr Kelvin Ho, CEO of Nomura Singapore, had to unexpectedly activate his company's business continuity plan a few days into his new role during the "circuit breaker" period, he felt disconnected from his team, anxious and "a little bit stressed" working from home away from his colleagues. 
He proactively reached out to his team and began openly sharing his struggles during regular meetings with them. In turn, his team related their personal struggles too.
Now championing mental well-being as a leadership priority in their own companies, these leaders believe admitting their struggles is the first step to creating psychological safety for their employees. 
LEADERS ARE ALSO HUMAN  
While these leaders shoulder major responsibility to look after their employees, and they understand that being unable to cope with some of the pressures may "slow down your career", they pointed out that they should not be seen as superheroes. 
"Employees at large tend to build myths about their leaders as people who should never make any mistake, who speak God's word. You have to demystify that because it's unhealthy to have that perception existing in the company," said Mr de Montlivault. 
Similarly, Ms Latimer hopes to break down "unrealistic expectations" about leaders.
"There's a real overwhelming sense that you have to be superhuman as a leader. Historically, as a leader, you've always had to be very stoic and very strong to provide that kind of pillar of support that people look to. And that does create really unrealistic expectations down the line," she said. 
"If you continue to pretend that you're a superhero, you're being the wrong role model. People will distance themselves from you. You create distrust in some way, like a lack of psychological safety and ultimately productivity."
But while we expect leaders to create safe spaces for us, we must also allow leaders to feel safe when they are vulnerable, added former Nominated Member of Parliament Anthea Ong. 
This may then compel them to advocate for workplace mental well-being, which is the mission of WorkWell Leaders, a non-profit organisation that represents employers across private and public sectors, where Ms Ong is a founder and chairperson. 
With the CEOs and leaders in the group representing 68 organisations and taking care of more than 320,000 employees, WorkWell Leaders wants to "address a gap" in the mental health landscape by targeting leaders, which is "a critical factor".
"You will always have great programmes, great ideas, but the only time (companies) really start to move the needle is when the leaders get on board," said Ms Ong. 
Having CEOs come together in sessions organised by WorkWell Leaders can also influence them to prioritise mental wellness in their own company, said Mr Koh, who is a member of WorkWell Leaders. 
"When you see that other CEOs are thinking (of mental well-being), then any logical leader … they might not say it, but on the drive back, they will think about it … Maybe after the second session, if they see more people get converted, they might get their HR in to try." 
WALK THE TALK, PRACTISE SELF-COMPASSION
To affect such culture change, leaders who spoke to CNA believed that they should first share personal experiences. 
"I believe that personal testimonies are powerful communication tools to persuade and influence people about the seriousness of mental illness. Such stories humanise the pain and suffering that individuals with mental illness face, and hearing leaders share their own journeys in battling this demon adds a very real and personal touch to a very complex and difficult-to-comprehend illness," President Halimah Yacob told CNA over email. 
Mdm Halimah admitted mental health is something "very close to (her) heart". As a Member of Parliament, she spoke about it during the reading of the Mental Health (Care and Treatment) Bill in 2008, where she stressed the need to support people with mental health conditions in employment. She also spoke about the need to provide better financial and emotional support to caregivers of those with mental health conditions. 
In 2019, she designated mental health as the focus of the President's Challenge, and recently invited the Institute of Mental Health to partner the President's Challenge to develop a "community-based support programme" for youths with mental health conditions. 
"When leaders share how they cope and manage their own mental well-being, such as taking time off from work when mentally fatigued or going for regular exercises to keep fit or seek out friends to confide in, or even seek professional help, they are not exposing their vulnerabilities," she said. 
"In fact, it takes great strength and courage for anyone to accept that they need to pause, take stock, and seek help for themselves and to be comfortable sharing it with others." 
Vulnerability is "good for the people" when they see their leader "being honest with who he is", said Mr de Montlivault, who is also a member of WorkWell Leaders. 
"When you show authentic communication, you can see it inspires. Clearly people feel like they want to do the same, they want to be permitted to be open and honest at work. And they will if they are proven right that there is no danger in doing that," he added.
"If you don't do that, you're depriving your companies of performing in a way higher than it is. It always comes down to creating trust that naturally produces motivation and yields performance."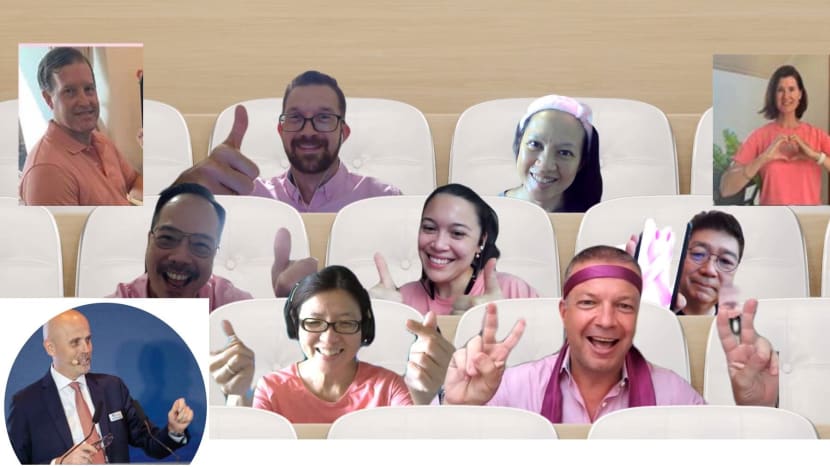 To be open about their personal mental health, leaders should also demonstrate self-compassion, like Mr Koh did when he took a break rather than remain "silent" and push on. 
"The problem is when you crash, it might be too late. You have to see a doctor to cure it. It's not something you can wish away. We all hear about those cases … it's better not to reach that stage. It's probably better that you seek help, you pull the handbrake and try to make a U-turn and recover," he said. 
For Nomura's Mr Ho, he ensures he gets regular exercise to release any negative thoughts. He started violin lessons four years ago, as it helped him reduce stress and gave him a sense of achievement, improving his emotional well-being.   
"If I take care of myself, if I make sure that I do have a work-life balance, I will go into the office to face the new day at work with a positive mindset. When I feel positive going into work, that will result in better communication with my team members," he said. 
"As a result of that, they'll feel more motivated. And that itself is going to result in more increased productivity." 
CREATING PSYCHOLOGICAL SAFETY 
When leaders model vulnerability from the top, it "becomes a powerful narrative that will cascade down to line managers and resonate throughout the company", said Mdm Halimah. 
This could result in "greater buy-in" from co-workers, which is critical in creating a supportive and safe environment.
At Mercer Singapore, Ms Latimer, a member of WorkWell Leaders, witnessed psychological safety first among a small group of middle management team members during fireside chats. From sharing struggles with a miscarriage to a divorce, she was "amazed" at how open everyone was. 
On another occasion when she got "extremely frustrated" during a townhall, junior employees felt comfortable enough to send her emails asking her if she was okay. 
Mr de Montlivault added that creating a safe space for everyone to speak without fear can be created through practising "congruence" as a leader – one of the 4Cs of leadership that WorkWell Leaders practises. (The other three are courage, compassion and clarity.) 
"Having an integral persona is extremely important. It's very reassuring for people to see, in their leader, one person in any situation, as opposed to trying to guess who he is trying to be, what he is trying to do. To me, simplicity is magic. There should be no complication," he explained. 
"Being yourself the same way you are at home, with your friends, and at work is going to create the perception of an integral persona. Which is going to create trust. Because people will look at you as someone who is straightforward."
To gain employees' trust in his "straightforward" persona, Mr de Montlivault prioritises his family while encouraging employees to do the same. In addition to the trip to France to visit his mother, he never accepts meetings on Friday nights to spend time with family. 
Taking the lead on such behaviour also gives his employees "permission and authority" to manage their own well-being. 
"There is nobody better positioned than themselves to know what they need and what they should do. For that, they need to feel authorised to do that. I always remind everybody: you are the only one who can see your schedule, you can reject meetings, you can clear a day off, only you can make these decisions and nobody is going to penalise you for that," he said.
That said, consistently modelling good mental health leadership doesn't always come easy, especially when leaders may have other things on their plate at the moment.
"I don't believe leaders intentionally don't walk the talk. But I do think it comes down to priorities. If your house is on fire, you are not thinking about the mental health of people; you're thinking about keeping the lights on," said Ms Latimer. 
"There's this saying that goes 'change the landing gear while you're flying'. You hear this type of language in business, and you just think it's not possible to do that; it's not helpful, it's super risky. Yet we kind of over-emphasise performance sometimes at the expense of sustainability." 
SOLUTIONS AND STRATEGIES 
One "positive outcome" of the pandemic is it made mental illness "so real and brought it right to the fore", said Mdm Halimah. 
She cited more companies appointing mental wellness champions, providing access to counsellors and mental health training, as well as having surveys on the organisation's state of mental well-being. 
In fact, Mr Ho has begun equipping his employees with peer support skills. He arranged for Ms Ong from WorkWell Leaders, where he's a member, to come and speak to Nomura Singapore's managers and employees last year about the importance of mental health and what to look out for, so his team would be better trained to help those in need.
"Many of our managers believe in mental health, and want to do the right thing to help the employees and their team members. But at the same time, I do feel that many of us are not equipped to be able to support employees that need help," he said.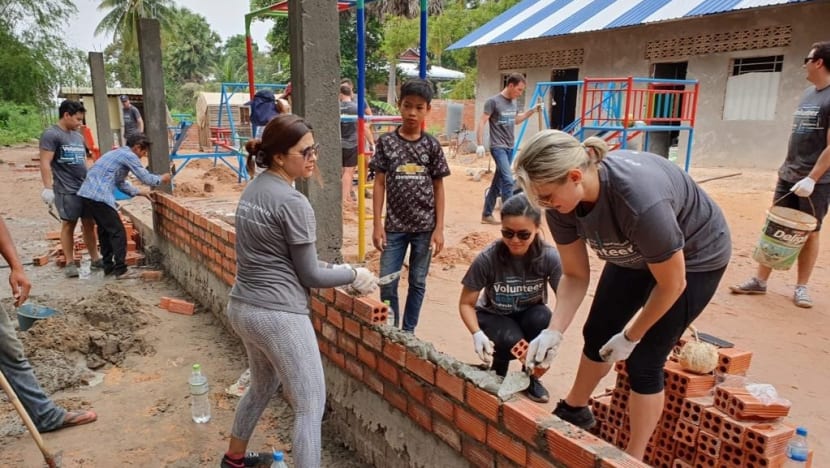 Another strategy to boost mental well-being is to turn one's focus to diversity and inclusion efforts, noted Mr Koh. 
To lead the way, he launched a key initiative – giving medical benefits to partners of LGBTQ employees, even though insurance firms told him Singapore firms do not offer such benefits. 
"We provide medical benefits for spouses of (heterosexual employees). But we (didn't use to provide benefits) for a person from the LGBTQ community who has been with their partner for, say, 15 years," he said. 
"It doesn't make sense. So we decided to do it anyway against any insurance policies and say we just want to pay for it."
Mr Koh also believes that creating a culture where employees feel safe enough to speak up can result in more efficient use of resources. 
"At the end of the day, the company benefits because employees become more engaged and we retain them. Especially for those who have worked long enough or have been job-hopping at a few places, they know when they've come to a good place."
By retaining staff, Ms Latimer, who is also a change consultant, said companies can avoid losing "institutional knowledge". 
"When you lose staff, it actually costs you three times the term of that employee who stayed with you. If they were with you for a year, it would cost you three years in terms of the benefits that that employee would have added to you," she said. 
"And we never talk about that. It's always about recruitment costs, challenge, downtime, but you've just lost institutional knowledge. It takes an exceptionally long time to rebuild that and relationships across the business."
WORK AS "A SOURCE FOR MENTAL WELL-BEING" 
While these individual solutions may work, Ms Ong hopes leaders can challenge themselves to reframe workplaces as a "source of mental well-being" in the long run, where employees can recuperate and rejuvenate themselves before returning home recharged. WorkWell Leaders also encourages its members to act on this goal through being in the group, such as by providing them with "supportive resources" to get started.
"You are coming to work and you empty yourself, and you go back and also empty yourself. Where do you recharge?" she said. 
Mr de Montlivault, for one, tries to get his Otis employees to see the workplace as a core "life pillar", which can be a resource to help them through other issues in life. He recalled a colleague wanting to resign because he had too many family issues to deal with and wanted to devote time to it.
But Mr de Montlivault tried to persuade him to stay, and instead take time off work until things improved. 
"I told him, 'Do you know that by quitting your job, you are removing a solid pillar that you have now underneath you, when you have a couple of other pillars that are shaky? Instead of doing that, hang onto the strong pillar. And the company and I will help you through this difficult stage'," he said. 
Ultimately, the reality is that people with mental illness can often feel like they are stuck in a "whack-a-mole" game, added Mdm Halimah.
"Every time they start to feel better and try to raise their heads, they are whacked back into the hole, because of relapses and the many hurdles that they face. I've seen that happening to someone close and dear to me. It's a lifelong, unending, and exhausting struggle for those afflicted with the illness and their caregivers."
But when leaders are willing to share their own journeys, they send a "strong signal" that it's "not a sign of weakness to suffer from mental health struggles and to seek help", she said.
And just like that, half the hurdles may disappear.