Commentary: Ride-hailing drivers and delivery riders finally on a more equal footing with employees
It's hard to argue with better protections for the delivery riders, private-hire car and taxi drivers so integral to our lives, says the Lee Kuan Yew School of Public Policy's Terence Ho.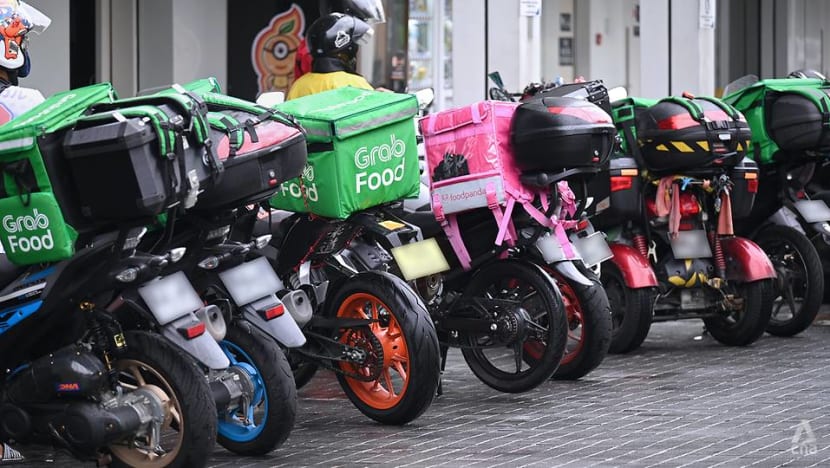 SINGAPORE: The recommendations of the Advisory Committee on Platform Workers, released and accepted by the Government on Wednesday (Nov 23), will have significant implications for the growing platform economy in the years to come.
New policies on workplace injury compensation and Central Provident Fund (CPF) contributions will change the risk-reward profile of platform work vis-à-vis regular employment, reshaping the incentives for entering the gig workforce, especially among younger workers and future cohorts.
Platform workers – currently more than 73,000 of them - have become an integral part of our daily urban lives, transforming the way we eat, shop and move. And countries have been grappling with how to consider platform workers within the conventional divide between employees and self-employed workers.
In Singapore, the committee recommended that platform workers should not be classified as employees but recognised the obligations platform companies have towards workers.
Nonetheless, the recommendations are ambitious: When fully implemented, they will put platform workers on an equal footing with employees in two areas where they are particularly vulnerable.
AMBITIOUS RECOMMENDATIONS FOR A GREY AREA
The recommendations redress longstanding concern about work injury protection and adequacy of savings for housing and retirement.
If they get hurt in the course of work, platform workers will enjoy the scope and level of compensation afforded under the Work Injury Compensation Act (WICA). An injured worker would be compensated for lost earnings, including potential earnings earned from other platforms within the same sector.
For many gig workers, this is a significant step-up from the compensation they are currently entitled to, giving them greater peace of mind. Standardised insurance protection across platform companies will also level the playing field.
Just as significant is the recommendation to align CPF contribution rates of platform companies and workers with that of employers and employees respectively. Currently, self-employed persons are only required to make MediSave contributions for healthcare needs
Going forward, contributions to the CPF Ordinary and Special Accounts will be mandatory for all cohorts below 30 years of age in the year of implementation – likely no earlier than 2024 - and optional for those aged 30 and above.
This will boost retirement savings, instilling discipline in channelling earnings into the national savings scheme.
Though contribution rates will be phased in over five years to allow workers and companies time to adjust, all platform workers will eventually come under the full CPF umbrella in time.
SPACE FOR SOME FLEXIBILITY
Platform workers are, of course, not uniform in their desires and motivations for taking up such jobs.
Life stage and individual financial circumstances clearly matter - whether they have paid off their mortgages or have set aside savings for retirement, and whether they are doing platform work to supplement income or as their main job. An Institute of Policy Studies survey of food delivery riders earlier this year found that about half of respondents wanted mandatory CPF contributions while the other half did not.
A differentiated approach to meet the needs of different segments seems sensible. Much of the concern around the platform economy has been the career trajectory and financial stability of younger workers, so it's not surprising that mandatory contributions have been targeted at this segment.
In fact, customisation is already built into the CPF framework, which stipulates lower contributions for workers aged above 55. It also requires no contributions for those earning under S$50 a month, and only employer contributions for those earning between S$50 and S$500 a month.
Since most workers who relied on online platforms for income in 2021 were aged 50 and older, according to a Ministry of Manpower Parliamentary Question reply, their take-home pay would be less affected even if they opted into the full CPF contribution regime.
HOW WILL WORKERS RESPOND?
While more protections sound like a positive development, how will platform workers respond? Much hinges on whether the changes will make gig work more attractive or less, come 2024 or so.
Some may see it as the best of both worlds – offering flexibility with additional protections and savings for the future; others may be dissuaded by the lower take-home pay after the new contributions.
Those with outstanding mortgages or upcoming housing plans may decide to opt into the full CPF regime; so too would workers aged over 65 who would enjoy additional CPF contributions from the company without having to contribute more themselves. New workers from the older age group may be drawn to gig work as a result.
There will be downstream effects on consumers. Higher costs for platform companies will be passed on, at least in part. Service costs will also depend on the supply of workers: Fewer workers will likely drive up prices while a larger workforce could see prices moderate.
Therein also lies the need for recommendations that seek to balance the interest of workers and companies. For example, if platform workers were classified as employees, statutory entitlements like paid annual leave and overtime pay could make platform work more complex and costly.
The economic reality is that costs cannot be too heavy for the whole ecosystem to bear if we want to continue enjoy platform services such as ride-hailing and food delivery.
The committee's report noted that various surveys and public engagements indicated that platform users are "generally willing to pay slightly more" for platform services to enhance protections for platform workers. On their part, platform companies such as Grab and Gojek have indicated support for the recommendations, while expressing concerns over costs and the need for the measures to be applied fairly to all industry players that tap on gig workers.
IMPORTANT STEP TOWARDS EQUITABLE, INCLUSIVE SINGAPORE
The medium-term demand for platform services, such as ride-hailing and delivery, is not in doubt, given trends such as online shopping and the ageing population. Efforts to regularise platform work and extend greater protection are therefore important for a growing segment of the workforce.
Otherwise, the precarity of these jobs would lower the overall standard of labour protection in Singapore and subject a sizeable group of workers to financial risk, with the state and society ultimately having to pick up the tab.
It is better for the costs of basic protection to be internalised and shared equitably among platform companies, workers and consumers, with the Government providing transitional support. This is a formula that has worked in the introduction of progressive wages for lower-wage workers.
Enhancing protection for gig workers is an integral part of Singapore's move towards a more equitable and inclusive society, where every worker is valued and there is dignity in every job.
Terence Ho is Associate Professor in Practice at the Lee Kuan Yew School of Public Policy. He is the author of Refreshing the Singapore System: Recalibrating Socio-Economic Policy for the 21st Century (World Scientific, 2021).
Who should pay for increased social protections for platform workers? Listen to CNA's Heart of the Matter: