Commentary: Realpolitik, not purism, needed about fossil fuels and ESG investing
We need to be frank about how renewables are less appealing for businesses amid ultra-high oil and gas prices during the Ukraine war, says the Financial Times' Patrick Jenkins.
LONDON: Mark Carney straddles two horses these days — as a climate change purist, via his role as United Nations climate envoy, and as a climate change pragmatist, in his role as "head of transition investing" at Brookfield, the vast private capital group that is one of the world's biggest oil and gas infrastructure investors.
Last week he appeared to be riding the purist steed. Addressing the Net Zero Delivery Summit in London, the former Bank of England governor told the great and good of the green revolution they should not use the market tumult caused by the Ukraine war to delay decarbonisation commitments. "The climate doesn't care why emissions happen, only how much occur," he said. "We need to speed up, not slow down."
Midway through his speech, though, Carney acknowledged his inner realpolitiker to argue that further investment in fossil fuels would be necessary to ensure "a smooth transition".
CLIMATE CHANGE PURISM OR PRAGMATISM?
Realpolitik is fashionable stuff. BlackRock has spent the past few years trying to convince sceptics that its push into ESG investing is really underpinned by an agenda that supports genuine environmental, social and governance improvements, rather than vacuous public relations. Chief executive Larry Fink has been a vocal campaigner for climate risk to be taken more seriously by investors.
But the world's biggest asset manager initially struggled to match action and rhetoric, rarely voting in favour of pro-climate or social shareholder proposals. That changed in 2021, when it backed 81 out of 172 votes. Last week, it backslid, though, arguing that environmental and social proposals were getting so "prescriptive" and "constraining" that it wouldn't be able to support as many.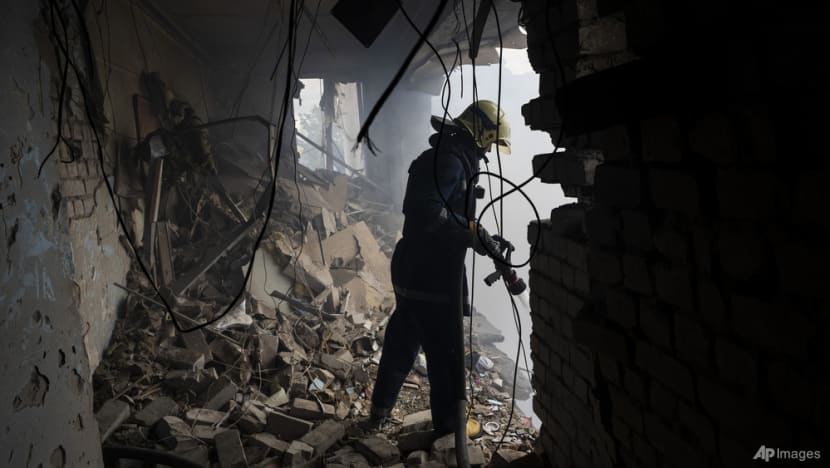 One test of the extent of new realpolitik is how investors treat companies that desperately want to resume trading with Russia despite Vladimir Putin's war on Ukraine. This undermines those companies' ESG claims somewhat.
Take Volkswagen, which is pushing fast into electric vehicles and away from combustion engines, and produces reams of ESG disclosures (on everything from decarbonisation to diversity).
Last week, VW chief executive Herbert Diess suggested in an FT Live conference interview that appeasing the Russians and restoring access to the Russian market should be prioritised over the integrity of Ukraine's nationhood, triggering a backlash around the world.
The dissonance almost makes you crave the honesty of hard-nosed unadulterated capitalism.
GEOPOLITICAL TENSION PRESENTS "INVESTMENT OPPORTUNITIES"?
On cue, last week, Carlyle obliged. The United States private equity group announced it was combining its energy and infrastructure businesses into a new integrated unit. Spanning renewables, fossil fuels and infrastructure, it will have nearly US$14 billion of assets under management.
Unlike rival firms, which have pledged to spurn fossil fuels in future funds, Carlyle boss Kewsong Lee is gung-ho about the opportunity. The fracturing world, particularly the war in Ukraine and the heightened geopolitical tensions between east and west, will present the firm with "a lot of investment opportunities", he said.
This is likely to be a lucrative strategy, given the upward pressure on oil and gas prices. But even Carlyle's approach is not entirely unreconstructed.
Like Carney, Fink and Diess, Lee likes to talk about the carbon "transition", stressing that Carlyle will encourage all its portfolio companies to decarbonise. As proof, it cites its 2020 acquisition of SierraCol in Colombia, where it says carbon emissions have shrunk by a third (though there is a pretty obvious limit to reducing carbon dioxide when your core business is producing a fossil fuel).
Carlyle has a "playbook" that it uses to integrate "carbon management" across all its energy investments. Renewable energy should be used wherever possible, for example, with portfolio company Copia Power available to help if required.
Other suggestions are less convincing. Encouraging more remote working, for instance, might get the carbon off the corporate books, but just displace it to private households.
The bottom line is that the world is not ready for an immediate shift to green energy. During a period of transition, it is commendable if owners of fossil fuel businesses push them to decarbonise parts of their operations.
Pushing them out of fossil fuels and into renewables is the next step — but a less obviously appealing one, as long as ultra-high oil and gas prices persist. Being frank about that is as important for the reputation of ESG as it is for the future of the planet.
Source: Financial Times/ch