Commentary: When even the boss quits, we need to seriously reimagine the future of work
A survey shows that 80 per cent of senior leaders in Singapore are thinking of quitting in the next two years. Former NMP Anthea Ong looks at the future of work when even the C-suite is succumbing to the Great Resignation.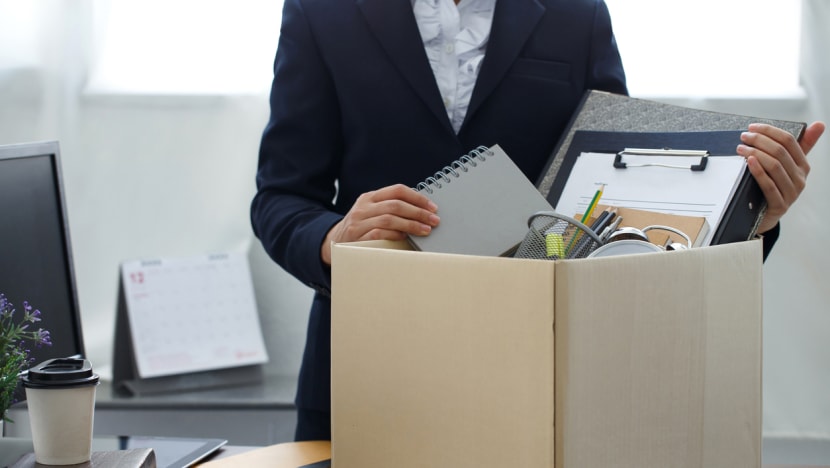 SINGAPORE: CEOs and leaders are expected to be cheerleaders, and more. Workers turn to them for answers, clients rely on them for solutions and companies lean on them in times of crisis. They have had to hustle and pivot with challenging business conditions, anxious employees, split teams, ever-changing directives on safety and tests, work-from-home arrangements becoming hybrid, and of course, meeting performance targets. 
Many of the C-suite worked hard to keep things going during the pandemic and are now jumping from the frying pan to the fire with the mounting challenges of inflation and uncertainty as we slowly come out of the COVID-19 pandemic. Some are running out of gas and burning out - many have paid and are still paying a mental health price for it. 
A coaching client of mine quit the US$300 million multinational company she led as CEO in 2021 after devoting much of her personal time and finances, taking care of those under her charge throughout most of the pandemic.
Despite remarkably achieving the business' performance targets, the "invisible work" that women leaders like her perform daily that helps organisations to survive is unfortunately often unseen and undervalued, according to a 2021 Women in the Workplace research by McKinsey & Company.
The study also found that women were burning out more than men given the gendered roles they played during lockdown and work-from-home arrangements. 
BEHIND THE BIG TITLE AND ROLE
My client is not alone. Nearly 70 per cent of the C-suite are seriously considering quitting for a job that better supports their well-being, according to a June 2022 study by Deloitte, with 76 per cent of those leaders surveyed saying that the pandemic had negatively affected their well-being. We often forget that CEOs and leaders are humans behind the big title and role - their grief, stress and pain are not any less. 
This year alone, major companies, including Amazon, MGM Resorts, Bath & Body Works, Starbucks, Pinterest and Salesforce, have lost their top leaders.
Here in Singapore, 80 per cent of senior leaders said they were thinking of leaving their role in the next two years, according to the KellyOCG Global Workforce report in May. 
Much of the attention on workplace mental health has been focused on workers - employee burnout, the Great Resignation, quiet quitting - and rightly so.
The latest study by messaging app Slack of 1,000 knowledge workers in Singapore showed that one in two Singaporeans are feeling burnt out. Nearly 50 per cent reported not being inspired by their leaders and 79 per cent cited low work satisfaction due to leaders being poor communicators. 
LEADERS WHO ARE EXHAUSTED CAN'T TAKE CARE OF THEIR PEOPLE
Leaders are being challenged. Yet the same Deloitte study also shows that 36 per cent of C-suite are exhausted, 41 per cent stressed and 23 per cent depressed. We need to pause and ask: If CEOs and leaders are struggling with their own mental well-being, how effective can they be in taking care of the well-being of their people? 
Mental health is a continuum; it affects all of us, not just some of us or certain segments of society. My personal brush with depression at the height of my professional career as a CEO 16 years ago has taught me so. We need not, as leaders, wait till the emotional collapse like the one I had to take care of our mental well-being. 
CEOs set the tone and culture of the organisations they lead, so they must be well themselves in order to lead well.
By openly managing their own well-being, CEOs set the precedent for senior leadership, managers, and their teams to develop their own well-being plans and to shift the organisations' cultural acceptance of prioritising mental health.
Bob Grove, one of the early C-suite participants at the first WorkWell Leaders' CEO Dialogue in 2019, left his employer in early 2022 as a regional CEO.
"Having been a C-level leader for the last 20 years, I know it takes courage to be completely open to colleagues or family and friends who may not necessarily understand the pressures and specificities of our roles," said Grove. 
PUT YOUR OXYGEN MASK ON FIRST BEFORE HELPING OTHERS
It's lonely at the top. Some leaders may believe that achieving a prominent role, recognition, or financial reward comes at the cost of loneliness. However, the unwillingness to discuss such pressures with those in similar positions can lead to severe "power stress" and burnout.
The perception that CEOs and senior executives should demonstrate unwavering leadership and steadfast support of their people, come what may, also increases fears of seeking help. The stigma that we still hold in our society with mental health and the lack of mental health literacy also prevent leaders from considering the possibility that they might be struggling. 
Leaders are responsible for taking care of their teams, yet formal support for their own well-being is lacking.
The Great Resignation and quiet quitting may have come to the C-suite of large organisations that boards and HR teams must certainly pay attention to, but for business owners of small- and medium-sized enterprises (SMEs), quitting is not an option.
There is therefore an urgent and bigger need to support the leaders of our 130,000 SMEs that employ 70 per cent of the Singaporean workforce - they must take care of their own well-being so they can better take care of their employees' mental health to have an engaged workforce in an increasingly challenging business environment.
The "put your oxygen mask on first before helping others" reminder we hear on planes is the metaphor that absolutely applies here, especially for small businesses to keep flying.
One of the lasting effects of the pandemic is the way employees are prioritising work-life balance and company values over money.
According to research by Gartner, 65 per cent of survey respondents said the pandemic had made them think more about the place that work has in their life and that it had made them want to contribute more to society. Employees are looking for work with a purpose and for companies that reflect their principles. So are CEOs and leaders like my client and Bob.
HOW DO WE RETURN TO HEALTHY WORKING?
Therefore, instead of seeing quiet quitting and the Great Resignation as threats, should we not reframe these as opportunities to return to healthy working so quiet quitting is not necessary?
Can this Great Resignation be in fact a Great Reflection for us to reimagine the future of work, the workforce and the workplace? How can we integrate well-being into the design of work?
How can employers provide the right mix of benefits and programmes to support the well-being of the workforce? What needs to happen with spaces and policies to create a workplace that has people's well-being at the centre?
For such a future to happen, we must close the disconnect between employers and employees by also providing CEOs and leaders with the tools and support they need to be well in order to lead well.
Short of resigning, they could reimagine their role as leaders and find new meaning by owning their mental well-being and modelling healthy behaviours so that they can make a difference to the many lives they lead into an uncertain future.
Anthea Ong is a former Nominated Member of Parliament, a professional certified coach, a social entrepreneur (SG Mental Health Matters, A Good Space, Hush TeaBar) and the author of 50 Shades of Love. She is also the Chair of WorkWell Leaders, a Singapore-based charity focused on mental well-being as a leadership priority.