Commentary: Will the Tengah New Town be the new eco-friendly standard for HDB?
As cities gear up for a warmer planet, public housing will need to address climate change and this goes beyond just installing energy efficient lights, says a researcher.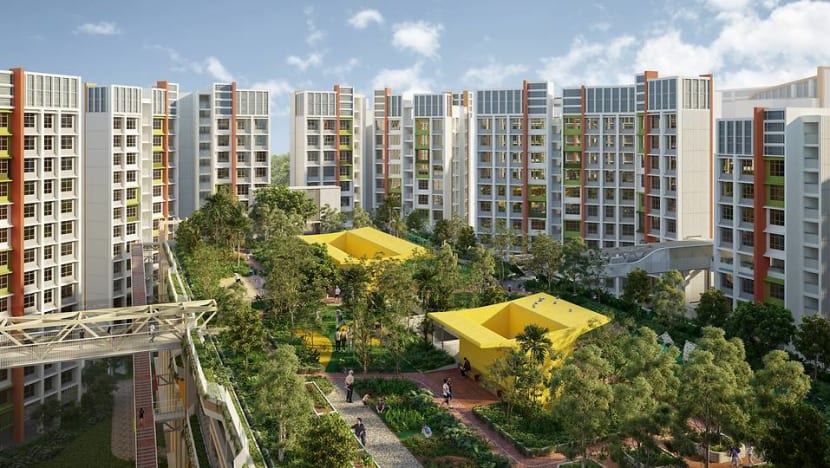 SINGAPORE: When the Housing and Development Board (HDB) began building flats for a growing population in 1960, it had a single purpose: To house as many people as possible in low-cost and clean homes.
Six decades later, 80 per cent of residents live in HDB flats. But the type of flat, the way it is built and the motivations of what it means to live in an HDB estate have transformed and the flat of the future is decidedly sustainable.
It started 10 years ago when Punggol was declared Singapore's first eco-town. Since then, three more have been added under the HDB Green Towns Programme: Choa Chu Kang, Nee Soon and Tampines will be liveable eco-towns by 2030.
The Green Towns Programme offers a roadmap for the retrofitting of existing new towns to reduce the annual energy consumption in HDB towns by 15 per cent over a 10-year period, beginning from 2020.
In committing 70 per cent of HDB blocks for solar panel installation by 2030 to generate 648 GWh of clean energy annually, it is estimated that carbon emissions will be reduced by 324,000 tonnes per year.
Reducing carbon emissions, using renewable energy and protecting the natural environment and its diversity, are indicators used by the Sino-Singapore Tianjin Eco-city to assess eco-friendliness.
Other indicators used include "social harmony and progress" which is measured by the proportion of residents actively involved in community and social groups and the success in transitioning the economy to one which is greener.
Although the specific measures and strategies to bolster the eco-friendliness of a city differ from city to city, they are invariably tied to one or more of these common indicators.
WHAT MAKES AN ECO-TOWN?
This ideal vision of an eco-town is nestled in the masterplan of Tengah, dubbed "Forest Town", which draws on a slew of sustainable planning principles to create an ecological town of unprecedented depth and scope.
In a sense, Tengah is a true test case because it will be created from scratch. Different from Punggol and Tampines where transformation is done incrementally and in situ. The latter includes changing the lighting system for greater energy efficiency, finding pockets of space within the towns to put in more greenery and community gardens.
While laudable, such ad hoc attempts at making existing towns more ecological are not in the same scale as what Tengah intends to achieve. In Tengah, infrastructure (such as bike paths and electric infrastructure for vehicles) is built into the design of the town.
Tengah Town will house five districts and will include the creation of a 100m wide and 5km long forest corridor. Walking and cycling paths will create Singapore's first car-free town centre.
How resources are used will change too. For instance, the use of a rainwater harvesting system where rainwater collected at the roof tops of a block is treated by a water treatment system using membrane technology.
Potentially this can amount to 850 cubic metres annually and can used for washing void decks and refuse chutes. In these flats, residents can also grow edible food crops along their corridors, in line with HDB guidelines.  
A resident living in a district in Tengah, can expect to live quite differently.
They may own a bike rather than a car, their commute to work (if they go into the office) will involve public transportation on electric vehicles and within homes, energy efficient lighting and electrical systems will be installed. Not to mention the amount of greenery which will greet you.
REMOVING GREEN SPACES TO MAKE WAY FOR ECO-TOWNS
What is interesting too is Tengah used to serve as training ground for the Singapore Armed Forces.
Environmentalists expressed reservations over Tengah's selection as the newest new town arguing that forests would have to be cleared for the development could instead serve as a vegetation node that connects the Western Catchment with the Central Catchment Nature Reserve, allowing wildlife movement.
Their opposition however failed to gain public traction. A likely reason is that this area has not been accessible to the public for many decades so there is a less palpable sense of loss since it was a site which was protected to begin with.
In contrast, the plan to develop a 33ha site in Ulu Pandan generated much more debate as it would controversially remove an entire green space which the community has been visiting for many years.
Compared to Tengah, the green site in Ulu Pandan has been heavily used by people as recreation space.
Objections to developing these eco-towns from existing green spaces offer no easy answers. But it is important to compare if there will be an improvement in overall environmental performance of the site after the construction of the eco-town.
In the case of Ulu Pandan, there are some who believe the ecological merit of the green site is higher than to build housing over it, even if the housing achieved a Building and Construction Authority's Green Mark Platinum rating.
Some have also emphasised the intangible value of the site as a symbolic landscape of the community.
As it turned out, an Environmental Baseline Study (EBS) conducted by an HDB-appointed external consultant concluded that there was an uneven distribution of biodiversity between the eastern and western parts of Ulu Pandan.
Compared with the eastern half comprising a few large trees (remnants of the plantation agriculture in the area in the 1980s), the western part is richer in biodiversity with several species of flora and fauna which are classified as critically endangered.
Returning to one of the key indicators for eco-friendliness, there is little biodiversity to protect in the eastern half of the site whilst a stronger case can be made to conserve the western half.
It was also recognised that the site enables more than 150 species of fauna to move between different green spaces. Given these conclusions, the HDB decided to only develop the eastern half of the site for housing and to conserve the western half in its entirety.
So, the plan to enhance the effectiveness of the site as an ecological connector and to transform and beautify Ulu Pandan Canal is a fair compromise.
MANY DIMENSIONS
The concept of an eco-friendly city has multiple dimensions (such as the reduction of carbon emissions, resource and energy conservation and environmental protection), none of which is reducible to just one dimension.
Some cities focus on and do well in one dimension and neglect others. In Singapore, the reduction of carbon emissions and conserving energy, especially with innovative technologies such as the use of smart LED lightbulbs, have gained considerable traction – and this is a good thing.
But the case of Ulu Pandan also shows we need to take the protection of non-economic dimensions, such as flora and fauna or enriching our diversity, seriously.
In an ideal world all the rich greenery can be kept intact but in reality, some of it has to make way for housing, so planning a town around sustainable principles is a good middle ground.
Dr Harvey Neo is Senior Fellow and the Lee Kuan Yew Centre for Innovative Cities, Singapore University of Technology and Design.