commentary Commentary
Commentary: Healthier options 'killing the hawker vibe'? Why so resistant, Singaporeans?
Are HPB's attempts to introduce healthier options in hawker centres futile? One dietitian discusses why Singaporeans seem so resistant.
SINGAPORE: Mention the phrase "healthy hawker food" to a typical Singaporean on the street, and images of sterile bowls of bland noodles with awkward lettuce leaves may conjure to mind.
Indeed, in our society, the word "healthy" has grown to become synonymous with "bland-tasting" over the years.
With chronic lifestyle diseases such as diabetes and heart diseases on the rise, and a well-documented role of diet in the prevention and management of these conditions, how then can we work towards changing deep-rooted mindsets and setting Singaporeans on the path towards a healthier lifestyle?
An obvious choice of strategy that comes to mind is to start by altering the environment where Singaporeans frequent, which are the hawker centres, due to their relative affordability and accessibility.
However, as public healthcare workers may have quickly come to learn, working with hawkers to effect changes is not an easy task.  
KILLING THE HAWKER VIBE?
Having spent years of serving up and perfecting traditional dishes, the hawkers take pride in their recipes, which have garnered a strong customer base over the years. As hawkers struggle to find their footing in the face of increasing rental and food prices, charting into unfamiliar grounds of serving up healthy hawker food may also inevitably be assigned a lower priority.
Meanwhile, Singapore, with its diverse and culturally rich dishes to offer, has gained its reputation as a food paradise. Singaporeans are known to flock to stalls where queues are among the longest, placing emphasis on the taste and authenticity of local food.
Hence, there is the sentiment that hawker centres should be left to their own devices, as healthier changes in the hawker centres may be "killing the hawker vibe". After all, are there not already healthy eating places such as salad bars, which serves the purpose for those seeking healthier choices?
There are also the feelings of familiarity and comfort associated with consuming the traditional favourites, along with pleasant memories of enjoying these together with family or friends, which are difficult to detach.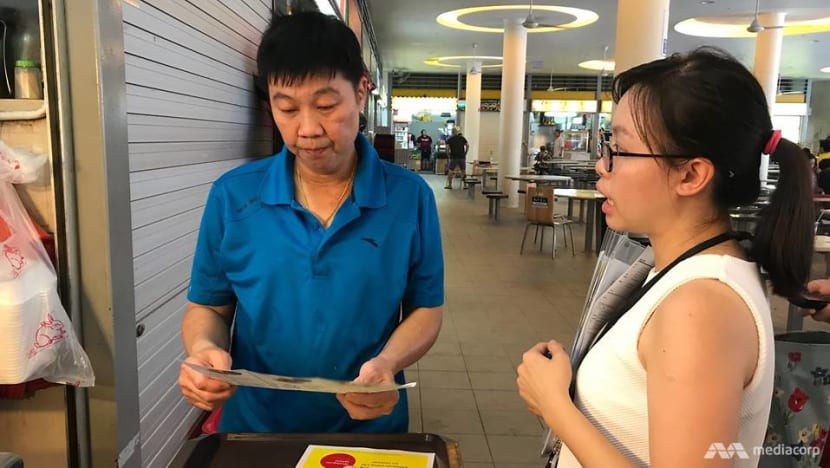 BUT WAIT, LET'S LOOK AT HEALTH SURVEYS
However, with the 2010 National Nutrition Survey showing a majority of Singaporeans consuming hawker food, with 60 per cent having it for lunch or dinner at least four times each week, there is pertinent need to improve food choices in hawker centres.
Similarly, according to the Food Forward Trends Report in 2014 by Weber Shandwick, 81 per cent of Singaporeans surveyed said they opt for hawker food most often when they eat out.
One solution to improve the diet of Singaporeans without rocking the boat would be to provide healthier alternatives at hawker centres, without phasing out traditional hawker favourites. 
As it is the thing we do day-to-day that makes a difference, if we are able to select healthier choices most of the time, we would not have to eliminate these traditional favourites completely.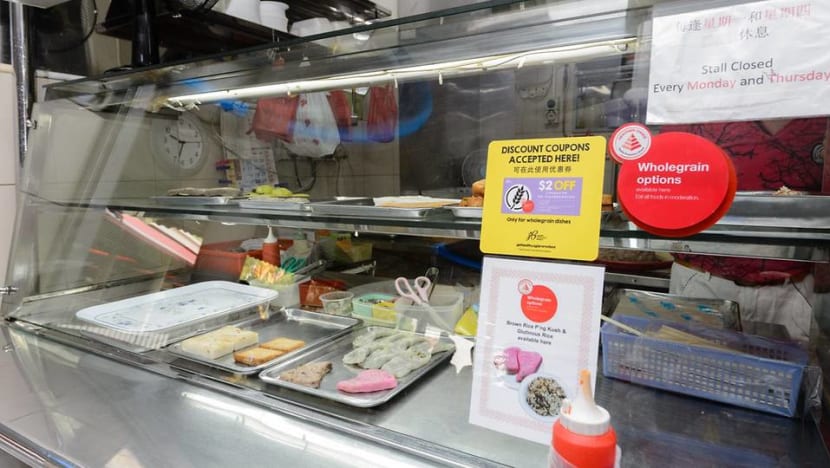 HUGE CHALLENGE TO CONVINCE SINGAPOREANS, NOT JUST HAWKERS
Despite the challenges abound, it is encouraging to see the Health Promotion Board staff reaching new grounds in the hawker centres, moving towards their target of getting 40 per cent of hawker stalls to offer at least one healthier dish by 2019. However, the colossal challenge remains to convince key stakeholders to embrace the change, which are Singaporeans themselves.
With many Singaporeans already accustomed to the taste of rich hawker dishes, changing habits and taste preferences is not an easy feat. However, the good news is that given time, habits and taste buds can change.
If Singaporeans are willing to step out of their comfort zone and try out the healthier hawker options, they may discover for themselves that they are just as capable of being tasty, wholesome and filling. They are also likely to develop a palate for healthier dishes over time, and learn to find a balance between the occasional treat foods.
By offering consumers options, hawkers can create a platform for them to switch to healthier options when they are ready, such as by offering both brown and white rice options. As consumer demand grows, hawkers would also have greater incentives to offer healthier options.
As the saying goes, "If not me, who? If not now, when?" If we can step forward to make a commitment towards improving our health, we can all work towards building a healthy environment for both our loved ones and ourselves.
Ng Zi Ling Jolyn Johal is senior dietitian at the National University Hospital.