Commentary: Zero-COVID makes it almost impossible to travel in and out of Hong Kong
Hong Kong's zero-COVID policy and flight bans turned a 16-hour travel journey into an 80-hour marathon, writes the Financial Times' Eli Meixler.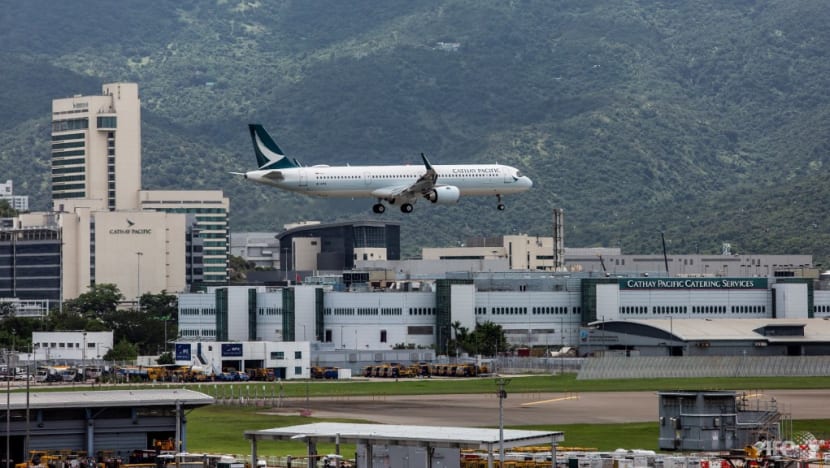 HONG KONG: At 1am in Istanbul, I began to doubt that I would make it back to Hong Kong. I had been travelling for 24 hours and had no ticket home. I was stranded and despair was creeping in.
I was returning from New York, where I had dashed in early March after my grandfather's death. Getting back proved to be a challenge. My voyage – which before the pandemic was 16 hours non-stop – would take 80 hours and three flights (with another three cancelled).
My misadventure is a case study of how, despite easing some entry requirements last month, Hong Kong's single-minded zero-COVID policy is a deterrent to travel, punishing enough to cordon off "Asia's World City".
Istanbul, Turkey had been one of the few transit options. But my connection was cancelled when Hong Kong barred the route after more than three COVID-19 cases were detected on a previous flight, under a new "circuit breaker" policy.
AN ABUNDANCE OF TROUBLES AND HASSLES 
A surly airline representative at the airport was immune to my pleas for a replacement flight, declaring that "the pandemic is already over".
Not in Hong Kong. Even as restrictions are being loosened elsewhere, the city is far from returning to normal. Long-suffering residents, separated from loved ones abroad for more than two years, now call it "Asia's Walled City".
Nor has the government's draconian but blundering response protected its population. The city of 7.5 million has recorded almost 9,000 COVID-19 deaths, most of them from this year. The over-70 vaccination rate is just 65 per cent; for three doses, the figure drops to 8.2 per cent.
In the absence of coherent leadership, Hong Kongers have turned to each other. A Facebook group with 80,000 members provides intel on quarantine meals and regulations.
It also connects those in quarantine with "buddies" outside for deliveries, pet care and camaraderie. When I tweeted about calling every quarantine hotel searching for a room, dozens of entreaties poured in from other bewildered passengers.
A NERVE-RACKING EXPERIENCE
Stunned and exhausted, Hong Kong stragglers in Istanbul congregated in the emptying terminal, commiserating and sharing leads: A budget flight at 6am, a testing lab open late.
Laurence Cheng, 27, studying for a PhD in Toronto, was trying to get to Hong Kong after his father's death. He had already transited through Newark, Tokyo and San Francisco. "It was one of the moments in my life where I broke down," he told me a few days later. "Honestly, a part of me wanted to give up. I've never been that stressed in my life."
After a connection was finally found after 11 hours, we were herded onto a flight to Singapore. Every seat was full – no social distancing.
But we were delayed and forced to disembark, and I realised with despair that my hasty contingencies – a flight to Bangkok and a connection in the morning to Hong Kong – would be impossible. 
I would also breach 48 hours of travel, meaning my COVID-19 test would expire. Worse, I was going to miss my check-in date for the seven-day quarantine; the final, non-refundable step to re-entering the city.
The pandemic will eventually subside, and the barriers which Hong Kong has erected will be dismantled. But from the quarantine confines of a 200 sq ft hotel room in the third COVID-19 year, it is difficult to imagine the city reclaiming its global role soon.
PERPETUALLY STUCK IN LIMBO, WITH NO END IN SIGHT
The city's airport, once Asia's busiest, is being dethroned by regional rivals. 68 flight routes have now been banned under the circuit breaker. Companies are relocating staff who are fed up with enforced separation from their families – a hub is only as useful as its number of spokes.
Meanwhile, Beijing's coronation of former security tsar John Lee as Hong Kong's expected next chief executive made clear that control will be prioritised above all.
Future restrictions will be designated as yet another cost of doing business. The question is how long will companies – and residents – be willing to pay it.
Waylaid in Singapore, I made the best of it, treating myself to a breakfast of kopi with condensed milk, kaya toast and soft-boiled eggs. Four days later, the flight that I finally took was banned under the circuit breaker. Hong Kong's isolation lives on.
Source: Financial Times/geh