Commentary: With or without COVID-19, Jakarta should keep masks on
Indonesians put on face masks to guard against COVID-19 during the pandemic. Though the outdoor mask mandate has been lifted, Jakarta residents should keep them on against a longer-term health threat – air pollution, says Muhammad Ersan Pamungkas.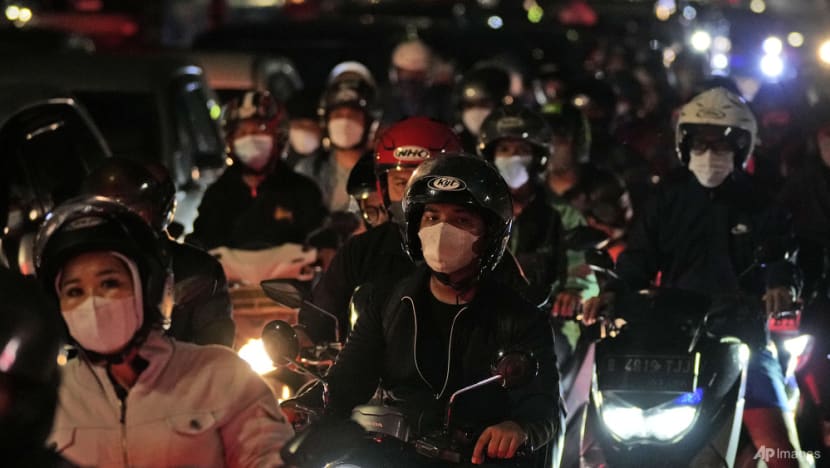 JAKARTA: Indonesia lifted its outdoor mask mandate in May as COVID-19 cases declined in the country considered Asia's COVID hotspot at one point in 2021, when it recorded the highest number of daily infections in the region.
But should COVID-19 be the only reason for Indonesians, especially Jakarta residents, to keep their masks on outdoors?
It's well-known that Jakarta has an air pollution problem. According to an IQAir study, the Air Quality Index (AQI) ranks Jakarta as one of the most polluted cities in Indonesia and around the world. On Jun 20, Jakarta's AQI reached 196, just shy of the "Very Unhealthy" category.
Jakarta Governor Anies Baswedan in 2020 acknowledged that "air pollution is a significant health issue in the capital, causing more than 5 million illnesses a year".
According to the Energy Policy Institute at the University of Chicago's Air Quality Life Index report released in June, Jakarta residents could lose three to four years of life expectancy due to air pollution. The World Health Organization (WHO) estimated that nearly one in eight deaths worldwide can be attributed to air pollution.
So pandemic or not, there are clear benefits for Jakartans to stay masked when not doing so could bring serious, even deadly, health consequences.
COVID-19 CONCERNS KEEP JAKARTA MASKED UP
But COVID-19 has been the main reason Jakartans put on a face mask in the first place. Even after the mask mandate was lifted, the Jakarta Environment Office urged the residents to wear a mask when outdoors, in light of the worsening air pollution situation.
Many Jakarta residents have kept their masks on, given the pandemic has not officially been declared over. This is one indirect positive impact of the pandemic – people still wearing a mask out of COVID-19 concerns can get some protection against air pollution, a more insidious threat.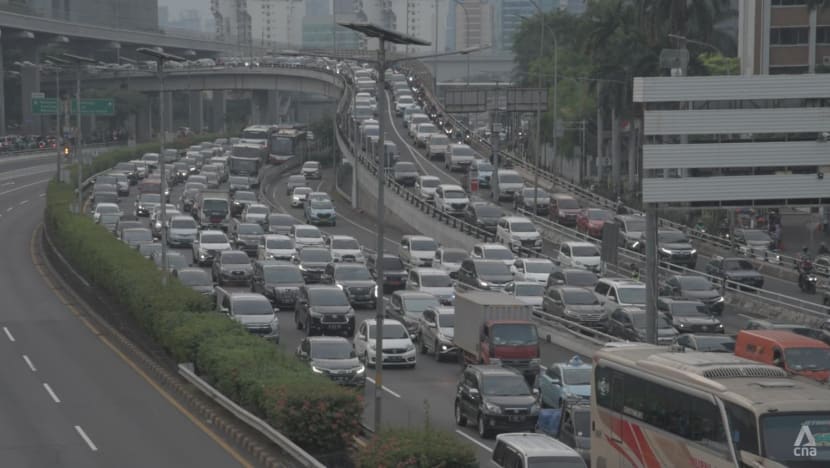 Wearing a highly effective air pollution mask has been shown to help reduce the risk of exposure to atmospheric levels of fine particulate matter, or PM2.5, and other airborne particulates, decreasing the chance of illness and death related to air pollution. A 2018 study in China suggested that masks with filtration equivalent to N95, KN95 or FFP2 were most effective for filtering PM2.5 and diesel soot.
Though surgical face masks, more commonly and comfortably used, are less effective filters, research suggests that these still help to reduce the amount of harmful particulates breathed in.
But what comes next? Pre-pandemic, few Jakarta residents wore a mask regularly despite the poor quality of the air. A popular ride-hailing operation in Indonesia used to distribute a face mask to the passengers who used its motor taxi service.
This is unlike people in major Asian cities who are no strangers to wearing masks, one of the reasons being air pollution. In Japan, for example, people have worn a face mask in 1950s as a protection against rising air pollution. In Vietnam, face masks are as common as helmets for motorcycles and scooters on the streets of Hanoi.
MASKS ARE NOT THE SOLUTION TO AIR POLLUTION WOES
Masks are a salve, not a cure for Jakarta's air pollution troubles.
A dangerous level of pollution, more than 20 million motor vehicles and cigarette smoking an integral part of daily life for many, could be a lethal combination. So while urging residents to continue wearing masks is a right move, tackling the problem of air pollution more seriously should be a priority for the city government.
One structural change is the improvement of the city's notorious public transportation. With improved and more reliable public transportation, more people would be encouraged to leave their vehicles at home instead, potentially contributing to a cleaner sky.
The city has actually made headway on this front by launching new transportation modes such as the Mass Rapid Transit and the Light Rail Transit Jakarta, both of which are a lot more convenient and reliable than other modes of transportation in the city.
The TomTom Traffic Index ranked Jakarta 46th most congested city in 2021, down from 10th in 2019 (the year the MRT was launched) which suggests fewer vehicles on the road.
Planting more trees can also be a good option. Jakarta might be home to dozens of shining malls and shopping centres but severely lacks green spaces. The city only has 3,131 green spaces or only about 10 per cent of the total land in the city. It is much below the requirement of 30 per cent stipulated in the prevailing Spatial Planning Law.
The recently opened Tebet Eco Park in South Jakarta has attracted a huge number of Jakarta residents who flocked to the park especially during weekends, even forcing the city government to temporarily shut down the park as it drew too many people. It shows that many Jakarta residents want and seek out such green open spaces.
Learning from the pandemic, Jakarta should also invest more in healthcare facilities and healthcare workers, keeping in mind the treatment of pollution-related diseases.
Jakarta's deteriorating air pollution is indeed not an easy problem to tackle. While the city government should address the issue through policy, residents can also take steps to protect their health in the meantime.
Wearing a mask outdoors, especially in Jakarta's menacing heat, can be incredibly uncomfortable. However, it is a small step that can be an efficient measure to shield our body against hazardous pollution.
After wearing masks to prevent COVID-19 infection for more than two years, Jakartans would do well to continue doing so for their health in the long term.
Muhammad Ersan Pamungkas (@ersanpamungkas) is a Jakarta-based linguist and translator.