Commentary: Will a rare strike threaten the 'buy Japan' moment?
The strike by department store staff at one of Japan's most famous names, Seibu, stands out for its rarity, says the Financial Times' Leo Lewis.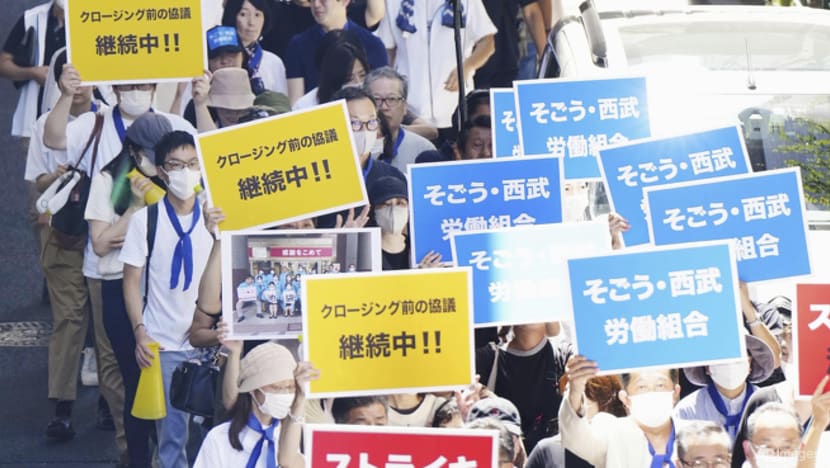 TOKYO: As incarnations of customer service go, the staff at a Japanese department store take some topping. 
Pristine, polite and propelled through their day by an atomic engine of etiquette, these were the people whose expertise and charm once redefined urban retail across the country. In the hands of their superlative salesforce, these stores were democratisers of finery, and pioneers in the peddling of luxury to an Asian middle class.
Now, in one of Japan's most extraordinary labour muscle-flexes in recent memory, department store staff at one of the country's most famous names, Seibu, are breaking yet more new ground by going on strike for the first time in more than 60 years.
Unsettlingly, perhaps, for the buy-Japan investment narrative, they are doing so in protest over the planned sale of their company to the US investment group Fortress, and, by extension, at the framing of Japan by some as a target-rich, endlessly dippable bargain bucket.
LABOUR STRIKES RARE IN MODERN JAPAN
The rage of the retailers is real. Customers hoping to visit the Seibu Sogo flagship in Tokyo's Ikebukuro on Aug 31, possibly for its autumn Journey of Beauty Maquia Fair, can forget it: The workers' white gloves, silk scarves and pocket squares will be downed, and the mighty store plunged into darkness.
The planned one-day stoppage, by around 900 workers in just one of the Sogo & Seibu chain's 10 stores, may look puny in comparison with the global industrial actions this year by nurses, teachers, transport workers and even Hollywood screenwriters.
But it stands out for its rarity.
At Japan's peak bolshiness in 1974, when the country was gripped by an oil price-driven cost of living crisis, there were 5,197 strikes that lasted more than half a day. By 1993 there were 251. In 2022 there were 33.
That decline, in all its starkness, demands its own analysis. For many workers in Japan, the past three decades have provided what might, in other eras or in other countries, have seemed ample ammunition for labour disputes.
A bruising assault of restructurings, lay-offs, systemically enforced overwork, unpaid overtime and long stagnant wages might appear powerful propellants of industrial action. But they have largely failed to trigger the sort of collective anger or panic that would cancel trains or halt a production lines.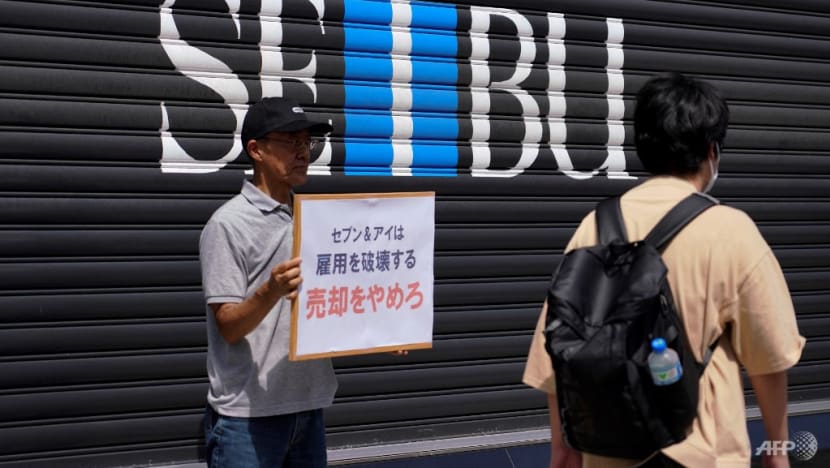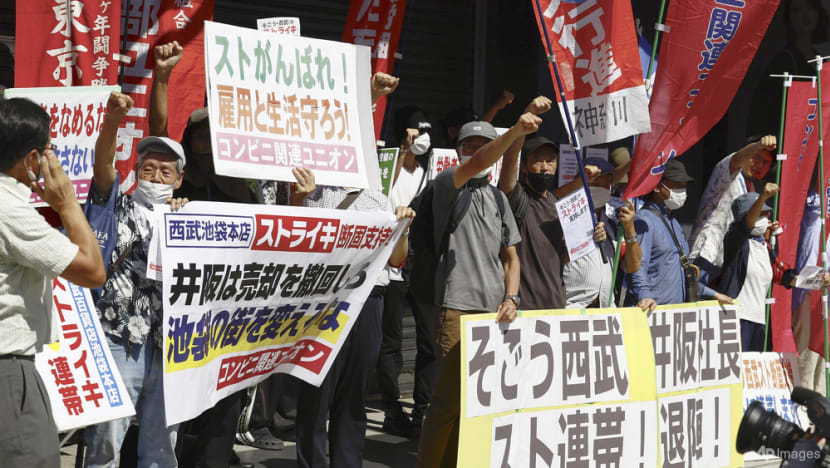 The Seibu department store workers' decision to strike now has wider implications (in their view) for the direction Japan might be heading unless someone takes a stand. And a stand that needs to overcome the risk that Japan might simply shrug and see the demise of department store jobs as inevitable.
On the one hand, their company (and industry) is in abject decline as customers spend elsewhere: They were once the great innovators, but are now victims of innovation.
But on the other, they now look almost certain to be bought by Fortress, whose presumably unsentimental plans to make money out of such a deal could quite rationally accelerate the closure of stores and the shedding of large numbers of staff. The fact that Japanese department stores tend to occupy hugely valuable tracts of city centre real estate does nothing to ease the workers' worry that Fortress may simply see the whole purchase as a precursor to selling everything off for its land value.
The added element is that the sale of Sogo & Seibu stores to a US investment firm has been largely forced upon its current owner, 7&i Holdings, by a US activist investor. ValueAct has, in an extended and highly confrontational engagement with 7&i, piled pressure onto the retail empire to shed the declining, non-core department stores as a service to shareholder value. 
JAPAN, A FABULOUS HUNTING GROUND
Neither the planned sale to Fortress nor the pressure from ValueAct should come as any surprise.
Activists have been clear for nearly a decade now that corporate Japan, with its excessive cash, its needlessly trapped value and its ever greater vulnerability to shareholder pressure, is a fabulous hunting ground. Even now, valuations are not pricing in an expectation that an activist might swoop at any time. Private equity, and investors like Fortress, hope to make enormous fortunes by pouncing at a time when the Japanese market is still underpricing the accessibility of those fortunes.
These two types of investor - for now mostly foreign - have long appeared to view Japan as a cheap buffet of opportunities that Japan itself has opted to ignore. When those investors have feasted, they have rarely encountered much pushback from workers. 
It is striking, then, that the most eye-catching defiance should come from the most professionally deferential.
Source: Financial Times/aj