Commentary: Malaysia could turn to a fresh, younger prime minister
A political veteran could provide a steady hand at the wheel but Khairy Jamaluddin and Shafie Apdal would make decent choices too, says Norshahril Saat.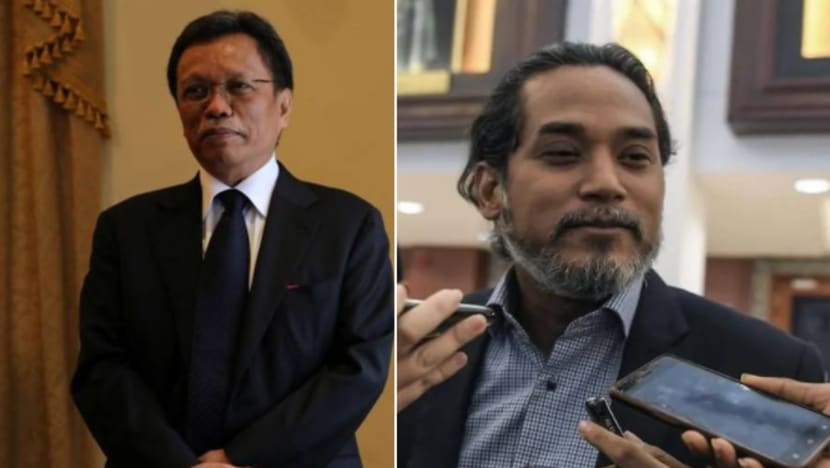 SINGAPORE: Prime minister Muhyiddin Yassin's resignation on Monday (Aug 16) may have ended the bickering about his political legitimacy but his move has only plunged the country into more political turmoil, worse than when Mahathir Mohamad quit in February 2020.
To resolve this political stalemate, the country must quickly unite. But if all traditional options for the top role are exhausted, the country should consider rallying behind a new, "untainted" leader.
There is a lull with Muhyiddin as caretaker prime minister until the king chooses his replacement.
This all feels like déjà vu when Mahathir himself was in the same position last year.
Perhaps the more appropriate word is karma when last year's predicament was exacerbated because Muhyiddin pulled Bersatu out of the ruling Pakatan Harapan (PH) coalition.
Little wonder then that Muhyiddin's request for the opposition's bipartisan support last Friday was ignored.
FRONTRUNNERS AREN'T PERFECT CHOICES
Still, the king, who must now appoint a prime minister, faces a more arduous task than the same exercise last year.
In March 2020, Muhyiddin's margin of majority was only two MPs when he accepted the top job. Now, it seems like no Member of Parliament (MP) can command unwavering support from a majority of MPs.
Even front-runner Ismail Sabri Yaacob — deputy prime minister under Muhyiddin — may find it difficult to cross the 111 MPs threshold. He needs the backing of his rivals in UMNO who had earlier withdrew their support for Muhyiddin. He reportedly sounded out Mahathir to get his blessings but was declined.
Plus, why should the opposition MPs support him? They have already pinned their sails to a narrative that the government was ineffective in tackling COVID-19, blatantly disloyal to the king during the July parliament sitting, and in cahoots with the "court cluster" of UMNO politicians facing a bevy of corruption charges.
How would they reconcile this tale spun to overthrow Muhyiddin's government with supporting a Perikatan Nasional member?
Some may also consider Ismail — being a senior leader in the last Cabinet — a "tainted" leader. Surely he cannot be absolved of responsibility from the decisions taken collectively by the Cabinet?
With a general election unlikely in the near term as COVID-19 cases surge, choosing the next prime minister is what the country needs urgently. The king, in holding consultations with political leaders on Tuesday, signals he knows he must waste no time to get the government machinery ticking.
But he must also decide whether Malaysia needs a seasoned hand or if it will benefit from going with other leaders.
Going with the first option means the disunity that haunted the last governments would persist.
Technically, if any non-PH opposition parties support PN, a new government can be formed. The latest is that Ismail Sabri has secured UMNO's backing and is on course to secure 115 MPs if he has Bersatu's unanimous support.
By contrast, PH may face an enormous task to regain power since PAS, UMNO, and the Sarawak based parties will unlikely join due to their rivalry with the Democratic Action Party (DAP). In its most recent general assembly in end-March, UMNO declared it would not collaborate with Anwar Ibrahim and DAP.
However, this does not automatically rule out Anwar Ibrahim from the top job. He is the sole MP with the highest, solid backing in Parliament, since PH has named him their PM candidate. If the other parties cannot rally behind an alternative figure, Anwar is the leading contender to beat, with an estimated 105 votes.
A CARETAKER NATIONAL OPERATIONS COUNCIL?
If the stalemate persists, Muhyiddin can stay on as caretaker PM a little longer. This is not an ideal solution when it was doubts over Muhyiddin's leadership that brought the government down, not to mention his powers are now limited.
Other alternative suggestions include creating a non-partisan National Operations Council (NOC) to govern the country until a government can be formed. This was Mahathir's suggestion.
The NOC was a tried-and-tested model established when the country was plunged into crisis in 1969 when racial riots broke out. Mahathir had suggested for 20 professionals, including healthcare specialists, businessmen, bankers, lawyers and political leaders, to run this body.
Mahathir also offered to lead this NOC, but the decision is all up to the king. He might not want to appoint a divisive figure like Mahathir but the two-time prime minister's experience in bringing Malaysia out of the Asian financial crisis in 1997 and solidifying the country's position an Asian economic tiger is a strong plus point.
The other name that UMNO had earlier surfaced that could play a unifying role is UMNO veteran Tengku Razaleigh Hamzah. However, Razaleigh's support base is not strong having lost the UMNO presidency contest in 2018 to Zahid Hamidi and coming in third, behind Khairy Jamaluddin. His Cabinet experience is also from the 1970s and 1980s.
NEW NAMES EMERGE
Beneath the surface of those same old names, there are calls for someone like Mohd Shafie Apdal, the leader of Sabah-based party Warisan, to be prime minister.
A former UMNO vice president, he, like Muhyiddin, left the party when it was embroiled with the 1MDB issue.
Shafie also declined Muhyiddin's offer to join Perikatan Nasional and stuck to his principles of rejecting a backdoor government. In a way, he remains an "untainted" politician.
He has many notable accomplishments as Sabah chief minister - in ending communal land titles, pushing for greater autonomy for East Malaysia under the 1963 Malaysia Agreement and increasing petroleum revenue. He is also considered an uncorrupted leader.
On Tuesday, Shafie admitted that he had a gentleman's agreement with Anwar, that if the latter fails to secure enough support, the opposition must name him as prime minister candidate.
ISEAS-Yusof Ishak Institute's Dr Francis Hutchinson and Singapore Institute of International Affairs' Dr Oh Ei Sun talk about UMNO, Ismail Sabri's government, and if the dynamics are simply part of Malaysia's journey towards becoming a "normal" democracy:
Another worthy contender is Khairy Jamaluddin, who has worked tirelessly as coordinating minister of the national immunisation programme. However, Khairy's involvement in Muhyiddin's Cabinet as science, technology and innovation minister disadvantages him. Moreover, there are other senior UMNO politicians eyeing Cabinet roles assuming Ismail steps into the prime minister role.
This is unfortunate seeing how Khairy has demonstrated commitment to his job in driving the country's vaccination programme and has been seen as less involved in the political power-grabbing. Despite a slow start, the country is on track to meet the 50 per cent vaccination target for all Malaysian adults by August.
The king may ultimately choose a political veteran in these times of crisis, but the country should not lose sight of providing opportunities to young leaders to rise to the occasion and share their views in how the country can be brought out of this turmoil.
Their involvement at the helm might inspire a new generation of Malaysians to action and encourage Malaysian youths to seize the chance to make a difference to their country.
At the very least, the next election would not have the same old faces from the last 20 years.
Norshahril Saat is Senior Fellow at ISEAS - Yusof Ishak Institute. He is Coordinator of the Regional Social and Cultural Studies Programme.