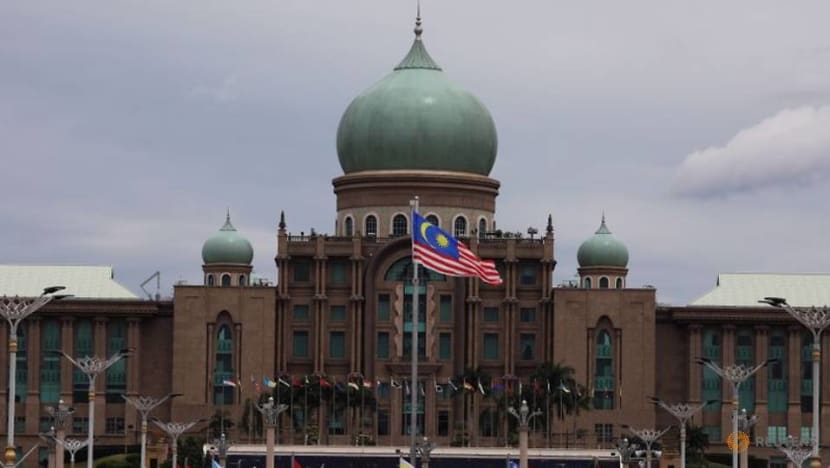 KUALA LUMPUR: Mr Muhyiddin Yassin's resignation as prime minister on Monday (Aug 16) has again sparked a flurry of negotiations among Malaysia's major political players in finding the right candidate as his successor. 
Various political parties have reportedly set in motion the task of talking to each other on their list of possible candidates to be submitted to the king for his consideration as the next prime minister of Malaysia. 
The king is meeting with major party leaders on Tuesday, as a first step towards identifying who commands the support of the majority of lawmakers. 
Meanwhile, the MPs have been asked to submit a declaration letter to the palace to state an individual they support to be the next prime minister. The deadline is 4pm on Wednesday.
In his meeting with the king to tender his resignation, Mr Muhyiddin agreed to stay on as caretaker prime minister until a new prime minister is appointed.
As the convention goes, parties which have big representation can likely sway the choice for the new prime minister. They are also likely to be given priority to submit their list of candidates to be considered by the palace.
The United Malays National Organisation (UMNO) and its Barisan Nasional allies, which form one of the biggest factions in the Malaysian parliament with 41 MPs, have reportedly put up three possible candidates.
Subject to the party leadership's final confirmation, UMNO's top contenders for the post are former deputy prime minister Ismail Sabri Yaakob, veteran lawmaker Tengku Razaleigh Hamzah and former senior minister Hishammuddin Hussein, according to a Reuters report citing an analyst.
Malaysian media also reported that efforts have been ongoing since last Sunday to collect signed statutory declarations (SDs) from various MPs to support Mr Ismail Sabri as prime minister.
Mr Ismail Sabri was appointed by Mr Muhyiddin as his deputy last month, in one of the latter's attempts to ease growing tensions with a group of UMNO's MPs led by party president Ahmad Zahid Hamidi.
Mr Ismail Sabri, 61, is believed to be the choice for Mr Muhyiddin's Perikatan Nasional (PN) coalition which has the backing of about 100 MPs in the 222-member parliament. 
A former UMNO minister, Mr Nazri Aziz, was reported as saying by the Star last Sunday that he had signed an SD endorsing Mr Ismail Sabri to be the next prime minister.
Among UMNO MPs who support the PN coalition, there are also those who think that Mr Hishammuddin, the foreign minister, is a potential candidate who can command the necessary majority, especially among MPs from the coalition.
Mr Hishammuddin, 60, together with Mr Ismail Sabri, was among the group of about 20 UMNO MPs who decided to stick with PN despite the announcement by Ahmad Zahid in early August that the party's supreme council had decided to withdraw its support for Mr Muhyiddin's government.
The decision which led to 15 UMNO MPs withdrawing their support for the government drew further demands from Mr Muhyiddin's opponents, who stated that he needed to prove in parliament that he still had the majority. 
Instead of giving their support to Mr Ismail Sabri or Mr Hishammuddin, UMNO MPs who had gone separate ways from PN are said to be keen that Tengku Razaleigh, a former minister and UMNO veteran, be considered by the king as possible successor to Mr Muhyiddin.
According to UMNO sources, the 84-year-old Gua Musang MP would be one of the names to be submitted by the UMNO faction led by Ahmad Zahid.
Tengku Razaleigh or Ku Li, as he is popularly known, has held several ministerial posts in his long career of nearly 50 years as MP.
The sources quoted by the Star said that UMNO supreme council's decision on its choice of prime minister candidate would indicate that the Kelantanese veteran politician as its preferred choice. 
Seen as a compromise candidate between the UMNO factions, Tengku Razaleigh's name has been frequently mentioned by UMNO grassroots as a possible interim prime minister pending a new general election if no candidate can be identified as Mr Muhyiddin's successor.
Outside UMNO's circle of MPs, opposition leader Anwar Ibrahim is widely seen as another likely candidate who can garner sufficient support in the Lower House to be the next prime minister. 
As leader of the Pakatan Harapan (PH) coalition and supported by about 90 MPs from his Parti Keadilan Rakyat (PKR) and its allies the Democratic Action Party (DAP) and Parti Amanah Negara (Amanah), Mr Anwar has been staking claim to the prime ministership since late 2020, when Mr Muhyiddin government's true level of support in parliament was in doubt.
Both DAP and Amanah reiterated that they will back Mr Anwar for the nation's top post.
Previously, the 74-year-old former deputy prime minister had made several attempts to show that he had sufficient support for the prime minister job, but so far has failed to prove it in parliament.
This time around with only 88 lawmakers in the PH coalition who have made it clear that they back him for the post, Mr Anwar appears to be a distance away from the required minimum number of 111 MPs to command a majority.
PH's former allies including former prime minister Dr Mahathir Mohamad's Parti Pejuang Tanah Air, Sabah-based Warisan led by Shafie Afdal and former Bersatu independent MPs, who between all of them have 14 lawmakers in the lower house, have either turned down or not indicated any support for Mr Anwar's bid. 
The Star, citing a source, has reported that in order to sway Mr Shafie to accept PH's prime minister candidate, he has been offered the deputy prime minister post.
"Pakatan's request for Warisan's support of their eight MPs is crucial and this is why the offer of deputy prime minister post was made to Shafie to butter the deal," said the source.
A source from Warisan said that Mr Shafie should accept it for the sake of Warisan as it would bring Warisan back into the federal government.
"There is no such thing as permanent enemies in politics. I am sure Shafie is considering it seriously as it seems to be a good deal and Anwar seems to be sincere for his support," said the Warisan MP, according to the Star report.