Commentary: PM Muhyiddin Yassin's resignation signals UMNO's back in driver's seat
The political crisis in Malaysia has taken a dramatic turn with Muhyiddin Yassin's resignation, which paves the way for "business as usual" politics to creep back in, says Tricia Yeoh.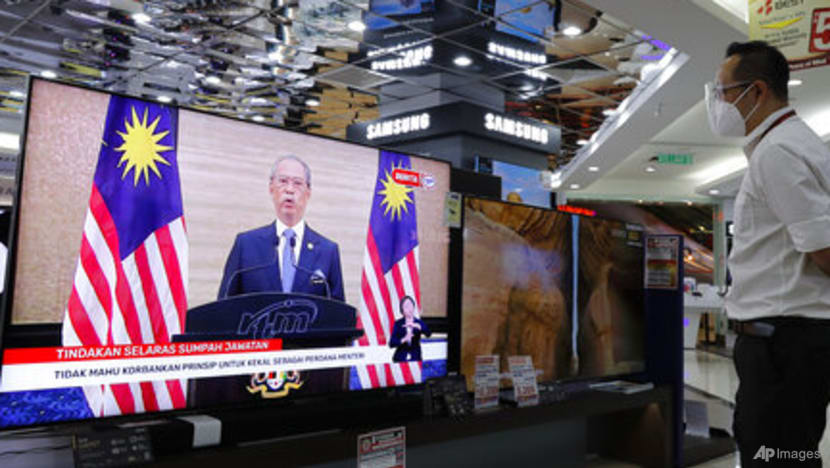 KUALA LUMPUR: Malaysian Prime Minister Muhyiddin Yassin submitted his resignation letter to the King on Aug 16 (Monday) which the latter accepted, but the political impasse has still not yet been resolved.
Though Muhyiddin has been appointed caretaker prime minister until a new prime minister is identified, the political crisis has only deepened.
And yet Muhyiddin felt he had no choice. His hand was forced when it became clear in the last few weeks that his already razor-thin majority was coming into sharper focus.
His government has come under fire for the country's COVID-19 situation, which has seen infection numbers skyrocket to more than 20,000 cases and a few hundred deaths each day.
Last Friday (Aug 13), he offered a slew of political reforms to the opposition that curb the powers of the ruling coalition and office of the prime minister while strengthening diversity of representation in Parliament, in exchange for support for a confidence motion.
This last-minute gesture was rejected wholesale by Pakatan Harapan, alongside other opposition parties.
While the opposition would have opposed the deal regardless of what it contained, they knew they had the upper hand. These proposed reforms – including limiting the prime minister position to two terms – could only have been offered by a weak government.
Yet now, these reform promises are likely to be out the window. It's a huge pity.
Now that the cards have been dealt, the next few weeks will be fraught with even more uncertainty.
UMNO'S RETURN TO POWER?
To start, there doesn't seem to be consensus over who the prime minister will be.
At the time of writing, no one Member of Parliament clearly commands the majority of the Lower House of Parliament.
With political leaders distracted with ensuring their survival and earning a plum position in the new government, public policy could be left largely in the hands of the civil service.
There are also questions surrounding the leadership of the national immunisation programme and the national recovery plan, both crucial parts of the country's COVID-19 management.
Malaysia is at a pivotal point in its COVID-19 battle and is clocking some of the highest cases the country has seen. It will be unfortunate if the turn of events results in a setback in the pace of Malaysia's vaccination efforts.
Second, UMNO is set to return to power since it is the largest party in the ruling coalition, with 36 of the 222 parliamentary seats, compared to Bersatu, which has 31 according to the Malaysian Parliament's official website. It holds most of the cards if it can maintain party unity.
The situation primarily benefits UMNO as it will likely be given key ministerial positions in any deal it makes with other parties to form a ruling coalition. UMNO's grassroots networks will be strengthened with the eventual distribution of government funds through these prime positions.
However, UMNO is split several ways, meaning it is unclear which faction will have its say over the prime ministerial candidate.
Even if they coalesce around a single candidate, this may only represent a weak minority of support within the party and may not guarantee certainty. Let's not forget Members of Parliament can defect to another party – leaving any government formed fragile, even shaky.
For now the frontrunners are Ismail Sabri and former deputy prime minister Tengku Razaleigh Hamzah.
UMNO president Zahid Hamidi seems to be in support of the latter, while former prime minister Najib Razak's name has not surfaced as a potential candidate, possibly due to his ongoing 1MDB-related court cases.
For Malaysians, the return of UMNO is a signal that the country has regressed from its path of democratic consolidation. The very party voted out in the 14th General Election (GE) in 2018, rejected by voters, has not only returned to hold all the keys to forming just the government, but the choice of prime minister.
In Malaysia, the prime minister wields the most power and control over the government's administration, with access to an extremely wide network of public resources.
If that scenario plays out, UMNO is in a stronger position to consolidate between now and the 15th GE. This includes the ability to entice MPs back from Bersatu, or even force a situation in which Bersatu would have to dissolve as a party altogether.
Being the party in government with the largest number of MPs would also restore its position of "big brother" within the coalition, determining who contests in which seat for the 15th GE, as well as eventually overshadow the other parties.
For all its years in BN, UMNO operated as the dominant party, while coalition parties like Malaysian Chinese Association and Malaysia Indian Congress were only ever given rudimentary decision-making powers, if at all.
If that happens, Malaysians could revert to a culture of political party patronage and corruption that has plagued the political system for far too long.
UMNO has been used to operating as the party synonymous with government, and hence has been able to make use of state institutions to gain political advantage without being too concerned over any conflict of interest.
UMNO as a dominant party until May 2018 has also never seriously embarked on any reforms despite the progressive wing of the party pushing for a rethinking. This is likely to be its position when it returns to power.
REFORMS MUST COME WITH CHANGE IN GOVERNMENT
 A last scenario is the formation of a unity government held together by a Confidence and Supply Agreement (CSA) – which bundles together bills and a motion of confidence that MPs vote on, in exchange for allocations of funds for use in their constituencies.
It was a huge pity when such a CSA was already part of the deal Muhyiddin had offered. The package would have essentially given the opposition a seat at the table through opportunities to co-lead pandemic and economic management and positions within Parliamentary Select Committees.
Other reforms that Muhyiddin had promised included equal constituency development funding to all political parties alike, the lowering of the voting age to 18 years, and laws to prevent MPs from defecting to another party – deals the opposition had previously pressed for.
Had Muhyiddin been given the chance to push these through in Parliament and carried them out as promised by July 2022, these would have strengthened the opposition's position ahead of the 15th GE. There is no guarantee a new CSA to support a unity government can match the reforms Muhyiddin had put on the table.
Three weeks remain until the next parliamentary sitting is due to take place on Sep 7. Until then, all political parties including those within Perikatan Nasional and Pakatan Harapan will likely be negotiating an advantageous solution that works for them, at least until elections can be safely held.
Tricia Yeoh is CEO of the Institute for Democracy and Economic Affairs.
ISEAS-Yusof Ishak Institute's Dr Francis Hutchinson and Singapore Institute of International Affairs' Dr Oh Ei Sun talk about UMNO, Ismail Sabri's government, and if the dynamics are simply part of Malaysia's journey towards becoming a "normal" democracy: