Commentary: Loh Kean Yew's smashing World Championships win is no fluke
Loh Kean Yew's unique expeditions post-national service might have made the sum difference in him getting to the top of the badminton world, says Jan Lin Lee.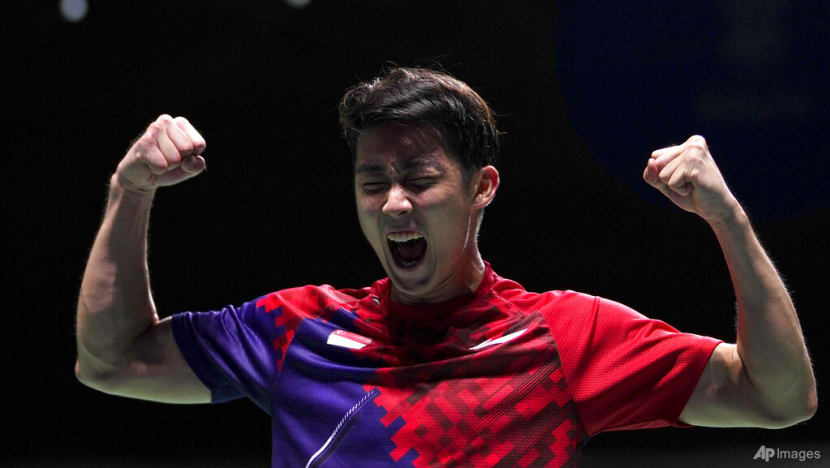 SAN FRANCISCO, California: The speed, the precision, the badminton IQ. Those watching Loh Kean Yew at the 2021 BWF World Championships in Spain have witnessed one of the biggest sporting moments in badminton history.  
The 24-year-old has smashed his way to a historic victory, defeating several top seeded players methodically, one mad match at a time.
This fairy tale run rounds up nearly 20 years since a Singaporean male shuttler stood on the podium of a badminton world championship.
When then 18-year-old Kendrick Lee lost to China's Chen Jin in the final of the 2002 World Junior boys' singles final to win Singapore's first ever silver medal at a badminton major event, anticipation was high in the local badminton fraternity of an exciting future.
Even as it did take a while for our youth to become truly competitive beyond the junior stage.
Indeed, badminton big guns like Chen Jin, Chen Long, Viktor Axelsen, and Kento Momota were all World Junior Champions before winning the men's edition later on. Lin Dan and Lee Chong Wei were bronze medallists in their World Juniors' event before breaking away from the pack.
In fact, 2002 was historic for Singapore men's badminton also because Hendra Wijaya, who had relocated to Singapore from Indonesia in 2000, also bagged a bronze medal in the boys' singles event alongside Lee. Hendra later teamed up with his brother Hendri to forge a men's doubles partnership winning medals at SEA Games and Commonwealth Games.
2002 was also the year when Ronald Susilo – Singapore's biggest badminton household name in the last two decades – donned Singapore national colours for the first time on the big stage nine years after arriving in Singapore to study at ACS (Independent) at 14.
FOCUSING ON GROOMING TALENT AT A YOUNG AGE BETTER STRATEGY
Loh's victory unlocks an interesting pathway of success for Singapore badminton in the coveted men's singles event and suggests the Singapore Badminton Association's pivot from the Foreign Talent Scheme towards youth development since 2014 is paying off.
Susilo, who achieved a career high ranking of world number six in 2004, had spent his youth honing his craft by playing in Singapore interschool tournaments and local championships, very much like Lee and other local stars who made it through the ranks and Loh is simply next in line.
Lee retired in 2008 and Susilo followed several years later. Lee never got past the second round at the World's, while Susilo's best result was a quarter final finish at the 2007 edition, which was also the last time he competed in the event.
Now, Loh was 13 when he arrived in Singapore from Penang in 2010 after receiving a scholarship from the Singapore Sports School to study and train as a student-athlete.
Like many promising Malaysian shuttlers, he was also offered a spot at the Bukit Jalil Sports School in Kuala Lumpur that has groomed numerous world class athletes for the nation.
In an unlikely move encouraged by the family of fellow Penangite-turned-Singaporean shuttler Terry Hee, his parents seized the opportunity for their son to be relocated across the Causeway to join older brother, Kean Hean, who had arrived a year earlier to study at Montfort Secondary School, known for having a steep local badminton tradition and success.
Kean Hean had taken the conventional local path to promptly continue his post-secondary education at Republic Polytechnic before enlisting in national service (NS) in 2017. But Loh Kean Yew took the less beaten local path by dropping out of his Republic Polytechnic diploma studies to enlist in NS in 2016 and was operationally ready (ORD) in 2018.
SQUARING AWAY NATIONAL SERVICE
Kean Yew is certainly not the first promising national shuttler to defer his post-secondary education in order to first complete NS at the prime of his youth in having a shot at succeeding as a full-time badminton player.
Derek Wong, made the same move in a bid for professional sporting success after completing his O-levels at Montfort Secondary School. At 20, after his ORD in 2009, Wong quickly became the face of men's badminton in Singapore until his last major tournament at the 2016 Rio Olympic Games.
Wong's retirement left a painfully empty void in the men's singles event for Singapore, where the nation was unrepresented in men's singles at the World Championships in 2017 and 2018, until Loh took over the baton in 2019. He was knocked out in the third round in his first outing.
While Wong neither scaled high on the world rankings, he did bag a historic men's singles silver medal for Singapore at the 2014 Commonwealth Games.
Derek's father, local badminton legend Wong Shoon Keat, did question on hindsight if the move proved more detrimental to his son's sporting development and career, saying if his son had deferred NS and continued studying, the outcome may have been different.
Loh too candidly shared on social media that while he enjoyed NS, the two years in service did affect his badminton career.
What made a difference was a remarkable "plot twist" immediately after his ORD when he was 21.
NON-STOP ACTION SINCE ORD-ING
Just weeks after completing his NS in 2018, determined to make up for "lost time", he signed with Langhoj Badminton Club of the Danish Badminton League based out of the small Danish city of Struer for three months.
The Danish badminton league and club system is touted as the "secret sauce" behind Denmark's smashing success in the world of badminton despite being a small country of just 5.8 million. It is a rare and unprecedented opportunity for Singaporean shuttlers to compete in their league. And it paid off.
In his three months based in Denmark, Loh maximised his time in Europe travelling to Germany and Scotland where he dove right back into international tournaments, as rusty as he was.
While he had no titles to shout about in that fresh-out-of-ORD period playing in Europe, it was nevertheless an experience that had thrown him into the deep end where he had to learn how to swim, or rather, play badminton and survive in an utterly foreign environment on his own.
The 21-year-old returned to Asia profoundly shaped by that experience. In January 2019, Loh arrived in Thailand where he officially made his first firm mark in the world of badminton. At the 2019 Thailand Masters, a BWF World Tour Super 300 event with a total prize money of US$150,000, the unheralded Loh played through qualifiers to reach the men's singles final.
He shocked top seed and the once indomitable Lin Dan in two straight games to claim his maiden BWF World Tour title.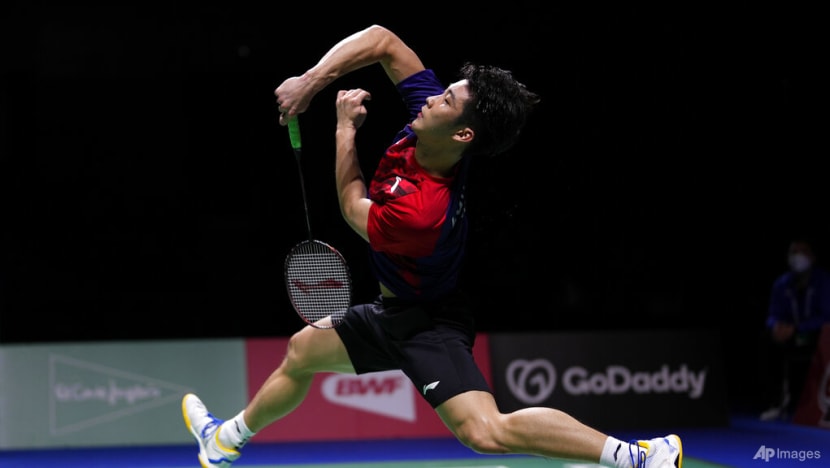 Loh would also end 2019 on a high by winning the silver medal at the SEA Games in the men's singles event losing to Malaysia's Lee Zii Jia in the final. The Commonwealth Games and SEA Games in 2022 could cement the birth of a "badminton causeway derby" between these two men's singles hotshots.
Before 2019, the last time a Singaporean made the SEA Games men's singles final was in 2007 when Kendrick Lee took home the silver medal. That win itself was a rare major feat 24 years after Wong Shoon Keat won Singapore's first and only SEA Games men's singles gold medal.
FROM OUT OF HIS LEAGUE TO OUT OF HIS COMFORT ZONE
But COVID-19 put the whole world on a standstill last year. As it persisted into 2021, the newly crowned Tokyo 2020 Olympic champion Viktor Axelsen handed Kean Yew an unmissable opportunity to join him and a few other shuttlers in a unique month-long training camp organised by the 27-year-old Dane in Dubai.
This once unthinkable move orchestrated by Axelsen speaks of the emergence of a new, highly globalised generation of shuttlers breaking down national borders even – or especially – in a time of COVID-19.
What was competing at a postponed, pandemic Olympics like? Swimmer Quah Ting Wen and rower Joan Poh share their experiences on CNA's podcast, Heart of the Matter:
Loh may have felt out of his league when he landed the sparring opportunity with the Danish Olympic and World Champion but he has a charismatic confidence that threaded the needle, allowing the development of a unique friendship of mutual respect with Axelsen.
India's young star Lakshya Sen, who won the bronze medal at his maiden World Championships outing, was also part of the small group handpicked by Axelsen to spar with him in Dubai. Yet beyond the technical benefits of training with Axelsen, it is a morale booster like no other just to be fully regarded and acknowledged as a peer by an Olympic and World Champion.
In a sense, one could say Loh was in the right place at the right time. But this Singaporean shuttler's ascension to the top of elite badminton cannot be put down to just one thing. It is a unique, mixed bag of factors that have simply converged in his favour.
The 13-year-old boy who arrived in Singapore and cried because he was homesick has transformed into a young man fuelled by an audacious sporting mission. That he was unafraid to take risks and seize opportunities – no matter how unconventional, remote, or uncomfortable they were – made a difference in turning what was once just a dream into reality today.
A film producer based in California, Jan is a former school badminton player and has fond memories working on the professional badminton circuit and for the Olympics as a media professional.