Commentary: Huge benefits but many challenges to high-speed rail between Bangkok and Kuala Lumpur
Thailand and Malaysia see a rail connecting their two capitals as a joint venture to enhance land transportation. But neither country has sufficient technology nor capital, and it is uncertain whether potential financiers are eager to support it, says this security researcher.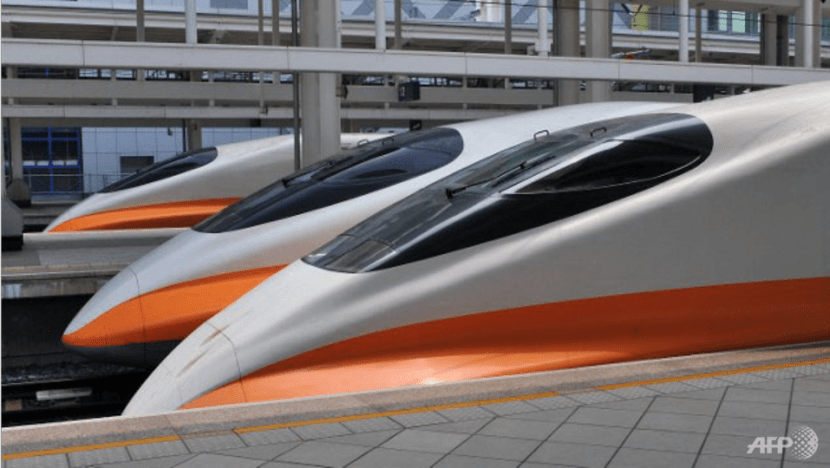 SINGAPORE: With pandemic restrictions easing, especially for travel, some Southeast Asian countries have resumed the pursuit of enhanced intra-regional connectivity. The Malaysian and Thai governments last month established a joint committee to explore high-speed rail connections between Bangkok and Kuala Lumpur.
High-speed rail (HSR) has much in its favour for Malaysia and Thailand. Thanks to the rapid development of bilateral economic integration, including cross-border production chains, the demand for travel between the two countries has been rising.
The two metropoles, Bangkok home to 16.2 million people and Kuala Lumpur with an 8.4 million population, present strong potential markets for high-speed rail.
Both governments also prefer rail systems as a means of enhancing land transportation. Despite an unsuccessful high-speed rail project with Singapore, Kuala Lumpur is building the East Coast Rail Link and upgrading existing conventional networks of the Keretapi Tanah Melayu (KTM, Malayan Railways). 
Bangkok is known for its ambitious high-speed rail plans, with four routes shown in the design of the newly-opened Bang Sue Grand Station, in addition to improving the conventional networks of the State Railway of Thailand (SRT).
Spanning Bangkok and Kuala Lumpur would create a route that can be connected to other HSR lines, especially from Bangkok, to form broader networks extending to Laos and China. Aside from passengers, the likely standard gauge could serve direct freight services to China and other destinations through developments linked to China's Belt and Road Initiative (BRI). 
As such, it is not surprising that Thailand and Malaysia see a project connecting the two capitals as a joint venture. But there are hurdles – some unpleasantly high.
IS A HIGH-SPEED RAIL FINANCIALLY VIABLE?
The relatively long distance between Bangkok and Kuala Lumpur puts a high-speed rail line at a disadvantage when compared to aviation. High-speed rail is competitive with aviation for distances between 200 and 1000 kilometres, factoring in likely time advantages given that rail stations are typically closer to city centres. 
But depending on the precise route, the distance between the Thai and Malaysian capitals is between 1400 and 1500 kilometres, giving air travel an advantage. Many budget carriers operate out of Malaysia and Thailand, so high-speed trains may not offer a cheaper alternative to flying, either. The financial case might not stack up.
Coordination will be another challenge. Previous high-speed and other major rail projects respectively conducted by Bangkok and Kuala Lumpur have been supported by external providers of technology and finance, mostly via Beijing.
Similarly, this high-speed rail project could not be merely bilateral, as neither Malaysia nor Thailand would not have sufficient technology or capital to see the project through. Although Japan is willing to promote its locally-constructed Shinkansen systems overseas, its restrictive financial support may not fit this project, illustrated by a lack of progress with Thailand on another development between Bangkok and Chiang Mai.
Presently, China would appear the most likely candidate to serve as an external provider, linking the project as part of the Singapore-Kunming Rail Link (SKRL), a larger development between China and several Association of Southeast Asian Nations members.
Whether Chinese decision-makers are still eager to secure overseas projects, as they did in the pre-pandemic era, would be uncertain. 
The up-and-down progress in negotiations for Chinese support for a high-speed rail connection between Bangkok and Nong Khai in northern Thailand suggests that China's financial capacity and flexibility have limits. Problems elsewhere, such as the Belgrade-Budapest HSR project, may have tempered Beijing's enthusiasm.
A major obstacle is any high-speed rail line linking Bangkok and Kuala Lumpur will unavoidably need to go through southern Thailand where an insurgency remains active.
Fixed constructions, such as tracks, bridges and other facilities along a high-speed rail line, could be obvious targets for sabotage. To build up security along the route would add cost, and the protection may not be comprehensive enough.
OTHER TRANSPORT ALTERNATIVES ARE POSSIBLE
With all these constraints, the joint committee may face difficulties in deciding the feasibility of the proposal. But a high-speed line is not the only option for rail transportation. Existing KTM and SRT lines between the two capitals are available for upgrade. 
As KTM has electrified and double-tracked its West Coast Line from Kuala Lumpur to the border, the SRT section requires more improvement where diesel-powered engines run along a single track.
Upgrading these sections will not offer fast transportation, or the potential connection with China, but it would be more affordable.
Moreover, an upgrade project would be more assessable for passengers and cargo and be compatible with the existing metre-gauge networks in both countries.
Malaysia proposed upgrading its KTM line to be an alternative to the high-speed rail project to Singapore, and a similar option may be available as well for the committee to decide between Bangkok and Kuala Lumpur.
As the risk of a pun, the committee is only now departing at the beginning of a long journey.
Dr Wu Shang-Su is an assistant professor at the Rabdan Academy in Abu Dhabi
. 
This commentary first appeared in Lowy Institute's blog The Interpreter.