Commentary: Give Michelle Yeoh her Oscar already
With a Golden Globe under her belt and a likely Oscar nomination on the way, Michelle Yeoh is everywhere all at once. It's about time Hollywood recognised what Asian fans have known for years, says Tracy Lee.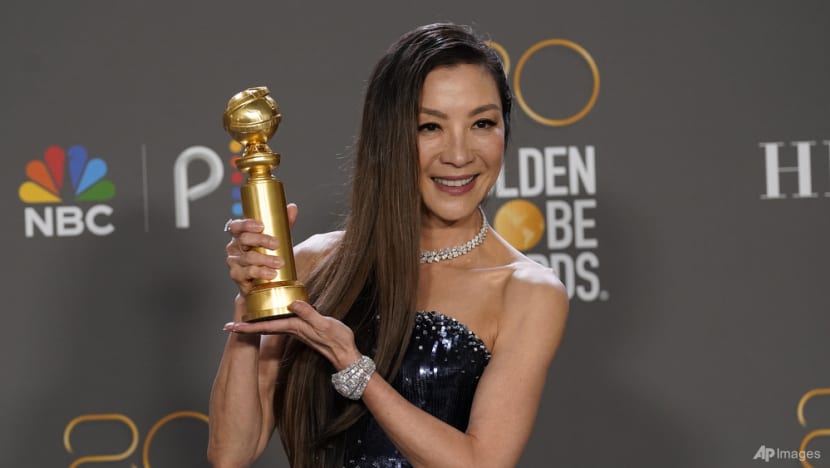 SINGAPORE: "Forty years, not letting go of this", said Michelle Yeoh on Jan 10, holding on to her best actress Golden Globe award for her leading role in the movie, Everything Everywhere All At Once.
Hollywood doesn't seem ready to let go of her either. The day after her win, the Malaysia-born actress was nominated for the Screen Actors Guild Awards - seen as a more reliable indicator of the Academy Awards. Oscar nominations will be announced on Tuesday (Jan 24) and already, Yeoh is seen as a frontrunner alongside stars like Cate Blanchett.
Yeoh has had a meteoric rise in Hollywood these past few years, thanks to memorable supporting roles in recent blockbusters Crazy Rich Asians and Marvel's Shang-Chi and The Legend of the Ten Rings, and striking leading roles in hit Netflix series The Witcher: Blood Origin and an upcoming Star Trek spinoff.
No wonder Time magazine recently named the 60-year-old its 2022 Icon of the Year.
It's nice to see that Hollywood has finally caught on. In Asia, fans of Hong Kong cinema have long considered her a movie icon from popular 1980s and 1990s action flicks. Come Chinese New Year, there's a good chance Yeoh will be on our screens.
FROM BOND GIRL AND MATRIARCH TO INTERDIMENSIONAL HERO
Perhaps her reputation for turning down roles that perpetuate harmful tropes about Asian women might be the reason it took that long for her to land her first leading role, and to gain the kind of international acclaim she so deserves.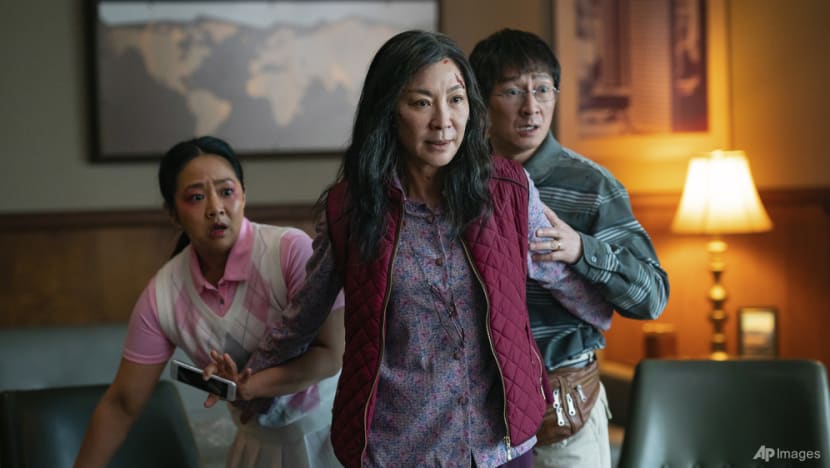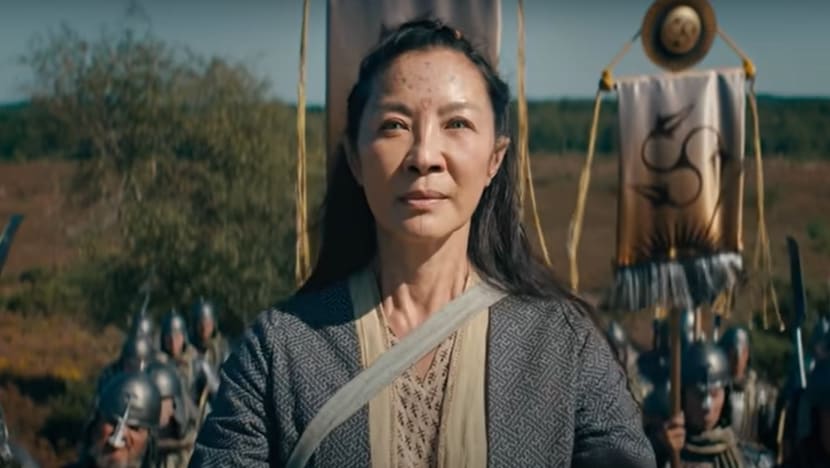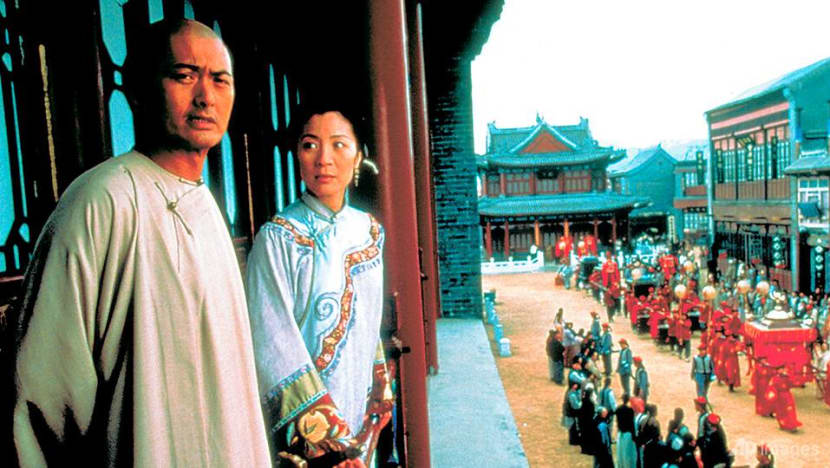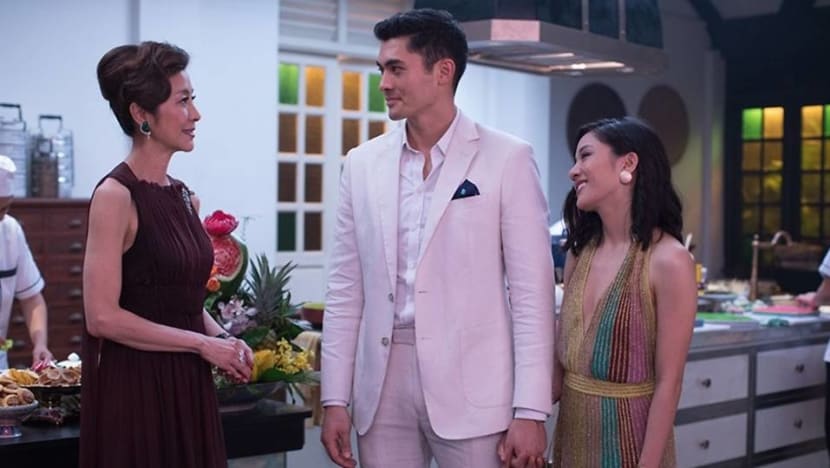 Yeoh has pretty much always done "strong and steely": Think skilled warrior in Crouching Tiger, Hidden Dragon and the tough Bond girl in Tomorrow Never Dies, doing her own stunts along the way. Or the elegant imperious gravitas as a prominent geisha in Memoirs of a Geisha, as Aung San Suu Kyi in The Lady, or an intimidating taitai in Crazy Rich Asians.
Everything Everywhere All At Once sees Yeoh playing Evelyn Wang, a middle-aged Chinese-American immigrant, dutiful daughter, supportive wife and understanding mum, who must connect with parallel universe versions of herself - Beijing opera singer, kungfu master, knife-wielding chef, red carpet glamour puss, to name a few - to save the multiverse from destruction.
"When I read the script, I thought, this is something I've been waiting for, for a long time, that would give me the opportunity to show my friends, my family, my audience, what I am capable of - to be funny, to be real, to be sad. Finally, somebody understood that I can do all of these things," she said in a CBS interview.
In interviews, Yeoh has also recounted how she was blown away by the fact that this superhero character was an "ordinary, ageing, Asian immigrant woman" - an auntie essentially.
NOT RESTRICTING ASIANS TO STEREOTYPICAL ROLES
Might Michelle Yeoh just be the right person at the right time, to be the poster girl for diversity, battling ageism, racism and sexism in one fell swoop (or one graceful gongfu kick)?
After Crazy Rich Asians was released in 2018, Time.com reported that it raked in US$238 million at the box office worldwide and reinforced the idea that diversity could also mean good business, while social media campaigns like #OscarsSoWhite "called attention to inequality and erasure".
"You don't understand how important representation is until you see it and realise you've been missing it your whole life", said Yeoh's Crazy Rich Asians co-star Awkwafina.
And as Yeoh told Time magazine: "You can see there are less roles when you start ageing. You get relegated to very familiar kind of older women roles.
It's not just about more Asians actors in films, but also about not restricting them to "Asian roles" that tend to be tired old stereotypes. We've seen some glimpses of this in recent years: Think Henry Golding as a romantic lead in Crazy Rich Asians, Dev Patel as a knight in King Arthur's court in The Green Knight or Akwafina as a pickpocket (and not say, the hacker) in Ocean's 8.
It's high time for Hollywood to move past tired old movie stereotypes of Asians once and for all, even for its domestic audience. A 2021 University of California at Los Angeles report on Hollywood diversity said that "America's increasingly diverse audiences prefer diverse film content".
GIVE MICHELLE YEOH HER OSCAR ALREADY
Streaming services seem to have done this better. Besides bringing Korean dramas - like Netflix's most-watched series Squid Game - to a more global audience, Netflix has put out original content with Asian leads, like Ali Wong and Randall Park in Always Be My Maybe, Maitreyi Ramakhrishnan in Never Have I Ever and of course, Michelle Yeoh in The Witcher spinoff.
If Hollywood doesn't catch up, there's a big chance more of us will become likely to give the movies a miss, and just stay home and stream something where the people look a lot more like us.
In the meantime, it's encouraging to see Asian films being recognised by Hollywood. South Korean film Parasite was the first non-English language film to win a best picture Oscar in 2020 and a year later, Minari actress Youn Yuh-jung became the first Asian to win the best supporting actress Oscar in more than 60 years.
It's certainly better late than never that Hollywood has learnt to recognise the talents of Michelle Yeoh.
"Every rejection, every disappointment, has led you here to this moment. Don't let anything distract you from it," says Waymond Wang, Yeoh's onscreen husband, in Everything Everywhere All At Once.
This is Michelle Yeoh's moment. Just give her the Oscar already!
Tracy Lee is a freelance writer based in Singapore who writes about food, travel, fashion and beauty.