Commentary: Why Netflix wants to charge you for sharing your password with friends
After losing subscribers for the first time in a decade, Netflix plans to charge users worldwide who share their accounts with non-members. This move could be lucrative in the long run, says NUS Business School's Zhang Yan.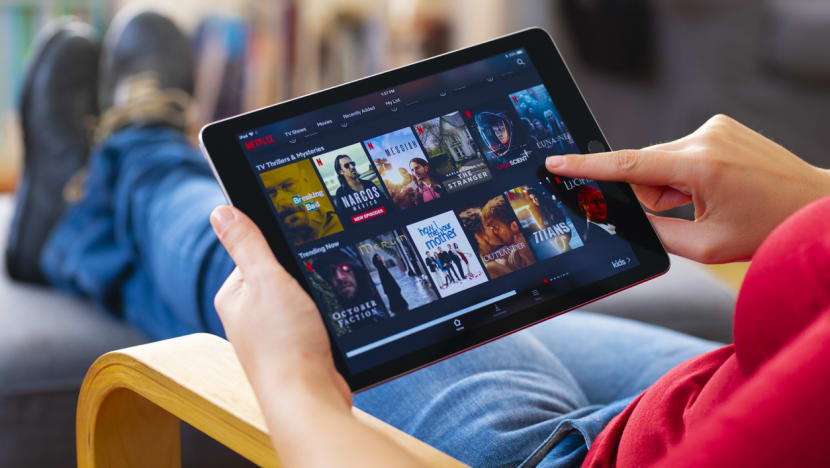 SINGAPORE: Netflix is fighting an uphill battle to keep its audience. It lost 200,000 subscribers in the first quarter of 2022 – its first net loss in a decade and well below its target of adding 2.5 million subscribers.
This disappointing report prompted a mass sell-off that wiped out 36 percent of its value on Apr 20.
CEO Reed Hastings famously proclaimed in 2017 that Netflix's greatest competitor was sleep. But when discussing the most recent loss of subscribers, the streaming giant pointed fingers at inflation, its exit from Russia following the Ukraine invasion, competition with other platforms – and password sharing.
Netflix says more than 100 million households globally are accessing the platform through a shared password, without subscribing to it themselves. It plans to implement a worldwide charge on password sharing, to earn revenue from those piggybackers. This charge is already being trialled in Chile, Costa, and Peru. Users have to pay about S$3 to S$4 for each additional user from different households, up to a maximum of two.
Some investors are skeptical about Netflix's crusade against free riders. After all, Netflix has turned a blind eye to password sharing up until recently, so password sharing alone cannot explain this quarter's shocking performances.
Just how much will rolling out the charge to other markets move the needle on Netflix's performance?
PASSWORD SHARING NOT ALWAYS AN ISSUE TO DIGITAL SERVICES
The digitalisation of services makes password sharing widespread, with people sharing subscriptions for online newspapers, mobile applications, and video games with family and friends. Consumers who choose to use others' accounts tend to be light users. By their calculation, their usage does not justify a full subscription.
Even though service providers lose out on subscription fees with password sharing, many choose not to crack down on the practice. Some service providers even encourage it.
Many digital services connect two sides of the market. For example, news publishers provide a platform that connects readers who pay for the news with advertisers who pay for ad space. They then benefit from a larger network effect – the larger the readership, the more advertisers.
Naturally, news publishers prefer a bigger readership to attract more advertisers and charge higher fees to them. So platforms that rely on ad revenue do not see password sharing as a sin, especially those that earn most of their revenue from advertising.
In extreme cases, platforms such as Facebook choose to provide services to individual users for free. Major American news channels, such as NBC and CNN, have free channels on YouTube. For such platforms, the best strategy is to maximise the user pool to earn more advertising revenue.
NETFLIX INTENT ON CURBING PASSWORD SHARING
But Netflix earns its revenue from consumer subscriptions, not advertisers. To it, a free rider is a free rider; they do not bring in any revenue. This could be why Netflix is motivated to curb password sharing to eliminate the drain on potential profits.
Two-step verification, a measure Netflix introduced last year to get users to prove they are account owners with a code, makes checking much easier for the company, paving the way for it to rein in on password-sharing.
According to estimates by US financial services company Cowen, Netflix stands to earn an additional US$1.6 billion annually by charging for password sharing globally. That's about 4 per cent of the firm's 2023 revenue projection of US$38.8 billion.
This estimate assumes about half of Netflix password-sharing users will become paying members, who will either pay for a full subscription or join the multiple-user programme.
HOW WILL USERS REACT?
Whether Netflix could reap the predicted US$1.6 billion depends on many factors. Consumers will re-evalutate the costs and benefits of borrowing a password. If it only involves getting the login details from a friend, the cost is meagre.
A two-step verification process makes password sharing costlier especially if the viewers don't live under one roof. It could be annoying if you have to call your friend every time you want to watch your favourite show.
This may push some piggybackers to opt-in for the multiple-user feature. Paying a few dollars per month to get rid of the hassle sounds like a good deal. Even those who are not currently Netflix users might be tempted to sign up if the multiple-user programme is attractive enough with the low monthly price.
Yet, not everyone will sign up. Light users who borrow passwords may decide to leave Netflix completely, since watching a show once in a while will not justify the fee.
What complicates the picture is that some subscribers may renounce their full subscription, switching to the multiple-users programme instead. The "cannibalisation" of existing accounts could be more serious in less wealthy markets and negligible in high-income markets.
COULD CURBING PASSWORD SHARING PAY OFF IN THE LONG RUN?
Like other digital service providers, Netflix faces a high cost of procuring content and setting up infrastructure such as servers. But servicing an additional customer adds little to its cost.
While S$3 or S$4 a month sounds puny compared to the full subscription price of about S$20, the multiple-user programme could be lucrative as long as some free riders sign up. Some may even eventually get their separate, heftier subscriptions down the line. Others may be unhappy at Netflix's change of heart about password sharing, but it remains to be seen how many actually leave the platform because of this.
As the market for online streaming services matures, Netflix needs to lock in users before they flock to competitors. Disney+ added 11.8 million new subscribers in the last quarter of 2021 and Apple TV+ might surge in popularity as home to the first film on a streaming service to snag an Oscar best picture award.
Consumer behaviour may be on Netflix's side - they tend to stick to the same digital service provider and rarely consider switching unless necessary. If the effort of curbing password sharing can convert piggybackers to subscribers – though at a lower profit margin – it could benefit Netflix in the long run.
Netflix's Hastings said the firm is looking at rolling out lower-priced plans that come with ads. This could potentially relieve the reliance on subscriptions and help Netflix earn revenue from a different source. Simply reducing subscription fees may not be a palatable step for Netflix to take – it may bring in more subscribers, but it also creates more consumer resistance to price hikes in the future.
Is the solution to provide more quality content? Before Netflix had as many competitors as it has now, it could bring in a wider variety of shows that cater to many tastes. But the strategy of catering to everyone implies that some niche shows may not attract enough viewers to break even.
With more competitors entering the business, Netflix may need to re-evaluate its strategy and look deeper into market segmentation to become more targeted.
Zhang Yan is an Associate Professor of Marketing at the National University of Singapore (NUS) Business School. The opinions expressed are those of the writer and do not represent the views and opinions of NUS.