Commentary: Could Netflix's decline end up as Sony's gain?
Netflix's shocking net quarterly loss of subscribers could reinforce Sony's position as the world's pre-eminent entertainment conglomerate, unless it pushes streaming services to consolidate, says the Financial Times' Leo Lewis.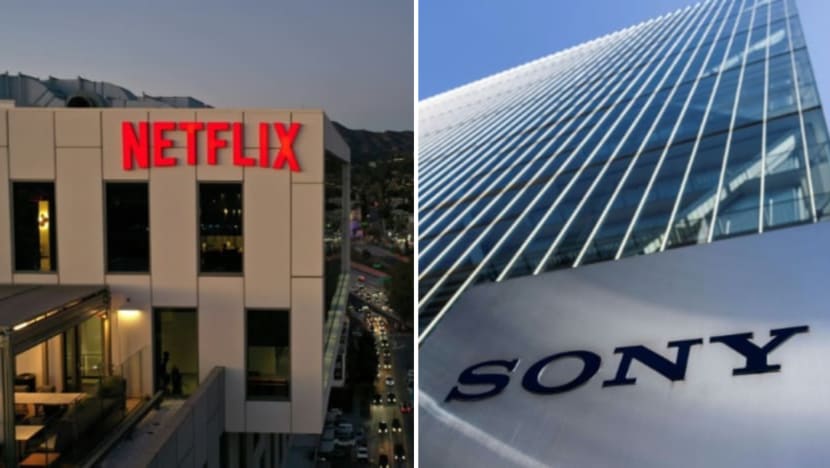 TOKYO: At the start of 2022, Sony seemed to be emerging from the indoorsy plague years as the integrated entertainer that it had always dreamt of being, a clear winner of the world's new relationship with content and a Netflix-era master of the non-streamer business model.
The Tokyo market, long used to being a narrative blur, seized upon the unfamiliar clarity of Sony's story. On Jan 5, its shares touched a 22-year peak in testament to that rarest of phenomena: A diverse group with multiple strategic bets all seeming to pay off at the same time, and crucially, with the conviction that the fun would last indefinitely.
The doubts – and a 35 per cent slide in the shares – began on Jan 6, led by concerns that chip shortages were hurting its console business and that Microsoft's deep pockets would make it a more formidable competitor than in previous rounds of the Xbox-PlayStation fight. 
But when Netflix stunned the investment world in April with a net quarterly loss of subscriber numbers and a forecast of deeper contraction to come, any residual certainties evaporated. 
Everyone loves an unstoppable juggernaut with immunity to a cost-of-living crisis, but Netflix now looks unsettlingly likely to be neither. The big question for Sony – now pre-eminent as the world's all-in entertainment conglomerate – is whether that leaves it stronger or weaker.
SONY MADE RIGHT CALL ON STREAMING?
It is easy to see why investors were excited about Sony in early January. Its games division, fronted by its flagship PlayStation5 console, had spent lavishly on tactical acquisitions of small studios – some to enhance the profit-rich catalogue of PS5 games made in-house and others to fortify the company for intensified competition in mobile and PC gaming. 
In music, Sony's decades of acquisition and catalogue-building all looked perfectly aligned for the times, especially if artists were free to perform live once again. In films, Spider-Man: No Way Home's global box office of US$1.8 billion made it the highest-grossing film of 2021 and the sixth-highest ever.
And critically, both in its TV and film business, Sony seemed to have made the right call on the streaming wars. Netflix, Disney, HBO, Hulu, Apple and Amazon were competing with one another as both distributors and creators of content. 
But Sony's "arms dealer" model meant avoiding becoming a streamer itself but selling its films and shows into the fray. This looked smart as long as it was generating great stuff (The Blacklist, Better Call Saul) and that the combatants were prepared to throw more money at their quest for dominance.
But the great Netflix subscriber wobble may demand a fundamental rethink: Analysts say the company will face the prospect of earlier than expected market saturation, and post-pandemic changes will benefit its competitors.
Netflix's strength was to slosh huge quantities of often fairly niche-interest content onto its platform to satisfy a wide range of tastes. The flagship blockbuster series of HBO, Disney and others were big draws to those services, but fewer in number and so less of a threat to the broad Netflix slosh.
The success of Netflix, meanwhile, has emboldened more content providers to set up their own streaming services, starving Netflix of outside content and in aggregate, beating Netflix in their range of shows. That range will become even greater now that COVID-era production constraints are ending.
CONTENT IS MORE VALUABLE THAN THE PLATFORM
For believers in the Sony strategy, the Netflix incident is encouraging. If we are indeed entering a phase in which cost-conscious households start rationalising their streaming services, then big unattached content providers such as Sony carry more weight. 
The music industry, says Jefferies analyst Atul Goyal, is the model here: Sony, Warner and Universal Music were always more valuable than Spotify, and this Netflix episode should make clear to investors that content is more valuable than the platform.
Others disagree, however. Netflix's forecast of a subscriber contraction could cement the parameters of the total video streaming market in their current place, creating a far uglier battle for market share and, potentially, the scope for consolidation. 
If Netflix's shareholders contract its budget for buying and financing shows, squeezing content providers, this could provide a headwind for the Sony model.
Yet that is less likely if the game remains one of beating all-comers. Before consolidation sets in, overcapacity is primarily a problem for the streaming services: As a major producer of films and TV, Sony's arms dealer model works very nicely. Once consolidation begins, however, the power shifts decisively to the winners and Sony becomes the classic price-taker.
Source: Financial Times/geh