Commentary: Kim Jong Un's tender moment with daughter at military parade speaks volumes of his succession plans
The display of affection between Kim Jong Un and his 10-year-old daughter at a massive military parade signals North Korea's nuclear weapons programme will continue for at least another generation, says Steven Borowiec.
SEOUL: Amid the displays of weaponry at North Korea's recent military parade, there was one moment of tenderness. Appearing at a podium in the main square of the capital city, Pyongyang, North Korean leader Kim Jong Un playfully brushed the cheek of his daughter Ju Ae. In response, Ju Ae reached up and clasped the sides of her father's face. The two locked eyes and smiled in an exchange of affection.
The occasion of the parade was the 75th anniversary of North Korea's army. The choreographed procession of military hardware was the country's largest-ever display of nuclear weapons. In a report on the affair, the Korea Central News Agency described the wares as "a stockpile of overwhelming force, to completely suppress and crush imperialist tyranny".
Ju Ae's presence on such a prominent stage, and the state media's decision to release the footage of this moment, provides a clue to the secretive country's future. Though Ju Ae is only believed to be around 10 years old, that she is already being highlighted in this way suggests that Kim has selected her to succeed him as leader of the country once she reaches adulthood.
Intelligence agencies believe that Kim has two other children, neither of whom have appeared in state media, which is the outside world's primary window into how things work in North Korea.
WHY IS KIM JONG UN PUTTING THE SPOTLIGHT ON HIS YOUNG DAUGHTER?
Ju Ae made her first appearance last year when she was photographed walking hand in hand with her father as he inspected an intercontinental ballistic missile.
Kim is believed to be around 40 years old, so it might seem early for him to have already selected his successor and begun preparing her for life in the spotlight. There may be a few reasons he is opting for this approach. 
First, it makes sense to note the longstanding practice of North Korean leaders highlighting their status as parents, both of their own children and of the nation generally. North Korea is a state that denies its people most civil and political rights on the premise that instead of deciding for themselves how to live, they must look to their leader for guidance as children look to their parents.
Over the decades, North Korean leaders, including Kim's father and grandfather, have regularly been photographed with children, both their own offspring and in settings like schools. For immediate propaganda purposes, showing Kim standing amid high-powered weapons sharing a tender moment with his daughter underscores his role as a father and protector.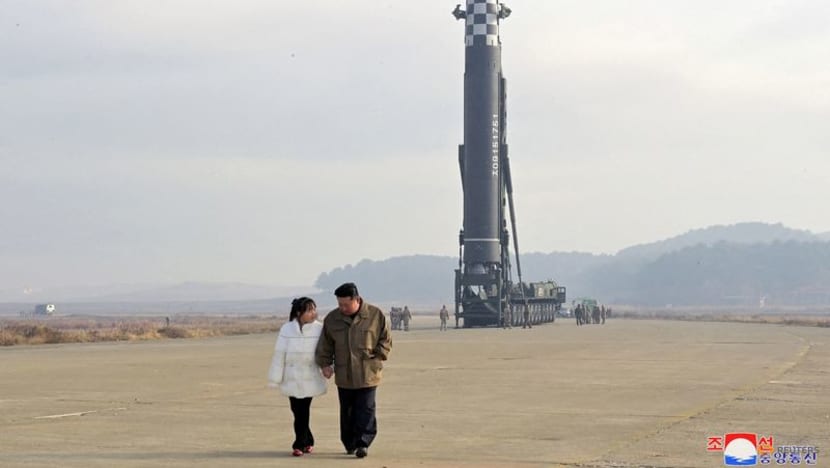 While Kim's father, Kim Jong Il, kept his family out of the public eye and projected a reclusive, eccentric image, his son has, since taking power in 2011, endeavoured to present himself as a more conventional sort of person. It is in line with his style as leader to be more forthcoming about his family life than his father was.
Then there is the bigger question of succession. North Korea is essentially a family-run enterprise, with the only three leaders to have helmed the country throughout its existence having all been members of the same family. It is therefore safe to assume that Kim will lead the country for as long as he is able, and then, barring any unforeseen changes, be succeeded by Ju Ae. 
SMOOTHENING THE LEADERSHIP PATH
Kim Jong Un did not appear in public when he was a child, so when he took power, he was mostly unknown to the outside world. He assumed the role of leader after his father's death, without any substantial experience in governance or public life. 
North Korea is a country where age factors into most interactions and younger people are customarily expected to defer to their elders. When Kim took the top job, he was decades younger than most of the high-ranking officials he was tasked with managing. 
After taking power, he therefore carried out purges of anyone he saw as potentially posing a threat to his rule, burnishing an image for himself as a ruthless leader who demanded obeisance. Most famously, Kim is believed to have had his prominent uncle Jang Song Thaek killed to buttress his own control of state affairs.
By identifying Ju Ae as successor this early in her life and presenting her to the public, Kim may be trying to save his daughter from the kind of fraught early leadership period that he went through. Also, because Ju Ae would be the first female top leader in the country's history, Kim presumably sees her as potentially more vulnerable than he was and more in need of early support. 
While she would be a female leader in a traditionally male-dominated country, Ju Ae would have the unparalleled legitimacy of being part of the North Korean leadership bloodline, the direct descendant and chosen heir.
Kim Jong Un's sister, Kim Yo Jong, has in recent years been a highly visible figure, occupying a position of responsibility in government, and her presence has acculturated North Koreans to the presence of a powerful woman.
Also, Ju Ae's appearance sends a message to any power brokers secretly planning to challenge Kim's rule that he clearly intends to keep control in the family and will not tolerate outside attempts to infiltrate the top ranks.
KIM HAS NO INTENTION OF GIVING UP HIS NUCLEAR WEAPONS
The last major implication of Ju Ae's emergence is the one that is most troubling for the world outside of North Korea.
Her appearances alongside displays of North Korea's military might send a strong message that the current leadership is committed to continuing to develop weapons of mass destruction, and that such development will continue in her era. Pyongyang clearly has no intention of relinquishing its nuclear weapons, now or in the future.
The tragic reality of North Korea is that the Kim family has for generations chosen to invest in weapons instead of people. The state proudly shows off warheads while medical and educational infrastructure withers. 
The recent display of affection between father and daughter signals that this tragic scenario will continue for at least another generation.
Steven Borowiec is a journalist based in Seoul.