Commentary: It's a myth that you can peak too early - just look at Oscars 2023
If the 95th Academy Awards were anything to go by, your best days and biggest triumphs might be lying ahead no matter your age, says Tracy Lee.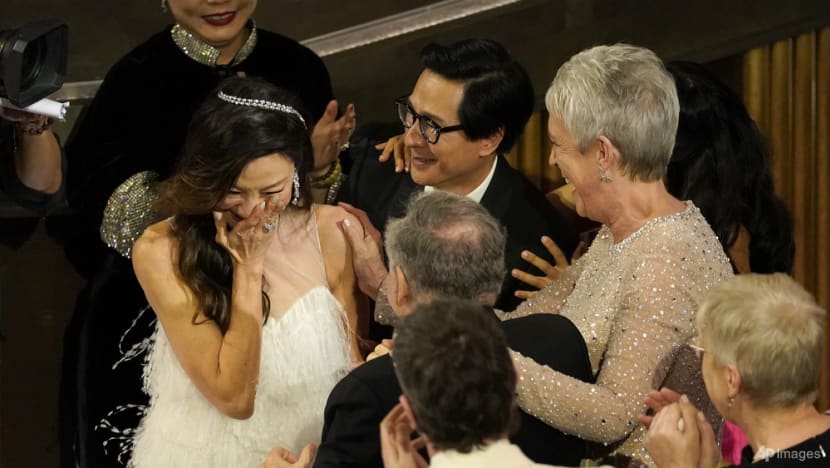 SINGAPORE: Forget fresh-faced child stars or 20-something ingenues - the underlying message the recent Oscars  seemed to convey was that old is gold, and good things come to those who never give up. For the first time since 1982, every one of the winning actors was over 50.
Best Actress Michelle Yeoh, 60, who has plugged away diligently at her showbiz career for almost 40 years before her history-making role in Everything Everywhere All At Once, said it best in her acceptance speech: "And ladies, don't let anyone tell you you are ever past your prime".
Brendan Fraser, aged 54, had cut his teeth playing action hunks and goofy himbos in his younger days, then disappeared from the scene for years due to health and personal issues.
He recently resurfaced almost unrecognisable - with jowly face, thinning hair and a serious case of dad bod - in auteur-directed films such as Steven Soderbergh's No Sudden Move (2021) and Darren Aronofsky's The Whale (2022).
Fraser won Best Actor for his role as a 600 pound (270 kg) gay single dad in The Whale. In an earlier interview, he said: "I'm older now; I don't look the way I did in those days, and I don't necessarily want to. And I'm glad that the work I can do is based in an emotional reality that's not my own life, but is one that I can strongly identify with."
Former child star Ke Huy Quan, who had last acted 40 years ago, landed a major role in Everything Everywhere All At Once, which brought him an Oscar, a Screen Actors Guild Award and a Golden Globe. The 51-year-old's star is on the ascendant, with appearances in upcoming Disney+ show Loki and the TV adaptation of American Born Chinese.
Yeoh and Quan's co-star Jamie Lee Curtis, who's been in showbiz since 19, won her first Oscar for Best Supporting Actress, aged 64.
And their other co-star James Hong, who has acted since 1954 and dubbed "the hardest-working actor in Hollywood" with more than 650 movie credits to his name, attended his first Oscars at the ripe old age of 94. "Here I am, after 70 years ... It shows if you wait long enough, you'll make it," he said. 
YOUR BEST DAYS MIGHT STILL BE LYING AHEAD
All this goes to show is that your best days and biggest triumphs might be lying ahead of you. Jane Fonda said one should think of turning 60 as the start of their third act in life - having been an aerobics diva and an accomplished actress, she's now 85 and doing activist work.
For us regular non-famous folk, what kind of things can we achieve in our mature years? Perhaps this question is particularly relevant here as by 2030, one in four Singaporeans will be aged 65 and above.
Whether you think 80 is the new 60, or 60 is the new 40, there's no doubt we're living longer, healthier lives than ever before.
At the same time, the traditional trajectory of life - get a job, get married young, have kids, raise them while climbing the career ladder, then dial down - has morphed into something more akin to the Everything Everywhere All At Once plotline, where parallel universes and infinite possibilities await.
Find a partner, or remain happily solo. Get married later, or not at all. Have children later, or maybe never. Chase FIRE (financial independence, retire early), or explore a second or even third career through upskilling and re-training. Open yourself up to mature romance, whether you've been single for long or have recovered from your post-divorce funk.
As an article on Medium.com entitled Dear Late Bloomers, It's Never Too Late To Be Happy And Successful notes: "We all develop on a different timeline. The 'race' we are running is a one-person event. The most important comparison is to yourself. Are you doing better than you were last year? Are you a better person than you were yesterday?"
It goes on to extol the benefits of being a late bloomer: The chance to learn resilience, to get good at handling setbacks, to re-formulate plans and manage one's expectations. It concludes that "discipline, persistence and progress matter more than you would imagine".
Local inventor and entrepreneur Leonard Lim, now 53, has a story so inspiring that it's used as a case study at a local polytechnic's business course. The founder and chief executive officer of Omnisense Systems, a company that revolutionised fever screening with its made-in-Singapore thermal sensors, did not do well in his A-Levels, and embarked on a part-time economics degree, but gave it up.
His first job as a salesperson lasted only months as the company folded soon after he joined. His first business, a construction and interior design firm he started with friends in 1994, failed three years later, saddling him with several hundreds of thousands in debt. He went on to start several businesses over the next few years - and failed each time. It was only in his 40s that he finally tasted success.
PURSUING NEW PASSIONS IN YOUR 60S AND BEYOND
These days, there's nothing stopping you from continuing to explore and pursue new passions, challenges and adventures well into your 60s, 70s and beyond.
Just look around you and you'll see many older folks doing interesting new things their way. There's former graphic designer Ong Bee Yan, who started a business selling cold brew coffee at the age of 60 when her husband got retrenched.
At 65, she was scouted by a local designer to appear on a brand campaign, and has gone on to build a flourishing modelling portfolio, as well as a strong social media presence (@grey_evolution) where she posts about her life as an entrepreneur, grandmother and model, to inspire other seniors to step out and do something different.
And for all of those who dreamed of being a model in their youth, Platinum Angels Management (PAM), the first agency in Singapore and Asia that exclusively represents talents over the age of 50, believes age is not a limit. As founder and former model Pat Kraal said: "It is not the end of the world just because you're 60 - it's just the beginning."
Still not convinced? Here's more inspiration from past Oscar winners.
Sophia Loren, now 88, has said: "There is a fountain of youth: It is your mind, your talents, the creativity you bring to your life and the lives of people you love. When you learn to tap this source, you will truly have defeated age."
Or how about this from Helen Mirren, who's 77? "Your 40s are good.  Your 50s are great. Your 60s are fab. And 70 is f****** awesome!" she's been quoted as saying.
Tracy Lee is a freelance writer based in Singapore who writes about food, travel, fashion and beauty.
LISTEN - Daily Cuts: Beyond the glitz and glamour of Oscars 2023