Commentary: Dogs give us unexpected joy in this pandemic wilderness
Canine companions have helped many of us cope in these trying times and if that means going overboard with how we treat them, that's okay, says Tracy Lee.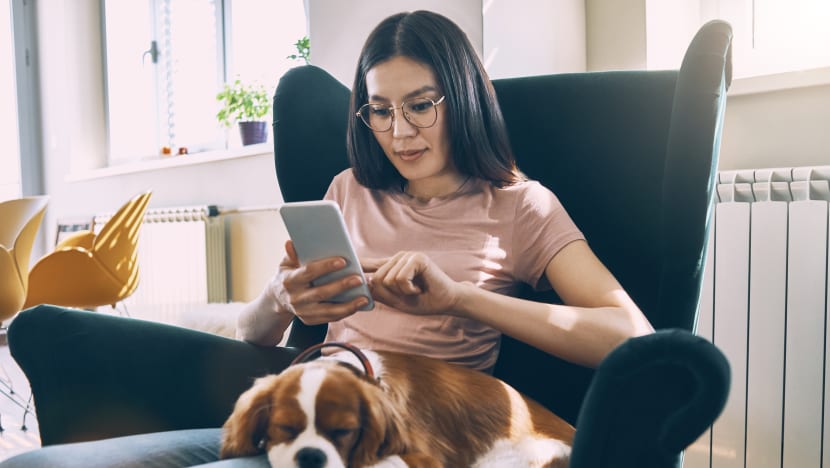 SINGAPORE: I need only to look out my balcony every morning and evening to see that one group has been expanding in numbers of late – dogs in my neighbourhood.
There are three chow chows (one black, one grey and one brown) looking like oversized teddy bears, poodles in prams, a brown Singapore special, a pair of barky beagles and a mini schnauzer wearing pink shoes.
Then there's my absolute favourite: A golden retriever pandemic puppy that a previously non-dog-owning neighbour had acquired six months ago.
It wasn't just because he was super cute but also because this lucky mutt was being walked four or five times a day by various family members — mostly the dad, but also the mum and teenage daughter.
They patiently trained him not to strain on the leash, to sit, stay and heel, to socialise with other dogs and people. Over time, he has blossomed from a clumsy tail-between-the-legs furball scared of everyone and even his own shadow, to a playful, curious and well-mannered "adolescent".
While most of us would admit living with the pandemic has been a painful purgatory, one good thing that has come out of it, is that pets now enjoy lots of love and attention from their owners who are working from home and cannot spend long weeks away travelling.
Many people who were previously too busy to have a pet have since taken the plunge, and pet ownership has skyrocketed.
EASING LONG AND LONELY DAYS
According to the American Pet Products Association, some 12.6 million US households got a new pet after the COVID-19 outbreak was declared a pandemic in March 2020. Last year, pet ownership in the US rose from 67 per cent to 70 per cent.
American website thecut.com describes it best: "A lonely, claustrophobic year in which thousands of white-collar workers ... seemed simultaneously to decide they were finally ready to adopt a dog.''
New York shelters saw on average 20 applications a year before COVID-19. Now they see hundreds, with as many as 50 people vying for a single pup.
The same story unfolded in Singapore. The Society for the Prevention of Cruelty to Animals (SPCA) saw a tenfold spike in foster applications – from about 10 to 15 a month to 120 to 150 during the circuit breaker. Organisations such as Chained Dog Awareness and Just For Paws said enquiries for adoption doubled.  
A survey of almost 6,000 pet owners in the UK found that most respondents said their pets constituted an important source of emotional support; they reported feeling less lonely and isolated than those without animal companions.
Studies have long established this link between human and animal – a silent but strong bond that lifts moods and quells anxiety. This is why there are therapy animals who work with those living with stress – like those in hospice care.
WHEN DOGS ARE REPLACEMENT CHILDREN
The Guardian reports on a trend that we can see in our midst. Even before the pandemic, millennials and Generation Z were increasingly "opting for pets over kids as the burden of raising a tiny human is losing its appeal for commitment-phobic, cash-strapped, travel-obsessed or simply career-prioritising millennials."
The pandemic might have accelerated this.
According to CNBC, a survey of 1,000 Americans aged 33 to 40 found that "about a quarter of older millennials say they decided to wait longer to have children because of the pandemic.
The situation is mirrored in Singapore – a CNA report outlined very similar reasons why married people choose to be childless – from heavy involvement in careers, the lure of an comfortable lifestyle and the cost of childcare and education. This doesn't take into account those who choose not to marry - citizen marriages in Singapore in 2020 plunged to its lowest in 34 years, while citizen births dropped to a seven-year low.
In the US, this choice not to have children has translated to embracing pets. The Atlantic notes that more than half of American millennials have a dog, with "pet-ownership rates higher among those with a college education and a stable income — the same people who are most likely to delay marriage, parenthood and homeownership beyond the timelines set by previous generations."
I'd wager the same is happening here too. Take a walk along East Coast Parkway on any given weekend and you'll lose count of the number of young people, in their stylish athleisure, walking or cycling with their dogs.
Many put great care, effort and yes, money into their prized pooches.
This has led to a boom in pet-related businesses, not just for vets, pet supply stores and dog trainers, but even dog enrichment schools offering reading and music classes.
Cafes and yoga classes dogs and their owners can enjoy together have popped up. For the first time in history, the pet industry sales in the US surpassed US$100 billion in 2020.
I know of pooches who went on staycations at Capella Sentosa and who eat nothing but sustainably farmed salmon and organic lamb. The more enterprising owners even turn their pets into money-spinning "petfluencers" – down to engaging social media agencies to help them launch "careers".
There are even dog whisperers – known more formally as "animal communicators" — who can give owners a reading about what their pets like, dislike and how they feel. They also have what is known as a "Rainbow Bridge" service: Where you can ask questions to a dead pet through the communicator who then gives answers.
Nothing, it seems, is too costly, time consuming or out of this world for man's four-legged best friends.
ANYTHING FOR PEANUT THE POOCH
Which raises the question of whether all this is too much. In plugging the holes the pandemic has made in our lives, have we gone over what are acceptable limits of dog-human relationships?
As a former dog owner, I can only say you can never love your pooch too much because there's nothing quite as pure as a dog's love and nothing quite as reassuring as canine companionship.
When I think about Doug, my white mini schnauzer who died at 14 (I simply couldn't bear to get another pet), I realise I got as much, if not more, from him than he did from me.
Whether I popped out for five minutes to pick up the mail, or had been out for hours, he always greeted me affectionately. Even if I sent him to endure things he hated, such as haircuts and vaccinations, he always forgave me.
Not a single day went by that he wasn't a joy to be around. Even if I had a bad day or wasted my time on negative energy, being with him lifted my spirits like no human could.
What more in an unpredictable COVID-stricken world where all our eagerly anticipated social gatherings get curtailed by yet another round of new restrictions, where no-one knows when we'll ever be able to enjoy unfettered and affordable overseas travel, or even if the jobs we have today will be gone tomorrow.
Despite the chaos around us, we can always count on a singular joy – our pooches who don't care for anything except to provide unconditional love, constant companionship and doses of extreme cuteness.
If we repay this gift of love they give us through farmed salmon, staycations, ridiculous costumes and one too many squeaky toys, well, that's really quite a small price to pay.
Tracy Lee is a freelance writer who writes about food, travel, fashion and beauty.