Commentary: Is Philippines going from Duterte's pivot to China to Marcos Jr's rebalance to the US?
Philippine President Ferdinand Marcos Jr, like his predecessors, faces the challenge of navigating US-China rivalry alongside Philippines-China maritime tensions in the South China Sea, says Philippine Council for Foreign Relations member Aaron Jed Rabena.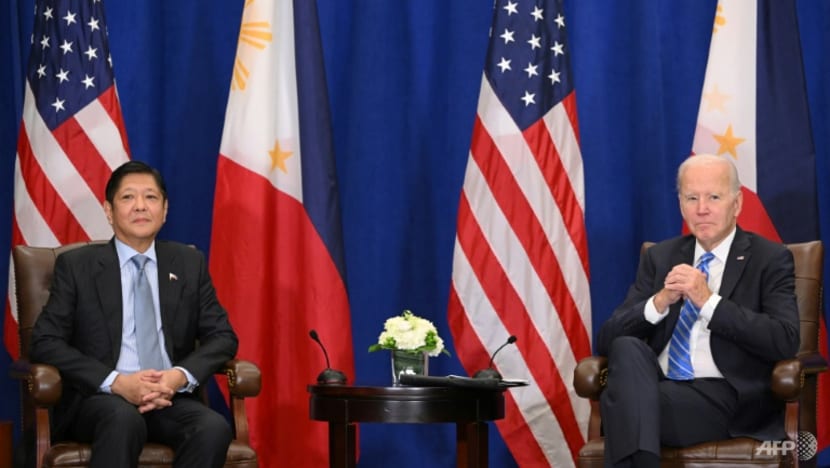 MANILA: During the 2022 Philippine presidential election, Ferdinand "Bongbong" Marcos Jr was widely seen as a pro-China candidate who would continue then president Rodrigo Duterte's pivot to China. This was because Marcos Jr publicly spoke of engaging China and made critical statements about the United States, noting that compromise with China was the way to go given its superior military might and that involving the US in the South China Sea would only complicate matters.
Upon becoming president, Marcos Jr said he would carry on the Duterte administration's "independent foreign policy" of the Philippines being "friends to all and enemy to none". This is to get the best of both worlds and avoid the risk of overdependence on any one country.
There are indicators that Marcos Jr indeed wants the Philippines to be on good terms with all major powers and key partners. He has visited nine countries in just 10 months since becoming president, including several Association of Southeast Asian Nations (ASEAN) member states, Belgium, Switzerland, China and Japan.
During his visit to China in January, he reaffirmed Philippine participation in the Belt and Road Initiative and agreed to more bilateral legislative exchanges. He sought to establish guardrails on the South China Sea issue by setting up a hotline with China and a proposal to upgrade the Bilateral Consultation Mechanism to the foreign minister level. He echoed China's stance for the South China Sea issue to be resolved by relevant states and China's narratives about the desire for a multipolar world and the need to avoid a Cold War mentality.
Marcos Jr also welcomes Chinese investments - so much so that he recently received a US-blacklisted Chinese state-owned company. This company proposed building a highway through his hometown province of Ilocos Norte, among other projects.
REBALANCING TOWARDS AMERICA
Yet, many are starting to view Marcos Jr as rebalancing towards the US, given his bold moves to strengthen the Philippines-US alliance, contradicting expectations that he will merely appease and bandwagon with China. In addition to recognising the US as a security guarantor, Manila has had successive high-level meetings with the Americans and is keen on setting up a trilateral security arrangement with the US and Japan.
The turning point was Marcos Jr's recent approval of four additional sites for American military access under the Enhanced Defense Cooperation Agreement on top of the existing five.
Marcos Jr admits that the Philippines is treading a fine line between the US and China. Implementing an independent foreign policy is easier said than done. Several structural factors make this balancing act onerous, especially in the plausible scenario of a military contingency in the South China Sea or Taiwan Strait.
Among ASEAN member states and South China Sea claimant states, only the Philippines is a defence treaty ally of the US and is proximate to Taiwan. Given the likelihood of air and sea battles, this would make military access to the Philippines a key priority for the US in a Taiwan or South China Sea conflict.
MARCOS JR, DUTERTE'S DIFFERING PERSONALITIES
Despite Marcos Jr's seeming reiteration of elements of Duterte's foreign policy and his reappointment of Duterte-era security leaders into his current Cabinet and inner circle, the two leaders' personalities and personal conditions partly account for their different approaches to the two great powers.
Duterte adopted anti-US rhetoric, lionised China, and sounded defeatist about standing up to China in the South China Sea dispute. These submissive traits do not exist in Marcos Jr's personality and posture.
Marcos Jr's go-signal for the full implementation of the Enhanced Defense Cooperation Agreement thus makes him look pro-America. Marcos Jr has no human rights baggage - unlike Duterte - which would warrant American remonstrations even though the Marcos family has a pending court case in Hawaii, which the US has put on the back burner.
Marcos Jr's foreign policy is still markedly different from that of Benigno Aquino III (former president from 2010 to 2016), who, at every turn, named and shamed China on various international and multilateral platforms.
Overall, hedging between Washington and Beijing is no easy feat for a Filipino president as it requires a painstaking balance between economic imperatives and national security interests while finely calibrating diplomatic assertiveness and constructive messaging towards China.
A FRONTLINE STATE IN CASE OF CONFLICT
It is important to note that for the Philippines, hedging vis-a-vis the US and China is viable only during peacetime. In wartime, its autonomy for hedging would be extinguished, given its potential direct involvement in a South China Sea conflict with China or its treaty obligations to Washington as an ally in a Taiwan or South China Sea contingency. In either case, the Philippines would become a frontline state.
The Enhanced Defense Cooperation Agreement expansion will help the Philippines to upgrade its military bases and defence capabilities. It remains to be seen if the expansion will deter China's future actions in the South China Sea and enhance Manila's bargaining power vis-a-vis Beijing.
There is a possibility that the risk of Philippine enmeshment in an actual US-China conflict, either in the South China Sea or the Taiwan Strait, would be heightened and cause a fallout in Philippines-China relations.
In retaliation for Manila's possible role, Beijing could reduce trade, aid and investment flows to deny Marcos Jr the luxury of maximising his country's economic opportunities with China while pursuing greater security convergence with the US. China's suspension of dozens of bilateral mechanisms with the US in the wake of former US House speaker Nancy Pelosi's visit to Taiwan in 2022 demonstrated how broader strategic problems can override progress on diplomatic and technical platforms.
While the Philippines is not a great power, the same could hold true for Philippines-China relationship.
Aaron Jed Rabena is Research Fellow at the Asia-Pacific Pathways to Progress in Manila and a member of the Philippine Council for Foreign Relations (PCFR). This commentary first appeared on the ISEAS-Yusof Ishak Institute blog, Fulcrum.